So, you've finally got through the process of picking the right dress. Now it's time to think about the various other things that bring out a bride's beauty. In this post, we're looking at your makeup for the big day. Keep the following list of dos and don'ts in mind, and you'll have no problem looking flawless when you reach the altar.
The Dos
– Do a trial run at least three weeks, but no more than five, before your wedding day. If you're going to use any fake tan, make time for a test-run before your makeup trial. This will let you or your makeup artist know exactly what colour your skin will be after the tanning, giving you some flexibility before the big day.
– Wear white (or whatever colour your dress is) when you're having your makeup test in a store. This will give you some idea of how it will look combined with the colour of your dress. You should also take a selfie in daylight with no flash, and check how you look before you put any money down.
– Emphasise your eyes, mitigating any darkness around the bottom or the lids with lighter eyeshadow or concealer. Settling on a colour here is going to take a while, so I recommend getting a wide selection, with products like this Pro Palette by Lorac.
– Bring references to the trial. As soon as you know you're going in for a trial, look up some images of bridal makeup that you really like, and bring some of those with you on the day. Just make sure you're taking your skin tone into account. If you've got skin like Dita Von Teese, then Kim Kardashian's makeup isn't going to translate too easily onto your face!
– Get individual eyelashes. Using individual fakies is a fantastic way for you to make your eyes really stand out, without getting as verbose as they would full strips. Choosing different lengths will create a lovely, natural, fluttery look, especially if you can nestle them all in between your natural lashes, rather than tacking them on top. If you're looking for another way to emphasise your eyes, you could consider using eyeliner stamps from https://www.lovoir.com.
The Don'ts: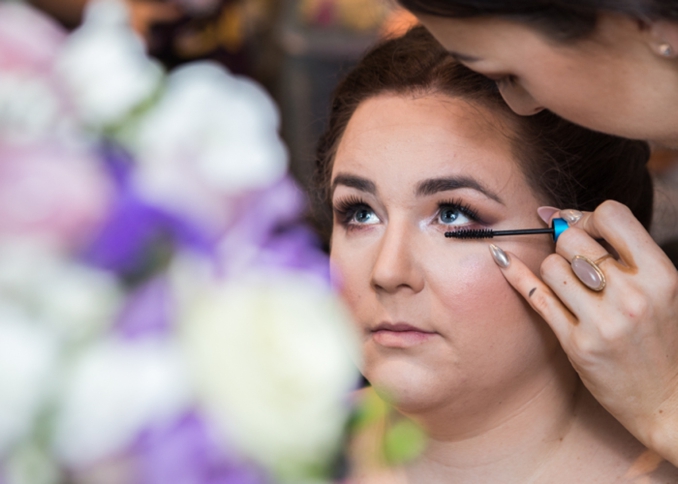 – Have your makeup test done anywhere with bright, overhead lighting. This can totally throw off the look you're going for, and give you an inaccurate idea of what your makeup will look like on the day. If you're going to have an artist come to your home, try to choose a day where there'll be a lot of makeup.
– Let your artist totally control your look. For many brides, their wedding is one of the rare occasions when they can sit back and let a professional worry about their makeup for them. However, don't get too wrapped up in the novelty, and take every little suggestion that your makeup artist gives you. Unless your artist is a close friend, they're going to have no idea of who you are, or how you prefer to look for big occasions. You don't want to surprise your partner by walking down the aisle looking like someone completely different!
– Plaster it on. There's an unfortunately widespread myth that if you want to look good in your wedding photographs, your face needs to be totally covered with makeup. Many of your wedding photos will be taken in natural light, and if you make the base too heavy your makeup will look obvious, and a little excessive.
– Do it according to trend. Wedding makeup, just like anything to do with our aesthetic appearance, is always going to be at least somewhat dominated by the trends of the time. Bear in mind that you're going to have to live with your wedding photos, 'til death do you part. Generally, it's best to avoid getting sucked in by any kind of statement looks, and choose something more timeless and 'you'.
– Be scared of brighter colours. Yes, you need to avoid looking too verbose on your big day. On the other hand, neutral or pale lipstick colours can often look a bit washed out when it comes to the photographs. Regardless of what you normally wear, don't be afraid of getting a lipstick that's a few shades brighter.
– Stick to the face. Instead, plan to extend down your neck, and maybe your shoulders if the dress is appropriate. This will ensure that you don't end up with any obvious difference between the tone and texture of your face and your body. The easiest way to blend two shades together is a light coating of fake tan.