Welcome to a one-of-a-kind celebration of love where breathtaking mountain landscapes meet the electric vibes of rock n' roll! In this unique "Mountain Elopement With a Rock n' Roll Twist," Heidi and Sarah are set to exchange their vows amidst the majestic peaks and soulful melodies. They decided to have an intimate elopement in the gorgeous mountains around Aspen, CO. Prepare to witness an intimate and unforgettable union that blends the serenity of nature with the wild rhythm of love.

They explored the mountains, where they exchanged vows; stopped at a local bar to get some moody photos and enjoy some drinks, and visited the most popular Maroon Bells Lake. Let the harmonious chords of happiness resonate through the air as we come together to rejoice in the fusion of two souls, united in love's grand symphony.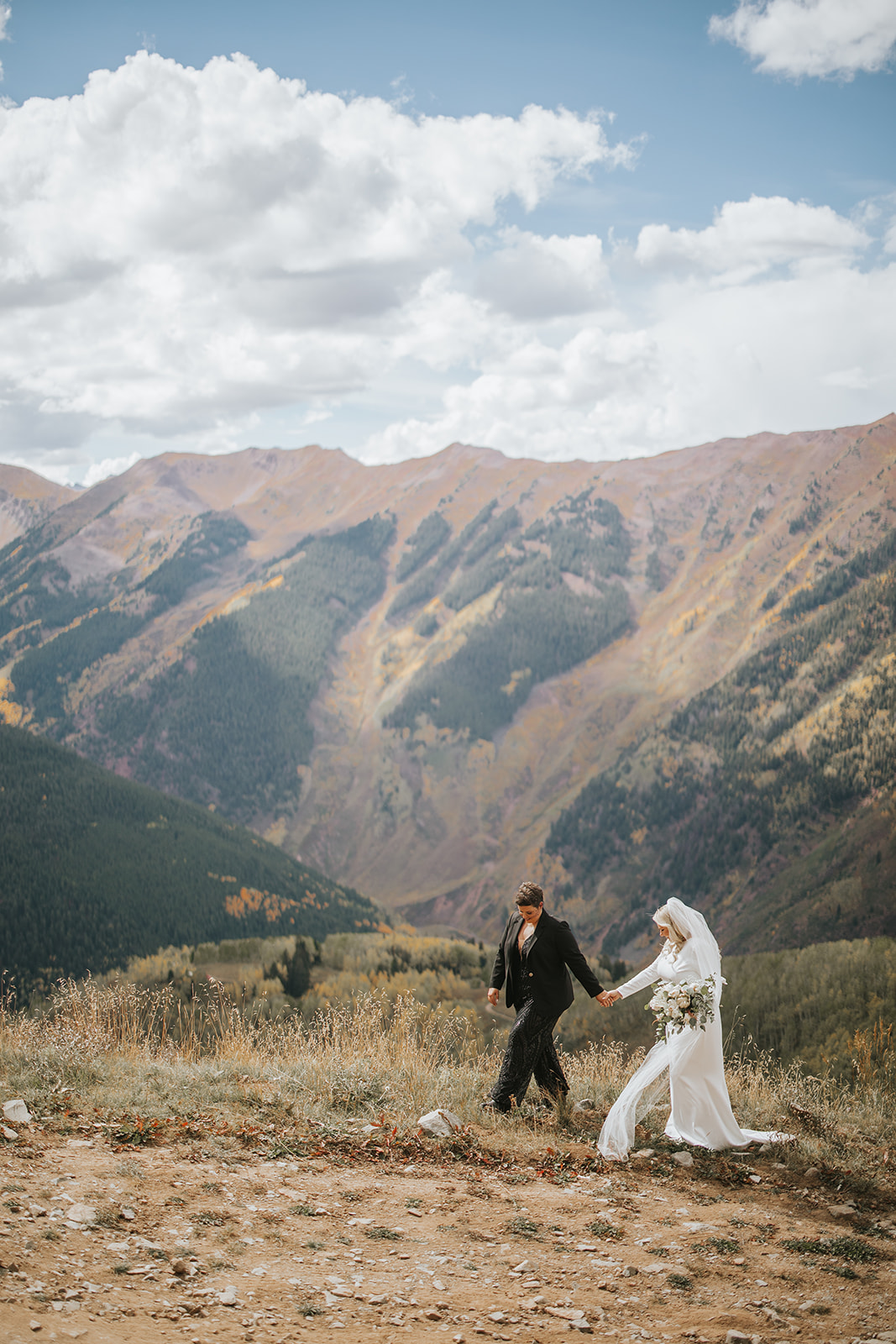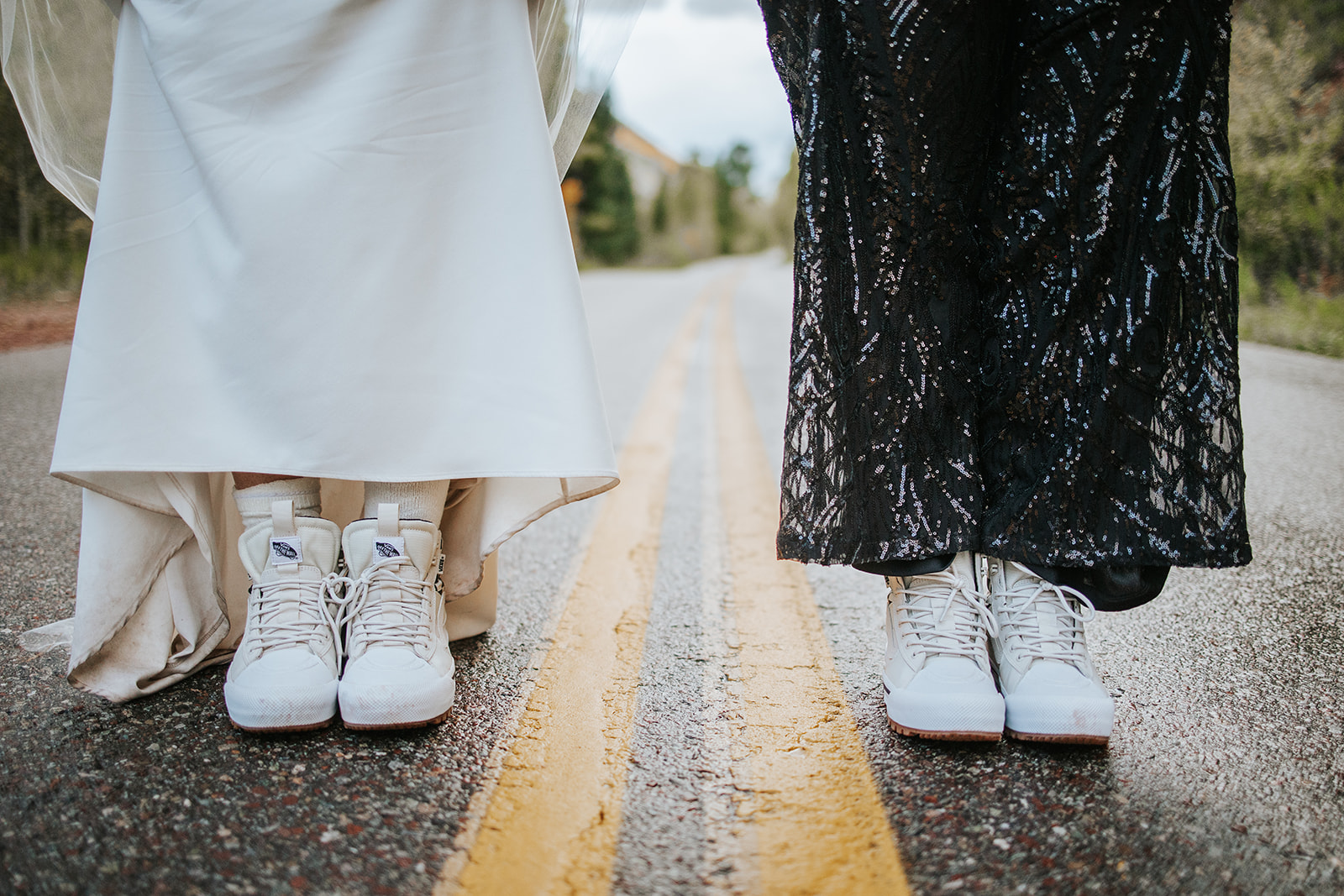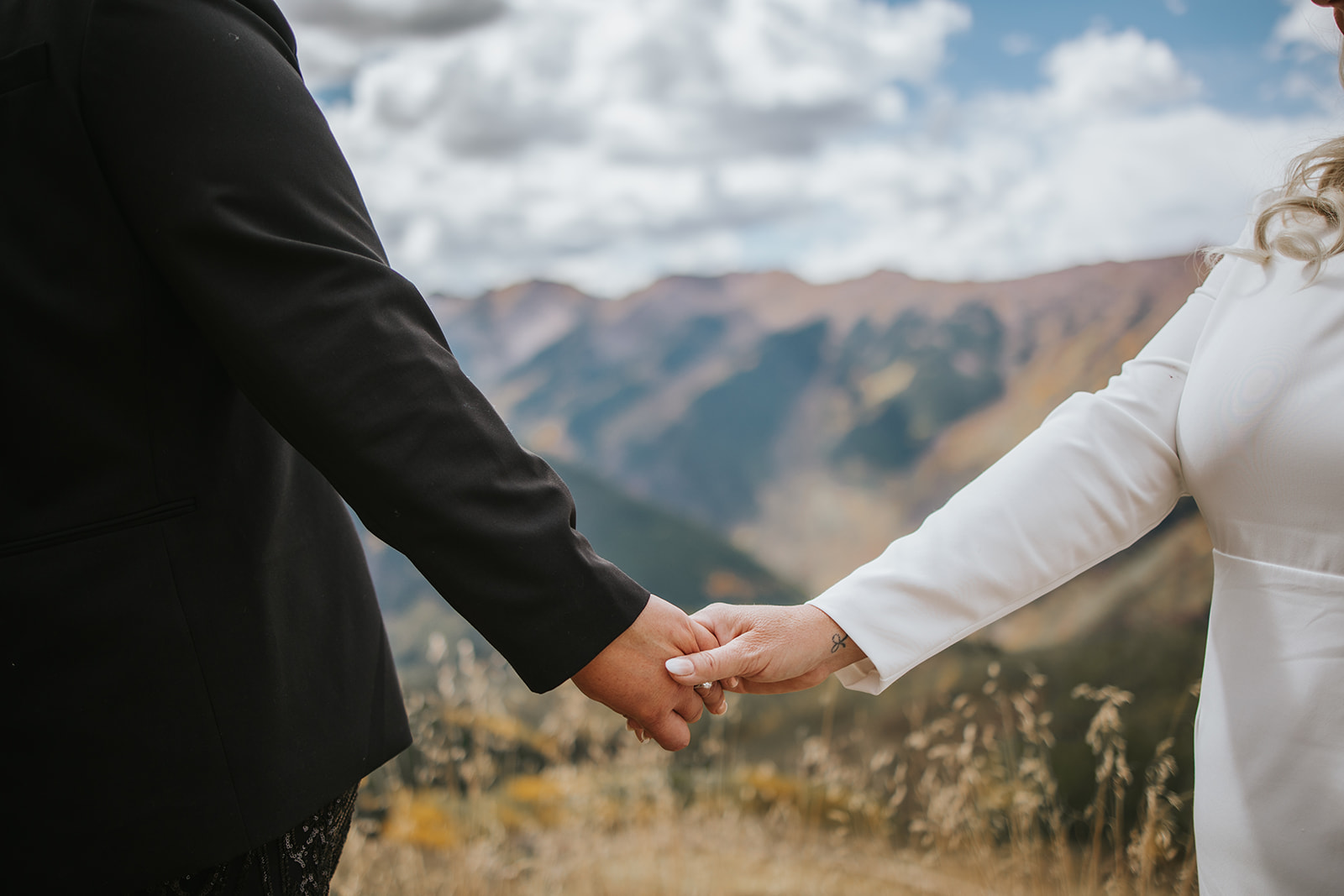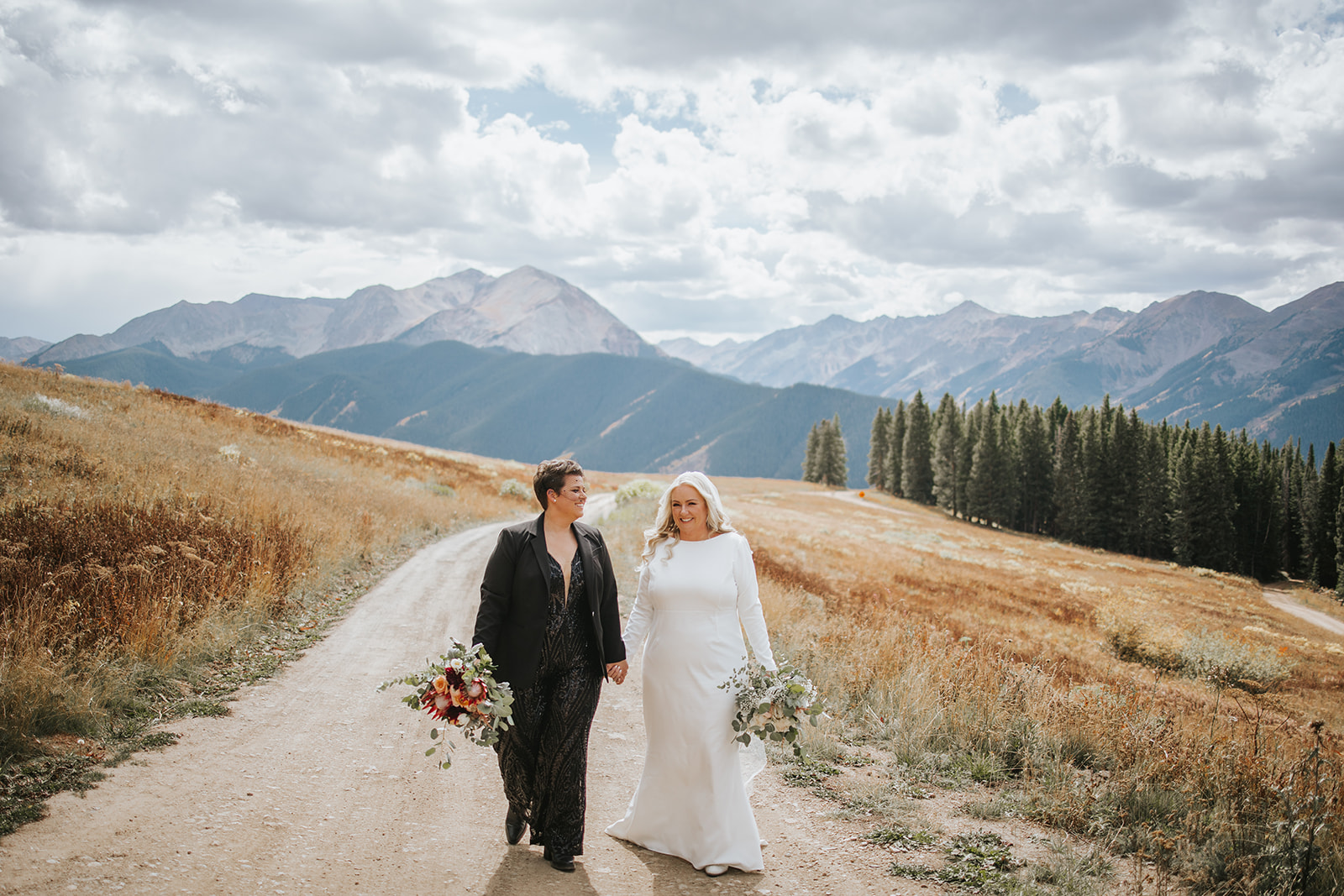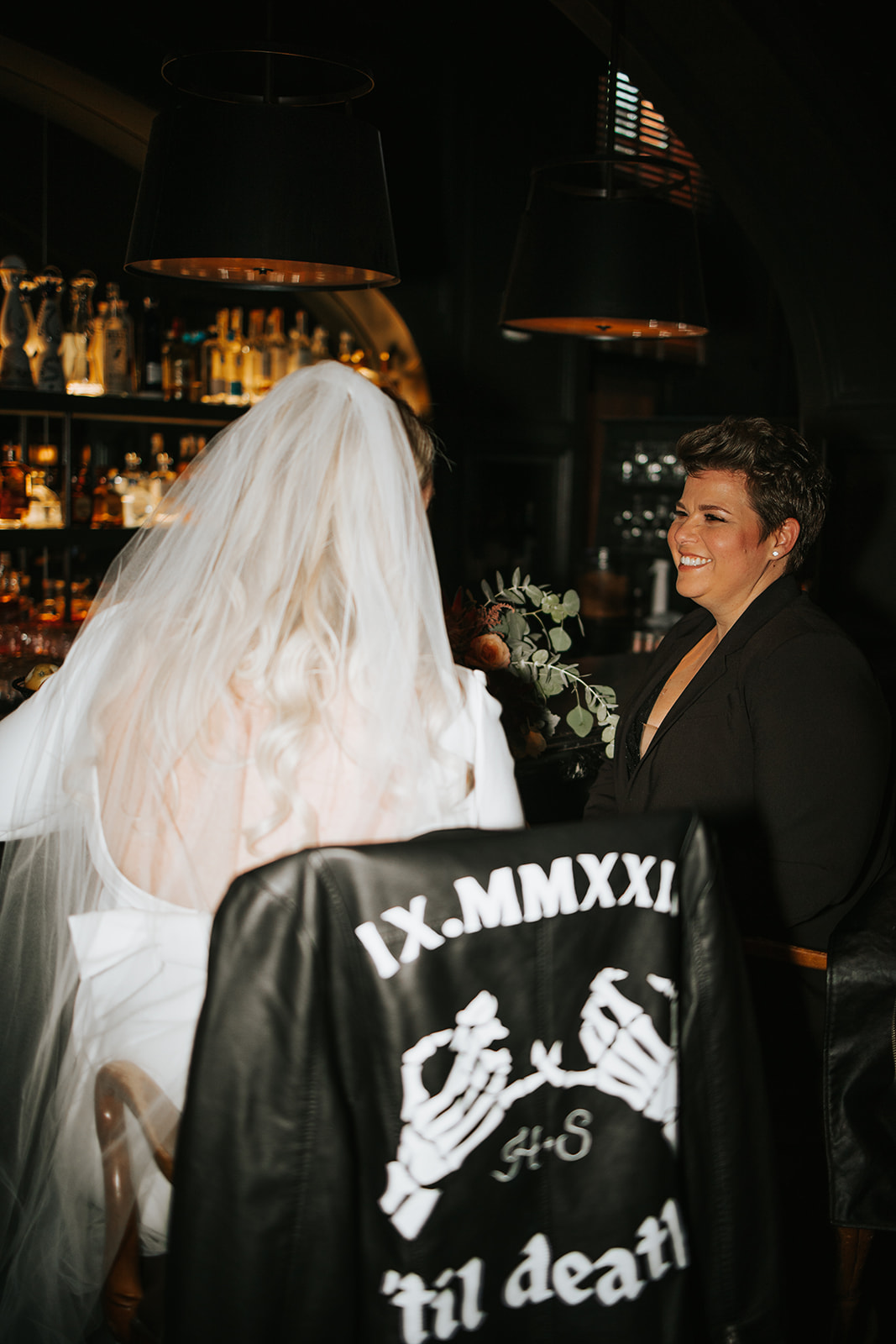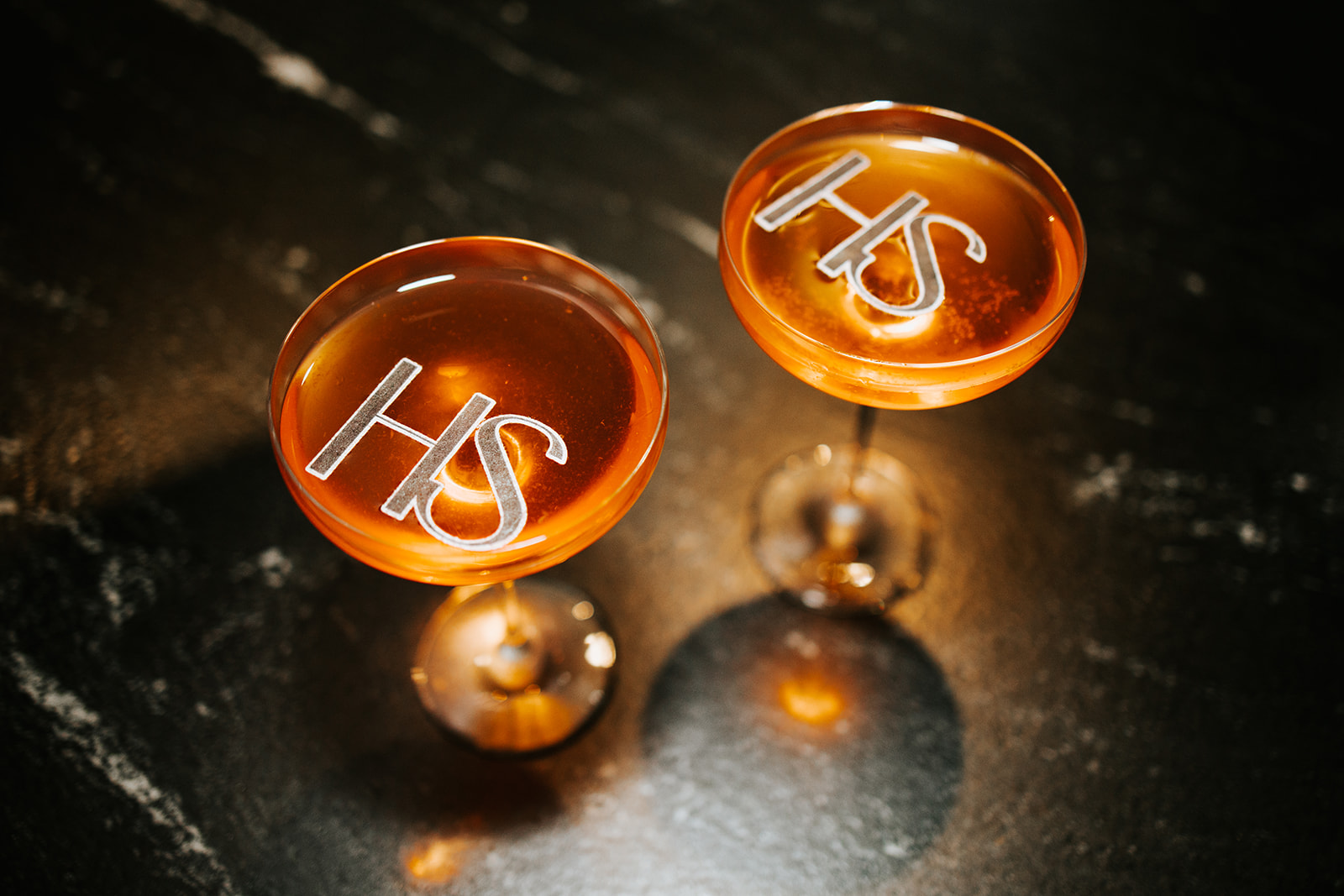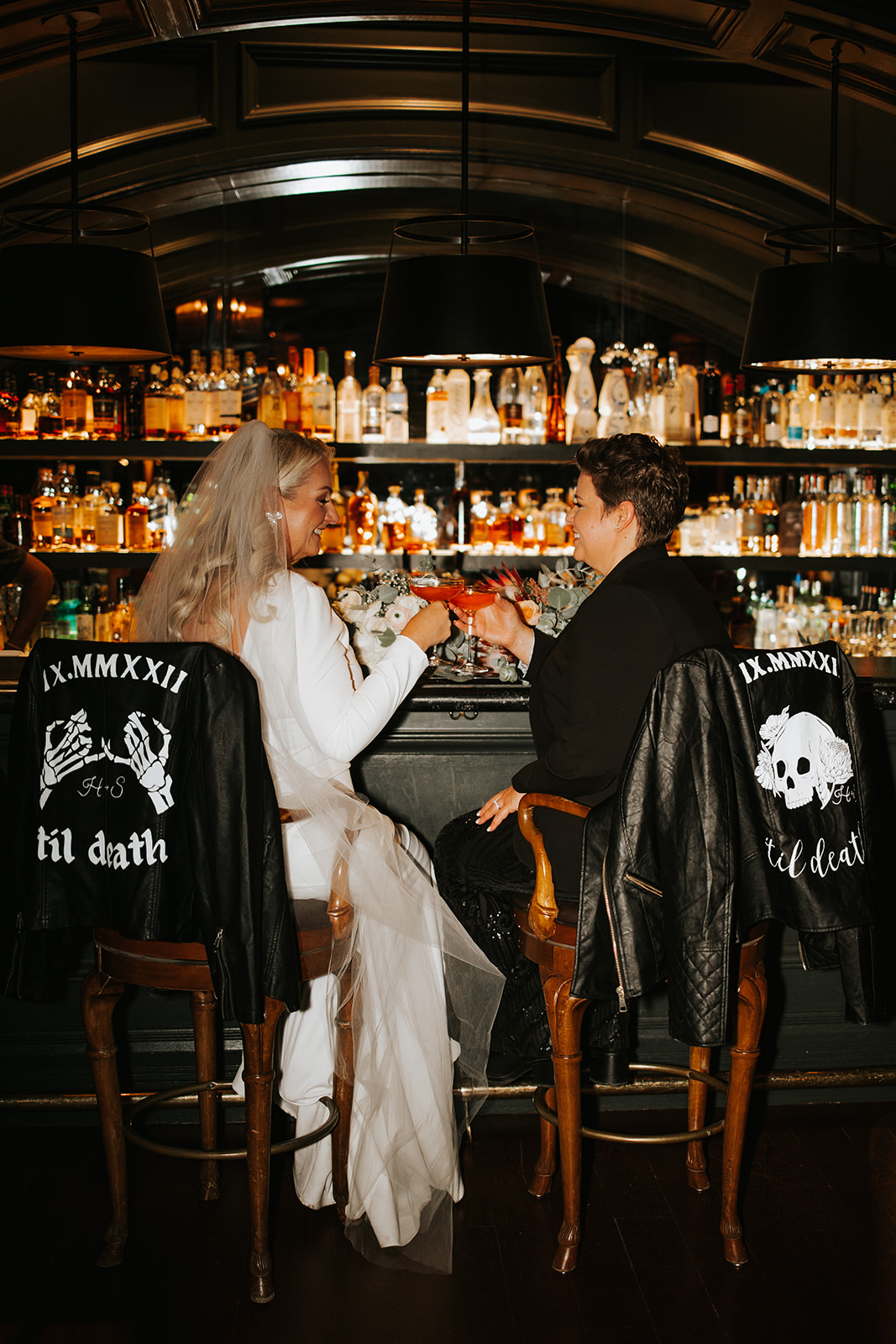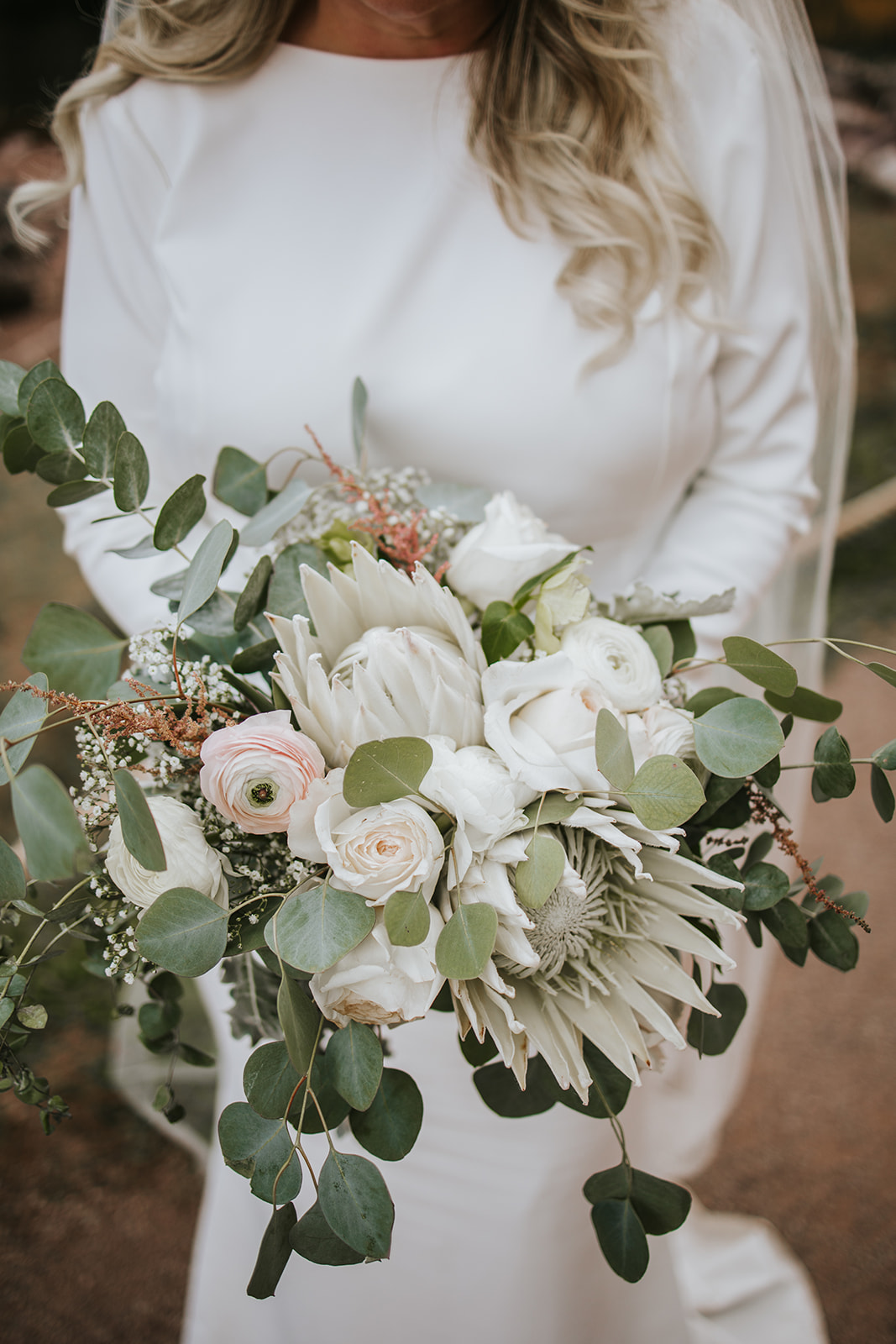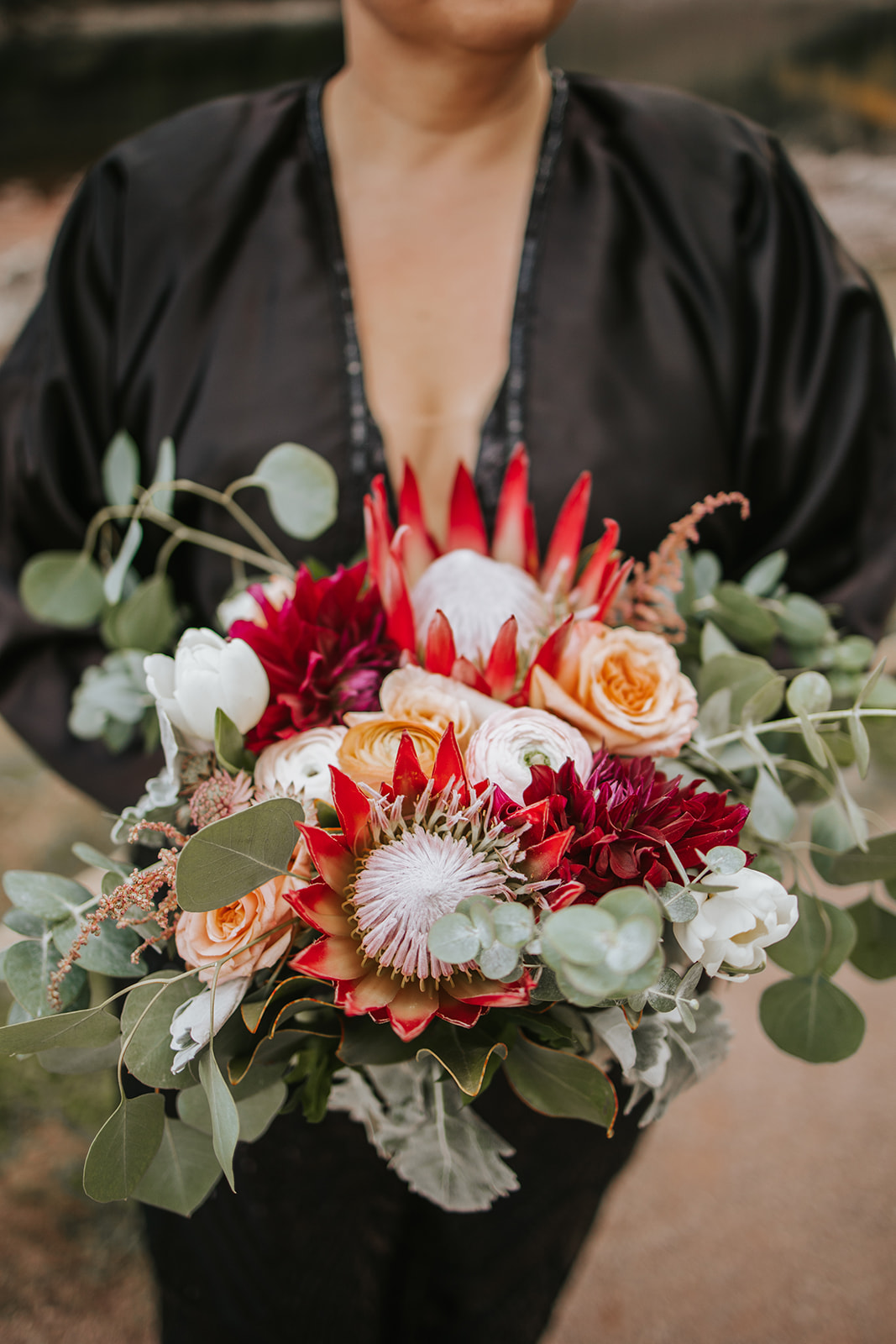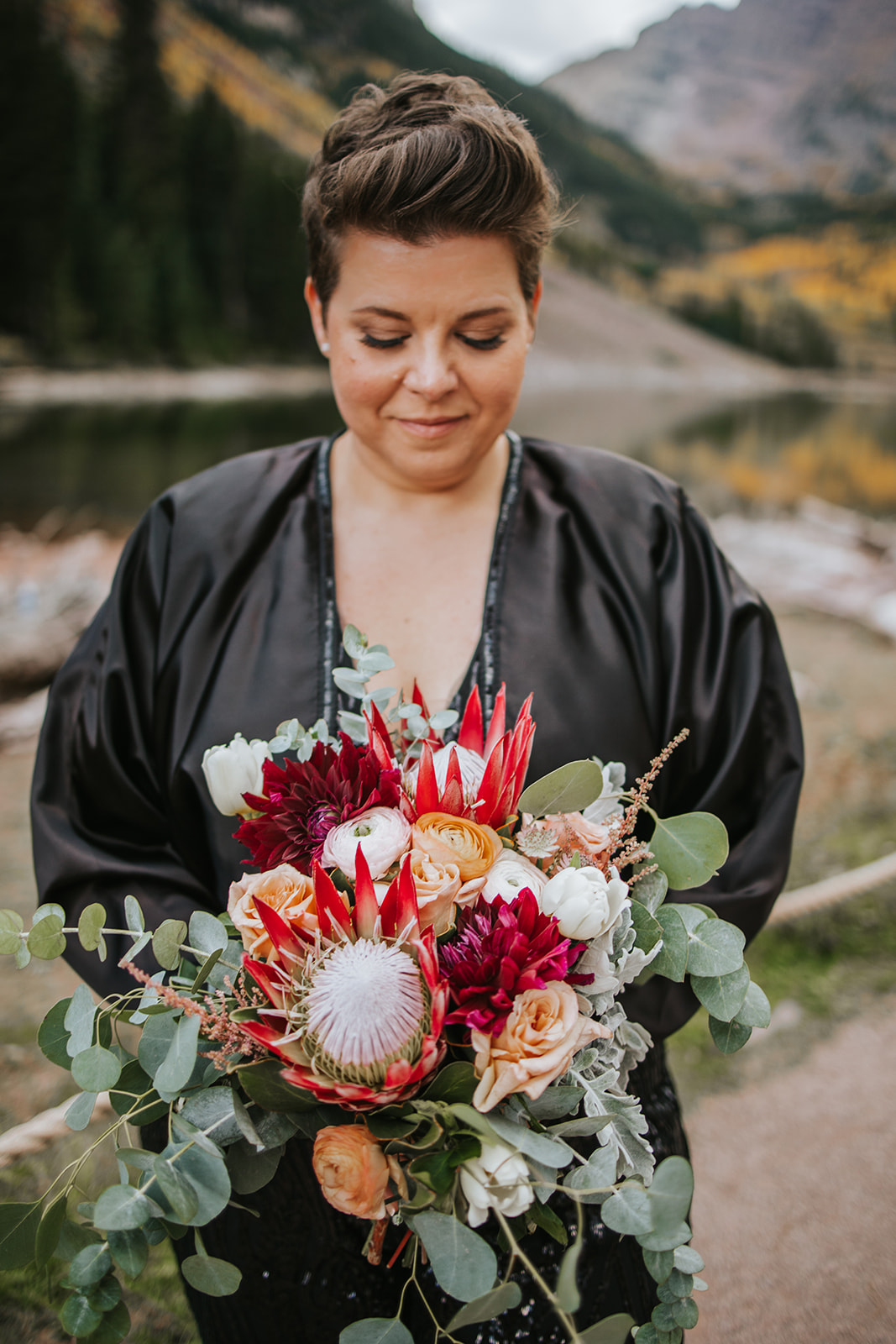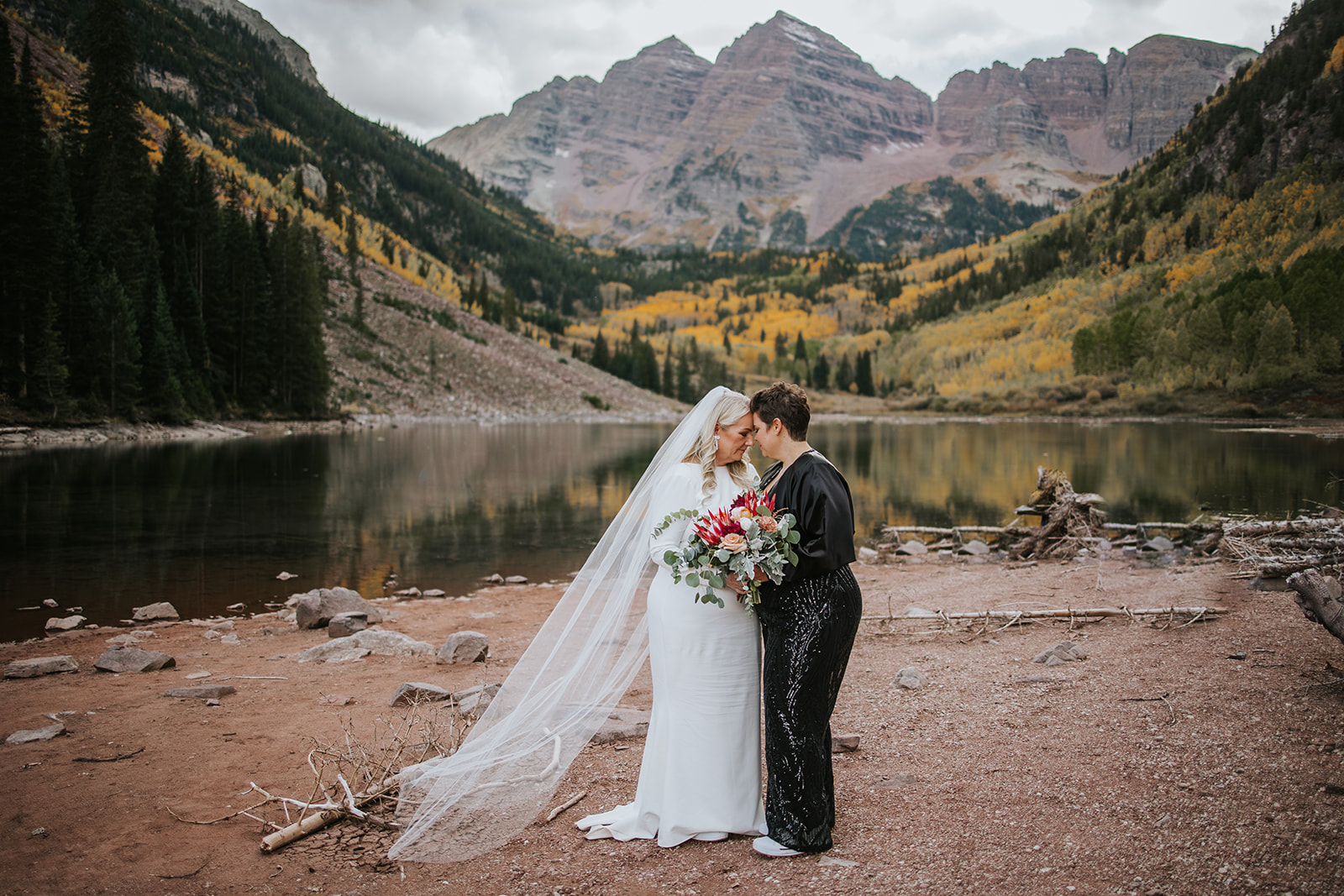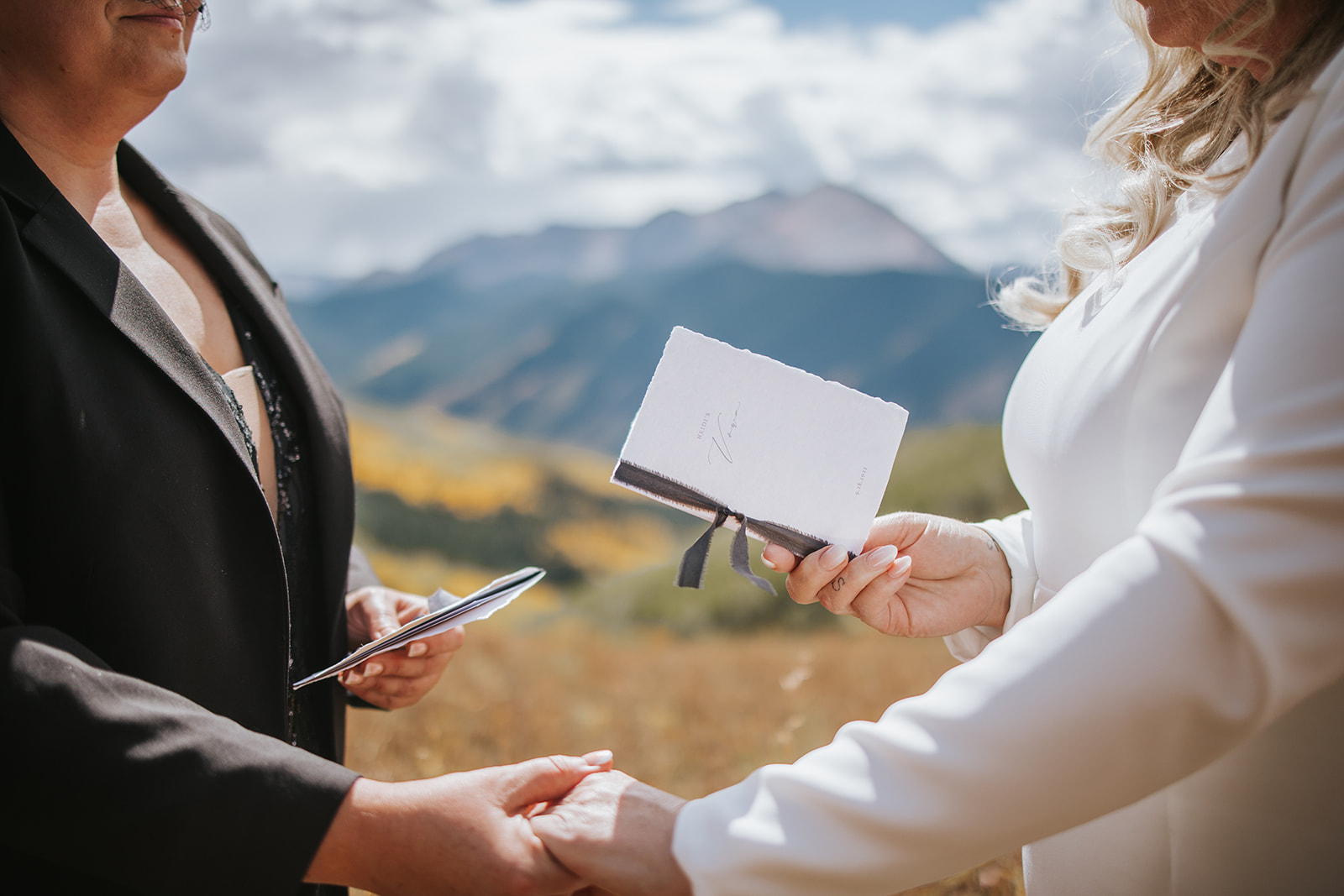 How did you meet?
In 2016 we met at a mutual friends birthday dinner party

What is your proposal story?
Our proposal wasn't a typical one. We started dating in 2018 and after 4 years together we just knew our next step would be marriage. We went to look at rings and subsequently assisted each other in picking out our diamonds. In July of 2022 we had a planned trip to Washington DC and Virginia. On the Sunday before we left we did a morning hike, visited a brewery, had amazing food and as the sun was beginning to set we exchanged rings, both said yes and toasted our families with champagne.
Tell us a little a bit about your wedding
We both knew we wanted it to be extremely intimate which is why we opted to elope. After growing up in Florida her entire life, Sarah fell in love with Colorado the first time she visited and both Heidi and Sarah have since made multiple trips together during their relationship. We picked Aspen for the 360 degree Mountain View's and stunning scenery. We chose black and white as our color choices to keep things minimalistic with a touch of glam. It was also extremely important to Heidi to incorporate the Protea into the bridal bouquets as it's the National flower of her home country South Africa.
Tell us about your attire choices.
Heidi wore a long sleeved minimalist white dress, a cathedral style veil and white encrusted pearl boots. Sarah wore a black sequined jumpsuit with a blazer and black leather boots. Once our ceremony was over we each switched to Vans hiking boots to allow us to incorporate a short hike to Maroon Bells for a picnic and pictures and added a fun leather jacket hand painted with our wedding date and initials on it.
What was the most important to the two of you while planning? Was there anything that you chose to splurge on or skip?
Due to us eloping it was important that we capture the essence of our love and our special day with pictures. I guess you could say our splurge was ensuring we had an amazing photographer who also offered us a curated concierge service during the planning process. Rachel put together our timeline, an 8 hour elopement day, she picked us up at our hotel and drove us to the different locations, she ensured we stayed hydrated and even packed snacks.
What were your favorite parts of the day?
We were faced with a few hiccups that were beyond our control… the gondola that was meant to take us up and to the top of mountain for the exchanging of our vows was not running that day and our photographer Rachel knew how important that was to us. Rachel personally drove us up Aspen Mountain in her own vehicle. It was a very bumpy ride but she did it, and gave a whole new meaning to "Adventure Elopement". We still got the beautiful views we so desperately wanted. The stunning coffee shop we were meant to have some of our pictures in and where we were meant to share our wedding cake closed before we arrived due to major road construction and travel delays which was so disappointing, but it allowed us to enjoy an Aperol Spritz (one of our favorite drinks) at the hotel bar and inevitably made for some fun indoor pictures.
Tell us about your wedding flowers.
Sarah wore black and wanted her flowers to have a pop of color contrasting to her outfit. Heidi wanted soft glam and muted tones in whites and pink. Both the bouquets have the Protea, South Africa's national flower as the centerpiece and showstopper which was important as it's where Heidi was born and raised.
Tell us about your wedding cake.
We wanted something simple and elegant. Our cake was all white. We did incorporate Sarah's dads favorite flower, the orchid to the top of the cake to honor his memory and to have him be a part in a small way. Sarah's dad passed away 3 years ago.
Please describe any DIY, handmade, or personal details.
We had beautiful personalized vow books made from an artist in England. We ordered a black and white cake topper from Etsy that had our initials and wedding date engraved on it. We also ordered edible drink toppers with our initials logo from Etsy which we added to our cocktails. We had a biodegradable confetti popper that we popped after our ceremony.
Did you include any family heirlooms or special traditions?
We added white orchids to the wedding cake to honor the memory of Sarah's dad Gary who passed away 3 years ago.
Do you have any advice for couples planning their weddings now?
Make notes. We thought we'd remember everything and only realized afterwards that we'd forgotten to incorporate parts of the day. Don't get too set on a timeline as unfortunately things can be out of your control. We were pretty devastated the coffee shop had closed before we arrived, and that we missed our wedding night dinner at one of Aspens finest restaurants due to road construction and travel delays. At the end of the day it really didn't matter as we were on cloud 9, having the elopement of our dreams in such a beautiful place. Peruse different sights to get inspiration, specifically for a style you prefer or types of poses you'd like to incorporate for your pictures.
Any advice for your fellow plus size brides?
Be willing to try on a variety of styles. Don't give up on your dream dress or designer, most salons are size inclusive and carry a variety of sizes. Do your research. Wearing shapewear to try on dresses gives you a better idea of how you'll look and feel on your day. Practice boob tape before the day of and don't wait like Heidi did which almost led to a wedding day meltdown lol.  Focus on the way you look and feel in your dress/outfit not on the size. Find something you're comfortable in, it's a long day and although you want to look your best you also want to feel your best. 
*Post contains affiliate links*
Photography:
Rachel case photography
| Floral:
Sashae Floral Arts
| Makeup:
Aspen Glam
| Hair:
Aspen Glam
| Jacket: Sage Squire | Wedding Cake:
Whole Foods
| Cake Topper:
Etsy
| Vow Notebooks:
Etsy
| Makeup:
Aspen Glam
| Wedding Dress:
ASOS
| Wedding Dress:
David's Bridal
| Bride's Shoes:
Betsey Johnson
| Veil:
One and only bridal
| Jewelry:
Amazon
| Engagement Ring:
International Diamond Center
| Submitted via:
Matchology
The following two tabs change content below.
Shafonne Myers is a certified wedding and event planner who longed for bridal inspiration that looked like her. She has created a website and magazine that brings bridal inspiration to plus size brides. She does speaking engagements educating the world about plus size brides and self confidence.
Latest posts by Shafonne Myers {Editor-in-Chief} (see all)