Ah, the reception! It's the moment you, and especially your guests, have all been waiting for (after the ceremony, of course). It's the opportunity for your friends and family to loosen their ties. Perhaps later on in the evening when feet are sore from lots of dancing, their shoes too.
Of course, you want to make your wedding reception a memorable one for all to enjoy. And so, no matter what your wedding budget or time for planning might be, below are some ideas split into three categories to simplify your event's most significant elements. These are food and drinks, decor, and entertainment.
Reception Decor
Picture by Ben Rosett from Unsplash – CC0 Licence
If your chosen function room looks a little worse for wear, fear not. Providing you have the "go-ahead" from the venue owners first, there's not much that strategic, beautiful decor can't fix. For some bright ideas to add wow-factor to your event, feast your eyes on the below suggestions.
Dress The Table
Apart from lighting and flowers, it's essential to think about if and how you want to dress the tables, guests shall dine, drink, and mingle over. If you're hoping to cover bland furniture, think about iQ Linens tablecloths and thrills to overhaul the interior. With a multitude of colors, fabrics, and designs to choose from, you'll easily find something that fits your day's theme.
Lighting
Any skilled interior and events designer will tell you that light in a room is everything. It defines the mood, the feel, even the temperature. Plus, good lighting shall also ensure you look spectacular in any wedding pictures taken too! If you want luxury, think about adding chandeliers. On the other hand, if you desire a magical and romantic atmosphere, consider hiring large fairy light trees – they are divine.
From battery-operated tea lights to strings of lantern lights draped above your guests' heads, exceptional lighting adds an impressive touch to any wedding venue.
Flower Arrangements
They're perfect for breaking up blank spaces in your function room. Beautiful flowers add texture, color, and interest to tables, walls, and even ceilings to transform your event space. For a luxurious table display, alternate the heights of the flower pieces planted next to one another on the table between high to low. This technique adds a touch of decadence to your dining area.
Supersized Letters
Large, bold letters, often highlighted with pretty spotlights, are incredibly popular at wedding receptions. With the ability to complement all wedding themes from a Star Wars-inspired wedding to a las vegas theme, supersized letters can instantly spruce up an uneventful corner in your venue. For an idea of what large letters in your venue might look like, please take a look at the image below.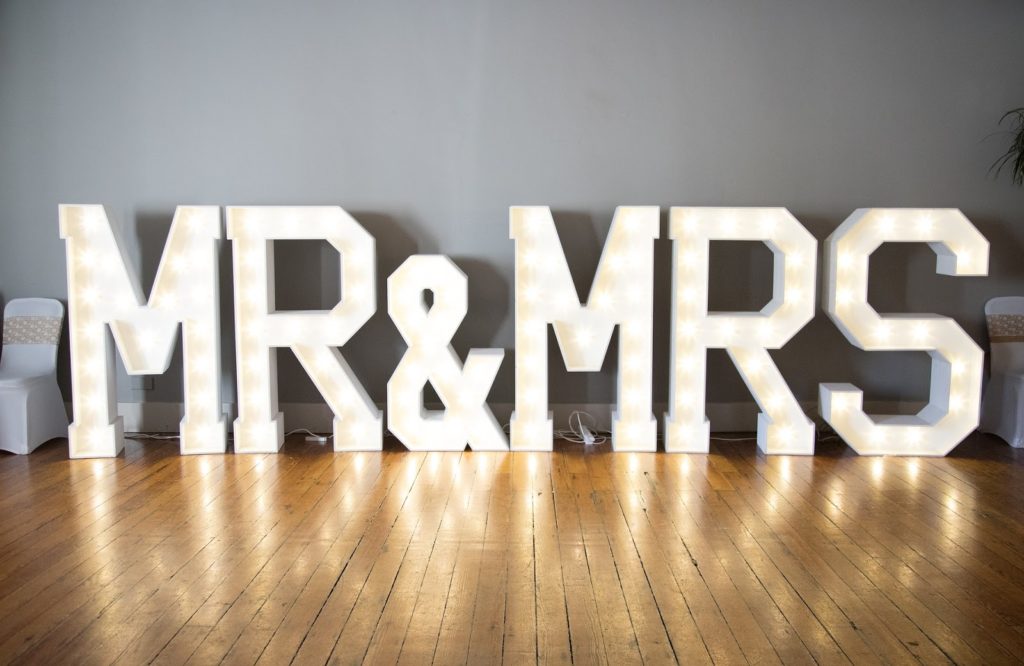 Picture by Sebastian Parkinson from Pixabay – CC0 Licence
Entertainment For Everyone
The wedding reception is the perfect time of day to mingle and celebrate with your guests over your new status as man and wife. To ensure all ages are entertained, below are some fun ideas to break up the evening.
First Dance
If you're feeling bold, you could plan a first dance surprise for your guests – such as a salsa or contemporary dance routine. If you'd like some guidance with designing a new routine, you could hire a choreographer or attend some dance classes for inspiration. Otherwise, with the help of Youtube, you can create your own routine. Better yet, why not get the bridesmaids involved to plan a dance with you?
Fireworks
A surprising interval of fireworks at your wedding party is an exciting form of entertainment for all guests. Of course, you'll need to ask the venue owners beforehand if a fireworks display is allowed, and hire a professional to set the show-up beforehand. But other than this, fireworks are something guests of all ages can enjoy.
Photo Booth or Background
Photo taking opportunities for everyone to take home a snap of their evening is a fun form of entertainment for guests. You could either source a booth for hire, which sometimes arrives prepared with props.
Alternatively, why not get your creative juices flowing and create a background in your venue for party-goers to take pictures against. However, don't forget to hire a photographer to take snaps of your guests. For background ideas, you could choose a black fabric dotted with lights to emulate the night sky. Or a net fabric threaded with gorgeous budding flowers. Or maybe, a giant chalkboard, which guests can write something on to wish you and your husband happy wishes for your future together.
Music
If you want to guarantee everyone has a great time, the music that plays is essential. Often commercial music and classics go down a treat.
When hiring a DJ or a band for a live wedding music, check if they fit the style of music you've dreamed of for your wedding. Plus, don't be shy to ask if you can sample one of their events beforehand, to get a real feel for what rhythms they'll be offering at your wedding party.
Kids Zone
Perhaps the most easily amused, but also easily bored characters in the room, will be the little ones. To ensure the children are having lots of fun, you could consider creating a kids zone with toys, coloring books, and perhaps an entertainer, such as a magician. If you opt for a kids' area, think about hiring a babysitter to look after and play with the children. This way, you can guarantee kids will have fun, and parents will have a chance to let their hair down at the party.
Food and Drinks
Delicious food and drinks tend to be the apple of most people's eyes. So if you want to satisfy your guests and provide them with an unrivaled experience at your reception, it helps to put thought into what people will eat and drink.
Picture by Alisdair Elmes from Unsplash – CC0 Licence
Free Bar
It's likely that some of your guests have never met each other before, which can often add a bit of awkwardness to any atmosphere. To lighten the mood, offering a free bar is sure to lift each person's spirits. Firstly because everyone can order the drinks they like, and become a little more relaxed. And it also takes away wedding guests' worries about how much they can afford to spend on drinks.  Also, you can add a coffee cart hire Sydney, which will be enjoyed by those who love caffeine.
Food Platters
For a great way to begin a wedding reception, to offer platters of appetizers for guests to enjoy before their main meal. Whether mini cheeseburgers or chicken tikka flavored goujons, it's often a welcomed treat by all.
Set Menu
To ensure friends and family are basked in culinary delights during the reception, consider offering a set menu for guests to choose from before your wedding day. It's familiar for courses to include a starter, main meal, and dessert, but you can change this to your liking. You may even wish to offer a five-course meal, but with smaller dishes.
Before you send out a set menu from your chosen caterers, ask the caterers or venue owners if they would be so kind as to offer you and your husband a tasting session of the meals on offer. Note down the meals you both like and think your guests will enjoy and add this to the menu for attendees to choose from. For those looking to make their big day truly memorable, our article on crafting memorable wedding meals offers invaluable insights.
Midnight Snacks
Once the evening meal is over, it sometimes isn't enough sustenance to tie guests over to party until the early hours in the morning. When you're burning calories on the dancefloor, and sipping a few glasses of wine, it's easy to get hungry quickly. As a surprise, you could offer some midnight snacks for guests to indulge in, such as chocolate donuts, pizza, or pretzels! Full tummies mean happy guests.
As with the set menus, sampling the midnight snacks before the event can ensure you're delighted with the treats on offer before you order them.
Buffet
One of the most budget-friendly food options for weddings is a buffet! But it doesn't have to be cold food unless that's what you and your family and friends enjoy. For instance, you could spice it up by offering different food stations with multiple cuisines. You may also hire an ice cream truck to provide refreshing deserts to your guests.
Designing a wedding from the ceremony to the reception is as exciting as it is stressful, but oh so worth it for the memories you, your husband, and family will create on the day. Careful planning, alongside managing your budget effectively and choosing the right decor, entertainment, and food in-keeping with your personalities and theme, is essential.
As an additional tip for your wedding reception, don't forget to consider how and if you want to switch up your look from the day time ceremony to the evening party. You may want to choose a completely different outfit to show off or slip into something more comfortable – especially if you adore dancing.
Above all, ultimately, the day is about you and your other half. The fact you're taking time to make sure everyone is going to have an amazing and memorable experience is a big bonus for guests.