It's Bridal Blogger time! Can you believe that our infamous bridal blogger, Marcy will be getting married in less than 3 months.  We have tons in store for you about her planning experience. As you all know the most things come up during your last 2-3 months of planning. Today she is sharing some great tips for all our newly engaged plus size brides to be.
So you're engaged and now it's time to get on that "wedding diet."  You know, starve yourself to "perfection" so you can really impress on your big day.  For many of you reading this, you totally understand what I am getting at!  The expectation that I will lose weight now that I am enfianced seems to have permeated the entire engagement experience and can dampen otherwise happy spirits.  This ideal that you must be thin (or thin-ner) on your wedding day has been perpetuated by the bridal industry for years and can be very easy to get complely consumed by.  As a plus size bride, I have realized a lot of things about the wedding world and am learning what is and isn't right for me.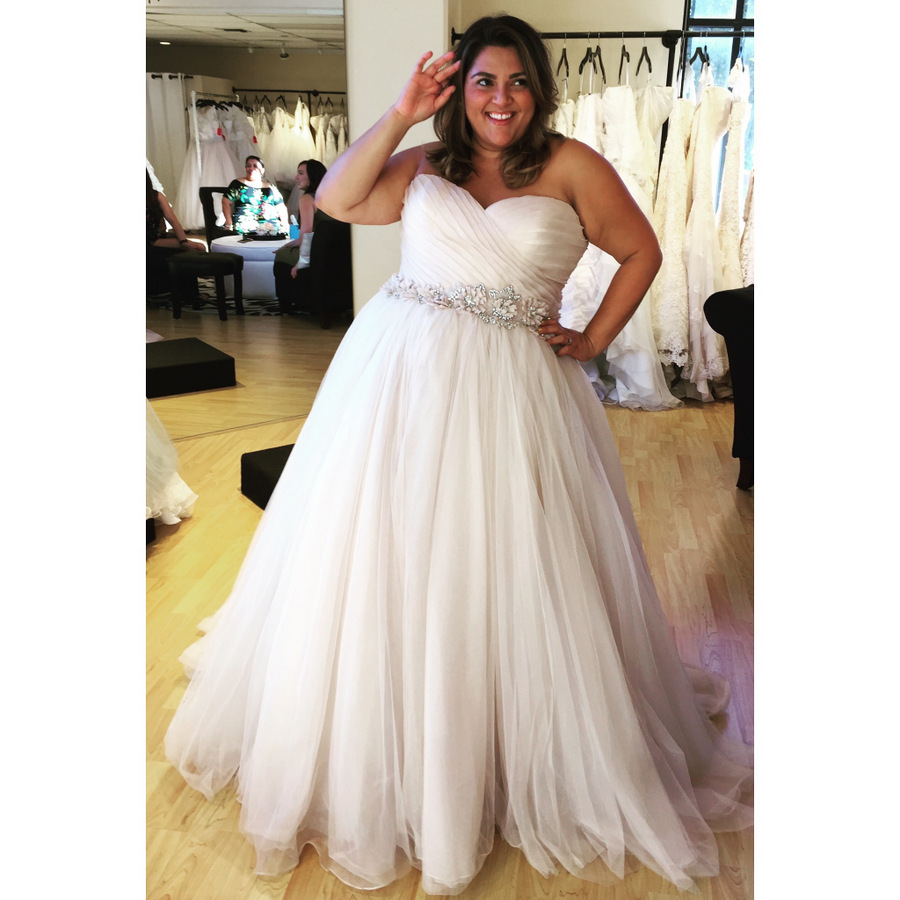 The day I got my dress it was assumed that I would lose weight.   The bridal boutique consultant casually said, "Depending on how much weight you lose…" and went on to discuss alterations quickly realizing her misstep and correcting herself by saying, "you know, brides get stressed and usually lose weight." AS IF! I wish stress made me lose weight! I'd  be Angelina Jolie!   Now let me say, she meant well and of course I want to look my very best on my wedding day, but thinness may not be in the cards for me.  
Now that I am engaged, I exercise a ton (which is definitely toning me up), get facials regularly and am maintaining a serious tan, but I have to tell you if my wedding was tomorrow, I would be thrilled.  I'm just over three months away from my wedding and I haven't lost a pound.  I've gained a lot of knowledge however and I hope these little life lessons will help you on the road to your big day.
Here are some reasons it's okay if you don't lost any weight before or after you've said yes to the dress.
Your partner loves you just the way you are.
It sounds cheesy, but you got the ring just as you are, no strings attached, no expectations of you morphing your body into something new.  Embrace it and plan ahead for the skin you're in now.  Speaking skin, take this opportunity to indulge in facials and get that glow going! I've splurged on skincare and LOVE the results.  If cutting back on carbs is your thing, go for it, but know that either way when you walk down that aisle what you've been preparing for is a lifetime of bliss, not just one day of being a wife.
Who wants to look back at pics of "perfection"?
Aim to maintain a figure that suits your lifestyle and reflects who you are and want to be.  Being in a headspace where I love my body and can treat it like the temple that it is, is far more attractive to me than fitting in a dress I will never fit in again. You don't want to look back at photos from a time when you starved yourself triggering feelings of insufficiency in your new role as a wife.  Plus, crash diets can often result in hair loss, mood swings and even dull your skin! If you're looking to get in better shape adopt a fitness routine that suits your lifestyle and set reasonable goals.
The perfect dress DOESN'T EXIST!
Well, it might, but you have to embrace your shape and know what you want because the perfect body doesn't exist either. Love the skin you're in and find something that fits your body today.  There are lots of fabulous dresses for us curvy girls, whether you're looking for something sleek and sexy or going for the princess look, you can find the dress of your dreams for the body of your reality!  If you do lose a little weight, or your shape changes from working out, great alterations will help your dress fit like a glove.
Enjoy the moment!
This is supposed to be a happy time in your life! Make sure you're enjoying the moment and not hangry all the time.  If you're trying to cut out sweets or booze this can help with weight loss, but if you're just working on eating more nutritiously, carry nuts and fresh fruit for a healthy snack when you're out registering or in between bridal fittings!
Take these tips and do what you will with them! I am just trying to survive out here in this bridal jungle…. Have tips of your own? I'd love to read them in the comments below or tweet them to me @themarcyminute.