Hi! I'm Marcy.  I am a plus size style expert, host and stylist and now I am a BRIDE TO BE!  Naturally, I had to share my story here on Pretty Pear Bride.
I met Shafonne in 2013 and LOVED the idea of Pretty Pear Bride, since then I've been anxious for the day that I too would be a bride and get to share my wedding story.  Well, the day has come!  I am fortunate that I get to write about style and my favorite outfits, but when I got engaged I knew I had to document this exciting ride. Frankly, I don't think I have ever been so excited to write about anything.  So here I am, ready to share my ups and downs as I plan the wedding of my dreams (within my budget) and struggle with guest lists, saying yes to a dress and everything in between.
First off, I want to start by saying that I don't believe there is a right or a wrong way to plan a wedding and no matter what people tell you, you have to things YOUR way. I've also been in nine weddings as a bridesmaid, so I have a pretty good idea about what I do and don't want.  I am also fortunate to have a BFF as a wedding planner so that REALLY helps.
I want to take you on the journey with me, so I will bring you up to speed… but I also want to talk about things that interest you… Thoughts? Questions? Ideas?  Send them my way! And don't forget to use the hashtag #ppbbloggerbride. 
Okay, so I was engaged in April to the man of my dreams, he really is amazing and I am obsessed with my ring.  It's the ring I never knew I wanted.  I love that my fiance, Tim, took the lead and surprised me with the proposal and ring.  It was simple and just us and just lovely.
So far we've chosen our venue and our band, but NOTHING ELSE.  Instead of freaking out right now I will tell you that our venue is gorgeous and on a clear day you can see all the way to Downtown LA.  We didn't do a ton of venue shopping, but I knew that a site fee was out of the question.  I hate paying for someone simply to open the door to their venue… I need more.  We walked in and instantly knew it was THE place.
So like I said, the second thing we've got booked is our band.  As far as music I have ALWAYS said that I wanted live music, for any brides reading this I have found it incredibly helpful to prioritize what is important to me and to Tim. Music is of the utmost to me, so when I ran into Dan Sistos at Red O in West Hollywood on Cinco de Mayo (rather serendipitously) I knew I had to have him and his partner sing at the wedding.  They are amazing and for a mixed crowd like mine will be, they play just enough latin music with American classics in between.
Well, other than those two (pretty major puzzle pieces if you ask me) I have some serious work to do, so your suggestions are appreciated.  Will be sharing more, every 2nd Wednesday of the month, as we go and bringing along some friends to share their tips too.  I hope you'll enjoy and give me your ideas along the way.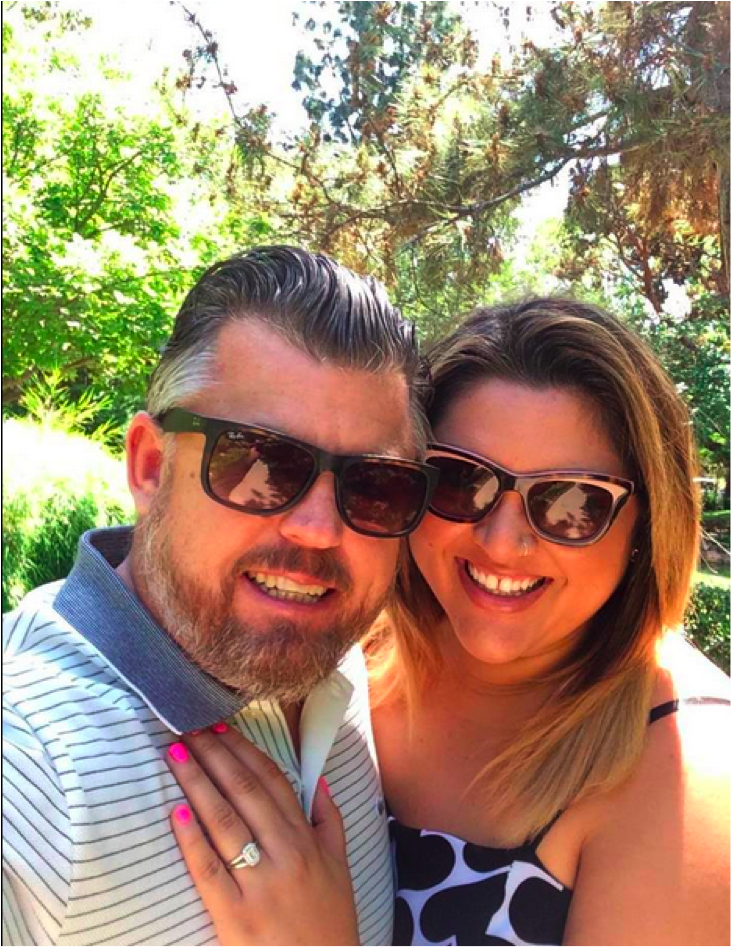 Tim and I at the Langham Hotel right after we got engaged!
Feel free to tweet your ideas to me at @themarcyminute using the hashtag #ppbbloggerbride and if you want to follow along, I'll be pinning at https://www.pinterest.com/marcyguevara/mr-mrs-prete/!