It's time for another installment from our fabulous Pretty Pear Bride Bridal Blogger, Marcy Guevara!
I don't like shopping and I hate trying things on. That's really a conundrum when you work in fashion, but somehow I've made it work for the sake of making a living… It especially doesn't work when you're a bride to be.  However, when it came to choosing where to start the ever so important and stressful task of shopping for a wedding dress, I knew exactly where I would start.
As a plus size woman, shopping for regular clothes is enough of a challenge… sales people that don't get your body, harsh dressing room lighting, struggling to find things that fit, and the list goes on. The idea of enduring this type of torture when trying to find the perfect look for my big day was unbearable.  I had heard of Della Curva boutique and when he put a ring on it I knew that's where I was headed.  I'm a minimalist so I am only having a maid of honor for my wedding, but I've been in ten weddings so I knew how fun it would be to have all my best gals come out for a day of ooooohing and ahhhhing.
My friends, aunt and of course my mama trekked out to Tarzana, California, in "the valley" to get to the mecca of all plus size bridal salons.  Sara, Ruby and the entire team at Della Curva welcomed us and made us feel right at home.  My family and friends were longing for the picture perfect experience the movies depict of brides shopping with their gals and trying on a hundred gowns.  I don't think I would've lasted much longer than I did, but Sara was willing to help me get into anything I pleased.  I went in to the experience with a very specific idea in mind.  I really had my heart on something formfitting but, no matter how puffy or princessy, I fell in love with almost every gown I tried.  One piece of advice I would give is have your dream dress in mind but stay open to the possibility of something even more fabulous.  With the way models are shot and Photoshop magic, the gown of your dreams could look entirely different once you actually get it on.
Designers Della Curva Carries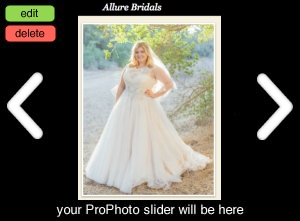 I also highly recommend getting a blowout and your makeup done.  This will give you the full effect when you slip into gown after gown.  I wish I could do this EVERY time I go shopping!
Della Curva is gorgeous with amazing natural light and AC that will keep you cool no matter how much champagne you enjoy or how warm getting in and out of gowns makes you.  I really couldn't believe how gorgeous each wedding gown was.
At first I was scared to look at the price of some of my favorites, but Sara assured me that the gowns were all within my budget.  (Her average gown is about $1500).  I breathed a sigh of relief and tried on every look I wanted.  The glitz and glam that is everything about the bridal world was in full effect with veils, and Swarovski crystals and feathers galore.  It was better than I could have imagined and I am so thrilled that I chose to share the giggles with my family and friends.
Whether you're in SoCal or not, if there isn't a bridal salon dedicated to curves near you pack your fatkini and take a little weekend away to come shop with the ladies of Della Curva.  Not only do they have a wonderful inventory of styles that will make you look and feel like a princess, they are incredibly accommodating and have the patience of saints.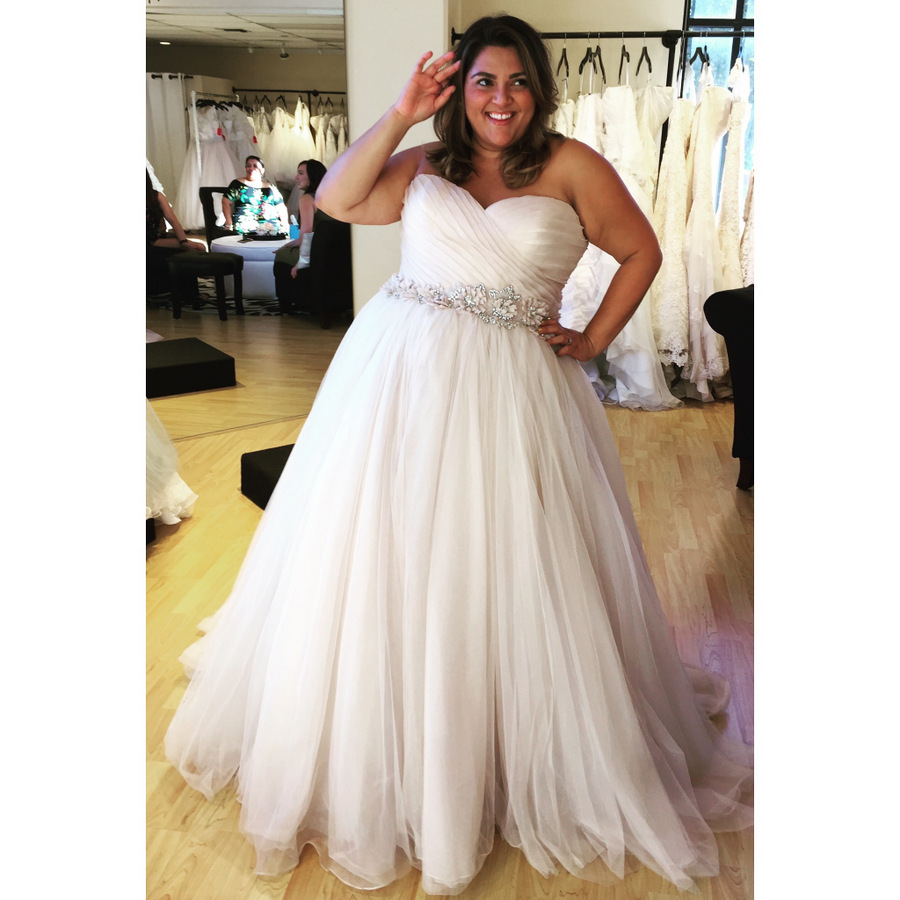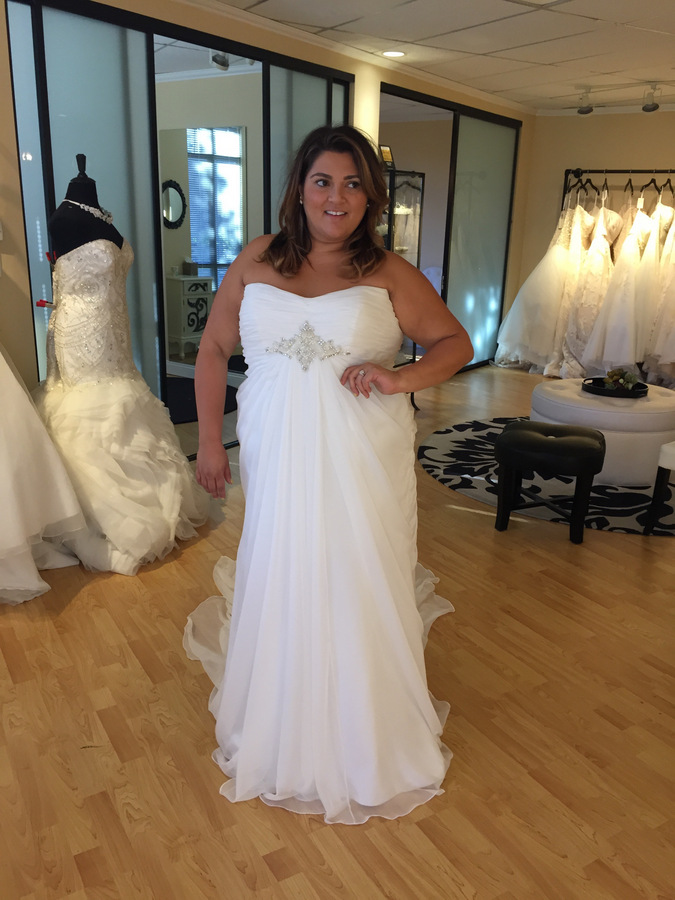 Wondering if I said YES to any of these dresses??? Stay tuned!
For an inside look at my shopping experience, watch my video!
Make an appointment at  Della Curva for additional information about these dresses for your big day!!
Feel free to tweet your ideas to Marcy at @themarcyminute using the hashtag #ppbbloggerbride and if you want to follow along. She'll be pinning at https://www.pinterest.com/marcyguevara/mr-mrs-prete/!