It's the first day of fall and you know what fall means….FOOTBALL! Ladies, you know there's a reason the NFL and NCAA College Football Teams have started catering more and more to us with their apparel and commercials. We women are just as rabid fans as our significant others! What better time to celebrate the love of your team than your wedding day, am I right? As an avid Pittsburgh Steeler fan, I say this stationery are all worthy of a cheer (or two!)
DIY PDF Sports Ticket Save the Dates – How adorable are these? The ticket stub style save the dates are so fun and the Etsy business, Whisker Kisses Designs, can design a personalized version with your favorite team.2. Football Themed Wedding Invitation & Set – This one uses your fiance and your initials to make the NFL logo. A paisley border complements your favorite team colors. Best of all, you can do RSVPs, Save the Dates, Invitations and Thank you's.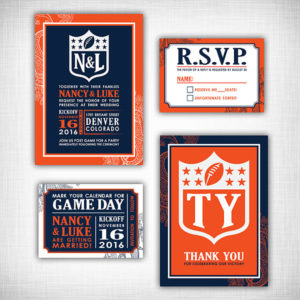 3. American Football Custom Save-the-Dates – Simple and sleek, these invites are perfect for those couples who just love the game of football, whether it be high school, college or pro. The wood look to the stationery is perfect for rustic weddings too!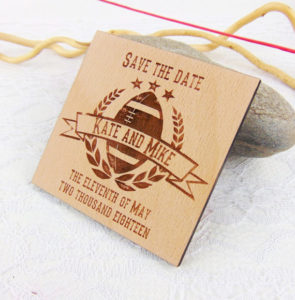 4. Vintage Football Collection Set – These cute vintage-style invites are a fun way to showcase a sports theme. Made to look like footballs, these are sure to let guests know just how much fun they'll have at your big day!
5. Custom Football Field Wedding Invitations – These sweet invites are great for the couple who met way back when on the field. Last names get top billing on either side of the field too, making it a super fun take on the typical invitation.
6. Bridal Shower Football Theme Invitations – For those ladies who will have the game on in the background during their shower, these invites are for you. I love that they proclaim the bride has found her MVP, as it adds a whimsical, sporty touch!
7. Tailgate Engagement Party Invitations – If you're the type of couple who are planning a tailgate for one of your celebrations, you'll love these. Cartoon versions of yourselves adorn a football field invite in green. Love!
*Post contains affiliate links