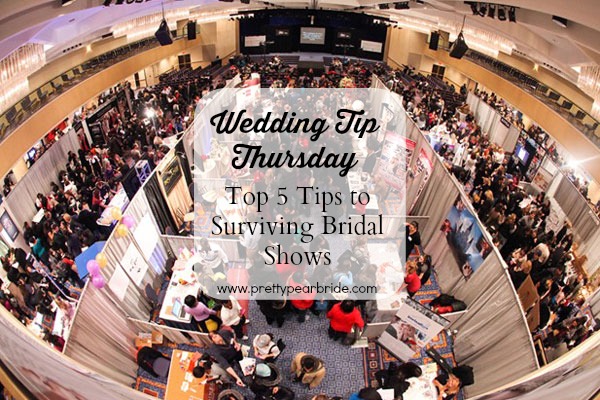 It's that time of year again. I have been seeing the billboards pop up along the highway, commercials on TV and online and the emails have been rolling in about getting your tickets. Whether you are a newly engaged plus size bride or a curvy bride to be looking for those last few vendors, bridal shows are a must have for you. Well, if you are newly engaged…check out our "Engaged Start Here" page before you go any further, it's going to be a wealth of all kinds of knowledge to get your started and on the right track.
Now there is definitely an art to surviving bridal shows, it can be a very daunting and frustrating task if you aren't equipped with the right tips, tricks and skills.  So I'm here to lend some of my knowledge and hope that you get your maximum ROI, return on investment of your time and money from bridal shows.
1. Research
This is completely and utterly imperative because this is what can make or break your bridal show experience. Most bridal shows will have a running list of all the vendors that will be participating in the bridal show.  So before you even set feet in the building you should know who you want to see.  And depending on how big the show is, you might even get a map so you can pinpoint where you need to do so you aren't aimlessly roaming around.
2. Bring Stationery
Yes, it sounds strange and you wouldn't believe how many people I would see fishing for something to write on but it happens.  Make sure and bring a pen, heck several of them and something to write on. Also bring labels so you don't have to keep writing your information down when visiting vendors.  It is time saving and it will save your hand from cramping up!
3. Take Notes
This is huge! Take notes about everything, no matter how small and insignificant it seems because once you get home you won't remember a thing from the show. I always tell couples to write any important notes about a vendor down on their cards, brochures or supplementary material they gave you.  This will be such a time saver when you get home and have a bag full of paper and favors.  The vendors that you thought were good or a perfect match for you will be the ones that you actually wrote on.  PERFECT!
4. Skip The Fashion Show
I know, I know it's by far the best part of a bridal show BUT if you have already picked your plus size wedding dress then this is prime time for one on one contact with vendors which will be few and far between to get later on.  So maximize your time and get to meet some of your vendors that impressed you the most while you can actually talk to them.
5. Wear Comfortable Shoes
Ok, ladies please, please don't be that girl that I see hobbling around because she decided to wear heels because she wanted to look ultra cute. Trust me, you will thank me later when you wear those comfortable shoes.  You are going to be walking tons so you want to be well equipped….save the cute heels for later.  Your feet will thank me!
Alright I actually have 6 because this is a good one too!
6. Don't Feel Pressured
You are going to see lots and lots of vendors, trying to get you to sign up for their services or products but honestly there is no reason for you to rush into anything or feel pressured.  Take in all the information, mark the ones you like but don't jump into anything.  You have plenty of time to make an educated decision and most times that is not at a bridal show.  Now I will tell you vendors do run bridal show specials and that's to entice you into signing on the dotted line at the show and if you have a wedding date that is very popular or you are getting married in like a month or two that might not be a bad idea.  But for most of you, step back, collect your thoughts, talk it over and then make a decision.
Well I wish you luck at your bridal shows and hope that my tips have helped you out in some way and make your wedding planning experience easier.  Feel free to add any of your own bridal show survival tips below!