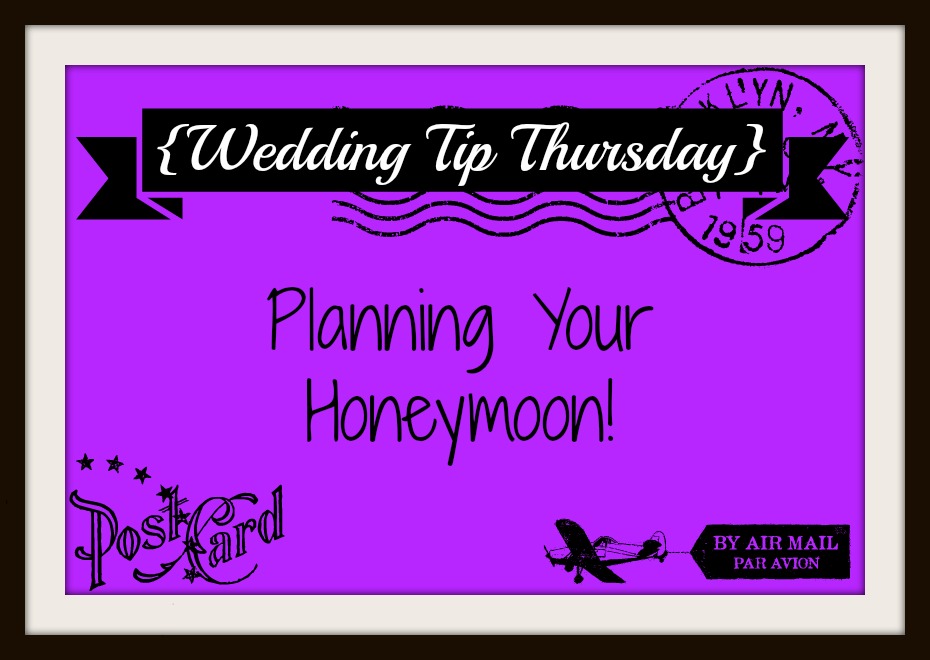 Out of all of the planning you may do for your wedding, your honeymoon might actually be a bit challenging. Of course, it is something to look forward to, so planning for the special vacation may be fun, however where to go, how you'll afford it, and how long you should be gone for may be some questions that hold some weight. Not everyone can afford the month long vacation to Paris with champagne and views of the Eiffel Tower every night, but the special occasion, that is your honeymoon, is one that you and your one-and-only should not overlook. Even when you're on holiday, there are so many things that can happen. Like you can lose you credit cards, the airline can misplace your suitcases or your flight can get cancelled! What if you're injured? What do you do then? These are just things to keep in the back of your mind, but don't let it ruin such a special time for you and your partner.
The time after your wedding is exciting, and seriously, (I can tell you from my own experience), something happens. You suddenly find yourself searching for long love quotes for him to show him how you feel. You do feel more in love! It's romantic, and some how you are more attached than you were before the wedding. Okay, yes, this may seem odd and you may be scratching your head, but I'm telling you the truth. The little piece of paper that you sign showing your state that you love another person really actually does affect you. My wedding was not big, and actually we didn't even tell anyone for a few months, (a story for another day), but I did not think that I could love my husband any more than I did the day before I married him. Then I married him, and I loved him more. Your happiness reaches a new level, and you need some time to soak that in. It took my husband and I a few months before we made it to our honeymoon, we actually went back to work the day after our wedding. I will say we should have taken a few days off, I was in an alternate universe after I got married. So, head my warning, even if you aren't wanting to go on a crazy vacation, your honeymoon needs to happen. You two need time to yourselves.
When sitting down to plan out your honeymoon, first figure out what you are working with financially. It is important to only plan your honeymoon within your current means. You may have a family member who is contributing, or you may plan on paying for the entire vacation on your own. Either way, it is important to not arrive back home after you honeymoon overdrawn and broke. That is a sure fire way to make the beginning of your marriage stressful for no reason.
If you are really hoping to make it some where special, but need help financially to make it there, websites such as Honeyfund, Honeymoon Wishes, Wanderable, etc., offer a way to ask your guests to contribute to your honeymoon instead of buying you gifts. This has become an accepted alternative to gift registries and you should take advantage of it if you're looking to make it somewhere special. I do encourage having at least one regular registry as some guests may still rather give you a gift, (it is only customary to appreciate all guests this way). When working on your honeymoon registry site be sure to include everything you plan on doing, your guests what to know, especially if they are giving you money. Going to Disneyland? Make sure to include specific restaurants you want to go to while you are there, if you want to stay at a Disney hotel, and if you plan on going to the House of Blues for a concert. Going to New Orleans? List of the museums you are checking out, if you plan on walking the French Quarter, if you're staying at a B&B. Include as much detail as possible, your guests will help you out more if you have more detail to give them.
Not feeling a Honeyfund and don't have the money to go anywhere? That is perfectly fine, you can have a honeymoon while at home! You want to plan at least three days to a week to celebrate at home. Plan a nice dinner at a good restaurant and order in at least one day during your stay at home. Pick out some great movies you've been meaning to see, and research local wineries, museums or brunch spots that you can go take advantage of while you're celebrating. While you're out on the town be sure to tell people it's your honeymoon! You may be celebrating at home, but it is still your honeymoon. You'll get congratulations and restaurants may offer a free bottle of champagne or a discount on your bill. Take advantage of being a newlywed couple and tell everyone!
A must before you head out for your trip or celebrate at home is finishing a home check list. Yes, you are going to be super busy before your wedding, but you do not want to come home to dirty clothes, dirty bathroom, dirty kitchen, and a lawn that needs mowing. Make a point of getting everything done on your home to-do list so you can come home to a clean and stress free environment. Make sure to keep your blissful honeymoon going as long as possible, so don't leave anything undone prior to your wedding day. You can even ask family to help out. I know my Mom and my Mother-in-law are willing to come watch our cats while my husband and I are gone. If I asked them to water the plants, or help me get the house ready for a vacation they'd be there for me. I'm really lucky, so I hope you have a family member or a friend that can help you out too. Remember, your family and friends are there to help you with the wedding planning and the honeymoon planning. Don't hesitate to ask for help!
With all that said, let me know if you have any other questions when planning for your honeymoon. No one couple's experience is like another's. It is unique to you and you can do whatever the hell you two want to do. Enjoy it and soak it in!