Amanda and Sean are digital nomads. They've been traveling for three years and fell in love with the place, food, and people of Montefino in Abruzzo, Italy. Their rustic and local styled wedding showcased everything they love about this little medieval town.

Amanda and Sean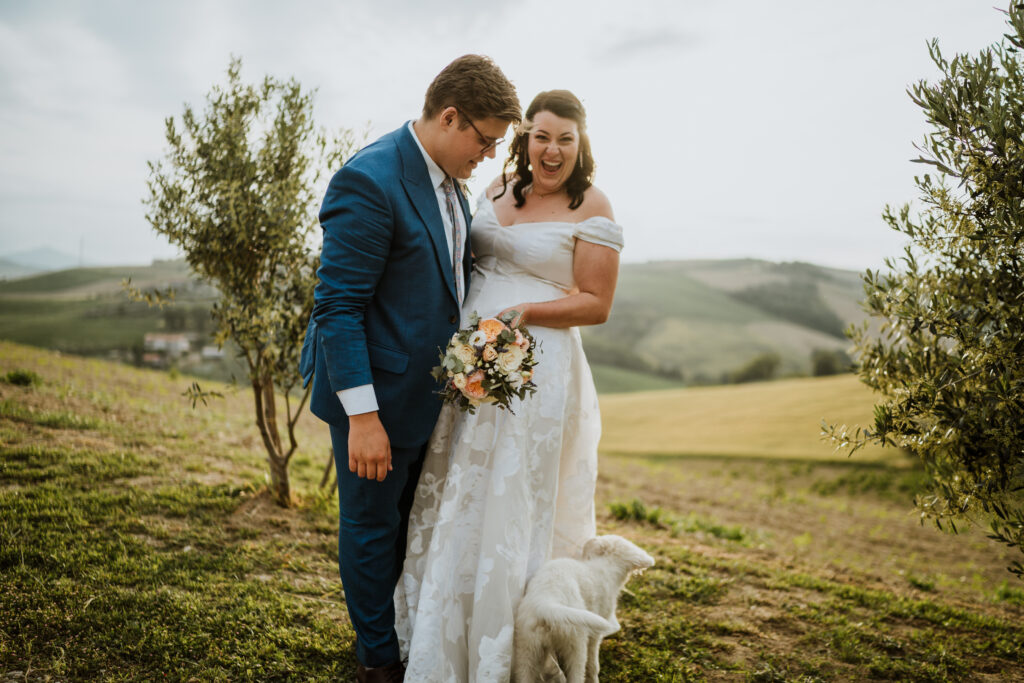 Tell Us About Your Wedding
We chose to get married in this little medieval town called Montefino in Abruzzo. My mom has a renovated farmhouse there affectionately called the "Nuns Spring" or Fonte Delle Monache. We have spent about 6 months there in total over the past 3 years and we have fallen in love with the area, the food, and the people. This inspired our wedding style which was rustic and local because we wanted to showcase everything we loved about Montefino and Abruzzo.

We were very hands-on and wanted to make sure that everything, large and small, was perfect and fit in with the theme we had. Our welcome gifts were our favorite Italian coffee, travel size Moka pots, and some delicious chocolate made the town over. W
Despite the fact that we were traveling, our wedding was very hands-on and we were involved in every part of it. We also had a wedding planner, Chiara, who helped plan and source the things we couldn't. In the lead up to our wedding, friends, family, and even people from the town helped us decorate the house and venue for the 2 days of events prior to the wedding day itself. Without them, I don't know what we would have done. It was incredible. They were incredible.
Montefino is a truly magical part of the world to us and I know that our wedding helped showcase the area but also showed our love to friends and family who because of our lifestyle don't get to see us very much. It was an event to remember!
Wedding Colors
Pink, Green, and Blue.
How Did the Two of You Meet?
The day I met my husband, I remember so vividly.
We had a first date that truly sounds like it came from out of a movie. We met online and after just a few days of messaging each other, we realized we either had to make the leap and meet quickly. If we didn't, we'd have to wait for over a month as I was flying back to DC from London to surprise my family for Christmas.
I had just moved to London that September for my Masters at King's College London. I made Sean plan our first date which is what lead us to meet on a Saturday evening on the Southbank in London with the London Eye to our right and the London skyline directly in front of us.
We began our night with drinks at the BFI and then went to dinner at Wahaca. I later found out that Sean had chosen Wahaca because I had told him about my Mexican heritage and he mistakenly thought Wahaca was authentic Mexican food, though it was a good meal nonetheless. After dinner, we then started a long and picturesque walk from the Southbank all the way to Hyde Park for Winter Wonderland. Along the way, we walked past some of the big London landmarks like Big Ben and Buckingham Palace along with smaller ones like the lampposts Coco Chanel put up around London for her lover.
As we walked, Sean made up facts about the city because despite being a London boy, he was pretty unknowledgeable about the city he grew up in. After a walk that was both longer than we both expected and also felt like it took no time at all, we arrived at Winter Wonderland and it took my breath away. I have always loved London at Christmas but this was particularly special, part Christmas Market and part Fair. It was full of lights, rides, and Christmas cheer.
Getting away from the crowd, we found a quiet place below a singing moose to sit and drink mulled cider. We talked and laughed, not wanting the night to end. Sean even did the stereotypical thing and won me a stuffed animal in one of the games, though it was one that guaranteed a prize so can't give him too much credit!
Eventually, he walked me to the bus where it started to lightly rain and Sean kissed me goodbye. He then waited until my bus left before he started to walk away. It was one of those small acts that have a big impact but I liked that he did that and after the date, we had just had, the rest was history.
Describe Your Flowers
Our flowers were simple but beautiful. They complimented the beautiful backdrop of our wedding venue and reception beautifully!
Memories and Stories About the Day
My brother drove me up from the house to the venue. He played Darlene Love's (Today I Met) The Boy I'm Gonna Marry and it was a special moment. He said a few words that stuck with me even today. His speech for our wedding, I still remember it!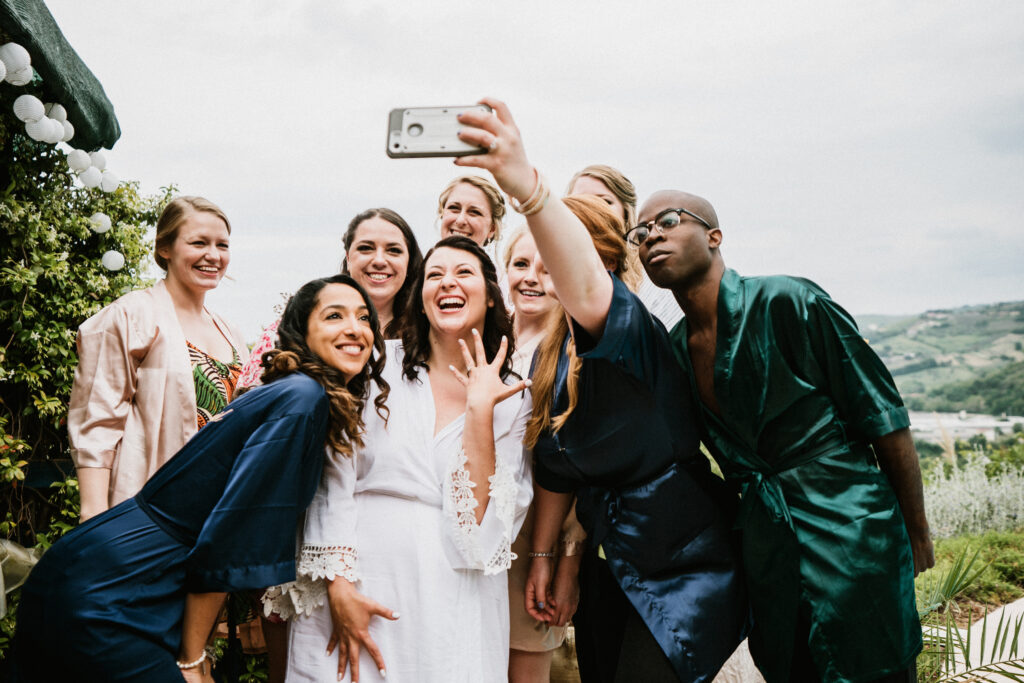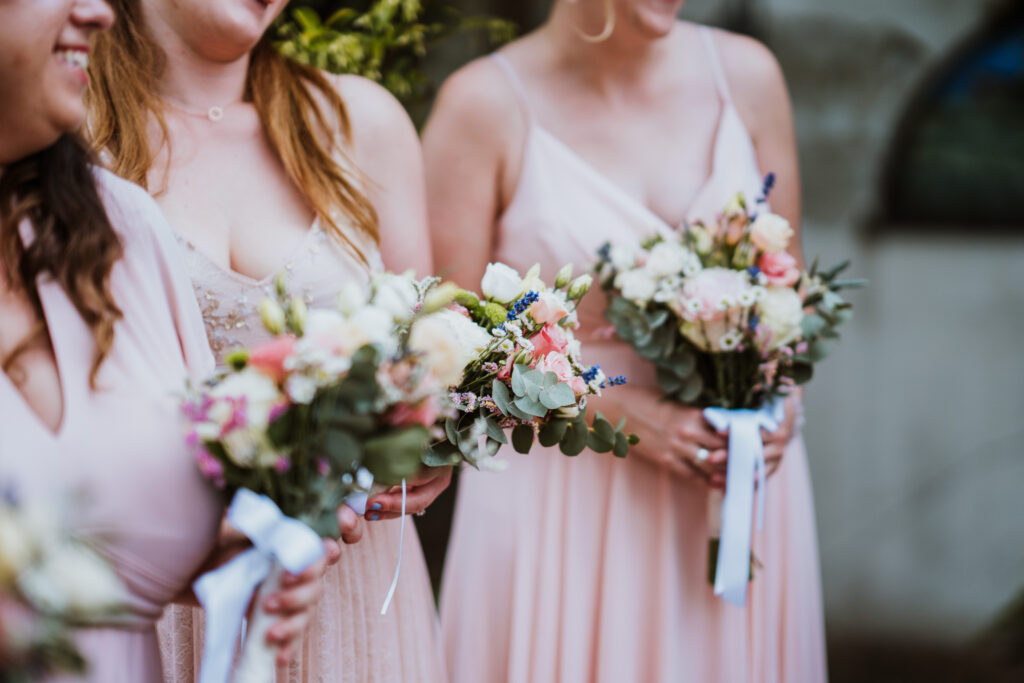 Your First Dance Song
"Rose of My Heart" by Johnny Cash
The Thing We Would Have Done Different Is?
I had spent more time with people but it's hard trying to get Facetime with everyone. That and I hadn't lost my Thank You speech!
Your Advice for Other Plus Size Brides
Don't settle for anything or anyone. There is always the perfect thing for you from dress to venue and everything in-between. But mainly, make sure you do what makes you and your partner happy because, at the end of the night, when you are tired and you're taking your dress off, it's just you two. That is how it will be. You two, forever and always. How awesome is that?
3 Adjectives that Describe the Day
Personal. Delicious. Fun.
What has Surprised you Most During the First Few Months of Marriage?
How much I love being a wife! What doesn't surprise me is how often we get asked when we are going to have kids… Ask me about dogs first, then kids!
Vendors
Photographer: Barbarossa Studio
Videographer: MOE Films
Venue: Agriturismo Cignale
Wedding Planner: L'Arabesque Events
Bridal Attire: Dear Heart
Groomsmen's Attire: Beggars Run
Flowers: D'Alberto Fiori
Wedding Stationery: Minted
Makeup Artist: Paola Talanca Make-Up
Rentals: Umami Banqueting Designer
Transportation: Abruzzo Touring
Wooden Place Cards: Barone Woody Maker
Artisan Beer: Birra Bertona
Wines: San Lorenzo
DJ: Fabio Diesis
Photobooth: Instant Photo Booth
Open Bar: Drinkemotion
The following two tabs change content below.
Shafonne Myers is a certified wedding and event planner who longed for bridal inspiration that looked like her. She has created a website and magazine that brings bridal inspiration to plus size brides. She does speaking engagements educating the world about plus size brides and self confidence.
Latest posts by Shafonne Myers {Editor-in-Chief} (see all)