And to think that this time last week, I was in the Bahamas. Today's wedding is definitely making me miss the warm breeze and nice weather. I just love the look of this gorgeous plantation home that serves as the backdrop of this amazing wedding. And not to mention her lovely personal touches. Check out more below!

Heidi & Cesar
Please describe the wedding day and preparations: "The wedding day started with my mom, Maid of Honor, dad, brother, and myself at the venue doing some last minute preparations before our caterer, DJ/lighting guy, and the flower shop showed up to transform the venue into our dream wedding. After that, my mom, Maid of Honor, and I went to my mom's friend's house where we got our makeup and hair done, ate a light lunch, and relaxed as much as possible before getting dressed and heading back to the venue. My mom got done before everyone else so she could go back to the venue and make sure everything was going smoothly."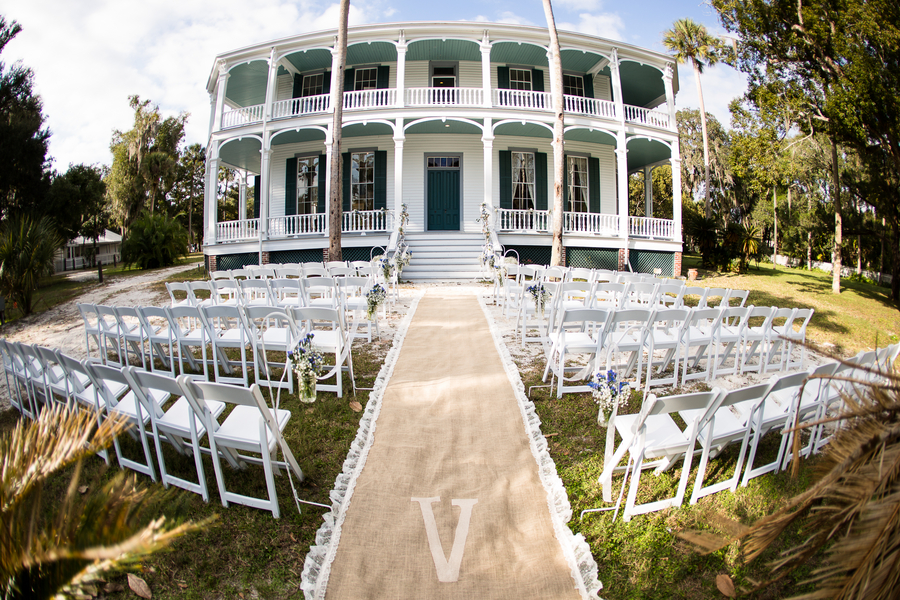 Tell me the story of how you met: "Cesar and I met while working at Seminole Harley Davidson in Sanford, FL. We just started talking one day about 7 years ago, eventually exchanged numbers, and have been together ever since."

Tell me your Proposal Story: "Our proposal wasn't romantic, but it was very much 'us.' Cesar woke me up early on Valentine's Day 2014 and told me that he had my Valentine's Day gift. I asked what it was and he told me it was what I always wanted. Sarcastically, I asked him if it was a million dollars. He gave me a 'be serious' look, and kept trying to get me to guess. At that point, I knew a proposal was coming, but I wanted him to actually ask. Finally, he asked me to marry him. I was half in shock and half still asleep, so I didn't burst into tears or scream yes, but I did say yes. He then told me he didn't have a ring. I shrugged and acted like I was going back to bed. That's when he handed me a beautiful wooden box, and inside was my gorgeous engagement ring."
Tell me about any challenges involved for the wedding day: "The first challenge we had was putting together the seating arrangements for the reception. Everyone told me that it was going to be frustrating, and they weren't kidding! Being the planner I am, I wanted to get started with it right away. But, every time we tried to tackle it, I would get frustrated and give up. Finally, my mom and I picked a day that we both had free and sat down with our list. I cannot remember how many times things changed. The major issue was that I wanted to have our wedding party sitting with us, rather than just having a sweetheart table. But that was a challenge in itself because my husband didn't have his side of the wedding party picked out yet. So, after finally giving in to the two of us having our own table, part of the seating chart started to come together. Then, it came down to figuring out if there was anyone that maybe shouldn't sit together, or who might complain. Finally, I decided that it didn't matter because people were going to be able to get up and mingle. So, after at least 3 hours, we had the seating chart figured out. The other issue that was a constant throughout the entire planning process was my husband picking his side of the wedding party. As I mentioned, I'm a planner. I don't care that he didn't need to pick out his guys as soon as I needed to pick my girls. I wanted him to have his guys so I could know how many girls I could have on my side, and so we knew who was doing what. I'd say it was probably two-three months before the wedding when he finally asked his oldest brother to be his best man. Thankfully I had already asked my girls well in advance of this, but it still annoyed me."
Tell me more about any special details. "My favorite detail about the day was my bouquet. I found an idea on Pinterest of how to incorporate loved ones that had passed on by putting pictures of them in picture frames, and hanging them from the bouquet. My maternal grandparents had both passed away relatively recently once we had finally gotten engaged. It still breaks my heart that they weren't here in person to celebrate my wedding day with me. So, I went through some old pictures of them and found one of them sitting together and smiling. I also wanted to include my paternal grandmother who had passed away before I was born. We were able to get some pictures from my papa, and found the perfect one. My mom was able to get copies of them to put in small picture frames she found. With the help of Sanford Flower Shop, my grandparents were able to be with me on my wedding day."
Interesting facts about you and your spouse that you would like to share: "I was born and raised in Florida, and while I had traveled out of the state, I've never lived out of the state. I've also never been on a plane, which my husband loves telling everyone. My husband is Peruvian, and was born in Brazil. He's lived in quite a few other places including Singapore, Amsterdam, and Ohio."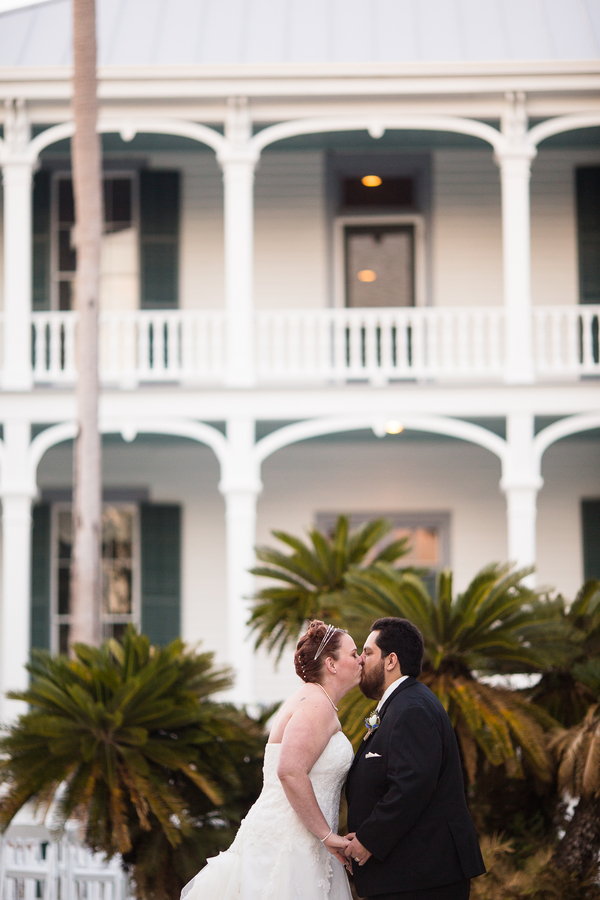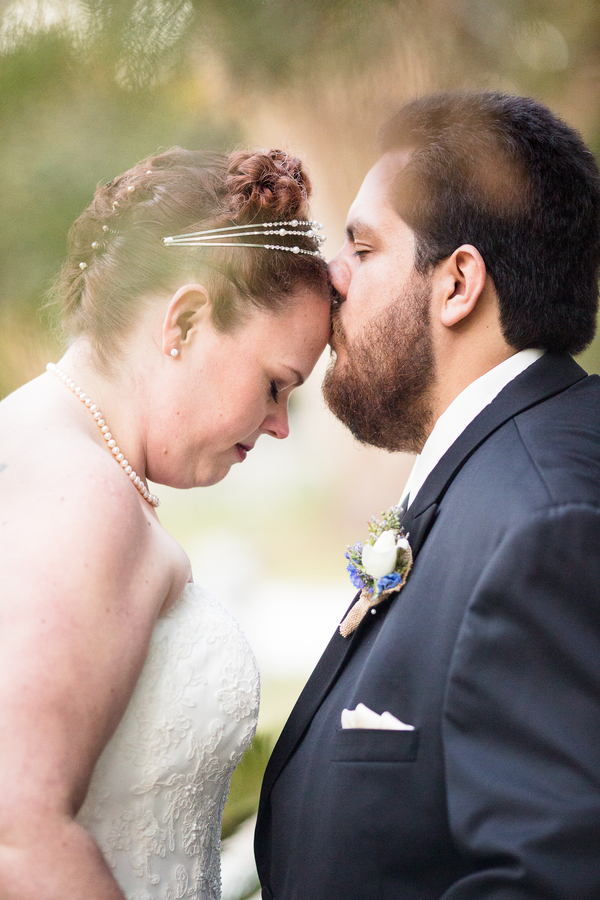 Tell me about the Wedding, like the theme or colors: "My theme was kind of a mash-up of ideas I'd seen from Duck Dynasty and a Grey's Anatomy episode. I loved the rustic theme the Duck Dynasty crew put together for Phil and Kay's vow renewals, and the wedding that was supposed to be on Grey's Anatomy was being held in a barn. As soon as I saw the barn, I fell in love and wanted to either have our ceremony in a barn, or the reception in a barn. This was probably our biggest challenge because of where we live, and having guests from out of town. We found beautiful barn wedding venues Manchester with beautiful buildings, but they were either too far north, or too far south. Finally, while my mom was helping me with some wedding planning at Sanford Flower Shop, the ladies there told her about DeBary Hall Historic Site because they had recently done flowers for someone there, and there was a closed in stable onsite. The colors were a little bit tricky too. I knew blue would be our main color, being my favorite color. So, I checked out David's Bridal's website to look through shades of blue. That's when I found cornflower blue and knew that had to be the blue we would use. At that point, it came down to making sure it was the correct shade of cornflower blue because some people used a darker, almost grey in color cornflower blue, whereas ours was closer to a sky blue. Then, it came down to figuring out what our accent color would be. The suggestion was to use a purple, but then it came down to what shade. The main suggestion was lilac, but I didn't think they looked good together. When we were meeting with a potential caterer, we came across cerise, which has a pink tint to it. It worked out because my husband's favorite color is purple."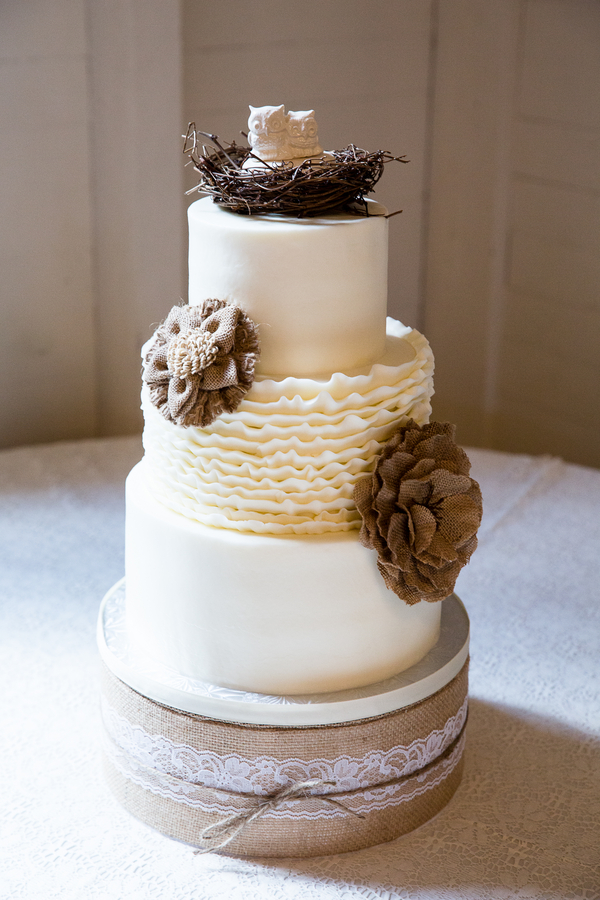 Give detail about any of your DIY details. "The thing I loved about our wedding was that there was DIY involved. My mom put together mason jars that would later be filled with flowers from Sanford Flower Shop, and hung up on shepherd's hooks at the end of the aisles during the ceremony. She also made a burlap runner for all the wedding party to walk down with a giant 'V' on the end. My mom also found beautiful bean hampers, stained them, and added burlap to them. The bean hampers were filled with baby's breath and used as decoration at the ceremony site. We also placed two of the bean hampers outside of the stables with a giant 'H' in one and a giant 'C' in the other for our initials. My mom painted the letters in cornflower blue. She also made chalkboard signs that pointed the way to the ceremony, greeted guests, pointed the way to the cocktail hour, and pointed the way to the reception. We also had two windows we used inside the stables. One was for the menu, and the other had the seating chart. My mom also made the name cards for everyone out of card stock. She found mason jar clip art online and printed that on the card stock, and then wrote everyone's name on each card. We also had a photo booth that my parents put together using three doors they bought from Renninger's. The doors were the backdrop with a burlap banner that said 'Celebrate' on it. We also found a really pretty antique looking birdcage from Michael's that my mom glued cornflower blue and burlap flowers to, and made a banner across it that read 'cards' for our wedding cards."
What was your fondest Wedding moment: "Walking into the stable for the reception as a newly married couple. I cannot even begin to describe the feeling!"
Did you have a Something Blue, New, Borrowed, Old? "My something blue was a bottle of blue nail polish. My something new was a blue bracelet, my something borrowed was my grandmother's ring. My something old was a penny from the from the year I was born."
What advice do you have for future brides? "Be open to advice because you're going to get it whether you want it or not, but also be true to yourself. You know what you want. Don't let anyone talk you out of an idea, unless it's illegal, because at the end of the day, it's your wedding and you have to be happy with the outcome. Also, enjoy every moment leading up to the day because it really does go by in the blink of an eye. I'm such an impatient person, and everyone told me to just enjoy the days leading up to the wedding but it seemed like torture to me. Now that we've been married for about 4 months, I wish I could relive that day."
Shop the Post

Vendor Love: Photographer: McKenzie Stewart Weddings // Event Venue: DeBary Hall Historic Site // DJ: Fun Factory Entertainment // Makeup Artist: Kristy's Makeup Artistry & Hair Design Team // Caterer:Levan's Catering // Equipment Rentals: Orlando Wedding and Party Rentals // Bakery: P is for PIe Bake Shop // Cake Designer: Party Flavors Custom Cakes // Floral Designer: Sanford Flower Shop
The following two tabs change content below.
Shafonne Myers is a certified wedding and event planner who longed for bridal inspiration that looked like her. She has created a website and magazine that brings bridal inspiration to plus size brides. She does speaking engagements educating the world about plus size brides and self confidence.
Latest posts by Shafonne Myers {Editor-in-Chief} (see all)