Laura and Chris chose a venue that was a newly built barn style venue with a modern feel for their wedding. Laura chose a color palette of dusty rose, burgundy, light pink with hints of blue and gray. Florals and textures were very important to Laura, so they incorporated Queen Anne's Lace, Nine Bark and Eryngium into her florals.

Laura and Chris stayed true to their favorite things and served a family style BBQ menu with the best mac and cheese ever and a dessert table filled with their favorites. One of my favorite elements of the day was their custom neon sign with their favorite Simpson's quote.
Laura & Chris
How did you meet?

We lived in different cities and came across each other over a funny tweet. After nearly a year of friendly messages and chats on Twitter, Facebook, and Skype, we decided to meet in New York City. A week of dates in the summer led to us starting a long-distance relationship. Eight months later, Laura moved provinces and we started our new life together.
What is your proposal story?
On our summer road trip, Chris proposed to Laura at sunset in the badlands of Theodore Rosevelt National Park. At the highest point of the park, Laura went ahead to snap some photos and Chris walked up the hill with the ring hidden and went down on one knee. With no one around, a gorgeous skyline, and only the sounds of coyotes howling from a distance, Laura said yes.
Tell us a little a bit about your wedding.
I am a very indecisive person so it was really hard for me to nail down one specific vision of my day. Settling on our venue really helped me start to piece together the specific vision I had. A key component was a velvet table cloth. We had to source them in as locally there wasn't any available. I knew I wanted something romantic, and to create a warmth and feeling beyond just a pretty look. Bringing textures with the table cloth, hanging drapes and our floral arch backdrop added to the depth and feeling of the day. By going with a dusty pink pallet and using darker accents in the florals and deep greens it kept the vibe light and garden but still brought warmth and depth to a fall wedding
Tell us about your attire choices.
I was convinced I wanted a wedding dress with long sleeves. Not only was it an October wedding but there was something classic and timeless about a dress with sleeves. When I was trying on different options I wasn't finding the right one. My mom actually suggested I try a dress she thought looked nice and as soon as I put it on I knew it was the one. For bridesmaids mine were not only scattered across Canada, but across the world. It was important to me that they all felt comfortable in their dress so I just gave them a color pallet and asked to be included in their options so we could decide together but ultimately they all chose their own dresses and it turned out nicely.
For my husband he had previously had two custom suits made and he knew that was the direction he wanted to go. We decided on solid black for his suit as it is timeless and classic. To help him stand out we went with light grey suits for the groomsmen which they all had custom made as well. All of the groomsmen were able to choose their own custom lining and have custom embroidery on the inside of the suit.
What was the most important to the two of you while planning? Was there anything that you chose to splurge on or skip?
The most important part to us was having a wedding our guests would love. The marriage is for us, but the wedding was a thank you to everyone in our life who has supported and loved us. This was a day about celebrating those who celebrate our love. Our top priorities focused on the guests…providing transportation, spending a bit more on the table wine, a coffee bar, photo booth, good food, variety of desserts…we really tried to make it something they would enjoy. We also didn't forget to add commercial tents and other tent structures through a tent rentals service around the garden to get more covered space in case it rains.
What were your favorite parts of the day?
The previous night had a small get together of family and the wedding party. As Laura was being dropped off at the hotel, Chris found out one of his groomsmen wouldn't be able to attend the wedding because his wife had just gone into labour. We knew for months this was possible but having just seen him an hour earlier we were surprised! We are now happy to share our anniversary with baby Cordelia
Tell us about your wedding flowers.
We were lucky to have the guidance of our amazing florist, along with our planner, to really help us navigate. We talked more about the feeling we wanted to invoke with the florals and let them guide us through what would be in season, what different textures and floral options were available and let it help us guide the design. There were certain design elements I was set on like a big floral arch for our ceremony and in talking it out we were able to design it in a way where after the ceremony the arch was moved inside and repurposed behind our head table.
Tell us about your wedding cake.
We were never set on having a big cake. We had been to too many weddings where it just seemed like a waste and we wanted to give people options. Our amazing baker cake up with a whole dessert buffet of small bites that people could come and take at their leisure and we had a small cutting cake as the centre point of the dessert table.
What did you do for favors?
We hired our favourite photobooth company, 6 Degrees Photobooth, and guests could start taking photos after dessert. Each guest could take home customized prints from the photobooth that were also available online.
Please describe any DIY, handmade, or personal details.
We are lifelong Simpsons fans, quoting it to each other daily. One of our most used quotes is "haha, you love me" often said in a teasing way when one person does something stupid or annoying…the other will tease them and remind them that I might have been the one to annoy you, but you love me so too bad. We wanted to bring some of our personality to the event and ended up getting that quote in neon which displayed above our dessert table.

Laura also surprised Chris after the ceremony with cuff links inspired from an episode of The Simpsons where there is a set of "heirloom" piggy bride and groom cuff links. He proudly wore them for the remainder of the evening.
Do you have any advice for couples planning their weddings now?
Hiring a wedding coordinator was the absolute best decision we made for the wedding (besides each other)! The investment you make allows you to be fully present on the day of your wedding and have confidence that you don't have to worry about anything.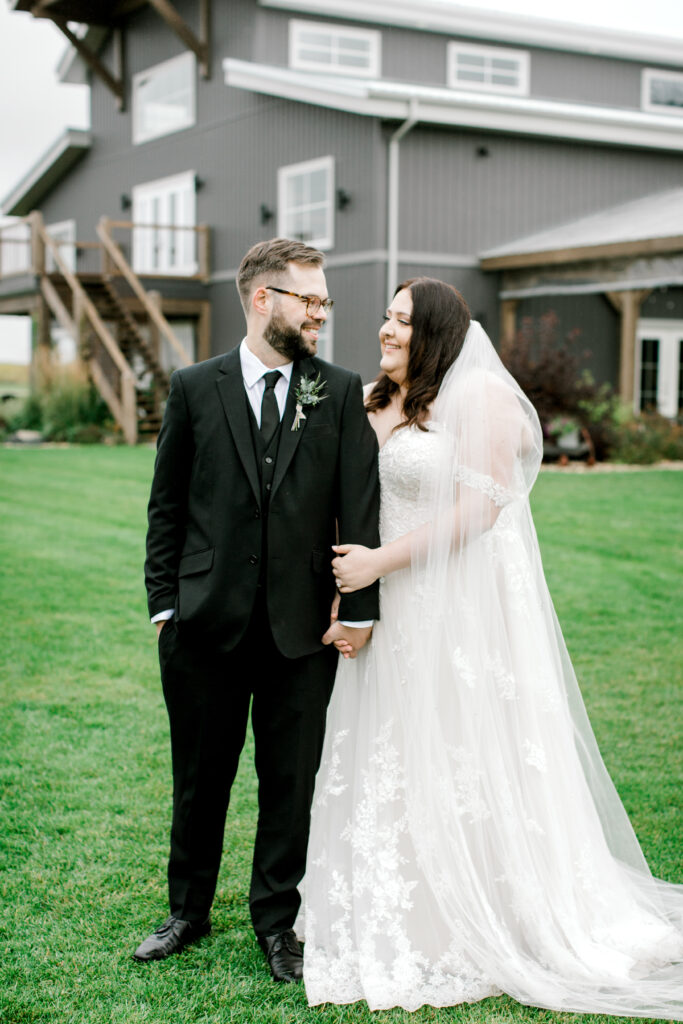 Any advice for your fellow plus size brides?
Just because you don't see yourself represented in the bridal industry don't forget there are people and vendors out there for you! Although it might be harder to find the perfect dress, the more we advocate and refuse to settle for whatever our local store has, the more inclusive we can make it for each other! We are all beautiful and deserve to have our special day, don't let fear get in your way!
Photography:
Casey Nolin Photography
| Ceremony Venue:
Hawthorn Estates
| Reception Venue:
Hawthorn Estates
| Event Planning:
Inspired Elegance Events
| Floral:
The Floral Fixx
| Stationery:
Emma Allen Design Studio
| Wedding Cake:
Laugh Love Cakes
| Linens:
Simly Perfect Decor
| Hair:
Fifth Winnipeg
| Makeup:
Ashley Tiopo Artistry
| Ribbon:
Honey Silks & Co.
| Decorative Lighting:
Neonific
| Catering:
King Cole BBQ
| Photo Booth:
6 Degrees Photo Booth
| Transportation:
Tony's Team Transportation
| Engagement Ring:
Heidi Gibson
| Gifts:
Rescue Flats
| Wedding Dress:
Essence of Australia
| Groom's Attire:
EPH Apparel
| Bride's Shoes:
Badgley Mischka
| Veil:
Luxe Bridal Couture
| Groom's Shoes:
Hugo Boss
| Submitted via:
Matchology
Shop The Post

The following two tabs change content below.
Shafonne Myers is a certified wedding and event planner who longed for bridal inspiration that looked like her. She has created a website and magazine that brings bridal inspiration to plus size brides. She does speaking engagements educating the world about plus size brides and self confidence.
Latest posts by Shafonne Myers {Editor-in-Chief} (see all)