There is nothing that compares to the feeling you feel when you see your true soul mate walk into a room and the way that person can take your breath away.  And this couple is just as breathtaking.  From meeting at a Anti-Valentine's Dance to getting engaged at the same spot that they visited when they were dating, their journey has been amazing from the start.  And their stunning wedding is nothing less.  I am so in love with their custom designed cake topper from Milk Tea Cake Toppers, they are ridiculous, such a cute way to really personalize your wedding.
Keith and  Anna James
3.15.14
 San Diego, CA
Number of guests: 200
Wedding Colors: blush and ivory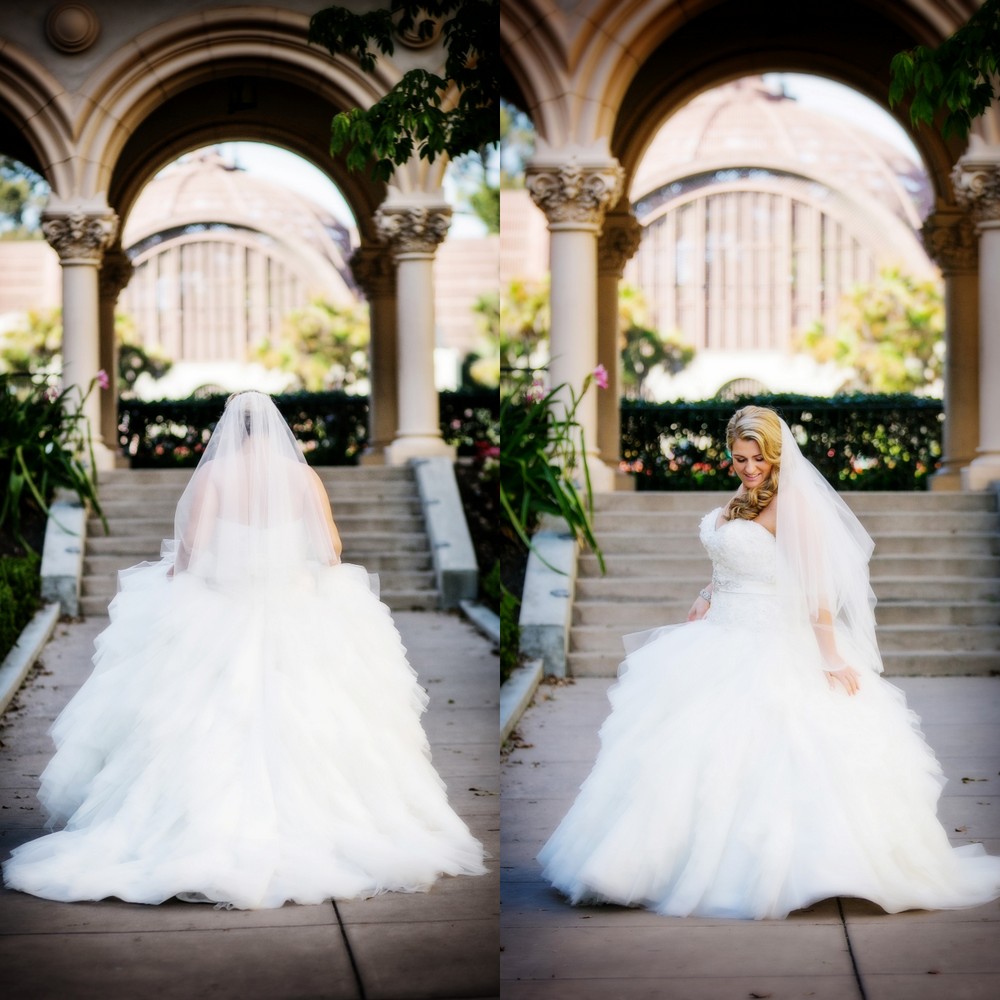 Your advice for other plus size brides: I was EXTREMELY nervous about trying on wedding dresses at the bridal boutiques. I even went for the first time alone because I was afraid that they wouldn't even fit over my head to try them on and would be embarrassed in front of my family! I found that even though the backs did not zip up, I had a great experience and the consultants really know their stuff. I was so nervous, but in the end realized that they work with plenty "non-size-8s" their tricks and tips to make the try shopping experience wonderful.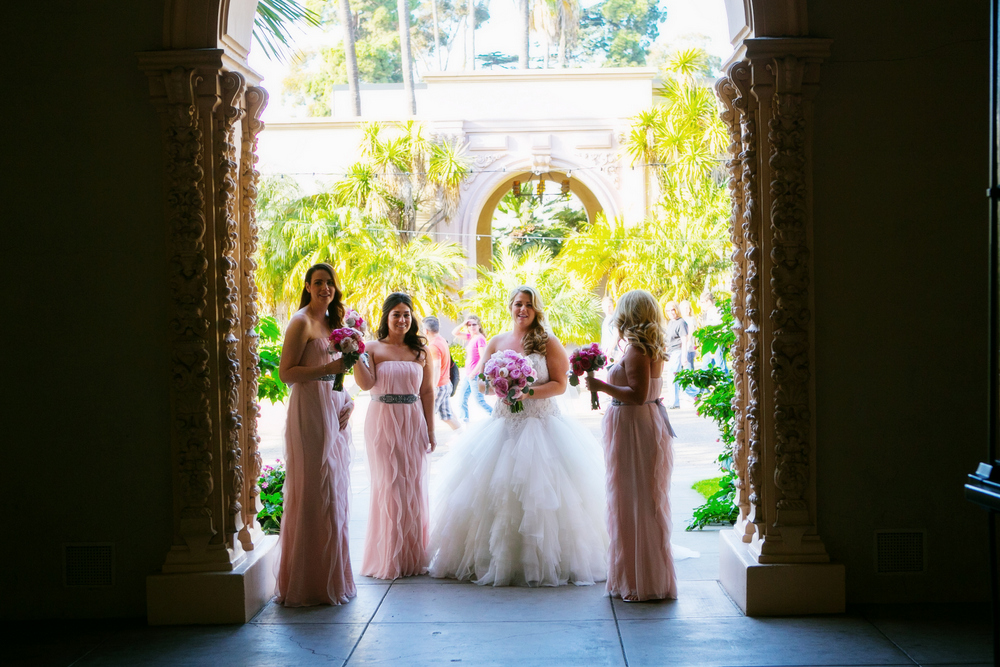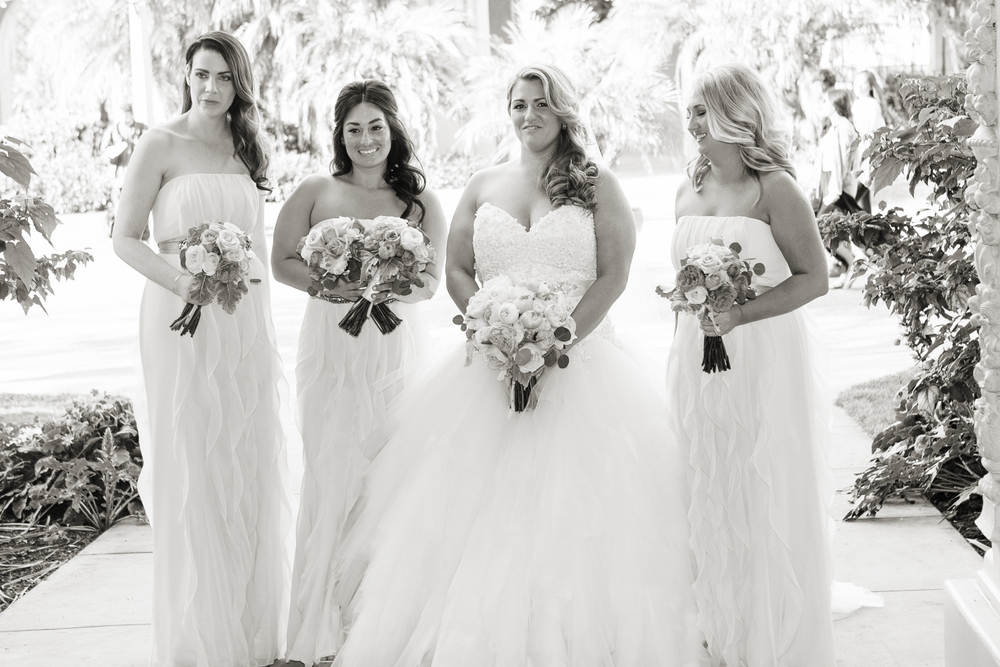 Describe your wedding flowers: Garden Roses, Ranunculus &Peonies in pinks, and ivories.
How did the two of you meet? We met through friends in college at an "Anti-Valentine's Day Party aka Single Awareness Party." We were inseparable ever since.
Describe your engagement: After a trip to San Francisco in 2009, we took pictures in front of a painted heart in Union Square. In 2013, we returned to the same painted heart and he asked me to be his wife there.
The weather on your wedding was: Perfect San Diego weather. 🙂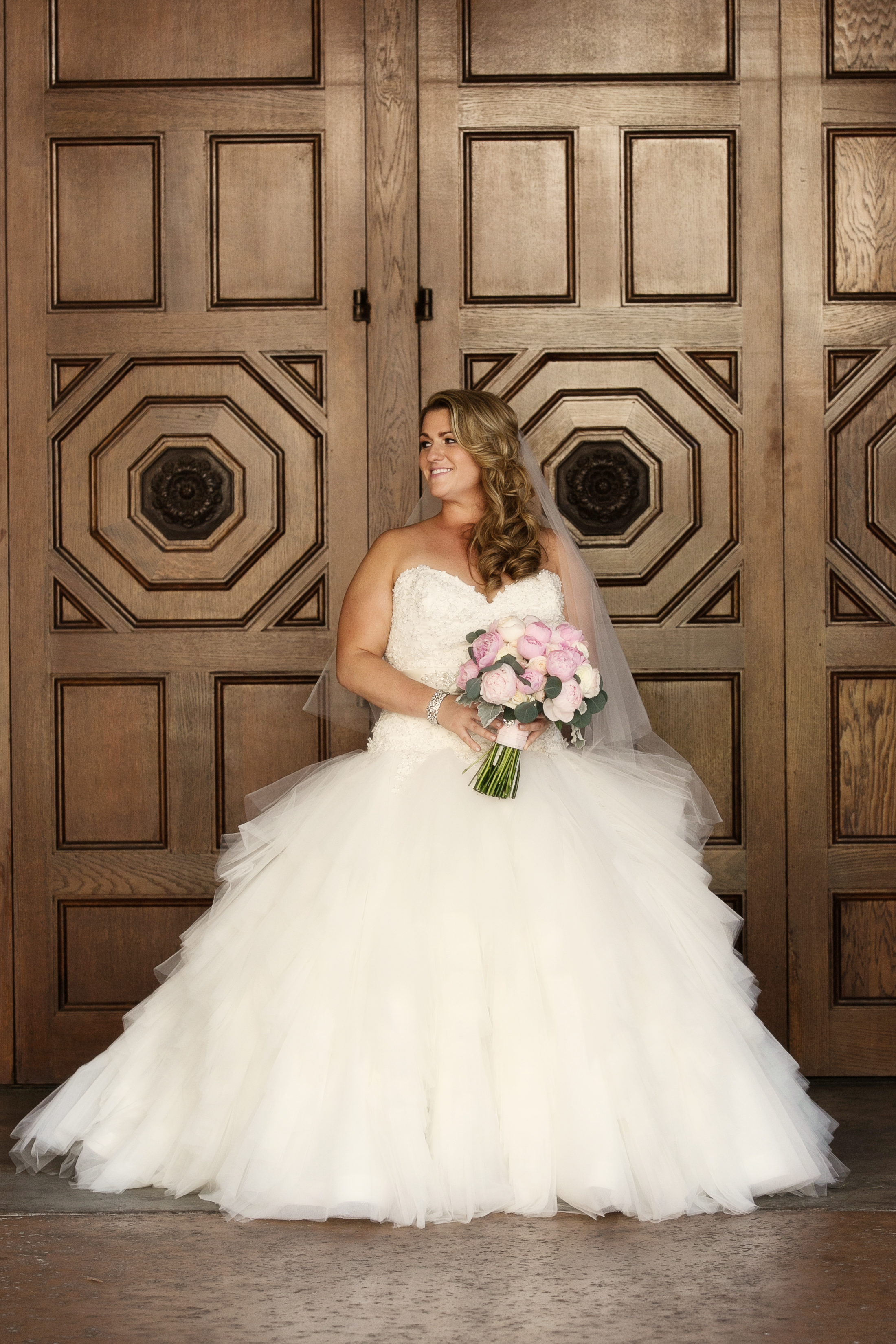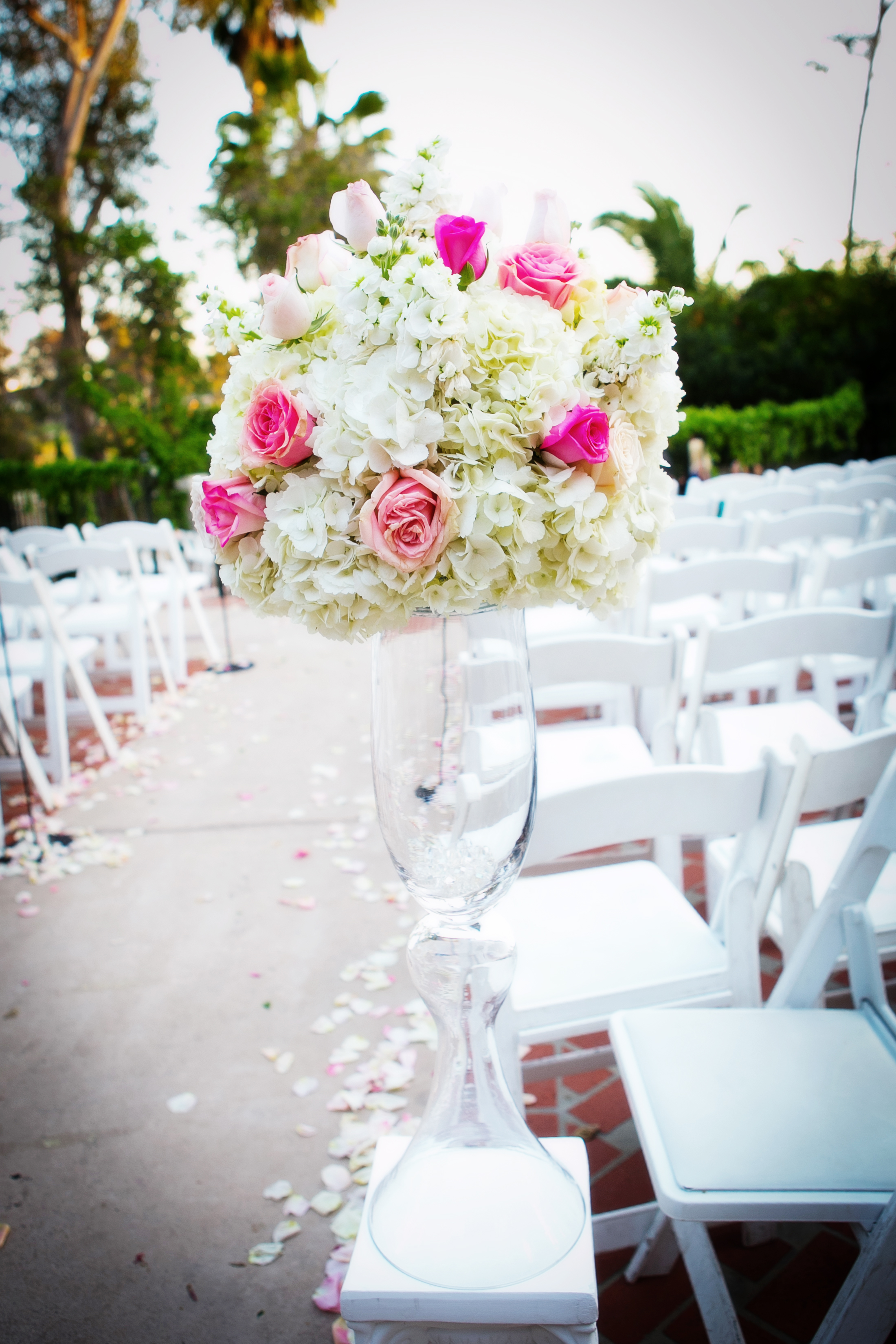 The most unique element of the day: The location. I loved having the ceremony and reception on the same grounds and at a beautiful venue like Balbo Park.
Describe your menu and your favorite part: Cesar salad with choice of lemon chicken or braised short ribs. I absolutely LOVED the short ribs. I wish I ate my entire plate but I was so elated that night, I left half of my plate. The beautiful thing about having our wedding there, is that on our anniversary, we can go back to their restaurant and order our wedding meal again.
Describe your wedding cake and any other desserts: Almond Poppy seed and strawberry parfait layered cake (3 tiers). Also, there were tins of homemade Italian cookies made by the master family cookie maker, my cousin Peter.
Our favorite detail of the wedding was: My custom cake topper! I absolutely loved it. I bought it on Etsy from Milk Tea Cake Toppers
Three adjectives that describe the day: Magical, Fun, Dream-like
What has surprised you most during the first few months of marriage? We lived together for several years, so being married feels like our dating years, just elevated. It's hard to describe, but it's a good feeling.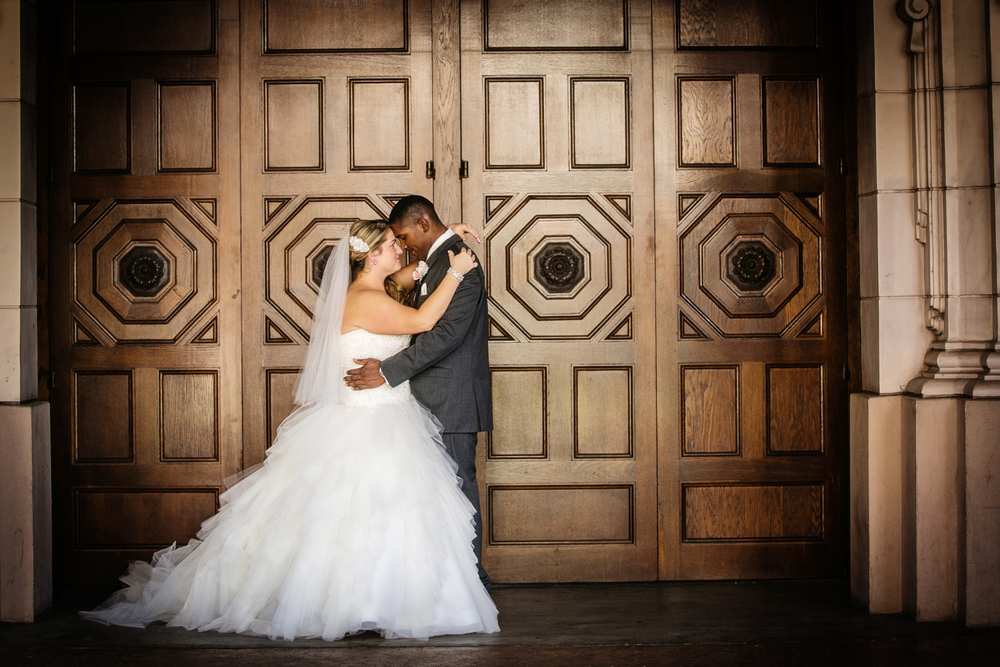 Your first dance song: Old Fashioned by Cee lo Green
The thing that we would have done differently is? Not stress about the tiny little details that really did not matter in the whole scheme of things. If we could have spend our wedding dollars differently, we would have: Not done one thing different! I would have however guaranteed 4% less people or so for people that were unable to attend last minute. We could have used that "wasted" money elsewhere!
Vendor Love:  Photographer: Tim Otto   //  Caterer: The Prado at Balboa Park  // Florist: Soleil Flowers   // Cake: Flour Power  // Invitations & Calligraphy: Minted.com  //  Jewelry: art deco vintage – personal collection  //  Bride's Attire {Designer, Style Name or Number}: Eve of Milady 1461 from The White Flower Bridal Boutique in San Diego  //  Bridesmaids Attire: David's Bridal Vera Wang White line  // Groom's Attire: Friar's Tux Shop  // Ceremony Location: San Diego, CA at the Casa del Rey Moro Garden  //  Reception Location: The Prado at Balboa Park  //  Music/Entertainment: Cigars and Lace  //  Officiate/ Minister: Patricia Coleman
CHECK OUT SOME OF OUR OTHER Real Weddings 
WE'VE LOVE TO SHARE YOUR WEDDING, SUBMIT HERE