No matter what country you live in social media is present.  From Twitter to Facebook, everyone is getting onboard with the craze and it seems that the one social media outlet that constantly is bringing people together is Facebook.  We all know the story, whether it's first hand with finding a long lost classmate or through someone else who has rekindled love.  But not many of us can say that a reignited romance was found on Facebook across countries but this story and plus size bride to be did.   And VFR Fotografia has captured it beautifully.
Bride to be's name: Mahida X. Martinez
Groom to be's full name: Geovannie Perez
Engagement Date: 01/01/2012
Engagement Location: Toa Baja, PR
Wedding Date:06 April 2013:
Tell us about your first meeting…
Mahida– We reconnected using Facebook. We went to High School together in Puerto Rico and we had some friends in common. We started off talking about our life's in the states and came to find out that Geovannie was going to be moving to Destin Florida in the Summer of 2011. Destin is where I live. We never stopped talking from the first moment we called each other and when he came to visit me I knew that he was the man I wanted to spend the rest of my life with. I was so nervous to see him and so happy at the same time. It was one of the best days of my life.
Geovannie –Mahida and I went to the same High School in PR.  After graduating from school (back in the early nineties), our lives were split into different directions.  Thanks to Facebook we got in contact one more time.  She was living in the same place my job was about to send me. After a few months of looong conversations, email, text etc., we decided to see each other for the first time in almost 20 years.  It was an amazing experience to see this wonderful women live.
Tell us about your First Date…
Mahida– We went to have dinner and after that we went to the harbor and listened to music. All of a sudden Spanish music started to play and Geovannie just started to dance with me right there by the water. It was a magical night.
Geovannie– Our first date was at the Harbor in Destin FL.  It was a combination of many things; perfect weather, sky full of stars and suddenly boooom! we heard Salsa music and my Hispanic legs started to move like a professional dancer.  It was a very fun night.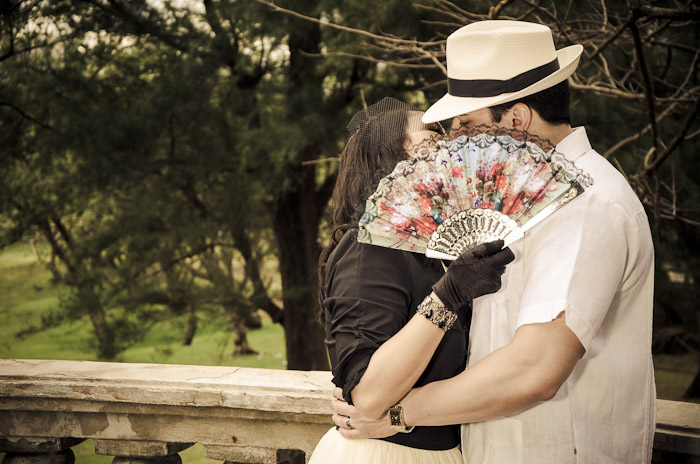 Tell us about your First Kiss…
 Mahida– I was so nervous when Geovannie came down to visit me and I could not look at him straight in the eyes. All of a sudden I was walking back inside the apartment from the balcony and he just stopped me right at the door and surprised me with a sweet kiss. It was so unexpected and so sweet. Love was definitely in the air that night.
Geovannie– I am not going to lie. Our first kiss was after 15 min of our first in person conversation. I couldn't resist kissing those lips.  Everything was so normal and perfect.  Everything in my body was telling me to do it.  I don't regret anything.
Tell us about the proposal…
Mahida– Geovannie proposed to me in front of all my family right after midnight on New Year's eve at my mother's house. He came with the idea of having a toast for the New Year and when everyone was waiting for him to talk he bend on one knee and asked me if I wanted to marry him. I was so surprised and excited he really took me by surprise. I could not stop sweating it was a great moment. He was getting ready to go to Afghanistan so him asking for my hand in marriage before geting deployed was a pretty big deal. My future husband was going to war for 9 months. It was a hard time, but our love only grew stronger every day while he was away.
Geovannie -I was about to leave to Afghanistan and I was planning to propose to her during our family trip to PR.  During the celebration of the New Year eve, her sister decided that I should give the speech because I was the new one in the family.  That is when I decided to proposed to her in front of her entire family. Everybody was in shock including her.  It was a magical moment in our lives.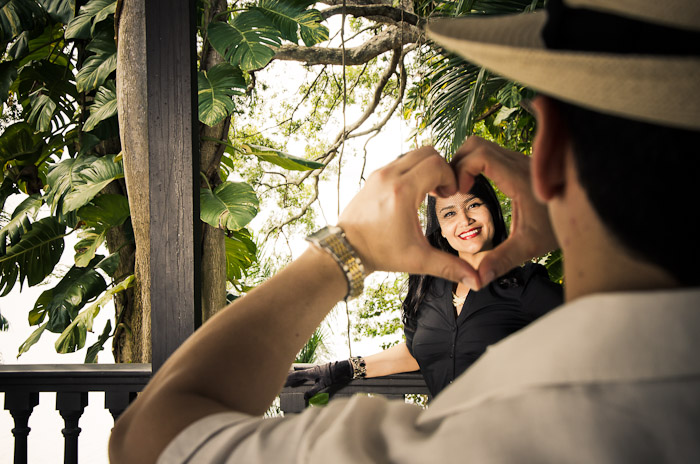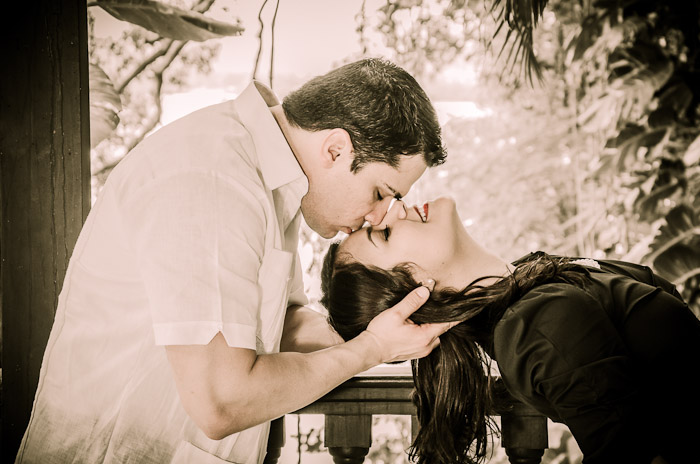 Write a short letter to each other…
Mahida– My Dear you mean the world to me. You bring happiness to my life and destiny works in mysterious ways. I have never been with anyone that showed me love the way you do. I always believed that we are soul mates and were meant to be together.
Geovannie -My Dear Pocahontas, You are the love of my life, my other half, my soul mate. Thanks for showing me that love is something real. Thanks for bringing a smile to my heart and my soul.  You are the meaning of my love.  I will be here for you the same way you are there for me.  Te amo amor mio.Anam cara!
Special Thanks to VFR Fotografia for this gorgeous E-Sessions all the way from Puerto Rico
We are always looking for Real Plus Size Engagements to feature, Submit yours HERE