When I think of a plus size bride and a groom getting married you think of the joining of families but often times it is actually a blending of families.  This story really warmed my heart because my husband had a son when we got married so I completely understand about the blending of families.  And to think that this couple brought together 5 kids to make a remarkable family is just amazing.  And my girl Stacey at Simply Sweet Snapshots did an amazing job capturing ever minute of it.
Bride:  Kim Pitman
Groom:  James Robert Rogers
They reside in Trumbull CT
Wedding Location:  Inn at Newtown, Newtown CT
Wedding Date:  October 20, 2012
How did the two of you meet? Santa Maria High School, Santa Maria, CA
Describe your engagement: After two decades of friendship, we realized the love we had had become more than platonic. Rob asked me to marry him when we returned to CA for our class reunion. He proposed at Avila Beach, a place that was special to us from our years of friendship during high school.

The thing that we would have done differently is: Spent less time worrying about the reception decor and more time getting myself ready. I needed more time to get my hairstyle the way I wanted it, and to deal with makeup issues, but simply ran out of time.
If we could have spend our wedding dollars differently, we would have: Had an open bar. We were able to provide some wine, but had limited funds there.
Our favorite detail of the wedding was: The setting, with the New England autumn colors.
The most unique element of the day: Kim singing to Rob during the ceremony.
Your advice for other plus size brides: Try to look at "real" brides, and not just those in the popular bridal magazines. The models put an image in your mind, and it can cause stress if you expect yourself to fit that mold. "Real" brides come in all different shapes and sizes. The most beautiful aspect of every bride is the happiness in her smile.
Describe your DIY décor, if any: The wedding was on the deck; we swagged gold and ivory tulle over the railing of the deck, with gold silk flowers accenting it. We had lanterns on shepherd hooks decorated with roses and long ribbons of tulle.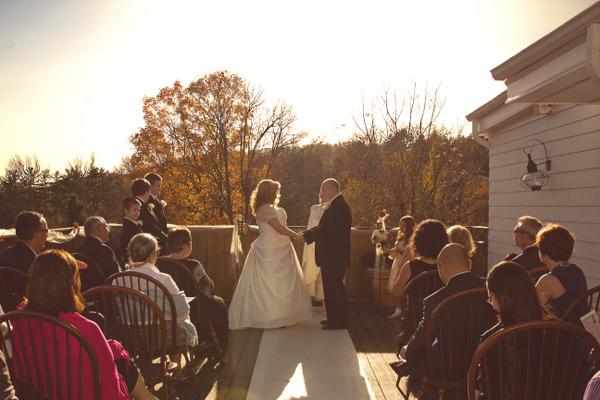 The weather on your wedding was: A beautiful, sunny, autumn day.
Three adjectives that describe the day: Intimate, moving, joyful
Describe your wedding cake: a 2 tiered black and white cake, decorated to look like a birch tree with a heart containing our initials "carved" into the frosting
Inside, we had autumn leaves strewn over the tables, along with heart shaped pressed leaves. Table centerpieces were birch planters with roses and eucalyptus leaves. We had candles throughout, using the theme of branches and birds. We also had a candy buffet made up of vintage candy dishes we bought at an antique mall. Each of our children had their favorite candy highlighted in the buffet.
What has surprised you most during the first few months of marriage: How difficult it is to get time alone with each other as we blend our family of five children; and how very important it is that we do get that time.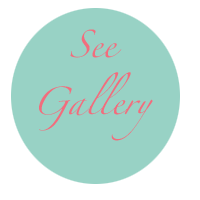 Vendors who made it possible
Vendor Information
Photographer: Stacey Lopez; Simply Sweet Snapshots
Caterer: The Inn at Newtown
Florist: Blooms in a Box (Bride made the bouquets and arrangements)
Cake: Custom Cakes by Steve
Invitations & Calligraphy: Made our own through Zazzle.com
Bride's Attire: Da Vinci 50028
Where did you get the bridal attire? Netbrides.com
Bridesmaids Attire: Our "grooms girls" wore Gold Satin Bodice Tulle Skirt Flower Girl Dresses
Groom's Attire: Joseph Banks
Groomsmen Attire:Our "bride's men" wore tuxes from Joseph Banks
Ceremony Location: The Inn at Newtown
Reception Location: The Inn at Newtown
Music/Entertainment: The bride sang "Bless the Broken Road" to the groom
Officiate/ Minister: Victoria Burdick
Have you experienced a blended family in a wedding? Tell us about it in the comments below.
The following two tabs change content below.
Shafonne Myers is a certified wedding and event planner who longed for bridal inspiration that looked like her. She has created a website and magazine that brings bridal inspiration to plus size brides. She does speaking engagements educating the world about plus size brides and self confidence.
Latest posts by Shafonne Myers {Editor-in-Chief} (see all)