This is about the cutest story that I've seen in a long time.  I am always telling people that what is meant to be will be regardless of what we do or say and this love story is the epitome of that saying.  Justine and Rashid first meet when they were communion partners and they had no idea that 21 years later they would be walking down the aisle together again but this time as husband and wife.  Check out their story all captures by Lighthouse Photography Dream Weddings.
Justine and Rashad
Wedding Location: Woodbury, NY
Number of guests: 175
Wedding Colors: Tiffany Blue/Black
Describe your wedding flowers: Blues, Purples, Pinks
How did the two of you meet? Rashad and I were introduced by a mutual friend in September 2004. He was 20 and I was 19. We were both attending Nassau Community College. He asked me out right away, and we continued dating.  About a month later, he came to visit me at my house.  He told me then that he had gone to St. Vincent de Paul Elementary School, which was right around the corner but I thought nothing about it because I didn't go to that school but went to religious classes there once a week and made my first Communion at the church. When he told me he made his Communion in May 1992, everything just came together at that one moment: We made our Communion on the same day. This was the second thing we had in common, since we already knew we shared the same birthday.
I got my old Communion photos out, and we looked through them but couldn't find a picture of Rashad. Then I found the video my parents had taken of me during the ceremony.  Rashad and I sat there in awe for at least 20 minutes as we watched the video. We couldn't believe what we were seeing. There we were, walking down the aisle together. We had been paired as Communion partners, and we both looked so young and innocent.  He looked so cute in his little white suit next to me in my white dress and veil. We only had those few minutes together that day before going our separate ways. I was like, wow, this is fate. We somehow found each other again, started dating and now we are married.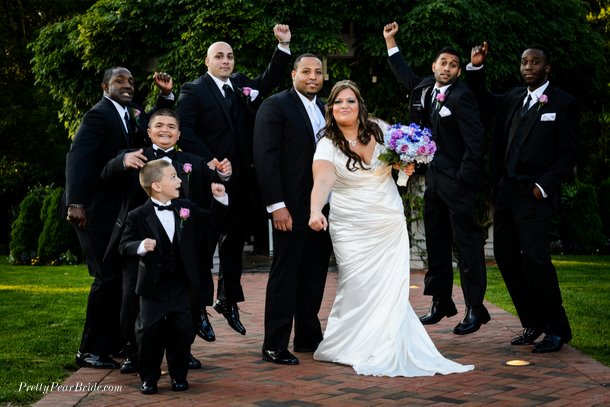 Describe your engagement: Rashad took me on a night trip to Jones beach. He pulled over by field 6 and said something was wrong with his tire. When we got out of the car he got on one knee and proposed.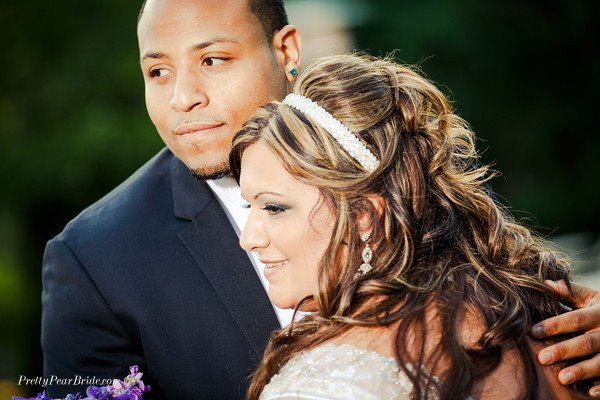 The weather on your wedding was: beautiful, it had rained earlier in the day but cleared up about an hour before the ceremony
The thing that we would have done differently is? Not worried so much! If we could have spent our wedding dollars differently, we would have: Rented a food truck for the guests on the way out, who doesn't love a waffle?
Our favorite detail of the wedding was: The ceremony, it was magical.
The most unique element of the day: Seeing how proud my father was. He realized I was growing up and I wasn't his little girl. Our father daughter dance was priceless.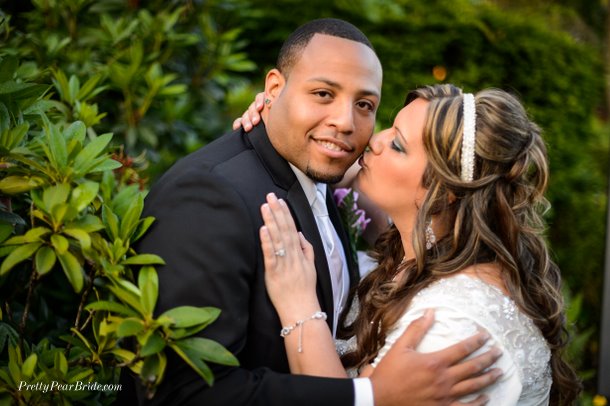 Describe your wedding cake and any other desserts: 3 tiers, Dulce deleche cake. Tiffany blue favor boxes that were handmade by myself. Lots of candles everywhere
Describe your DIY décor, if any: Tiffany blue favor boxes which I filled with mints.
Describe your menu and your favorite part: The Cocktail hour, there was so much to choose from!
Your advice for other plus size brides: My advice is to be yourself. Don't let anyone tell you what looks good on you. You know what looks good on you. No matter what size you are and what dress you put on, the day will come and that will be the last thing on your mind. Be confident and feel sexy, this is one of the most magical days you will have in your life.
Three adjectives that describe the day: Ecstatic, Joyous, And Proud
What has surprised you most during the first few months of marriage? The thing that most surprised me was how different I felt. Everyone told me it's just a piece of paper. Rashad and I have been together for almost ten years and to me it was more than just a piece of paper. It solidified our love. I felt complete and happy I had finally tied the knot with my soulmate.
Vendors who made it possible: Photographer and Videographer: Lighthouse photography Dream Weddings // Caterer: Crest Hollow Country Club // Florist: Jack and Rose Florist // Cake: Crest Hollow // Invitations & Calligraphy: Mygatsby.com // Jewelry: Esty // Bride's Attire: Sophia Toll (Vincia) modified to put sleeves on from Estelles Dressy Dresses // Bridesmaids Attire: Davids Bridal // Groom and Groomsmen's Attire: Mens Warehouse // Ceremony Location: Crest Hollow Country Club // Reception Location: Crest Hollow Country Club // Transportation: M & V Limo // Music/Entertainment: GQ Productions // Officiate/ Minister: Nick Montanino
CHECK OUT SOME OF OUR OTHER Real Weddings 
WE'VE LOVE TO SHARE YOUR WEDDING, SUBMIT HERE