I love opening my inbox and getting a submission from a couple that is truly and utterly in love and then have their images be AMAZING, is definitely the icing on top. That was definitely the case with today's lovely featured couple. I just love their story, how well they look together and the love that they both have for each other. It is so refreshing to get a total package in a submission.  And to see that that love radiates from their images is why I keep doing THIS every day.  The thought that there is someone out there for everyone and that we as plus size woman and men deserve to be able to see that, is what it's all about.  So thanks Tasia and Sean for allowing me to share your story in the hopes of having someone else see it and know that it is possible.

Tasia & Sean
Tell us about your first meeting… Bride: We met while we were teenagers in High School. It was during Ms. Simile's 4th period Science class, where I sat right in front of Sean. I was a senior; he was a junior when we first met informally. Not knowing his name at first, but him knowing mine, I asked him a question about his jewelry and we small talked. However, nothing transpired from that. All through out my last year of H.S., our former friend who is unfortunately now deceased, would tell me literally every day, how much Sean had liked me, but I had a boyfriend at the time. Who would've thought he'd become the love of my life?! I know our dear friend is probably smiling down upon us from heaven knowing she's a major part of the reason why we ended up together. It wasn't until summer of 2002, where we were formally introduced and became acquainted through a mutual friend while hanging out in front of her house. The rest is history! Groom: It was in High School during Science class. I was sitting in the back of the room waiting for class to get started when the girl that I couldn't stop thinking about from the time I saw her working at Pizza Hut, walked through the door. Not in a million years would I have thought to see her again outside of the restaurant, let alone attend the same school as her. Tasia was and still is the most beautiful girl I had ever seen. Lo and behold, she sat right in front of me. She asked me a question that day in Science and from that day forward; I knew she had to be mine. I looked forward to science class ever since because of her.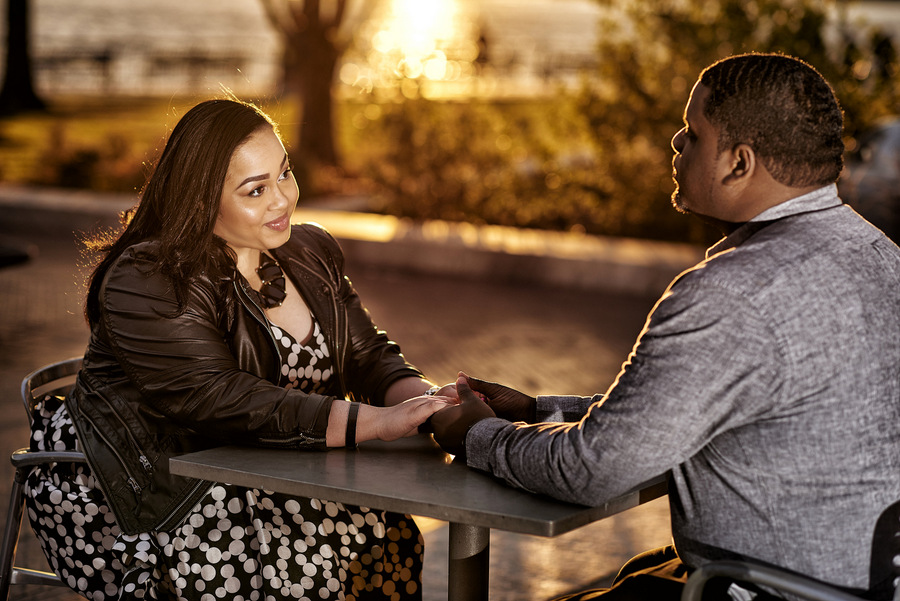 Tell us about your First Date…Bride: It was the summer of 2002, when Sean decided to take me out to the movies. We were just kids at the time, so we didn't have many options (not that I wasn't satisfied with a good ol' movie date). In fact, going to the movies was always my thing, even to this day. After learning that I loved seeing movies at the theatre, I kid you not; Sean took me to see a movie each night during the weekend of our first date. It was awesome! After the movies, we would grab some fast food and sit in the car, talking for hours. Sitting in the car just talking and listening to music was always our thing!  Groom: We went to Linden Multiplex Cinemas here in Brooklyn. I believe it was "The Bourne Identity" that we went to see. After knowing that she liked going to the movies so much, I took her out to movie theatres back to back. I would do anything to see her happy.

Tell us about the proposal… Bride: October 17th, 2011, after an ordinary day at work, Sean picked me up to go home. On our way home we stopped at the supermarket to pick up a few items we needed. Still, I was totally regular with no idea of what was about to come what so ever. A month prior he had mentioned getting engaged and ring shopping, but there were no plans to look at anything in place. Anxious, but still a little passive about getting engaged after having been together for so many years, I was just waiting for the day to come. Not at all knowing that 10/17/11 was "the day." I remember Sean mentioned he was going to his jeweler to look at some watches because he wanted a new watch, but he never mentioned that he intended on looking at rings too. So once we settled in the house that night, he suddenly whips out his cell phone to show me a recording of the watches he saw that day at the jewelry shop. Next thing I know, the video goes from watches to these gorgeous, sparkling, bright engagement rings and then focused on one in particular. Then the moment finally came… Sean took out the infamous black box every girl dreams of seeing with the very same ring in the video and went on one knee. At this point, I couldn't contain myself. Filled with emotion, I barely processed all of the words he said to me, but I surely knew he was professing his love for me and that's all that mattered. He asked me to marry him and I gladly said yes. Our son was at my mother's house along with my sister, father, niece and nephew during the proposal, so we headed over there to share the great news with them all. To my surprise, my father knew all along. I was so happy Sean took the respectful, traditional approach to ask my father for my hand in marriage. How classy?! They were all so excited and happy for us, our son especially. Finally! He put a ring on it!   Groom: Well… the proposal was something that I always knew I wanted to do. I took a trip to my jeweler so I could browse some rings, but led her to believe I was looking for a new watch. I chose to propose in the privacy and comfort of our own home where we were away from outside distractions and it being solely about us. I wanted to make sure she was at most comfortable and strived to create a memory in our home that we would remember forever. Later that evening, I showed her a video of me looking at watches, which then transitioned into a shot of her engagement ring. As we looked at the video, I pulled out that very same ring and asked her if she would spend the rest of her life with me.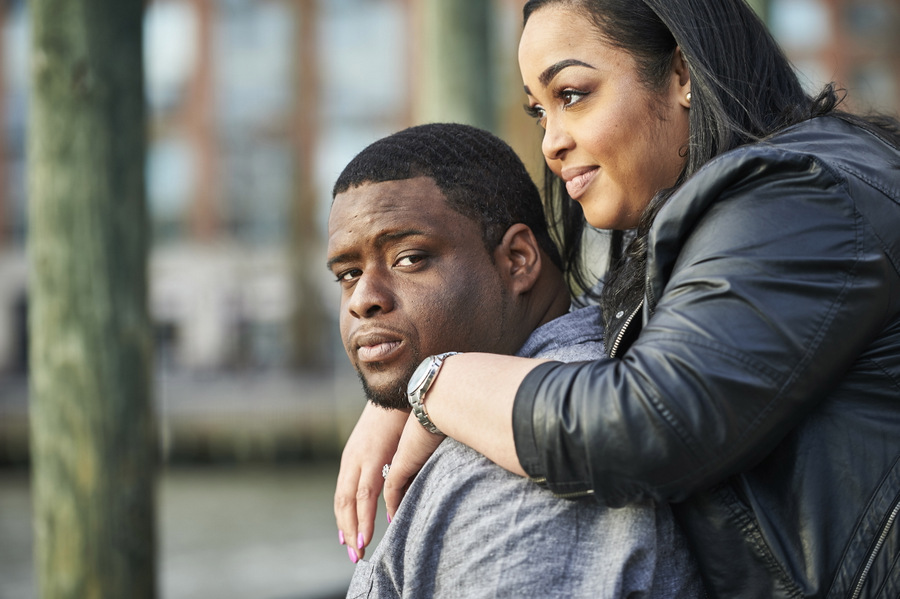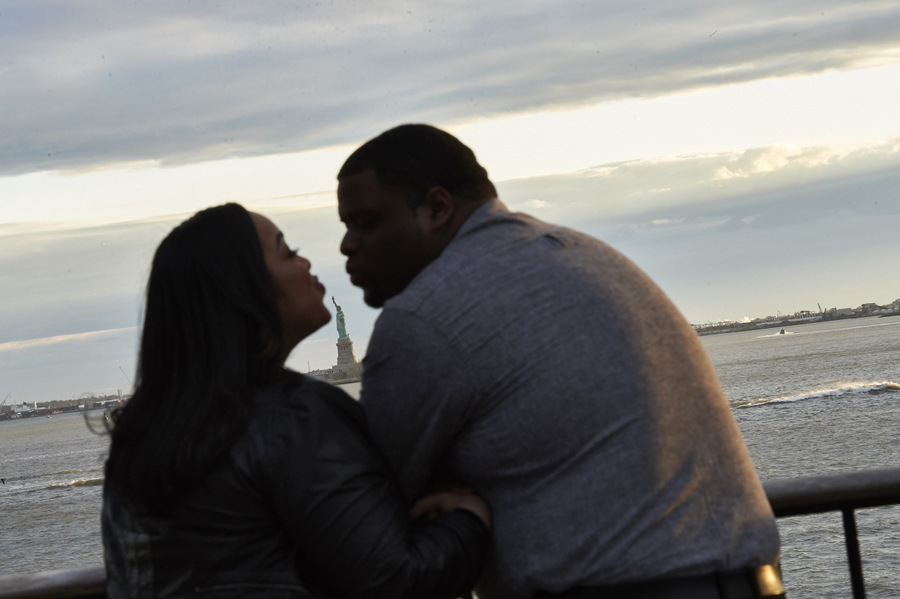 Tell us about your First Kiss…Bride: I remember it was late night while being parked on a quite block. The night after we officially became a couple. We were standing outside of the car and I was leaning against him, staring into his brown eyes while he was telling me only God knows what. We were always intimate in that regard, so anytime we would talk, we always seemed to be somewhat mesmerized by each other. I just knew the moment called for a kiss and so I leaned in to kiss him, totally unhesitate and unafraid. After a gentle peck, he stopped me to say that he didn't really know how to kiss, how he had never really kissed a girl before… so I smiled and assured him that it was okay, and then said to him that I would show him. Shortly after that, we kissed and could not stop. It was everything we hoped it would be and more. It was perfect!  Groom: When it came to the first kiss, being nervous was an understatement. I never really locked lips with anyone before, so I was a bit hesitant thinking that I wouldn't kiss her properly. But she dived in and took the lead. I couldn't stop kissing her that night.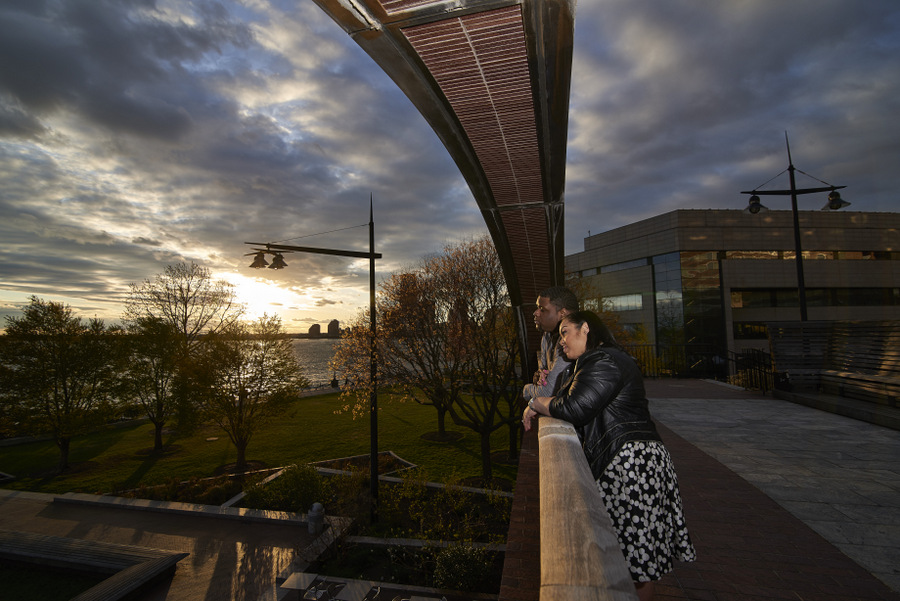 Write a short letter to each other
My Dear Sean,
I am so in love with you! I thank God for our family and for keeping us together to solidify our union. Thank you for always making me feel beautiful. You are my safe haven and best friend. Being with you makes me feel like nothing else matters and I cannot wait to marry you.
Love Always & Forever,
Tasia
My Dear Tasia,
I am so in love. Thank God for allowing me the opportunity to share your presence. You are a remarkable woman and an even better friend. Your warm nature is so comforting to be around and I thank God every day for making you the woman of my dreams. Thank you for being you.
Love Always & Forever,
Sean
Shop the Post

From the Bride: My Engagement Session took place in New York City at Battery Park on a late Monday afternoon drifting into the sunset. I'm engaged to be married to the love of my life of 13 years now (also the father of our 12 year old son) and cannot wait until the big day

06/16/16

! We are just as much in love now as we were back then when we were only 17 and 18 years old. Now 31 and 32, we are so anxious to finally make our union official. My fiance actually works for Battery Park City, so what better location than the one he knows in and out. Battery Park is such a beautiful park. It was such a beautiful day out during our shoot and our photographers managed to capture our hearts smiling continuously through such a journalistic, personal way… we can't thank them enough. 
We both love the water, so our location was just perfect for us! Hoping you are able to feel the love and joy that we feel for each other just by looking at our story of photos. I mean… I could not stop smiling/laughing! It was such a fun, heart-felt session!
The following two tabs change content below.
Shafonne Myers is a certified wedding and event planner who longed for bridal inspiration that looked like her. She has created a website and magazine that brings bridal inspiration to plus size brides. She does speaking engagements educating the world about plus size brides and self confidence.
Latest posts by Shafonne Myers {Editor-in-Chief} (see all)