Third Annual Curvy Lingerie Shopping Soiree Hits Washington, DC This February!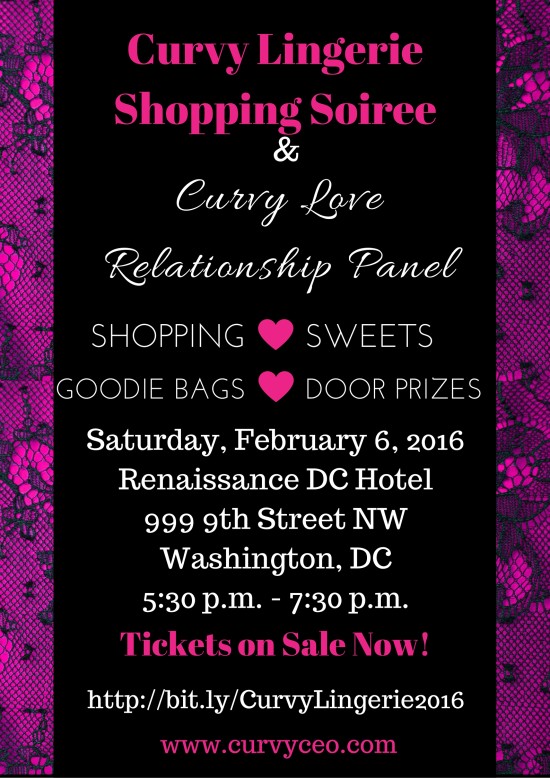 On Saturday, February 6, 2016, the posh Renaissance Washington DC Hotel will serve as the site of the third annual Curvy Lingerie Shopping Soiree from 5:30 p.m. – 7:30 p.m. This event, which is sponsored by the plus-size professional lifestyle blog CurvyCEO.com, has grown from an intimate gathering in a single hotel suite to an all-out blow out featuring multiple vendors and a "Curvy Love Relationship Panel."
During the event, ladies from across the Washington, DC metropolitan area will have the opportunity to shop various plus-size lingerie collections, decadent desserts, as well as the chance to win raffle prizes.
The evening will kick off with a dynamic "Curvy Love Relationship Panel" featuring Brandon Scott, also known as The Faithful Matchmaker, who uses a faith-based approach to help singles find love; relationship expert Dena Reid, Esq. who, as the dynamic force behind the highly popular blog Code Red Flag has now added author to her list of titles with her best-selling book, Flag on the Play: A Woman's Guide to Finding Mr. Right in a World of Mr. Right Nows; lawyer-turned-dating-coach Rita Goodroe, who served as a featured panelist during the national Great Love Debate Tour stop in DC; and husband-and-wife hosts of the "SomethinInCommon" podcast Kym Nichole and Mike. With this mix of men and women, singles and marrieds, this is bound to be an AMAZING panel!!!
As a special gift to each guest who purchases tickets for the event, each panelist is offering a free product and/or discounted rate on consultation services. (See http://bit.ly/CurvyLingerie2016 for more information.)
The event will also feature a poetry performance by local artist Rae Monet with local plus model The Kurvy Diva serving as the event host.
Ticket are currently on sale for just $15.00 at http://bit.ly/CurvyLingerie2016. Grab yours before they sell out!
Pretty Pear Bride magazine is pleased to serve as a media partner of this event.