For most brides the most important choice for the big day, aside from that special someone you've agreed to spend the rest of your life with,  is the dress. What to wear under the dress is probably overlooked in the excitement of planning for the big day with only a second thought perhaps for the sexy evening lingerie for the first night as newlyweds.
But the actual underwear for the day may not even occur to most brides as something that requires a lot of thought. It does need to be thought out however for some very good reasons.
Firstly you will be wearing it all day so you need to be as comfortable as possible otherwise you will be distracted from the main point of the day and that's creating lifetime memories for you and your partner.
Secondly as you will be wearing it all day it needs to be practical both in terms of putting it on in the morning, using the toilet and sitting down during the day and finally taking it off in the evening – although you will have someone to help you with that part.
Finally there is no point spending a huge amount of money on the perfect dress if its silhouette is spoiled by ill fitting or ill planned underwear.  
So as you can see there when it comes to ladies lingerie there is a lot to think about.
Here is a guide to some of the best underwear solutions for blushing brides and their glorious gowns.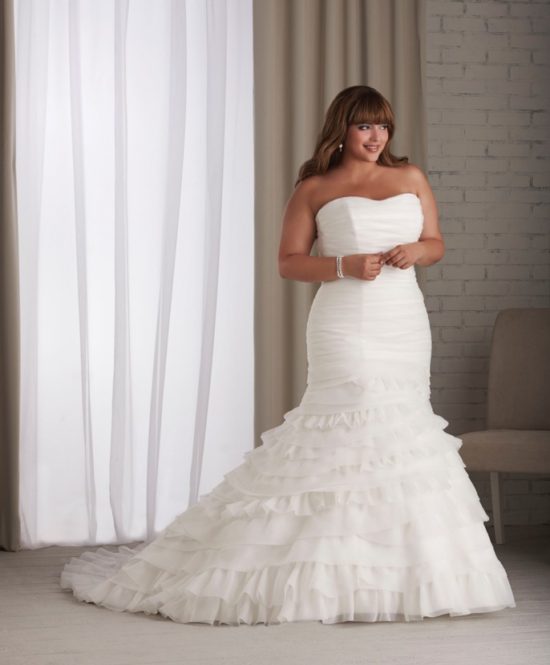 Image from sunvery
The strapless
The most popular style of wedding dress, the strapless gown is a classic beauty but by its nature makes bra choices for larger breasts a difficult one. If you have decided you want to go strapless then invest in a very good and well fitting strapless bra that fits comfortably under the neckline (to avoid bulging cleavage) and under the back of your dress so you create a smooth line at the back.
You could also choose to wear a corset or bustier underneath a strapless dress which will not only give you a clear decolletage but will also help cinch in your waist and create uplift in your bust. This could help you fake the hourglass figure even if you are more of an pear.
A corset or bustier can be uncomfortable however and can move about during the day so make sure, if you choose this option, that you try it out first to check both the fit and how comfortable it is to wear. Don't forget with the heavy dress on top it may become very warm so try and pick a style that is lightweight and breathable to help prevent excess sweating. To really road test it try jumping up and down to see how well it might stay put once the dancing begins.
The plunging neckline
If you have assets you might be tempted to show them off a little to add a touch of sensuality to your big day. However if you go too deep with your neckline you won't be able to wear a normal bra and that can cause underwear nightmares. You can choose bodysuits as a way of creating a naked neckline effect without losing support with the added benefit of being able to smooth out your silhouette. Bodysuits are tricky in the toilet however, particularly if you have to lift up several layers of dress already just to access them.  If you are going to wear a bodysuit you must ensure they are fastened at the bottom or you may be stuck!
Image courtesy of fashionpluss.com
The halter neck
Halter neck bras have been around a long time and you can even get multiway bras to go under halter necks that have lower necklines or are asymmetrical.
Unlike a strapless bra a halter neck offers more support to larger breasts but again it is important to have a good fitting garment otherwise you will get unsightly bulges that will ruin the effect of your beautiful dress.
The trumpet
There are many benefits to choosing a trumpet style dress, not least that it flatters the shape by drawing the eye to the waist and creating an hourglass shape figure. However because trumpet dresses are fitted and pulled in at the waist this means that they can be unforgiving when it comes to visible underwear lines.
You could consider wearing body control underwear such as Spanx to create a smoother silhouette but don't make them too tight otherwise you might find as day rolls into night you feel choked and not just by the emotion of the occasion. They can also be another difficult undergarment to navigate when you need the loo. That said if you get the right fit, body control underwear can make you feel confident, elegant and super sexy, just the right tone for your big day.
The ball gown
Whatever your shape or size you can't help but feel a princess in a ball gown. What is even more magical about these traditional bridal attire is that they can pretty much hide any underwear decision so you can really splash out and choose something that not only feels great on but will look great coming off too.
Image taken from Pinterest
If your ball gown is made of silk or lace you might want to consider  less visible panty lines but if you have a fairly heavy material on the outside you can get away with corsets, bustiers, stockings and suspenders – whatever you feel most comfortable and sexy in.
Whatever your underwear choice you can always change into something more or less comfortable once the guests have gone and it's just you and your beloved alone at last. Having the option to change also means you feel fresh and sexy even at the end of a long and happy day.
Although underwear is an important consideration ultimately it is down to personal choice and the idea is to keep it hidden so don't fret and add more stress to your wedding day plans.