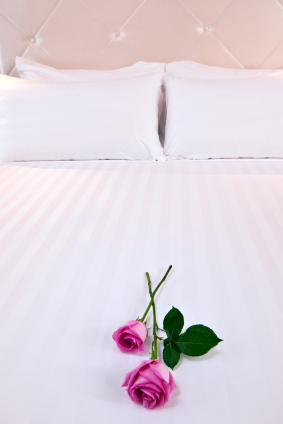 So you've found the perfect wedding dress, rehearsal dinner outfit, the bridal luncheon get up, and bachelorette party attire. It was long and arduous, but you finally feel like you've gotten the wardrobe down perfectly. Everything is hung, pressed and ready for its debut, but I've left out one important outfit. One that the most important audience will see. One that will leave a lasting impression and will surely set the tone for all of the greatness that is to come.
I'm talking about none other than your wedding night plus size lingerie. You can't forget to plan ahead and pack an outfit that you'll feel confident in and your husband-to-be will surely love.
But let's take a step back first, shall we? Let's be real. It doesn't matter what size you are, buying lingerie can be difficult. Frankly, I find it very frustrating and at times, depressing. It's hard to find cuts that are flattering for everyone and ultimately, it takes a lot of trial and error to figure out what's going to look best and what you're going to feel good in. I rank the enjoyment I get from lingerie shopping right up there with bathing suit shopping. But that doesn't mean there aren't garments out there that work nor does it mean you can skip this part, because your wedding night is as much about your husband as is it about you.
You want to feel your sexiest, sassiest and downright appetizing. So let me give you a hand, because I know you can't possibly cram one more thing onto your to-do list. Check out these easy go-to lingerie looks for your wedding night and see what fits you and your fiance's style the most.
Bra, panties and garter belt:
This is the easiest look to pull off, as you already know all of your sizes and you'll also get the most use out of it. But don't just rely on something you've already got. Look for a sexy bra, whether it be balconette or push-up style, and some even sexier panties to match. Have it stand out by being a color and style that you don't usually wear. Garter belts typically come sized in XS to XXL, so you may have a to try on a few to find your perfect size. Be sure to pair your garter with some back seam thigh highs for a finished look.
Corset
A corset is a sure fire way to feel your sexiest. It hugs your curves, boosts your bust and slims your waist . You can find two different styles of corsets: fashion corsets and couture corsets and both have their advantages. A fashion corset can be found at any lingerie and novelty shop such as the Adam and Eve store. They are the most commonly seen corset, are generally made of satin, have plastic boning and can come in XS to XXL sizing or bust sizing. They're great, easy to get into and will last a season or two, but they will eventually wear out. A couture corset is a corset that is made specifically for you and typically has metal boning, giving you reliable support that will last you for years. However, these corsets cost a pretty penny and take awhile to make. Either one is a great option and will be incredibly memorable, you just have to figure out which one is the right choice for you.  Once you've decided on a corset, pair it with a tiny thong and some sky high heels.
Pasties:
A look of some of the greatest burlesque dancers of all time, pasties are a sexy way to play up your girls and add an air of mystery. There's no need to worry about tight spandex or a fabric hugging your curves in all the wrong ways with this one and far from your average style of lingerie, your fiance is bound to be pleasantly surprised. Pick pasties that are sexy and fun, like ones with tassels, hearts or bows and pair them with some cheeky style panties and fish nets.
Your husband to be will be thrilled just to get his hands on you after a long day, but why not give him even more of a reason to want to? Pick one of these easy looks and watch as he gets excited.
Already have your outfit planned? What are you wearing on your wedding night?
Brought to you by Adam and Eve