Model, Hunter McGrady officially tied the knot with Brian Keys on June 16th in Moorpark, California. McGrady tapped Watters Bridal for her wedding day attire including her ceremony dress, reception dress, flower girl dress, Mother of the Bride and Bridesmaids. It was truly a Watters affair. 
The choice to go with Watters was a natural one for the model who noted "I had worked for Watters 6 years ago modeling for them and knew then that they were going to be doing my wedding dress. Little did I know we would be collaborating on and designing not one, but two of my dream dresses! I had a vision in my head and the design team just made it come to life. Every detail was so purposeful and special." Elaborating further, McGrady stated that "As a plus size woman, I haven't found any dresses that spoke to me in the past, they were usually covering everything up, were not my style, or didn't make me feel like "me". We came together and created two dresses that were perfectly "me" and I felt like a star in them."
"My dream wedding came true because this team worked so tirelessly on such incredible dresses – and I am so thankful for them! I could not have had such a perfect day if it wasn't for my Watters family." said McGrady reflecting on her experience creating her dream looks with Watters.
Ceremony dress is Watters Bespoke: price available upon request
"My first dress was a curve-hugging mermaid silhouette with a lace bodice and details. I wanted something that showed off my body. I'm proud of my body and wanted something that would accent that on this day!" – Hunter McGrady

Reception Dress: Watters Hunter; $2595
"My second dress was an ode to Meghan Markle's second Stella McCartney dress on the day of her wedding to Prince Harry. I was enamored with it and I have never seen anything like it in my size, so Watters created it for me! We made it a low drape-y back to give it a little spice and it turned out perfect." -Hunter McGrady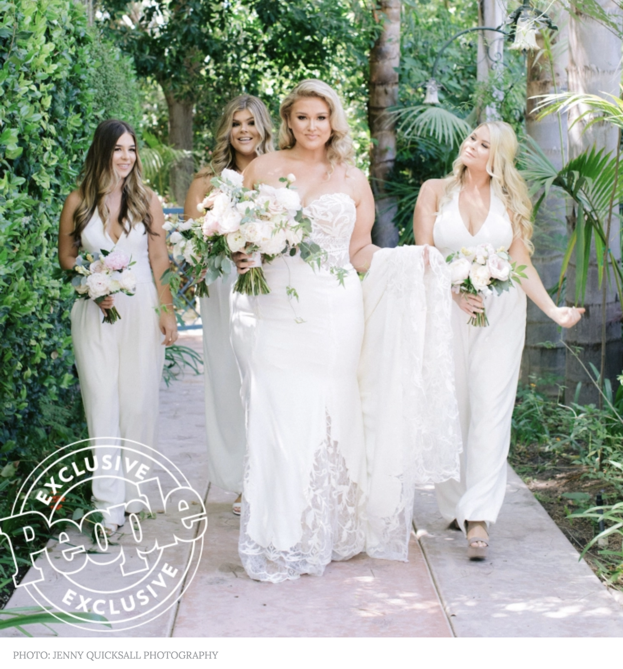 Bridesmaids Jumpsuits – Vee by Watters
Sizes up to 24
"I wanted to do something different for my bridesmaids and my sister had came up with the idea of white jumpsuits – which ended up being such an iconic moment." – Hunter McGrady
Outfit Details: Model Hunter McGrady chooses to outfit entire wedding party with bridal brand Watters
Ceremony dress: Watters Bespoke, price upon request
Reception dress: Watters Hunter, $2595
Flower Girl:  Watters Bespoke, price upon request
MOB: custom By Watters, price upon request
Maids: Watters Vee 
Which dress do you like the most, the ceremony dress or the reception dress? Or do you love the bridesmaid's jumpsuits the most?