Honey Boo Boo's Mom ~ Fat, Happy and Married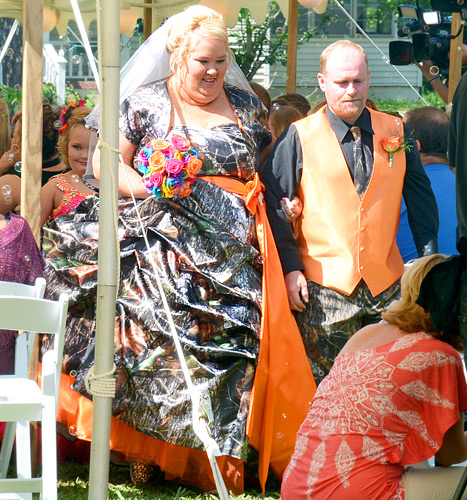 Credit: Jason Winslow/Splash News
Now, it's not often that I would say that a camo wedding dress with cap sleeves, ribbons and orange trim is appropriate or even looked good.  BUT in this case I'm going to go balls to the wall and say, "Hell ya it is!"
We all know Alana "Honey Boo Boo" Thompson and the craziness that has landed her family a show on TLC, Here Comes Honey Boo Boo, hell it got her mentioned in a movie!   Well, her mother, "Mama June" Shannon" and father, Mike "Sugar Bear" Thompson finally did it after 9 years and got married this past weekend.  And honestly the only thing that people seem to be talking about is her outfit.   Yes, it's a little unconventional and definitely not something you would find in a designer bridal boutique but it fit their personalities perfectly and it's "beautimous", as Mama June would say.  This family is know for it's crazy redneck antics so it would be fitting that a redneck theme would shine through.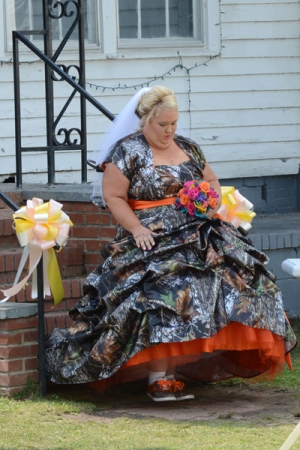 Source:
Huffington Post
The main point is, she knows that she is plus size, full figured, fat whatever you want to call but she is happy with it and it shows.  And her beau, Big Bear, must love her too because he "Put a Ring on It".
I'm so happy to see that regardless of what people said she did it her way and incorporated elements that were true to her and her family.  So often plus size brides put their likes aside to confirm to what society thinks they should look like.
BUT WHY?
Regardless of your size every bride deserves be able to create the wedding of her dreams, the way she wants.  And if that means a camouflage dress and a multi colored bouquet then, damnit, let it be. I hope that more plus size brides follow Honey Boo Boo's Mom and create the wedding of their dreams regardless of what others say.  Check out the new season starting July 17th with scenes from the epic wedding.