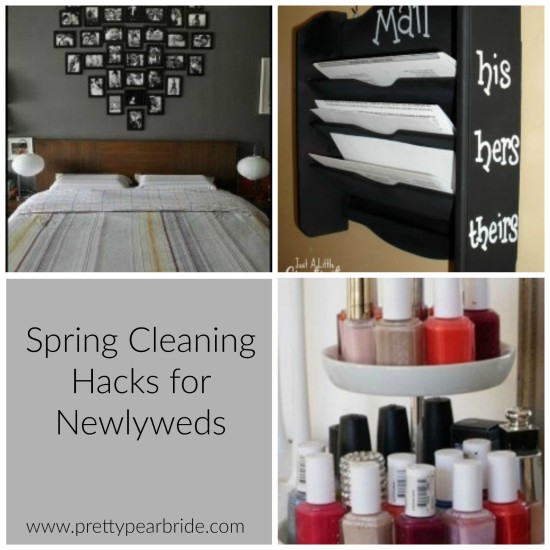 When your husband and you were dating and then engaged, it was all sheer bliss, takeout in your pajamas and jetting off for a weekend away at a moment's notice. Or, better yet, perhaps you didn't live together and now you do as newlyweds. Are you surprised (or perhaps a little frustrated?) at your husband's household habits? Well, look no further because we have some great ideas on how to get organized. Not to mention, springtime is a great time to get organized and clean.
If you're a neat freak and your husband is messy…
If your bedroom has been so pristine you haven't seen a dust bunny in years and your husband has a clothes mountain as high as Mount Everest, doing something as simple as setting a timer 15 minutes daily before you go to sleep can help with organization. Buy some new cleaning supplies such as the Best Vacuum Cleaner for Home in India and that will help you get motivated to clean. During those 15 minutes, pick up any clothes or clutter you have around your room. After that timer goes off, reward yourself with some bedtime fun.
If you've been begging your husband to help you organize your photos from your wedding or your engagement session, or perhaps you've hit a wall with ideas on how to display them, we found this cute heart shaped collection of frames to hang above your bed. Simple, sweet and easy!
Source: Clickitupanotch.com
I bet sometimes your husband may have trouble with putting things in their correct place. Here is where creating or buying containers for everything (and I mean everything!) can come in handy. I recently bought his and hers silver bowls for the table next to the door and now my boyfriend and I have a place to put our keys. It's seriously that easy! There's also this DIY mail holder makeover that's perfect for making sure your mail finds its way to its rightful owner and no bills go unpaid. I love the "his, hers, theirs" slots—so adorable!
If your husband is neat and you're the messy one…
Sometimes it can be frustrating to be told time and time again, "why don't you clean up your makeup, clothes, toothpaste, breakfast dishes…" Impress your husband with some pretty clever DIY hacks from this genius article. My favorites include storing toothbrushes and toothpaste in a cutlery organizer and storing electronics wires for computers, phones, iPads and the like in toilet paper rolls. Brilliant!
If your nail polishes always seem to be everywhere and you can never find the color you want, a small cake stand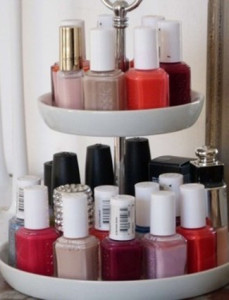 can do the trick. That way, you can rotate the plate to find what you want!
One of the messiest parts about me is my inability to fold sheets correctly. Lo and behold, I found a pretty genius way to store sheets in your linen closet—put them inside their matching pillowcases. (Why I haven't thought of that before, well the world may never know!
::::::
What are some of your favorite DIY home organization hacks? Do you have any spring cleaning traditions? We want to know! Comment below.