If there's one thing I love doing, it's entertaining. I've done it for years and learned from the best (my parents).
If you're thinking about hosting a party with your husband, a dinner has the potential to be a lot of fun. However, it's a whole new ball game from a cocktail party. The good thing is, as newlyweds it can be so much fun. We're here to give you some tips on how to throw the perfect, stress-free night in.
The infamous dinner party scene from one of my favorite movies, "The Big Chill"
Decide on a menu or theme first.
My boyfriend and I hold a few dinner parties throughout the year: a pre-Thanksgiving dinner, Julia Child's beouf bourguignon around Valentine's Day and more recently, Easter dinner. Deciding on a theme or menu first is crucial to having everything else fall into place. Also, if you have friends who are vegetarian, gluten free or have other food restrictions and allergies, it helps to plan far in advance.
Pinterest is a gold mine for menu ideas. I especially love this blog I found with great al fresco dining options. After all, outdoor dining season is almost upon us!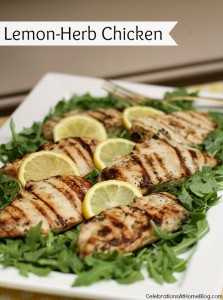 Celebrations at Home Blog's "Lemon-Herb Chicken"
Plan your guest list.
Chances are, if you're literally just married you may not have had a time to really mesh your friends with your husband's. Sit down with your hubby and seriously think about who you want to have at your party. Most dinner parties are best with no more than 10 guests. You need to make sure that your marble dining table and chairs is big enough to fit all the guests round, you don't want them all squashed up!
If you both want to play matchmaker, invite some single friends who you think would be perfect for each other. If you're interested in having kids soon, invite friends with kids to check their vibe to see if it's something you really want to get into or if you'd rather hold off a few more years.
Don't be afraid to reuse.
On our dining room table, there's a candelabra I use as a centerpiece every time we entertain. Sure, I swap out red candles for white ones around Easter time, but that centerpiece always stays the same. Friends look forward to my wreath on my door at Christmas and bunny banner at Easter. People love tradition and often look forward to it!
Target is your best friend.
If you're going to go seasonal, Target is one of the best stores when it comes to holidays and rotating their stock for the seasons. If you're having a party to welcome spring, right now there are items like adorable napkins. Not to mention, most items at Target are very affordable, perfect for newlyweds just starting out!
Target's "Polka Dot" Napkins
Divvy up the duties.
Now that you are part of a team, don't be afraid to divvy up the duties with your guy. If he's the one that loves to cook, step up to the plate and go grab the wine and dessert. You can even do activities together, like setting the table. Don't be afraid to get creative and flirty as you get ready too.
Unless you're having a potluck, don't make anyone bring a thing.
I am a firm believer in if you are hosting a party you take care of the details. A potluck is a potluck, but if you are hosting an intimate dinner party with your friends, your husband and you should take care of any and all details. Call it traditional or old school, but trust me, you'll have people all clamoring to get invites to your place left and right if you treat them well.
Get Ready Together.
Speaking of creative and flirty, say you've had a glass of wine or two to wind down as you're party draws near. If you need to shower before your party, hop in with your husband for some pre-dinner sudsy fun. If you have enough time, have a little fashion show modeling dresses for your guy. Eloquii has some adorable, affordable spring dresses right now like this one. Forever 21 are one of my favorite hidden gems. Their plus size line is trendy and fun, like this floral dress with some unexpected cutouts.
Eloquii's "Fit & Flare Collar Dress"
Forever 21 Floral Plus Size Dress
Have fun.
It's so important to not stress out once your party is in full swing. If the side dish gets a little burned, make a joke out of it. If you run out of wine…well, you should always have extra wine! Most of all, just remember that you are having a blast with your new husband and closest friends. Congratulations, you pulled off your very first dinner party as husband and wife!