Today we have a special guest visiting PPB. I am pleased to welcome Sophie from For Him and For Her.  She is going to share some of the biggest trends in dresses for 2012. And make sure to check out the end of the post for a little surprise!!
Ok ladies, it's the start of a new year and there's a whole lot of gorgeous new trends and styles for you lucky brides-to-be to explore! So, lets see what to expect for 2012! Two of the hottest, and most wearable wedding dress trends for 2012 are undoubtedly: texture and subtle, all-over color.
Yep, lashings of luxurious texture begs to be touched as we see brilliant bursts of ruffles and layers in all different fabrics. I just love soft, billowing ruffles and folds that evoke thoughts of falling rose petals and luscious folds of sugar frosting. Textured gowns can present problems for the plus sized bride, and opting for something overly dramatic may only serve to make her appear larger than she is.
My advice for the plus size bride wanting to rock this trend is to opt for something with subtle all-over texture such as light layers or folds of chiffon; or if it's more dramatic texture you're after, choose a gown where the texture sits towards the bottom of the skirt, or on the train. Subtle texturing on the bodice and around the waist can work as well, just be careful not to drown out your lovely curves and add extra bulk to the wrong places!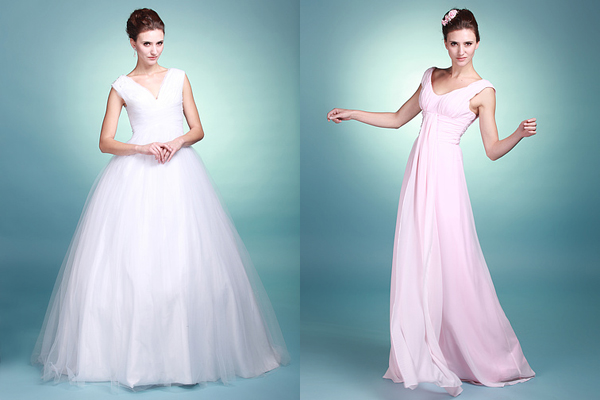 Our next top trend – color – is also a top tip of mine when it comes to finding a gown to suit the plus size bride. It's no longer thought strange or unacceptable to choose a wedding gown in a color other than white (though bright orange might be pushing it a bit!), and this was reflected by the abundance of colored gowns seen on the designer catwalks for spring 2012. Romantic and whimsical, my favorites were gowns in subtle shades of pink and blush.
The colored gown trend really is great news for plus size brides, as white isn't always the most flattering choice for those with a fuller figure. Champagne or light pink make an excellent choice for color that is still elegant and a gown that still has a traditional and truly romantic feel. And, if tradition ain't your kinda thing, why not be daring and wear a black evening gown as your wedding dress? We all know dark colors are super flattering for fuller figures, and you'll make an unforgettable bride in such an unconventional choice!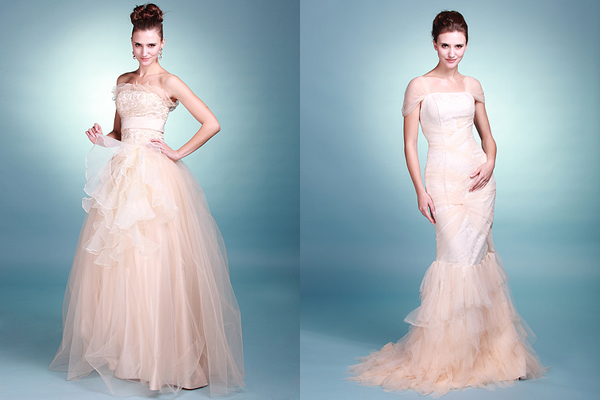 At For Her and For Him, we don't like the idea that a brides shape or size should restrict the range of wedding dresses she can choose from. That's why you can choose the 'custom size' option for every single one of our gowns, making sure you get the perfect style and the perfect fit. And for each and every gown, you can choose the color you like, making it even easier to rock 2012's color trend!
Now for the GOOD part. We are doing a contest with For Her and For Him, and you can win a $50 gift certificate from them toward a purchase.
Here are the details:
Happy Planning,