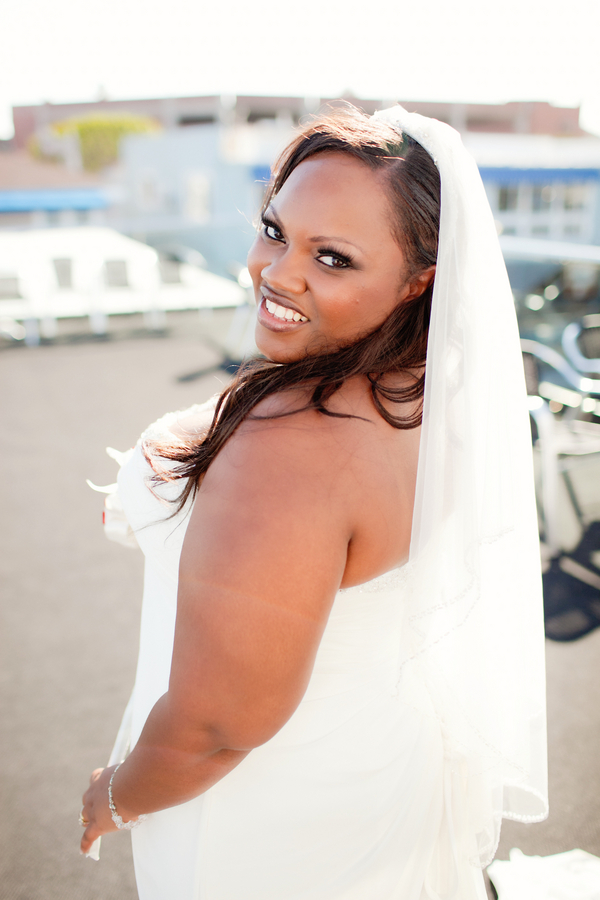 Almost every plus size bride and bride-to-be has had the stressful experience of trying to figure out which dress will enhance the features they love and, more importantly, hide the the ones they don't. For some brides, they fret about the appearance of their body up to and including the day of their wedding.

Unfortunately, those insecurities seldom go away when looking at your pictures of the big day. Too often our own struggles with body image will project themselves in how we view photos of ourselves, and no matter how happy you look on your wedding day, your eyes will be drawn to your imperfections.
Admit it: we all love to stand in front of the mirror in search of that one perfect, flattering angle for our face and body. Unfortunately, anyone who's ever stepped into a 360-degree mirror knows that whether you like it or not, your body is seen at more than just that one "magic angle" that makes your figure look perfect. Regardless of whether you're tall, short, slim, curvy or plus size, most women know that for some reason, "looking fat" is a concern that trumps all others on your special day.
Think of your wedding photographer's camera as a 360-degree mirror – your photographer is going to be capturing moments from all angles in order to make the most dynamic memories of the celebrations. A Cairns photographer captures stunning wedding photos so they'll be able to find the best angles for you and your partner.

A photographer is great at finding beauty in all of those special moments that make your wedding day unique and timeless – where you're sharing a special moment with your mother, having the time of your life on the dance floor or smiling warmly with your partner. Ultimately, though, a photographer's primary concern isn't hiding all the flaws you feel you have.
Once the wait is over and your photographer has put in countless hours of post-processing work, they will be excitedly anticipating your reaction to the final product. However, if a self-conscious bride is picking up these photos, she is less likely to see the general beauty of the photo and more likely to zero in on her flaws. This often leads to the old cringeworthy inquiry of "Ugh, can you photoshop this?"
Though most photographers will offer additional photo enhancing services such as body-contouring (also known as virtual liposuction), be wary. You don't want to spend additional money just to fool yourself! Your body is your body, and you shouldn't expect a photographer to make you look unrecognizable. Your family and friends will all remember what you looked like on your wedding day, so using effects to make yourself look like a different person might feel a bit dishonest. Your family and friends, and most importantly your partner,were all there to see you – because they love you for who you are, not the computer-generated version of yourself you wished you could have looked like!
It's not uncommon to be a body-conscious bride, but there are little things you can do to make yourself feel better about yourself on the big day. First, it's important to make sure that you have a dress that you can feel as comfortable in as possible – this includes when you're standing, sitting, or walking around. When you go to a fitting, walk around in the dress and check yourself out in the 360-degree mirror (most bridal shops have one) so that you can make sure you're happy with how you look from all angles.
It's also important to not walk into a bridal shop already committed to a certain style. While some plus size brides-to-be may be married (pun intended!) to the idea of a strapless gown (a style that is popular yet risky and unflattering for multiple body types), they may want to open themselves up to the idea of halter-styles, straps of varying widths or dresses with matching bolero-style jackets. It's also important to venture out to a few different bridal shops darlington – some salespeople will show a genuine concern when it comes to finding the right dress for your body, but others will be more focused on their commission and will eagerly push you to buy the first dress you try on, regardless of the look.
The right dress and undergarments will take you a long way in terms of flattering the goods and hiding the not-so-goods. But when it comes down to it, there are some things that a dress just can't disguise. If you're overweight, you're overweight. If you're curvy, you're curvy. If you're short, you're short. Instead of trying to find ways to hide the features that you think are flawed, spend some time before your wedding learning to accept your body for what it is. Your partner is marrying you despite all of these flaws you choose see, so try loving yourself as much as your partner loves you!
The more comfortable you are with yourself going into your wedding, the less critical you will be about your appearance in your photos. Ultimately it will give you more photos to choose from and will teach you to look beyond some flabby triceps or dark moles and focus on the beautiful memories and emotions your photographer has worked so hard to capture.
==============================
This entry is also featured on the Ten·2·Ten Photography blog and comes courtesy of Erika of Ten·2·Ten Photography and independent freelance writer, Bree Rody-Mantha.
Interested in submitting a guest post? Submit Here
The following two tabs change content below.
Pretty Pear Bride is The World's Only Site for Plus Size Brides. Bringing Bridal Inspiration to brides that look like "YOU", created by Shafonne Myers. Shafonne Myers is a certified wedding and event planner who longed for bridal inspiration that looked like her. She has created a website and magazine that brings bridal inspiration to plus size brides. She does speaking engagements educating the world about plus size brides and self confidence.
Latest posts by Pretty Pear Bride (see all)