Â
It used to be that to a bride and groom would place disposable cameras down on a table and they were good to go BUT those days are long gone. And thank goodness because I don't think we could take another crazy picture from Aunt Mary or Uncle Bob. So what has taken the place of disposable cameras…..Wedding Snap has come to save the day with their innovative Iphone and Android phone apps that allow guest to take pictures and upload them directly to a secure album specifically marked for your wedding.
NO more hunting down friends and family on Facebook to find that favorite image they posted, it's all in one nifty place. And I'm thrilled to share with everyone a fabulous guest post from our good friends over at Wedding Snap featuring some fabulous information to help your guest take great wedding photos. If you are wanting to get the perfect wedding photos then you need to make sure that you use something like this list of wedding photos ideas, to make sure that you don't miss out on anything.
But first, once the big day is over and done with, you might find that you want to print off some of the best photos as a memento of the day. If you are looking for an iphone printer then check out brothermobilesolutions.com for more information.
Now, let's get started…
5 Simple Tips to Help Your Guests Take Great Wedding Photos
Â
At Wedding Snap, we love helping couples instantly collect and share hundreds of their guests' wedding photos and videos in real-time. We also know that while your guests' photos aren't intended to take the place of those captured by a professional, with the right tips and tricks, your guests can certainly snap images you'll love looking back on for years to come.
Are you ready to help your guests learn how to take especially fun and memorable wedding photos? Read on for a look at expert advice shared by Damien Smith of Los Angeles' Damien Smith Photography, along with a few added insights of our own. Share these tips with your family members and friends, and get ready to watch the fabulous photos roll in!
Â
1. Don't get in the way of professional photographers.
Â
First and foremost, Damien stresses that when it comes to taking great wedding photos, one of the most important things to remind your guests is that they should be careful not to interfere with the professionals you've hired. If your guests are competing for space with your team of hired photographers, there's a good chance that their own images won't come out very well to begin with, and even worse, your professionals will then have a much harder time doing their jobs.
Â
Plus, with the much-improved quality of smartphone cameras these days, we have no doubt that your guests will still be able to capture some fun photos even without inserting themselves right into the middle of where the professionals are trying to work. If your guests are using the Wedding Snap app, for instance, all images will be saved with a photo resolution better than Facebook's and can also be enhanced with one of seven fun photo filters, helping guests capture unique pictures even if they aren't always taken up close or from the perfect angle.
2. When using a flash, make sure you're not facing a window or mirror.
Â
When using a flash, Damien suggests that guests avoid facing windows and mirrors, as the flash will then reflect back into the camera and make the picture appear especially dark. In instances where someone does have to take a picture with flash in front of a window or mirror, it always helps to position the subjects directly between the photographer and the mirror or window. Of course, if you can shift to another location or wait to take the picture at a time when this won't be an issue, that's even better!
Â
3. In low light, remember that your smartphone camera's flash will be more useful the closer you are to your subjects.
If guests are able to do so without getting in the way of your hired professionals, Damien says that getting as close as possible to their subjects is the best bet when taking photos with a flash in low light. Speaking of flash photography, also keep in mind that certain locations, such as houses of worship, don't allow it, so be sure to check into the rules ahead of time and share them with your guests, whether in your program or by having an announcement made before the ceremony begins.
4. Switch to video when capturing live action.
Â
Since most phone cameras don't do especially well when photographing moving objects, Damien emphasizes that it may actually be better to switch to video mode when capturing live action. The Wedding Snap app allows guests to upload videos along with photos, and some newer phones also allow people to take pictures while simultaneously shooting a video. Just remember that phones should ideally be turned sideways horizontally when filming in order to allow for optimal viewing on TV and computer screens later on.
5. Allow yourself to be in the moment.
Â
Last but certainly not least, one of Damien's most important tips is to avoid overthinking and instead focus on being in the moment. In other words, when all else fails, guests should stop stressing about how to get the ideal shot, and just go ahead and take the picture already! Wedding Snap also allows couples to have their guests' photos retouched by a professional in the weeks following the wedding, so even if the original images aren't perfect, you're still sure to end up with a lot of memorable ones when all is said and done. Also, as much as your guests will of course love sharing their images, remember that it's okay if they aren't able to capture every little thing. They are, after all, there to celebrate and have a great time with you, with or without smartphones in hand!
Â
As you can see, it's entirely possible for your guests to take fabulous photos while also having fun and sharing in all the excitement of your wedding day. Are there any other helpful tips you'd like to share with your fellow brides-to-be?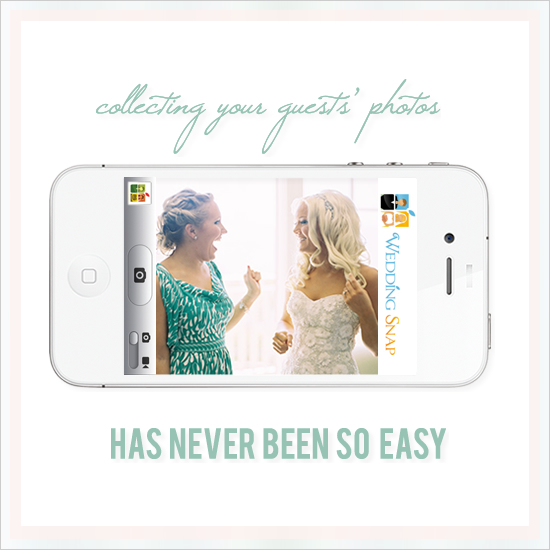 About Wedding Snap:
Â
Wedding Snap is an innovative photo-and-video-sharing platform and app that allows couples to instantly collect and share hundreds of their guests' wedding photos and videos in real-time. With Wedding Snap, couples can gather all of their precious wedding memories in one place with ease. Wedding Snap is the simplest photo-and-video-sharing experience that uses iPhone and Android apps to instantly collect guests' memories in an online, real-time album. Every photo and video taken with this wedding app is immediately uploaded to the online album. No waiting or begging. Your guests can watch your wedding happen in real-time, no matter where they are. And best of all, it's so simple, a 5-year-old could use it.