Today's Friday Find is perfect for any bride to be during the spring and summer.
It's the Harlow Faux Plus Size Wrap Dress from Kiyonna.  And as an added bonus it's a wrap dresss.  Wrap dresses are ideal for accentuating your top area while minimizing your lower portion.  It's a great option for an engagement party, bridal shower or for a nice night on the town with your fiance.
We featured this FAB dress  in Sonsi's Pick in our premiere issue.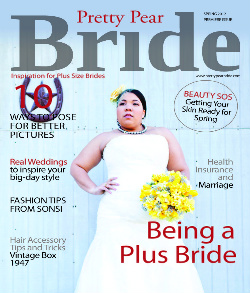 For style tips and to check out what accessories Sonsi partnered with this, check out our premiere issue of Pretty Pear Bride Magazine.