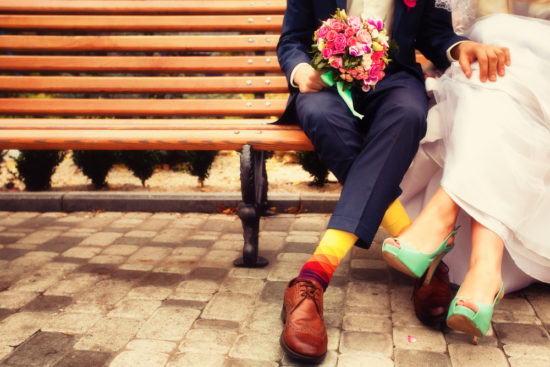 Weddings are the most memorable, cherishable and exciting times for all of us. Whether it's your own or a loved ones, the wedding fever hits us all. The whole drill of planning, shopping and making merry transforms into the best memories of our lives. Amongst the important 'to-do' list, the task of shopping is always most crucial, time-consuming yet fun. As much as we want the process of shopping to be fun, it can sometimes get a bit stressful too.
The reason for that can be budget, availability and the task to finding exactly what you want and like.
Everyone wants to look their best without compromising on comfort to be able to enjoy a special occasion to the fullest. With a comfortable yet good looking pair of shoes, you can enjoy, dance and have unlimited fun. Finding the right shoe can be very tasking, specially when you are looking for a combination of comfort and style. Ruby Shoo's exclusive wedding collection is where design meets comfort and you get the best of both worlds. Formal shoes in a palette of colors, designed to give your feet the luxurious comfort they deserve. Every shoe in this collection has been created by keeping in mind the grandness and glamour of your special occasion.
Mr. Shoes displays exquisite designs and styles to match every special outfit and occasion. This dreamy collection is available at amazing prices. Here you will find court shoes, T-bar shoes and boots, skillfully designed with rich fabric, laces and prints. Accented with fabric flower cut-outs, beads, bows and more embellishments, these shoes will make you dazzle at any party.
Ruby Shoo shoes are a varied collection of unique combinations like yellow and black, pink and blue, red and purple, pastel tones, polka dots, florals and more mesmerizing styles and designs. These pretty looking shoes not only boast of their exclusive designs, but also deliver great comfort and cushioning for your feet. This dreamy brand offers everything for everyone. The heels are sturdy, strong and not too thin, this is one of the main reasons that they keep your feet happy while looking fabulous. Plus size brides tend to want more support and a stronger more sturdy heel can create that.  
It is said, your bag should match your shoes. Keeping this inspiration in mind Ruby Shoo also designs matching handbags with their shoes to complete your look. Co-ordinate these set or match them separately to make your look simply outstanding.
Let your frustration about finding the perfect shoe take a backseat and explore the vivid yet vast collection of wedding shoes at Mr. Shoes. This fairytale collection is specially designed for all types of festive and gala events. You can choose the exact pastel colored shoe as your dress from this breathtaking range of shoes.
Ruby Shoo is a six year old brand, but has won millions of hearts with its quirky yet stylish shoes. A collection designed by a shoe lover, Samantha Lines, will only deliver the best.
Whether you are the bride, the bridesmaid, the bride's mother or a wedding attendee, you perfect pair of shoes is waiting for you at Mr. Shoes.