When most people think of a wedding in New York City, they envision loud Manhattan rooftop receptions and busy Times Square nuptial celebrations. But forget the glitz and glamour—this Brooklyn real wedding will prove that chic elegance can be taken to a whole new level without having to stick to tradition! Our lovely couple, Ashley and Kris decided on an intimate non-traditional gathering at a location with hints of moody romance throughout their day. Stunning views, stylized details and breathtaking photos made for a unique take on city weddings that was definitely worth remembering!

Check out all the details below including about the cutest proposal EVER, including a cartoon book ending with the last page having Kris on one knee and then there he was on one knee. Love it!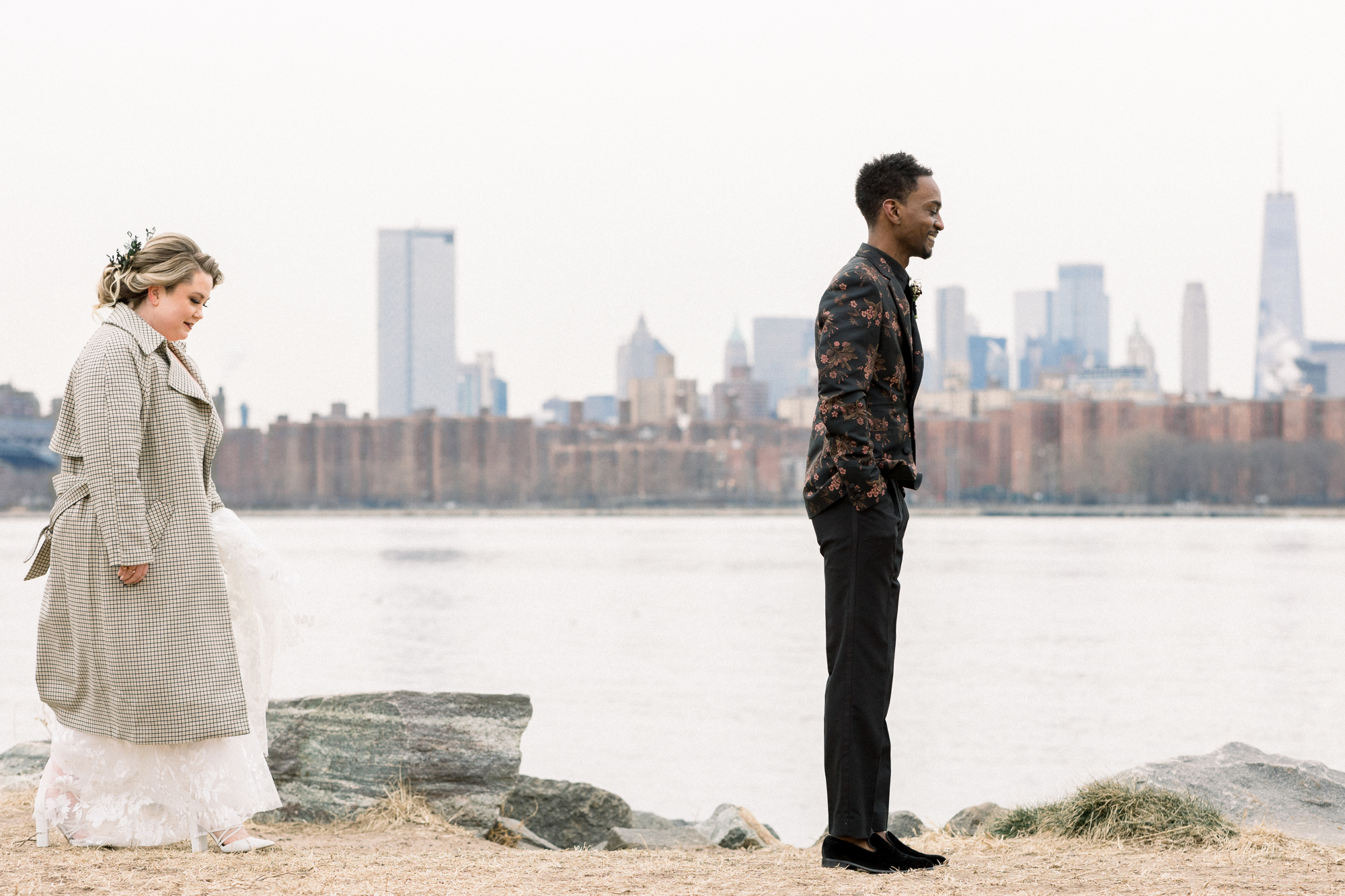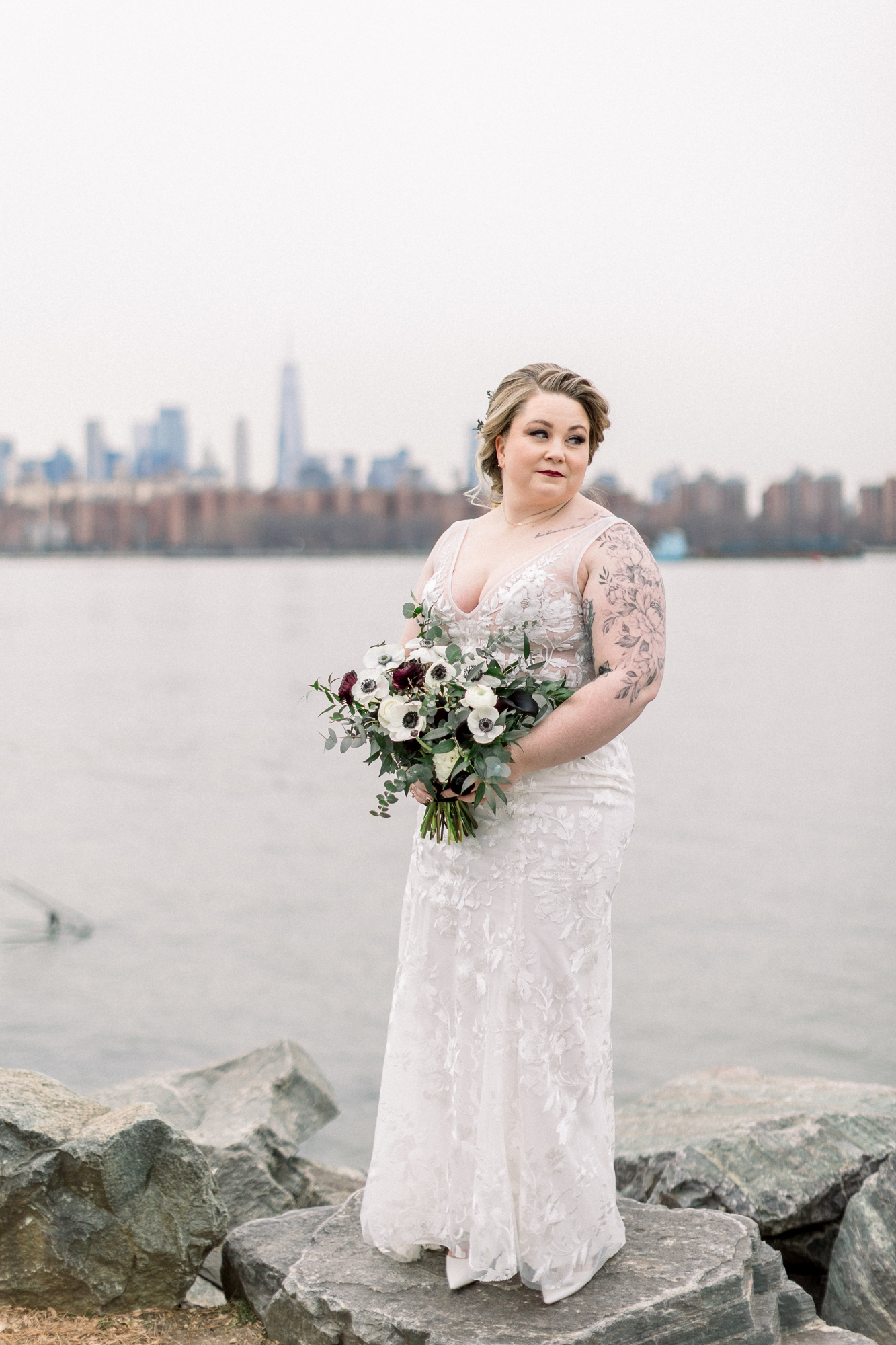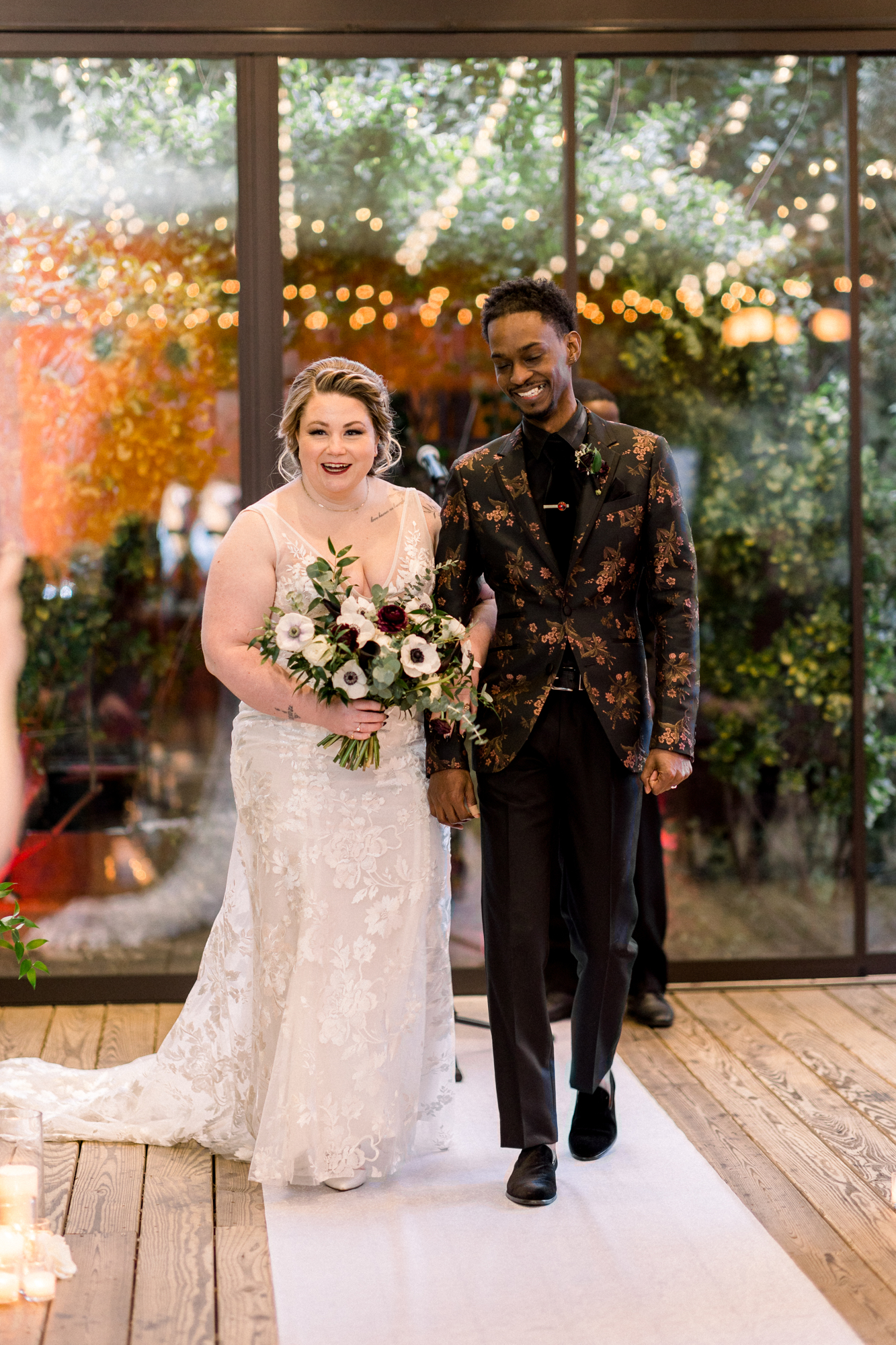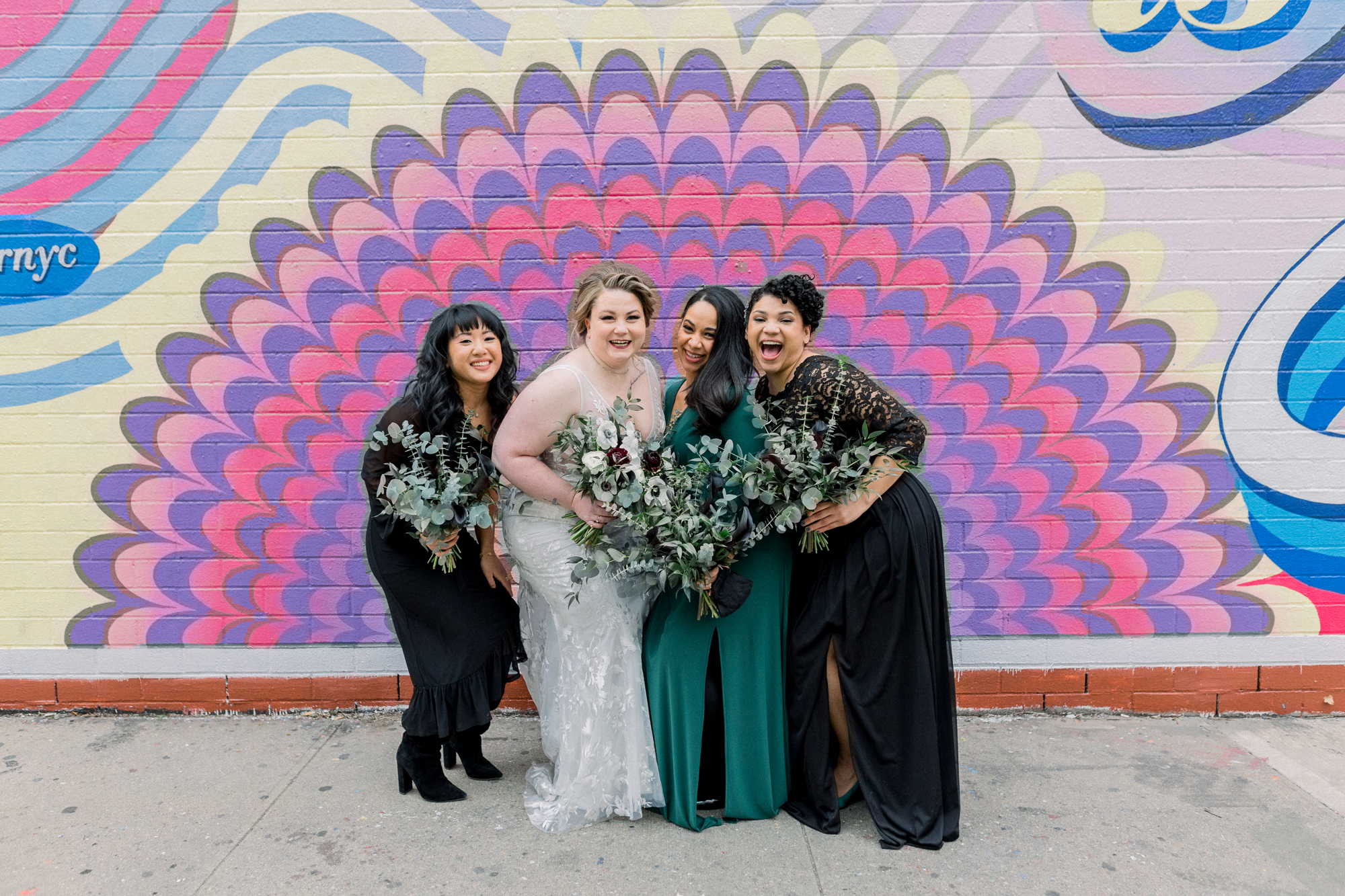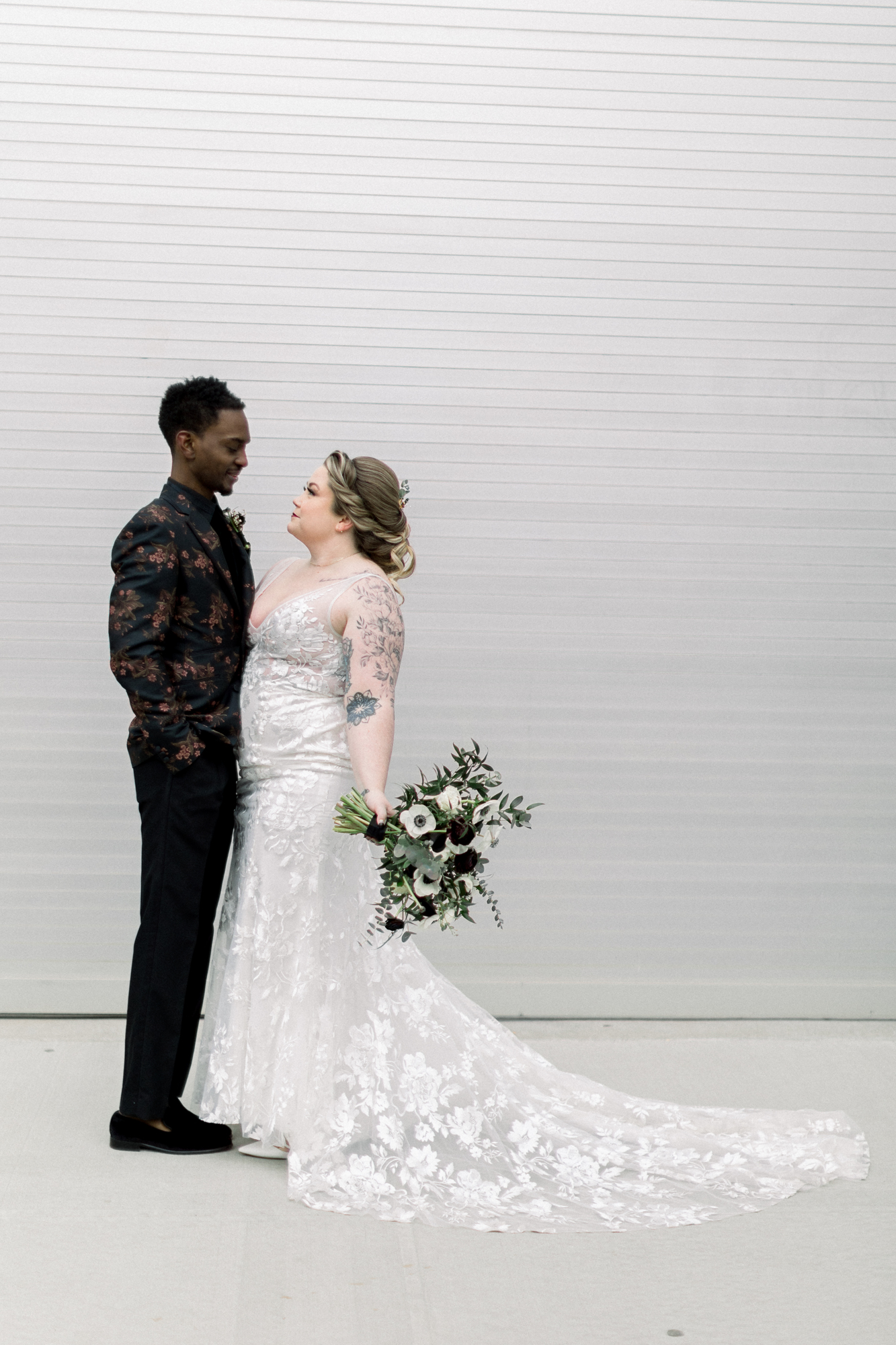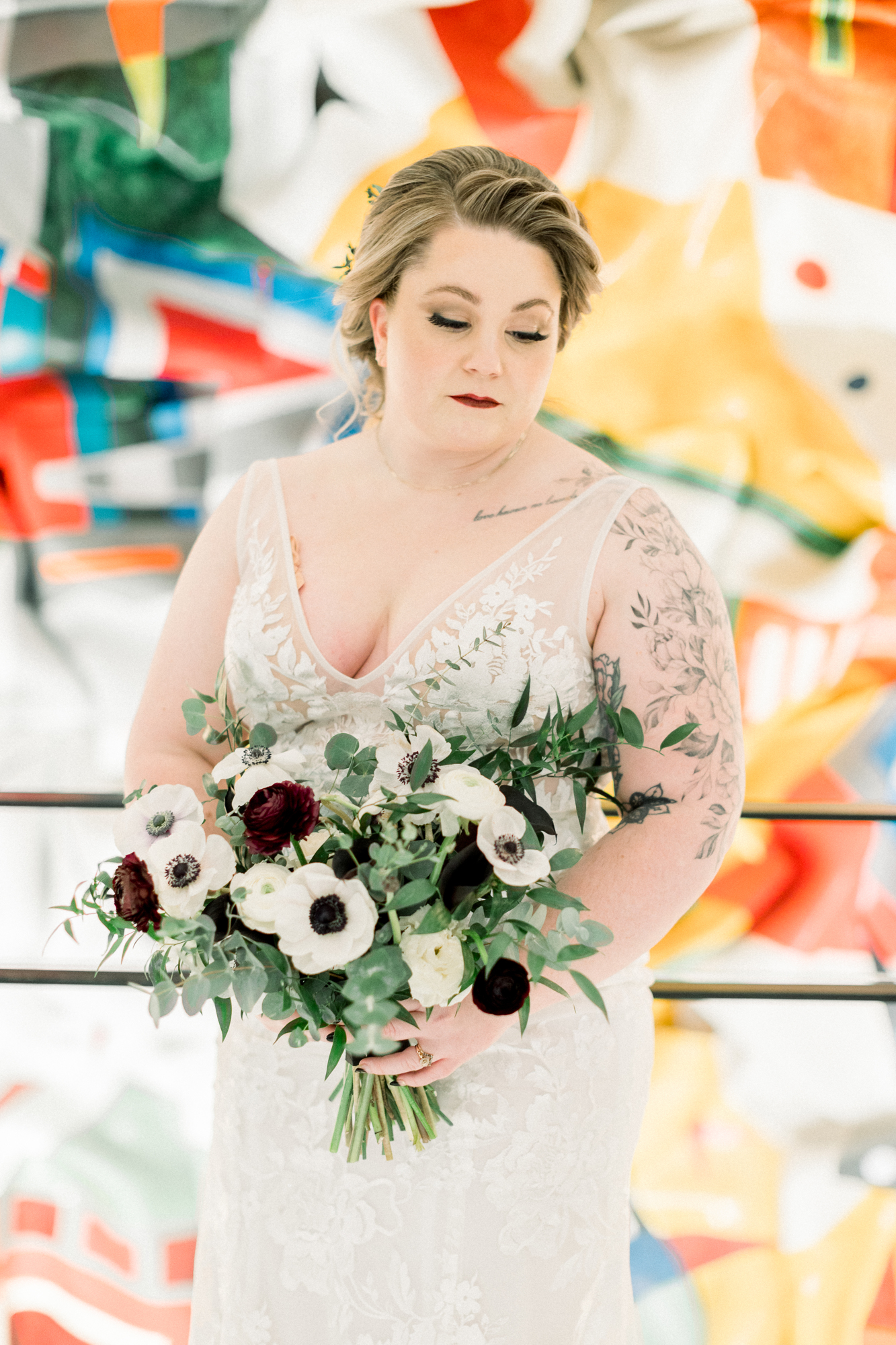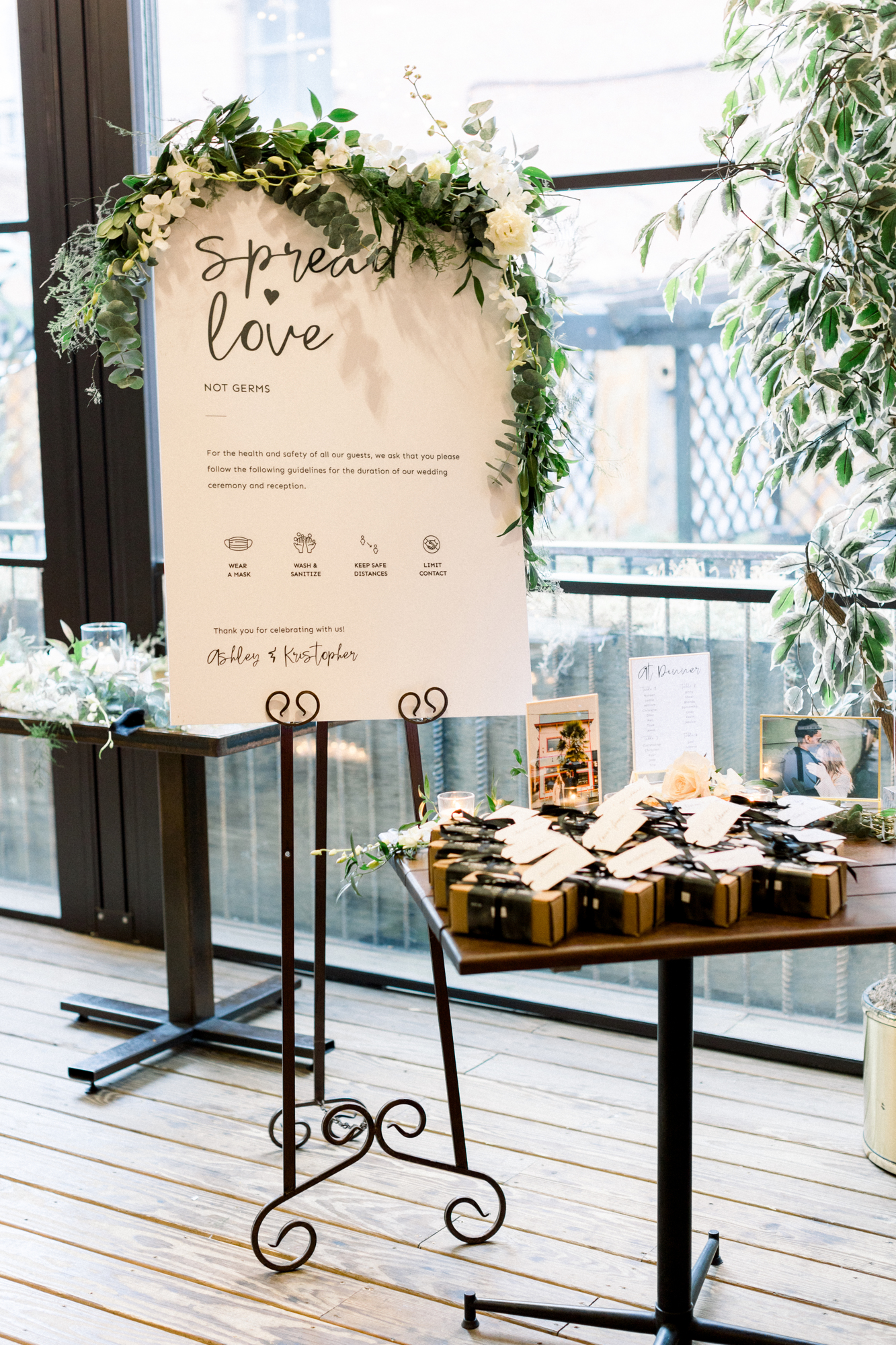 How did you meet?
We met through our best friends, who ironically are married. We knew each other for almost 4 years before we ever started dating.

What is your proposal story?
Kristopher created a cartoon book titled "The Ways I Love Ashley," and each page was a cartoon drawing of the reasons he loved me. It was quirky, sentimental, and beautiful. He gave it to me in a hotel room on a weekend away, where it was just the two of us. The last page was him on one knee asking me to marry him, and when I looked up, he was doing just that.
Tell us a little a bit about your wedding.
I really wanted a wedding that embodied us as a couple, unique and a little non-traditional in aesthetics. I wanted something elegant and moody, so I decided my color scheme would be primarily black, white, and forest green with pops of gold. A part of the decision to be in the city, somewhere we identify with, and a middle ground for our two families to meet. It made sense to have a venue that could do it all, ceremony and dinner. Initially, it was a larger wedding but for obvious pandemic-related reasons, we downsized into an intimate 28-person event.
Tell us about your attire choices.
I fell in love with my dress and pretty much feel in love instantly and decided once I put it on in my first and only fitting. The floral detail I felt really matched the vision of the wedding, and I wanted something form-fitting, even though it wasn't something I usually went after. I decided did it just felt like me. We designed my husband's tux online and took his measurements for everything to be specially made. Fitting within a floral theme, not just another plain black tux. We wanted our choices for the day to feel special, not just mine.
What was the most important to the two of you while planning? Was there anything that you chose to splurge on or skip?
I think there is always the potential to spend more money if you have it. We paid for the wedding ourselves, but I don't think we sacrificed anything. We prioritized food and a venue that felt right to us. I made our cake because in another life, I was a pastry chef, and it seemed logical to save money in that way. The only aspect we probably missed out on was having a real party with a DJ after and not just dinner since it was downsized.
What were your favorite parts of the day?
The whole day feels like a blur, but it was amazing. It was freezing cold being in January in Brooklyn, and a Noreaster literally started at the end of the wedding around 9 pm. But it did mean that we were able to get some beautiful nighttime snow falling photos. A really amazing moment while getting ready, was a hawk landed on the balcony of my suite while getting ready, and we got some amazing photos of it. Of course, we looked it up and the symbolism it can be a messenger from a loved one who's passed. My grandmother and godmother both passed in the previous year, so it was like a sign from them that they were there.
Tell us about your wedding flowers.
So beautiful! Black is a difficult color to do when not spraying flowers but they did an amazing job sticking with the theme of greenery black and white. It was wild, not too large and the word of the day just moody. I really wish I had kept some of them to preserve in hindsight but with traveling back cross country, it wasn't a top priority.
Tell us about your wedding cake.
I made my cake and finished it Friday evening for Saturday drop-off at the venue. It was a single-tier, 6″round about 12″ high, white vanilla buttercream on the outside with an abstract flow of gold leaf going down the side. The inside was two different cakes – bottom carrot cake with cream cheese frosting & top was chocolate cake with salted caramel buttercream & caramel. The cake was just another nod to being simple and elegant, with not too much fuss. I wanted to be able to provide enough cake, but different flavors that we love.
What did you do for favors?
A local Portland OR company, where we live, has a smores shop and does smores kits. So thats what we did, I added a cute note about the last year being a dumpster fire, so here is something to roast over it. The pandemic was stressful in many ways, but we really didn't want it to ruin or be the main focus, so we poked fun at it instead.
Did you include any family heirlooms or special traditions?
We did some research and decided on a Celtic Knot tying ceremony addition to our ceremony. I am Irish but it is not family history, but we wanted to do something special to commemorate and have a keepsake. We tied an infinity knot  with a collection of ribbons in our color theme during our ceremony, while our officiant said a few words, and its now something that is draped over a wedding photo in our bedroom. 
Photography:
Megan and Kenneth
| Ceremony Venue:
MyMoon
| Reception Venue:
MyMoon
| Floral:
Rosehip Social Florist
| Hair:
She Said Yes Beauty
| Other Services:
The William Vale
| Makeup:
She Said Yes Beauty
| Wedding Cake: The Bride | Favors: 1927 Smores | Wedding Dress:
Made With Love
| Groom's Attire:
Hockerty
| Wedding Ring:
Marrow FIne Jewelry
| Wedding Ring:
Anna Sheffield
| Submitted via:
Matchology
The following two tabs change content below.
Pretty Pear Bride is The World's Only Site for Plus Size Brides. Bringing Bridal Inspiration to brides that look like "YOU", created by Shafonne Myers. Shafonne Myers is a certified wedding and event planner who longed for bridal inspiration that looked like her. She has created a website and magazine that brings bridal inspiration to plus size brides. She does speaking engagements educating the world about plus size brides and self confidence.
Latest posts by Pretty Pear Bride (see all)