Hello Pretty Pear Brides… I'm Anna Skye, founder and designer at Download & Print. I love pretty things, but I don't love spending a ton of money for those pretty things, and I definitely don't think invitations should cost the Earth. I started Download & Print after my own wedding to help brides create beautiful stationery on a budget. I firmly believe, and am here to show you, that it is possible to create interesting and timeless invitations at home that are far from DIYish.
Today I am excited to be able to share with you an exclusive invitation set that I created just for PPB's. You can keep it simple and just download and print, or I'll give you an option to add embellishments that will really add some pizzazz to your mailings. Follow along with the tutorial below to create this set for yourself.
 Supplies:
Invitation and RSVP Template files |  Card Stock in white or cream (I used cream)  |  5.75" square envelope for invitation (as seen here)  |  4-bar envelope for RSVP  |  Printer  |  Microsoft Word  |  Scissors or paper cutter  |  Gold Tulip Beads in a Bottle (optional)  |  Avery labels , 2" x 4" (10 labels per sheet)
Step 1: Download and Customize
Download the template files and open in MS Word. The invitation and RSVP will download in one Word file, the address labels are a separate download. Customize with your wedding details.
The script font used in the template sample is Mardian, and the information text is Trojan Pro, both of which are available to download for free. If you do not have these fonts installed on your computer Word will substitute different fonts. You can pick any fonts that you like.
Step 2: Print and Trim
Print your files using your home color printer, take the files to a copy shop, or send them to an online printer (here's my favorite online printer) for reproduction. If you use a copy shop be prepared with our print release showing that you have permission to reproduce the files.
TIP:  If you choose to use a copy shop, print one copy at home and review the spelling, punctuation, and spacing. Have a second set of eyes look over your proof to be extra certain that everything is perfect before committing to printing all of your invitations.
Cut the files along the trim lines using your paper cutter or scissors. A paper cutter will be faster and will produce a straighter edge, but scissors will work just fine too.
The invitations are now ready for stuffing and mailing.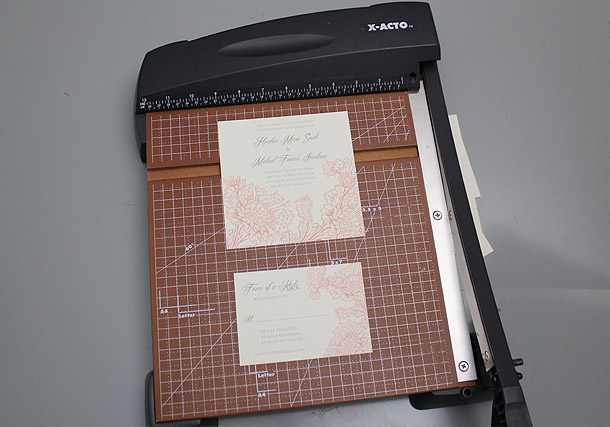 OPTIONAL Step 3: Embellish
If you are feeling crafty and have some extra time on your hands, these invitations look wonderful embellished with Tulip Beads in a Bottle. The beads are available online and at your local craft store. I used beads in gold. They are super easy to use, just dab the tip of the bottle to your invitation to highlight areas of the floral design. Try not to overdo it with the beads, this is a case where less is more. Leave the invitation to dry for at least an hour before touching it.
Here's my stationery set after the embellishments. You'd never guess I DIY'd them on a budget*.
* not to be held responsible for the spontaneous oooohs and aaaahs  these lovelies are bound to elicit!
Have you ever done a DIY for your wedding?  How did it turn out?