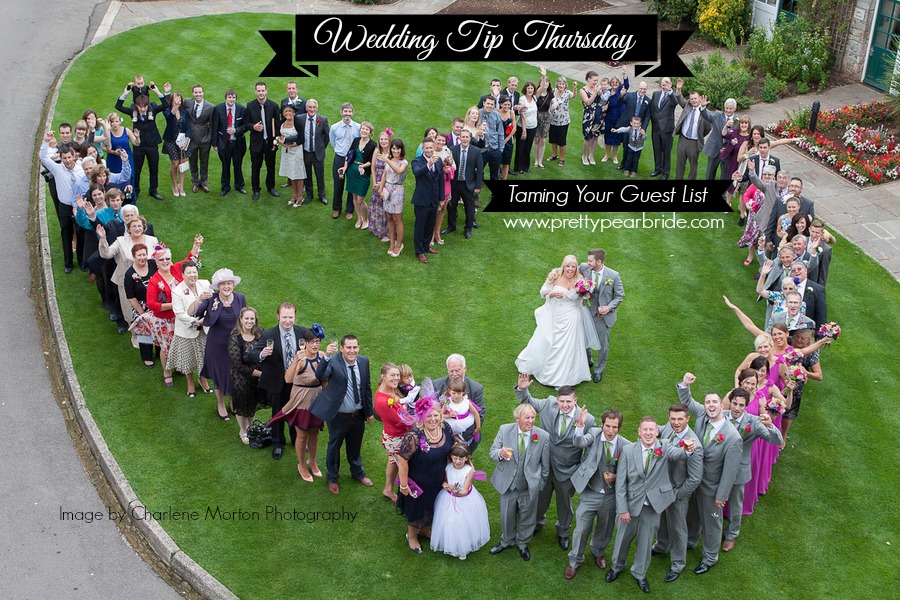 How to answer the tough questions about who's invited, and keep your guest count from spinning out of control
Whether you are working with a small or large budget there will always be tough guest list situations, and you can find yourself in an uncomfortable conversation with friends or relatives. Here are some of the top guest list conundrums I've seen over the years and how I recommend dealing with them so that you can move forward with your wedding planning with one potentially stressful situation resolved.
Situation 1: You send out an invitation to a married couple, and then are asked, "Can our three children come with us?"  
Now the answer to this depends on a few different factors. 1. If you are having an adult only wedding, the best thing to do is be honest and kind. I like to suggest something like this, "Although we know your children would be lovely to have at the wedding, we are not including any children as some are a little unruly and we want all our guests to enjoy themselves." or " We would absolutely love to have your children join us, unfortunately we are limited by our venue size, so we have decided to limit the guest list to adults only."  2. If you are having some children, family perhaps then explain kindly. "We love children, unfortunately we were limited in our guest count so we were only able to invite our nieces and nephews."  3. If you don't mind children and you would like to include them then the easiest remedy would be to speak with your caterer. Often times they can offer children's meals  at a lower cost, so your budget and guest count stays under control, and your friends are happily enjoying your wedding as a family.
Situation 2:  You send out an invitation for a friend that is single and you receive the RSVP back with a Plus
1. First take a moment and realize that this happens at every wedding, people often don't understand the etiquette of invitations. Some may write in a plus 1 assuming that they have one, others will be offended you didn't offer them a plus 1 so they are proving a point, either way you have a choice to make. If your budget is limited or guest count is very tight I suggest a conversation that will hopefully leave you and your guest feeling positive. Something like this, " We are so happy you are able to attend our wedding it means so much to us. Unfortunately our budget is set, and although it was a tough decision, we were only able to give plus 1's to guests that were in long-term relationships. We are so sorry we aren't able to accommodate your plus 1, but we have made sure you are at an amazing table with friends. People appreciate honesty, and knowing that they weren't snubbed, that it was simply a budget or number limitation will help ease any hurt feelings. The other thing you can do, especially if your numbers are not too tight is to let it slide. There are always people who cannot come, so if you figure that five out of your 100 invites will ask to bring a guest, and perhaps 10 to 15 will not attend, your numbers are safe. No awkward conversation, no dance around the etiquette, you have a happy guest and potentially another person that will make your wedding fun.
Situation 3: You and your fiancé want to include co-workers, but can't decide how many to invite, or if you should invite everyone or select people.
My first advice is to always go with what is important to you, personally I would rather see people you care for and are a great support for you and your fiancé than having your entire office attend. With a little time you and your fiancé can easily make these decisions and avoid any unwanted conflicts at work. First I recommend sitting down with your fiancé and decide on the number of co-workers you can invite, and then decide on if you're wanting to include their spouses. You can absolutely cut your co-worker list in half and include their spouses, especially if you have gotten to know each other. However you can always have a table of co-workers and not include their spouses, you can invite a larger number from work and they will all enjoy themselves together. Now if your numbers look good, you have a small office, or are very close to your co-workers then by all means invite everyone. It will be fun, and add to your special day. However if you simply can't invite everyone, then do not feel guilty about setting your list. Invite who you are close to, who will make a difference for you, and don't feel bad… but do be discrete. When inviting those you are close to ask them to be discrete, everyone understands guest list limitations, and they will be happy to be invited and happily help you to not make others feel bad.