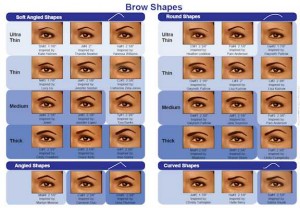 Source eyebrowz.com
Most likely your wedding day has been something you have been dreaming about since you were a little girl. Thinking about everything from the colors, to the flowers, to your dream dress. However, most brides probably don't think about their eyebrows. I know I didn't, and I only started thinking about them once my make up artist mentioned my "brow look." She had some microblading supplies from https://store.girlzink.com/collections/microblading-supplies which she offered to use, but I decided to leave them natural in the end!
Most women have over tweezed, waxed or threaded their brows into oblivion over the years. However, your wedding is the perfect reason to start letting them grow in for a fuller, classic look.
Here is a timeline below from Pretty Pear Bride to achieve the picture perfect brow look:
9 months before the wedding: Let them grow! Eyebrows take about 3 months to completely grow back in. It will be hard not to grab the tweezers or go for a wax, but trust me it will be worth it!
8 months before the wedding: Master the eyebrow pencil. Using an eyebrow pencil or powder can give your brows a more even, polished look while they grow in. If you don't think you can control the urge to pluck those stray hairs, you may want to step away from the mirror.
6 months before the wedding: Reshape your brows. Easier said than done. You do not want to go back to the same look you had three months prior. Look through some magazines or check out wedding websites like Pretty Pear Bride, to get some ideas about how to shape your brows. If you don't think you can do it on your own, go see a pro!
3 months before the wedding: Practice makes perfect. This is a good time to have your makeup trial. If at all possible hire a pro to do your makeup. The pro's know how to make your makeup look natural, but also pop in your pictures. Also, you may want to take notice of any irritation or redness that happens after you tweeze or wax. Plan this accordingly for the big day.
1 month before the wedding: Test drive brow gel. You will be hugging, dancing, sweating and crying all day long. Just like you reapply makeup you need to make sure your brows stay perfect as well.
1 week before the wedding: Take a break and let your skin recover. Make sure your last waxing is well before your wedding in case there is any redness or irritation. If all goes well not only will your makeup be perfect, but so will your brows!
I would love to hear your wedding tips/suggestions/ideas! Post a comment if you have anything to share!