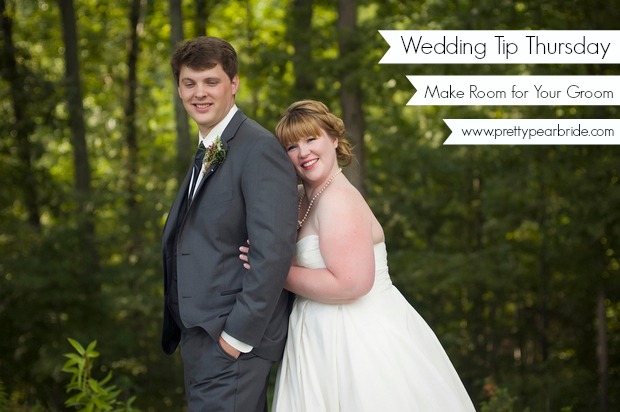 It's your day, and you've probably thought about it long before your Mr. popped the question. And yes, for the most part your fiancé may not care about the difference between Tiffany blue and Robin's egg blue, or understand why you NEED to find the perfect vintage necklaces for your bridal party, but…. he's your partner, your love, and he deserves to feel like it's his day too. So here are three easy steps to make your fiancé feel part of the planning and remind him it's his day too…
Just Look, Listen, Surprise.
1. LOOK: Look for opportunities to include him, or his tastes into your wedding. Is he a foody? Make sure he's heard when you have the tasting with your caterer, or call the caterer beforehand and let them know they can wow him with a special dish (maybe from his favorite restaurant). Does he love GQ? Make sure he gets a gorgeous suit that will make him feel amazing, and look like he deserves to stand next to you in your jaw dropping gown.Is he a sports fan, or does he have a hobby he loves? Have a special groom's cake made featuring his taste and style. And above all else, take the time to look at parts of the planning that he will care about, because there will be things that are important to him, and if you help bring them to him, you'll make the top of the list as A+ fiancé.
2. LISTEN:This seems so simple, but planning gets crazy and often times it's easy to forget to listen to what is important to your partner. When he voices an opinion, listen and be open. For the most part the decisions will be up to you, so this is an easy way to help him feel part of the planning and show him his opinion is important. Also, listen to his friends… They can often give you insight into something your guy may want or love that he hasn't shared with you, or you haven't thought of.
3. SURPRISE: Ok this is my favorite step. SURPRISE him!! You can do this at any level, or monetary amount, and trust me a meaningful or fun surprise will go a long way. If your Mr. is a fan of cigars with his boys, set up a cigar lounge at your reception. You can go all out with hand rolled cigars on site, or you can go online and order some incredible cigars at a discount and have them displayed. Does he love to sip whiskey, or a special drink? Talk to your bartender about having a tasting menu or specialty drink, and name it after your hubby-to-be. Extra tip: You can often save money by purchasing the alcohol on your own and giving it to your bartender. Are his weekends spent playing bingo for money or is he a self-proclaimed Karaoke Master? Set up a gaming or Karaoke station, not only will he be blown away but it will be unique and a fun addition to your reception that everyone will talk about.
You are the beautiful bride, and if you Look, Listen, and Surprise you'll be named #1 bride as well.