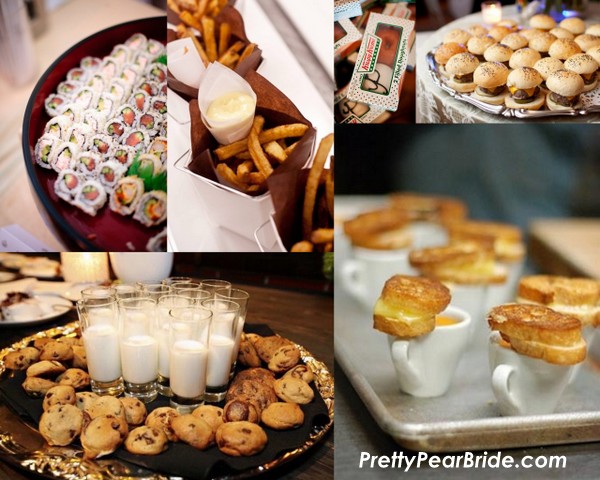 The latest fad to consider putting into your reception timeline is a late night snack for your guests. Having a snack is a great way to keep your guests at the wedding (who can say no to free food?) dancing the night away. Also, by offering a late night snack, and if you have an open bar, your guests aren't leaving on an empty stomach.
Depending on your budget, there are plenty of different snack items you can include. It is also recommend to put your snack out about an hour to an hour and a half before the end of your reception.
Choose a classic, easy-to- eat option like sliders, hotdogs or fries. Get a little more elaborate and set up a nacho or taco bar with all the fixings.  Pizza is always a safe bet and can be dished out in full or bite sized portions.
Don't be afraid to serve fast food and make it a bit personal. What fast food place do you or your groom love? The greasier the better, McDonalds, Taco Bell or White Castle would all be a hit.
Breakfast is the most important meal of the day–and also my favorite! There are so many things you can do with a breakfast snack. You can keep it simple and get muffins, bagels and donuts from your local coffee shop. Or, get fancy with waffle and pancake stations or crepes.
You can never go wrong with hometown favorites.  Your local guests will enjoy the familiar flavors, and your out-of-town guests will love the local flair. Here in Detroit you can serve coney dogs, Better Made potato chips, Faygo, or maybe have some Saunders candy.
Snacks don't just have to be limited to food items. Incorporate your favorite drinks. They can range from floats and milkshakes to your favorite cocktail, beer or wine. During fall and winter months, you can warm your guests up with small servings of cider or hot cocoa with whipped cream.
If you're worried that a midnight snack won't fit into your reception timeline, but like the idea, why not offer one to go. There are plenty of options that your guests can take to go: popcorn, cookies, brownies, pizza etc. Add some cute packaging or a personalized logo and your snack can double as a wedding favor!
I would love to hear your wedding tips/suggestions/ideas! Post a comment if you have anything to share!