Today's post is all about the groom! During wedding planning often times the groom can get forgotten, so as plus size brides we need to make sure that we are including them in the mix. So when I found this amazing resource for grooms and their groomsmen, I knew I had to share.
Menguin is perfect for the groom who loves style but doesn't want to pay an arm and a leg to get a tux. You are able to build and customize your tux, get fitted online, then it arrives at your door. And the kicker is that all you have to do is just drop it in the mail to return the tux.
As a groom getting married there are few things that they get excited about but the one thing that they do look forward to is what they are going to wear. So Menquin makes it so easy with full customization at their finger tips. You have complete control from the neckwear to the shoes and everything in between. And if you can't make a decision from what you see online, they will send out swatches straight to your door…..for FREE! And for the busy groom on the go, they can take care of it all from their computers or mobile phones.
As an added bonus, they don't even have to leave their home to get fitted Menguin makes it easy to do it all from the touch of a button. They have amazing resources online to help nail the fit or you can get fitted at a tailor. Plus, they check every single order by running it through their fit algorithm, so you can be assured that everything will fit perfectly. And everything gets shipped directly to your home. All orders are shipped 10 -12 days before your event meaning that your order will arrive at your doorstep about a week before the special day. If anything doesn't fit free replacements will be expedited right away.

Now it's time to party, dance and have fun. When you are busy with your wedding and enjoying time with family the last thing you want to do is have to worry about having to drop your tux off once you finish.
Nope, no need to bother because Menguin has you covered with a prepaid return label on the box or included bag and you just drop it off at the local UPS. Now that's tuxedo rentals made easy! This would have been perfect for my husband when we got married. We were running around trying to get everything dropped off at the tux shop, this would have made is so much easier.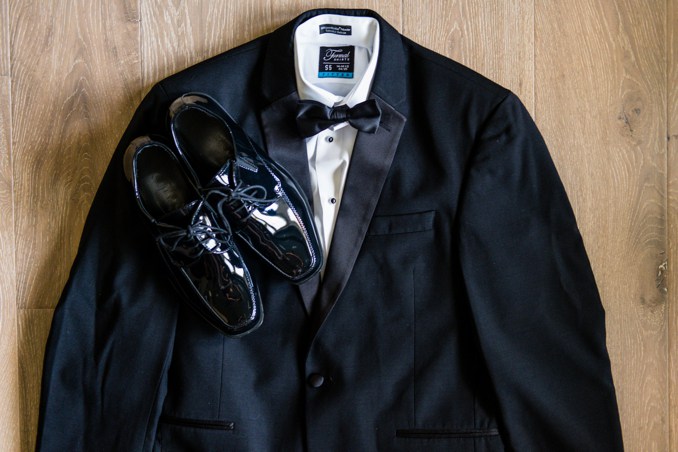 So if you looking for an amazing tux rental option that lets you
Build Your Fit
Get Fitted
Order Ships Straight to Your Door
And Wear it and Return
Then Menguin is such for you. Start shopping here!
I was compensated for this post but all opinions are the author's own and are not endorsed by Menguin Tux.