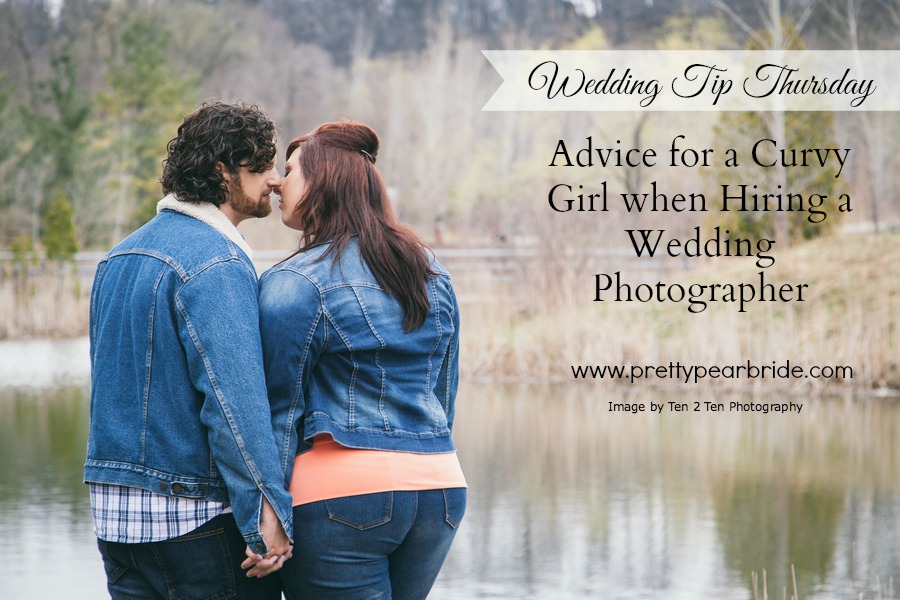 Today we have a guest post from a great photographer, Erika of Ten2TenPhotography. She has some great advice to share with us about the topic of "Do Wedding Photographers Hide their Plus Size Brides: Advice for a Curvy Girl when Hiring a Wedding Photographer". So sit back relax and absorb some fantastic knowledge.
I'm one of many wedding photographers… and I was a plus-size bride. I'm intimately familiar with the struggles of a plus size bride in an industry that isn't totally accommodating to curves. I'm also incredibly aware of what goes on behind the scenes – at least in regards to wedding photography. It's rare for photographers to showcase plus size brides in their portfolio and it's really a shame. With the average size in North America being 12, it's not difficult to conclude that nearly half of the population falls into a "plus size" category… so where are the plus size brides in the wedding photography portfolios? My friend recently had a wedding and used Olga Topchii Photographer NYC, her pictures looked beautiful and it was a lovely day!
How a photographer chooses their portfolio
Before we hit the ground running, it's important to understand what happens behind the scenes in terms of how a photographer chooses the images that make it into the portfolio. When a photographer chooses portfolio images they consider many factors; portfolio images are typically the first images clients will look at (versus blog posts or sneak peek albums) and the photographer is aware of this. Photographers choose images that they feel best represents themselves as artists, best represents their brand, best showcases their skills and what would most appeal to their desired target audience.
Why aren't there many images of plus size brides in portfolios?
The answer to this question depends on the photographer's criteria for determining what "makes the cut" into the portfolio in the first place; even then, it's still not a pleasant thing to talk about.
For their own reasons, each and every photographer will choose to showcase the images that they feel best showcases their skills as well as what appeals to their target audience. While there are some photographers who are happy to work with any bride or groom that they have a great connection with, others are quite a bit more selective about their desired target audience and structure their portfolio accordingly.
What does 'selecting your target audience' mean? Well, some photographers have a more vintage style and prefer shooting at locations such as vinyards or cottages as opposed to hotel or banquet facilities; they will ensure they fill their portflio with images that reflect this. Other photographers specialize in certain demographics such as South Asian or Italian weddings. Again, their portfolio will reflect their desired audience. Some photographers simply select their portfolio images to reflect traditional bridal magazines: tall and slim brides. If it's what they feel best reflects their brand, they have the right to choose the images accordingly… but where does that leave the curvy bride-to-be?
If you're frustrated because you aren't seeing curvy brides in many photographer's portfolios, please keep in mind one of the other reasons photographers select their portfolios: Photographers put their best work into their portfolios. Working with a curvy bride requires a skill set that not all photographers share. Being able to adapt your poses to flatter the body-type of the client you're working with is a must (as opposed to simply going through your standard roster of poses). Being able to communicate and establish a relationship of trust; however, is even better. Creating a relationship where the bride feels comfortable saying "I feel awkward in this pose, can we do something different?" is priceless. If you aren't seeing a lot of curvy brides in a portfolio, it may be because the photographer feels like it's not their strongest work. Every bride deserves their photographer to give 110%, curves or no curves.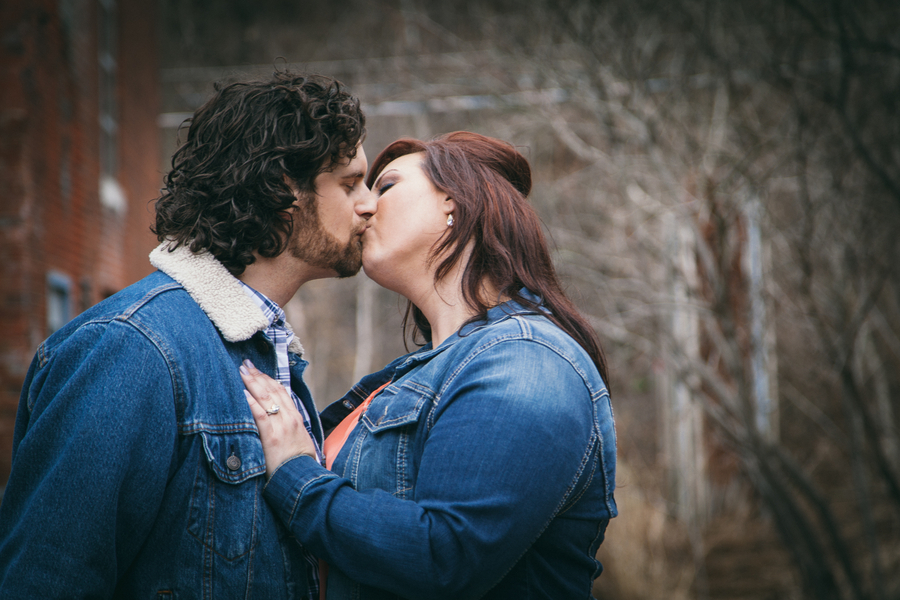 How a plus size bride should choose their photographer:
First and foremost, you always want to find a photographer whose style you like. Once you know what style you're looking for (vintage, storytelling, creative, etc.) it's time to look through their portfolio as well as their other image galleries. Aside from portfolios, photographers often have blogs (which showcase many photos, typically in a storytelling fashion) and social network pages like Facebook. Look through all the images you can find; perhaps there are many curvy brides in the blogs and they simply didn't make it to the actual portfolio.
When you meet with a photographer for a consultation, ask them to see a whole wedding featuring a curvy bride. It would also be helpful to consider Event Photography Pricing, factoring that into your budget when working through the consultation with your perspective photographer. This will help show you how they capture the curves throughout the entire day (and not just the select images that may make it into the blog post). If they offer an option for an engagement session – do it! Engagement photos will help ensure you're comfortable infront of the camera as well as working with your photographer.
During that same consult, you should be able to feel the beginnings of a connection with that photographer. Do they make you feel comfortable? Are you relaxed in their presence? Can you laugh and joke with them? Do you feel like you can not only be yourself around them but also express your concerns, too? If you've answered "yes" to these questions it's a great sign that you've got a photographer who you will be able to communicate effectively with; this is key when it comes time for a photo session!
If you're having a difficult time finding a photographer whose style you like and who has curvy girls in their portfolio, you may have to consider either expanding your budget to either allow for the option of hiring other photographers in your area or to bring in a photographer from elsewhere (who may have travel fees). Your wedding day images are the only investment you'll make into your wedding day whose value will actually increase over time so always make that investment wisely.
Thanks so much Erika for your great advice, check out more of her work on her site. Look out for a fabulous engagement session from Erika coming up tomorrow!