It's no secret that this pandemic has put a lot on strain on majority of weddings. It has also affected wedding planning for most people, whether it's planned for next month of next year! With so many vendors being closed right now, it can be challenging to get things done. But what if we told you that you can opt to do a DIY wedding planning while doing it in the comfort of your home?!
Of course, not everyone has extra time on their hands right now. There are plenty of people who are essential workers and are still working just as many hours — if not more — as they were working before COVID-19 turned our worlds upside down.
Even if that is the case for you, learning some ways to get wedding planning from home done can actually be a bit of a stress reliever! It is nice to know that you don't always have to physically go somewhere to get a wedding planning task checked off of your list.
10 Wedding Planning Tasks You Can Tackle from Home
1. Browsing for Wedding Inspo
Pinterest and Instagram are your best friends when it comes to wedding planning! Whether you opt for DIY wedding planning or having someone else do it for you, I think we can all agree that these two websites are the first ones we open for wedding inspiration.3
Start creating a mood board so it will be easier for you to navigate through everything and you'll know exactly what theme you want to go for.
2. Online Shopping
A lot of stores now have no-fitting policies to avoid transmitting virus from one skin to another. Why not opt for online shopping? Majority of mainstream and popular designers already have the option to an e-commerce site so whether you're shopping for accessories, shoes, or your plus size wedding dress – you're sure to find a website that will meet your needs and expectations. Check out a few of our favorites online shopping spots for plus size brides: BHLDN, and David's Bridal.
A lot of wedding vendors are now offering virtual appointments so make sure you inquire about it so you can safely shop for your upcoming wedding without having the fear of contracting the virus.
3. Create your Registry
Because you may not be able to go to a store right now, it can be easy to take registry shopping online! Guests may even enjoy the convenience of online shopping for you.
This can also be a fun project for you and your partner to work on while you're at home! Choosing what to put on your registry is one of the most fun aspects of wedding planning.
4. Make Use of Social Media to Connect with your Guests
Now is the perfect time to connect with your guests! If this pandemic is affecting your wedding day or other activities surrounding it, let your guests know. This can be done through your wedding website, a Facebook group you may have created for your upcoming day, or through messages and phone calls.
Another fun wedding planning from home task that you can get done throughout this time is to write letters to your guests! These can go in your welcome bags or on your table settings.
5. DIY your Wedding Décor
With extra time on your hands, why not DIY your own wedding decor? It doesn't have to be anything crazy — especially if you don't consider yourself to be artsy and crafty!
There are plenty of simple projects that you can DIY for your wedding day from home — from tie-dye napkins to signage for your ceremony.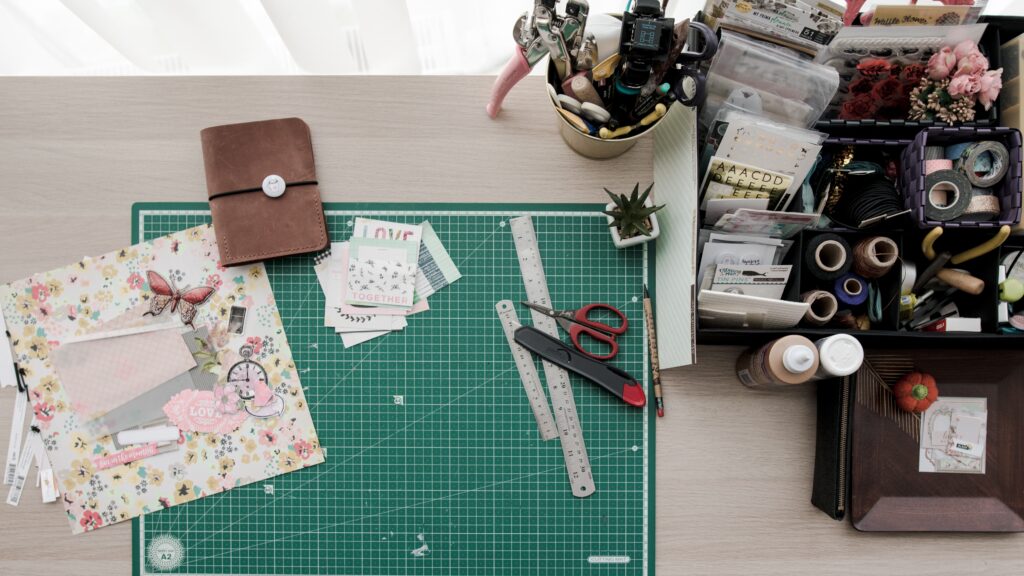 6. Practice your Hair and Make-up
Even if you don't do your own hair or make-up on the big day, you can take pictures to use as inspiration to show your makeup artist! Or, at the very least, they can serve as your looks for the bridal shower or rehearsal dinner.
Also, it's fun way to kill off time! Thanks to YouTube, we now have access to various hair and makeup tutorials online.
7. Practice your First Dance
You might already be practicing TikTok dances on the daily (so are we!), but now is also the perfect time to practice your first dance!
Turn on your chosen song and dance in your living room together! It will help you prepare for dancing in front of all your guests! It's also a super intimate moment that you can share together during this difficult time.
8. Practice Writing your Vows
If you're up for more of an emotional task, working on your wedding vows may be a good way to spend some of your time! Besides, if you get it out of the way now, then you won't have to worry about it as a last-minute task!
9. Plan Out your Reception Playlist
Sure, your DJ will do all of the work to make your reception run smoothly and get your guests on the dance floor. But they will most likely ask you for specific songs that you may want played — or at least a general idea of the genres that you want!
Why not create a playlist full of wedding songs that you'd love to dance to at your reception? Your DJ may also ask you for a list of songs that you definitely do not want played, so it may be a good idea to get that list together as well.
10. Spend More Time Together
This one might seem like a no-brainer, but try to spend as much time as you possibly can with your fiancé right now! Of course, if you are self-isolating and spending this time apart, then this may not be possible. However, you can have all of the FaceTime dates and Netflix watch parties on Zoom in the world!
Get creative.
This is a time that you'll be able to look back on and tell your grandchildren about one day!