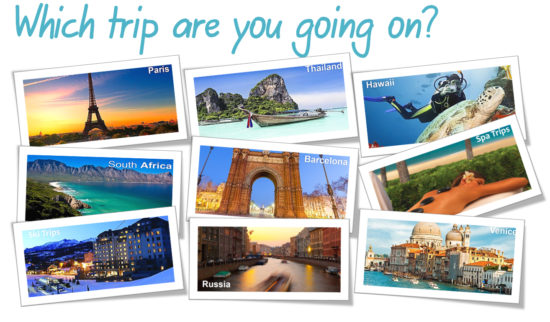 I honestly had never even heard of a travel club. What the heck was it? I mean the concept sounds good but I really didn't know what it was. Here's what I found about them.
If you're looking for the best discounts and member benefits then we recommend WorldVentures. They offer hundreds of DreamTrips worldwide including hotel and resort getaways, all inclusive resorts, cruises, African safaris, major sporting events, voluntourism trips, sportsman's trips, hunting and fishing expeditions, and just about anything else your wanderlust filled heart could desire. To check out the complete list of DreamTrips click here.
Best Deals & Discounts
The DreamTrips offer some of the best deals on travel that we've ever found. And as our loyal readers know, we get around. One of the most popular DreamTrips promotions is a 4-night/5-day cruise for only $69 on a major cruise line such as Royal Caribbean or Carnival. Other trips include travel to 4 and 5 star hotels and resorts at 2 and 3 star prices.
Best Price Guarantee Or They'll Send You For Free
Not only does WorldVentures offer the lowest prices around but they have the best price guarantee we've ever heard of. If you book one of their DreamTrips and are able to find a better price within 7 days, they won't just refund you the price difference. They will give you all of your money back and send you on the trip for free.
Build Your Own Vacations at Wholesale Prices

Personally they had me at $99 trip to South Africa at a 4 star resort , but yep, there's more. In addition to offering package DreamTrips at wholesale prices this travel club also gives members the option to build their own vacations at wholesale prices by booking travel on a personalized website. In addition to booking flights, rental cars, hotels and resorts, members also have access to Global Getaways which include villas, condos and vacation homes. There's no need to worry about connecting hotel rooms when traveling with the kids when you can simply book a 2 or 3 bedroom villa or vacation home instead.
Earn Free Travel Rewards

As a member your personal travel website is sort of like your own version of Expedia, Travelocity or Kayak but with one major difference – by purchasing travel on your own website you can earn commissions in the form of travel dollars that can be cashed in for, your guessed it, free travel. A week on vacation is awesome. A week on vacation that is free because you paid for it with travel rewards, even better.
Hotels – Best Online Price Guarantee
The prices for hotels are also guaranteed to be the lowest prices you can find on line. And if you do manage to find a lower price after booking a hotel, you won't just receive a standard refund on the price difference, you will receive a 150% refund on the price difference in the form of travel dollars to be used on your next travel purchase.
And So Much More…
With access to hundreds of DreamTrips, a personalized travel website, amazing price guarantees and free travel rewards, I think you'll agree we've found the best travel club out there. And we've only told you about a few of the perks. To learn more check out the video below.
Waive the Monthly Fees
The DreamTrips Life membership, like most travel club memberships, has a small monthly fee. However, if you refer 4 friends your monthly fee is waived*. That means you can have access to wholesale travel and earn free travel rewards for life. One more reason that Spoiled Travelers agree, this is the best travel club in the industry. To learn more about membership benefits visit: DreamTrips Life.
To Sign Up Now:
Go ahead…Spoil yourself. And while we're on the subject, have you ever conisdered how travelling in a caravan could help you to have a more authentic experience? If you're considering it, take a look at the AFO website to see how much help you could get with the initial cost.
* Membership eligibility varies by country of residence. To determine if your country offers membership in the travel club visit the "Get Started – Sign Up Now" link.