If there's one thing that never goes out of style, it's a black and white wedding. And this timeless New York wedding is the perfect proof! With elegant decor and an intimate atmosphere, it's easy to see why this bride and groom said "I do." Keep reading for all the beautiful details!

When someone says "couple goals" Gabriella and Dan always come to mind. These two know how to listen to each other, they light up when they're together, and apparently, they ALSO know how to throw an EPIC wedding.
Gabriella and Dan had their gorgeous wedding day at The Surf Club in New Rochelle, Connecticut. Gabriella is a blogger (click to check out her vlog). To say we were floored by the design she single-handedly created would be an understatement. This wedding had all that black-tie goodness that makes my "classic design-loving" heart skip a beat. From the gorgeous tone-on-tone white florals to the tux's, her timeless dress that was made for her, and (of course) the amazing venue of the Surf Club, it was absolute perfection.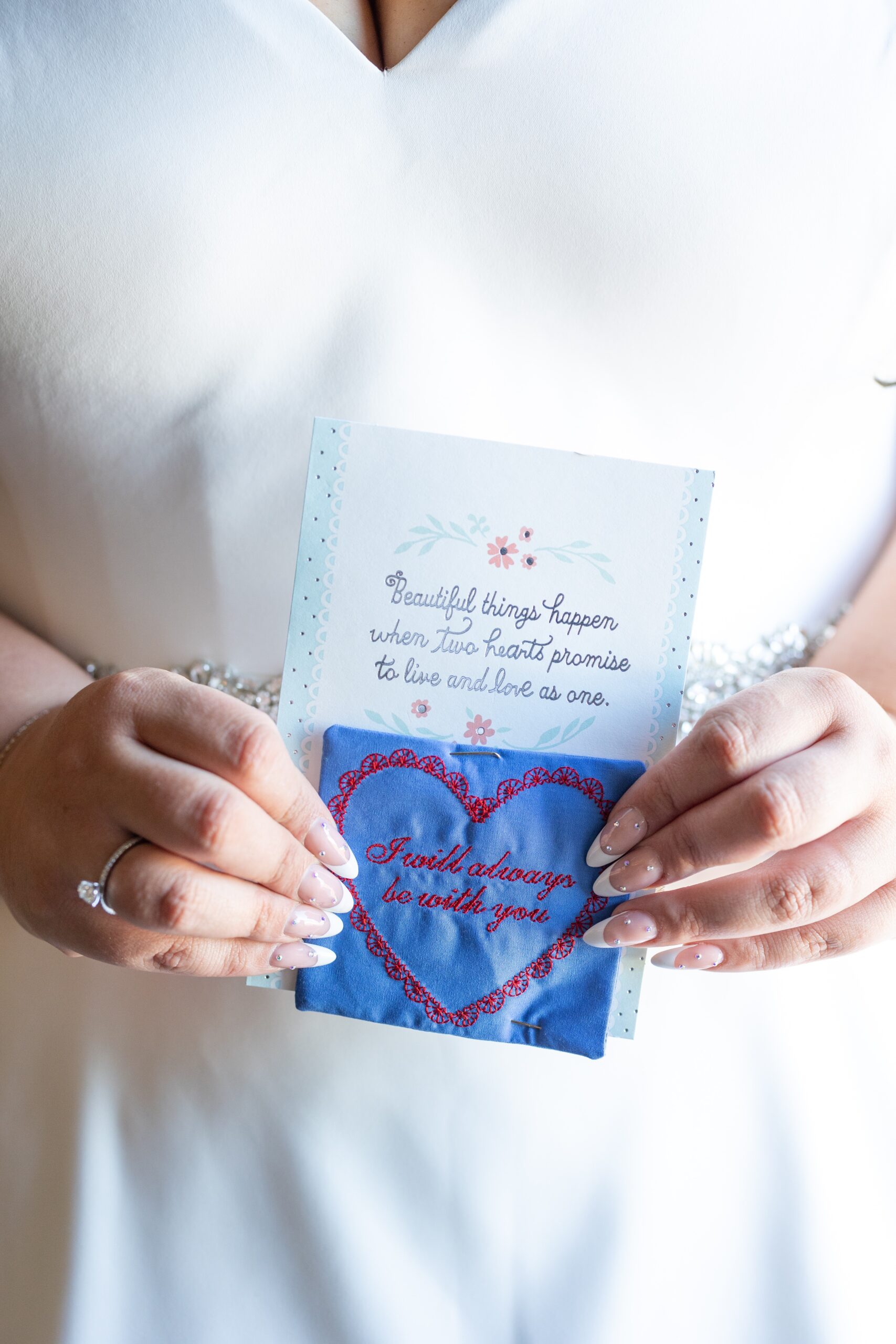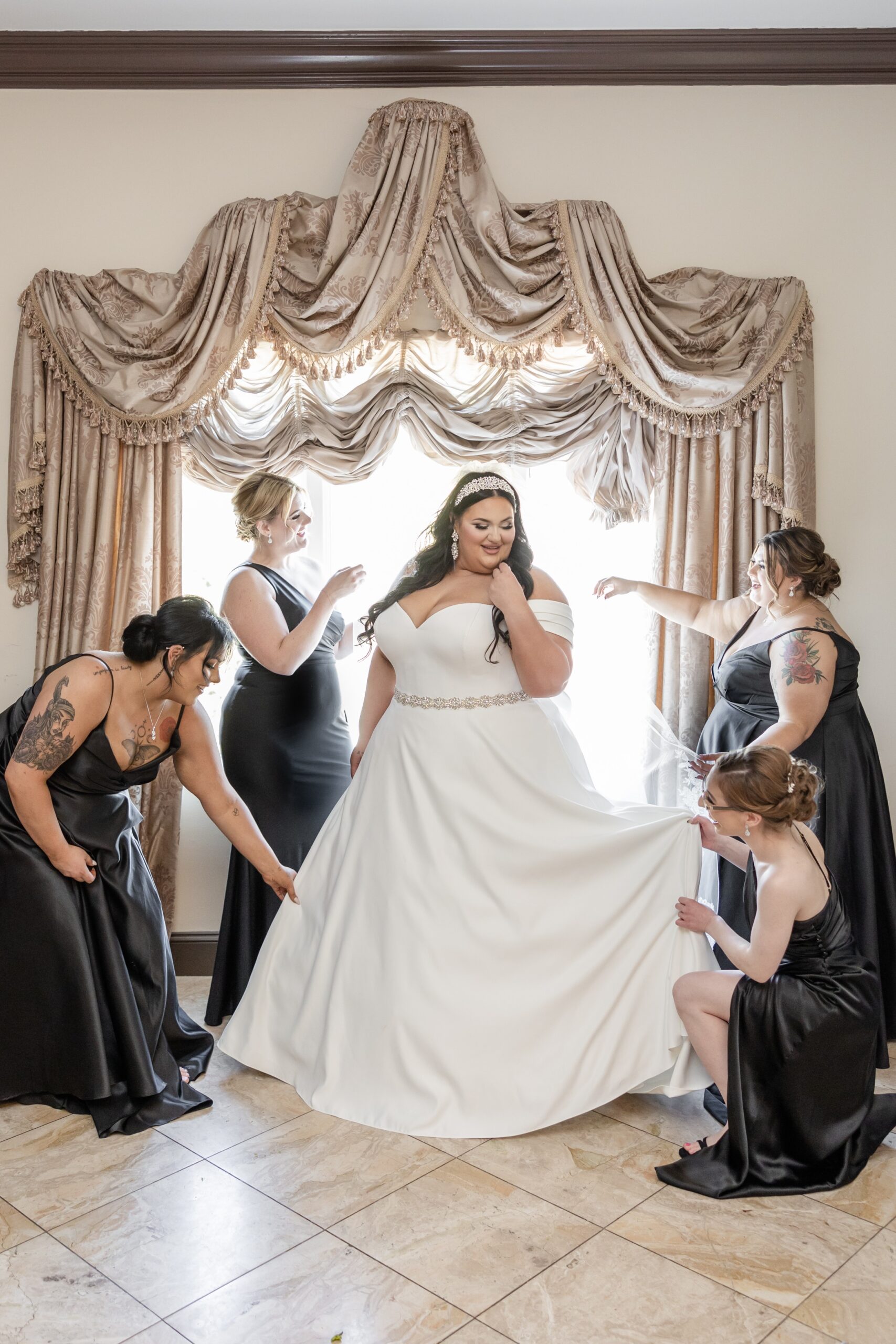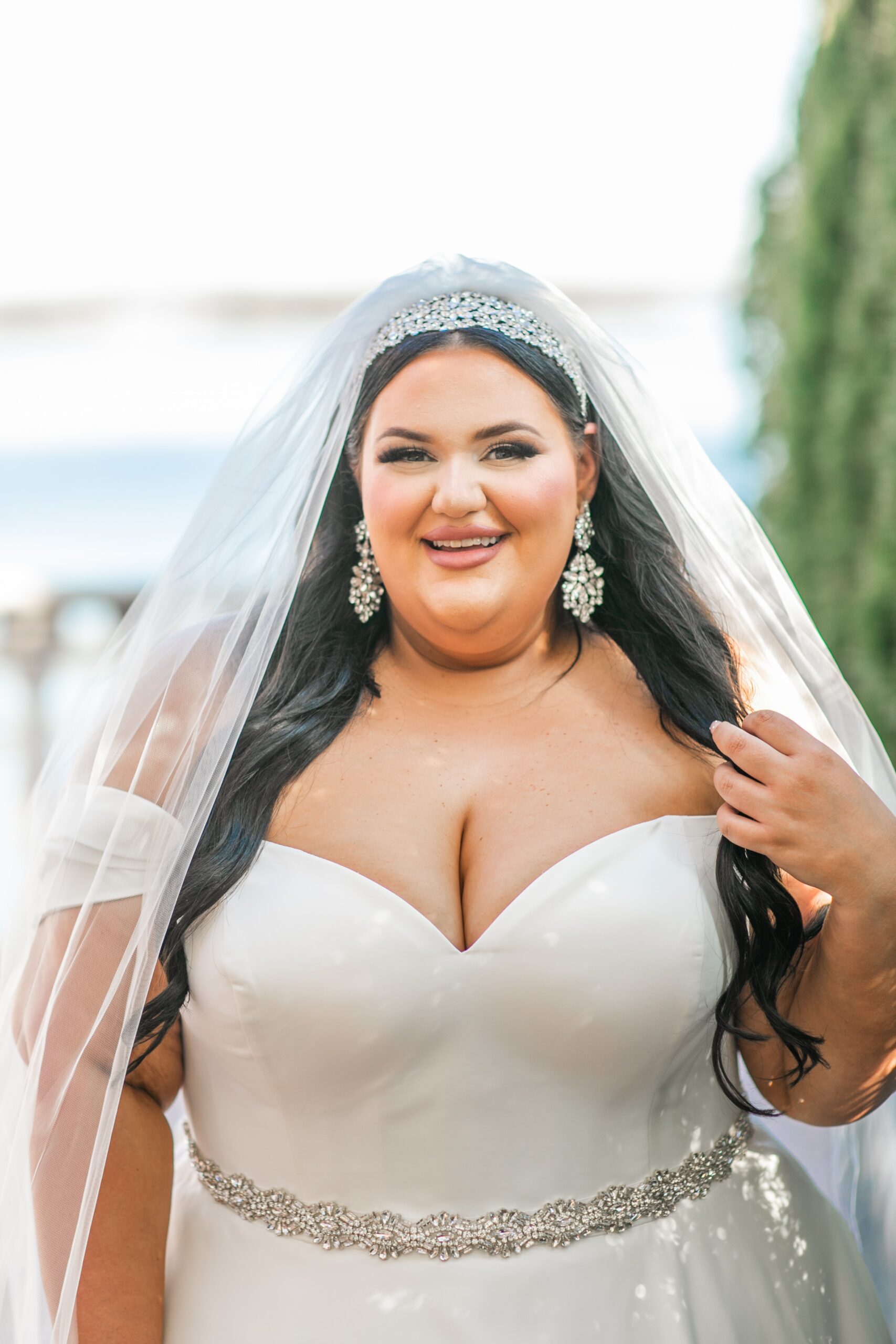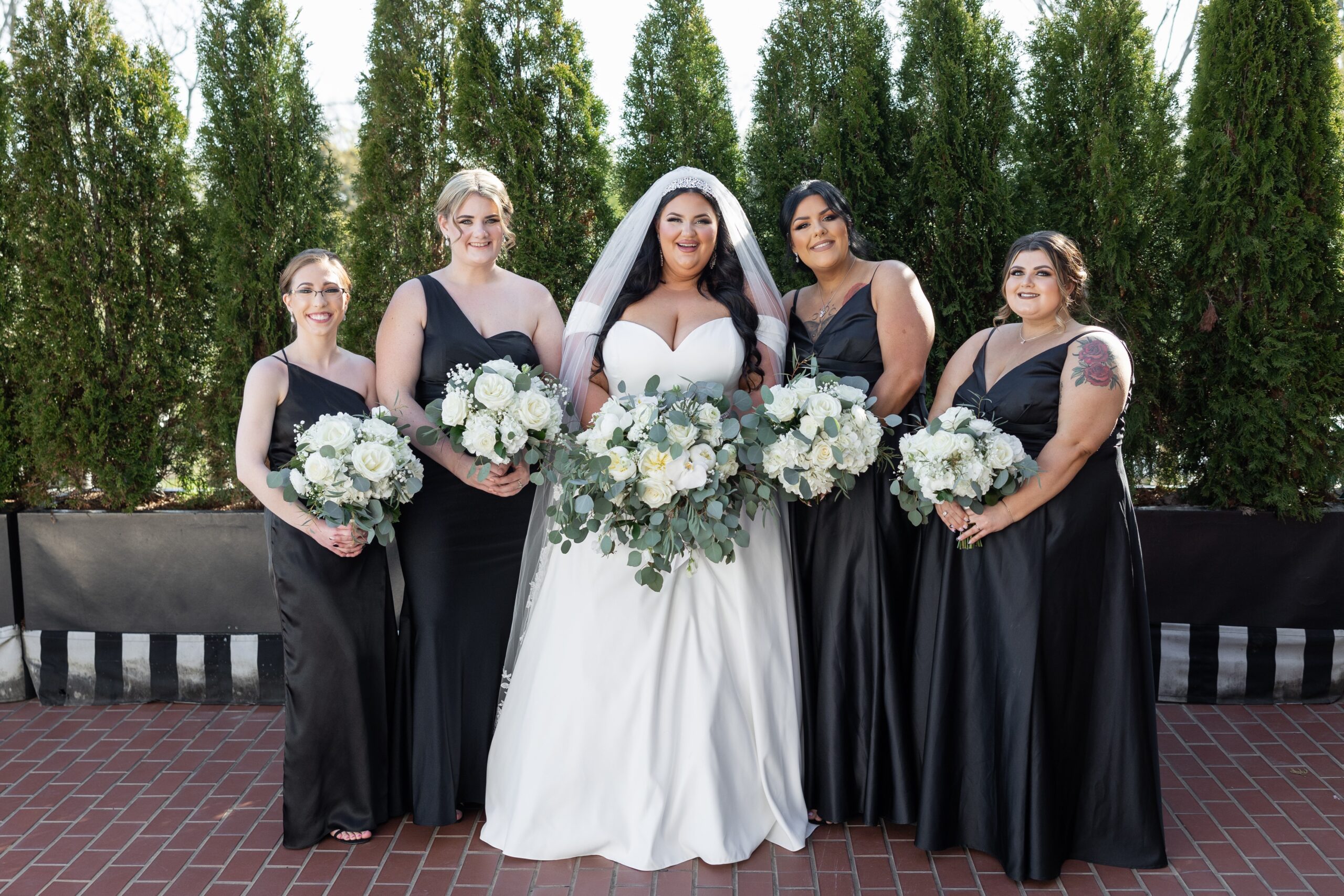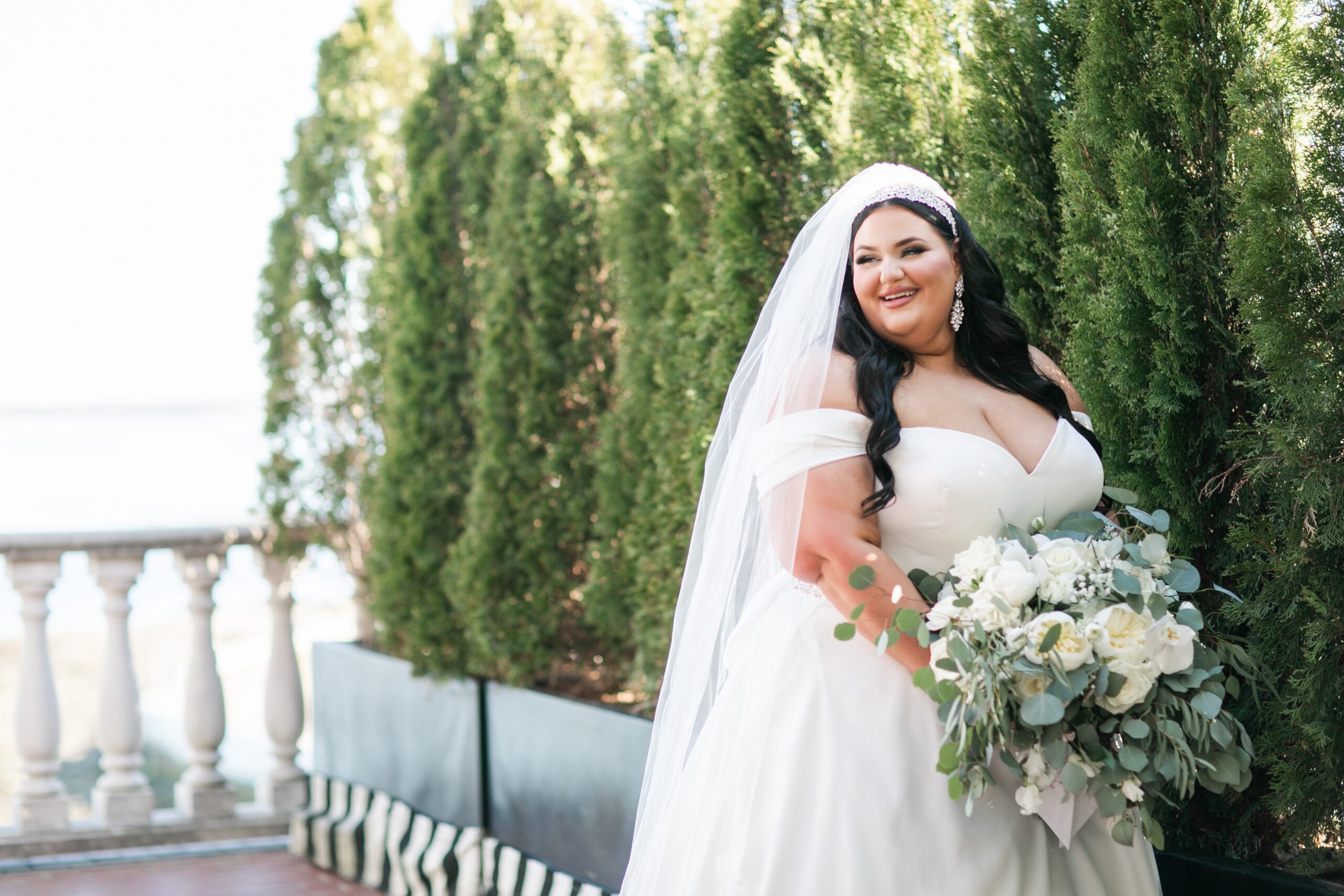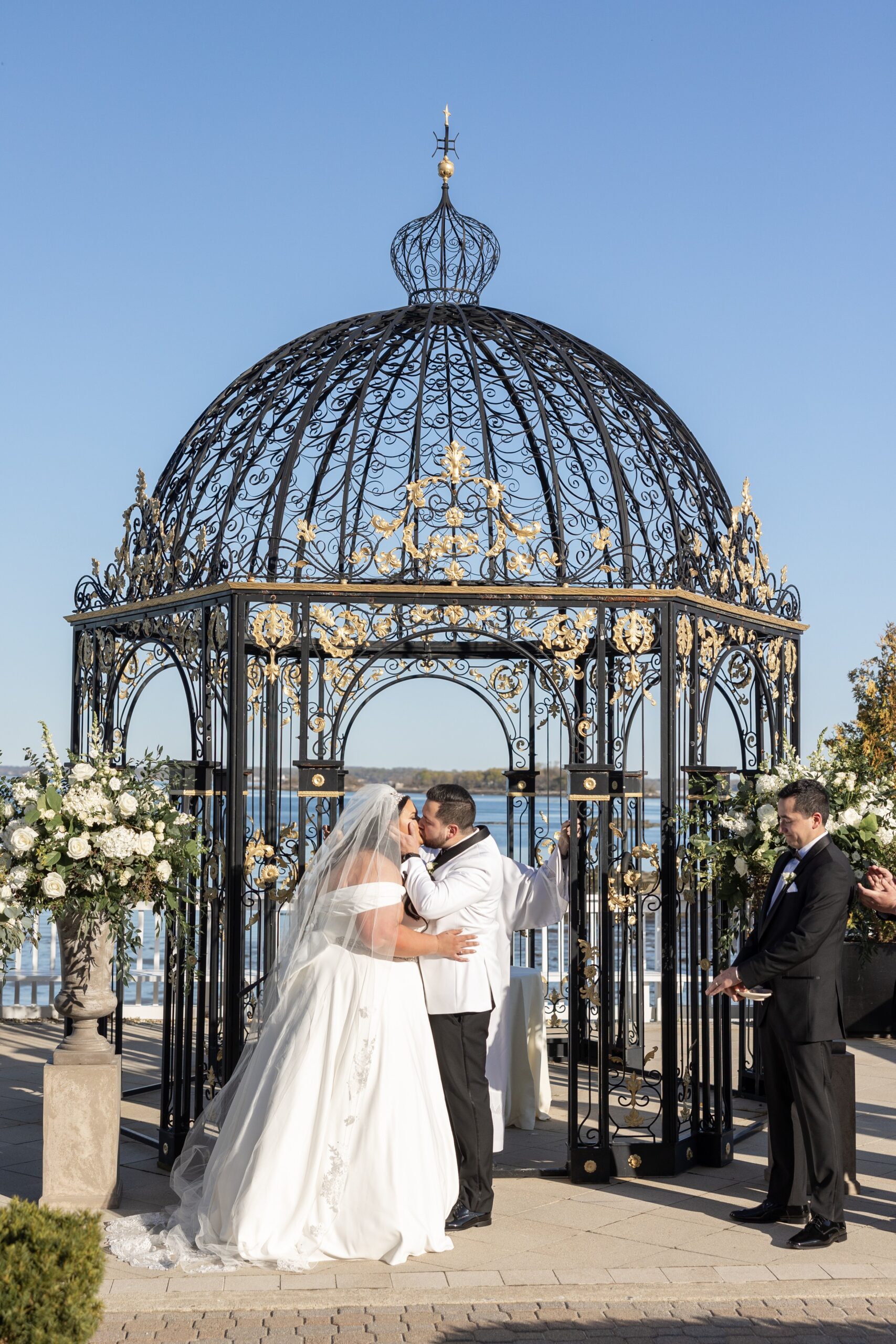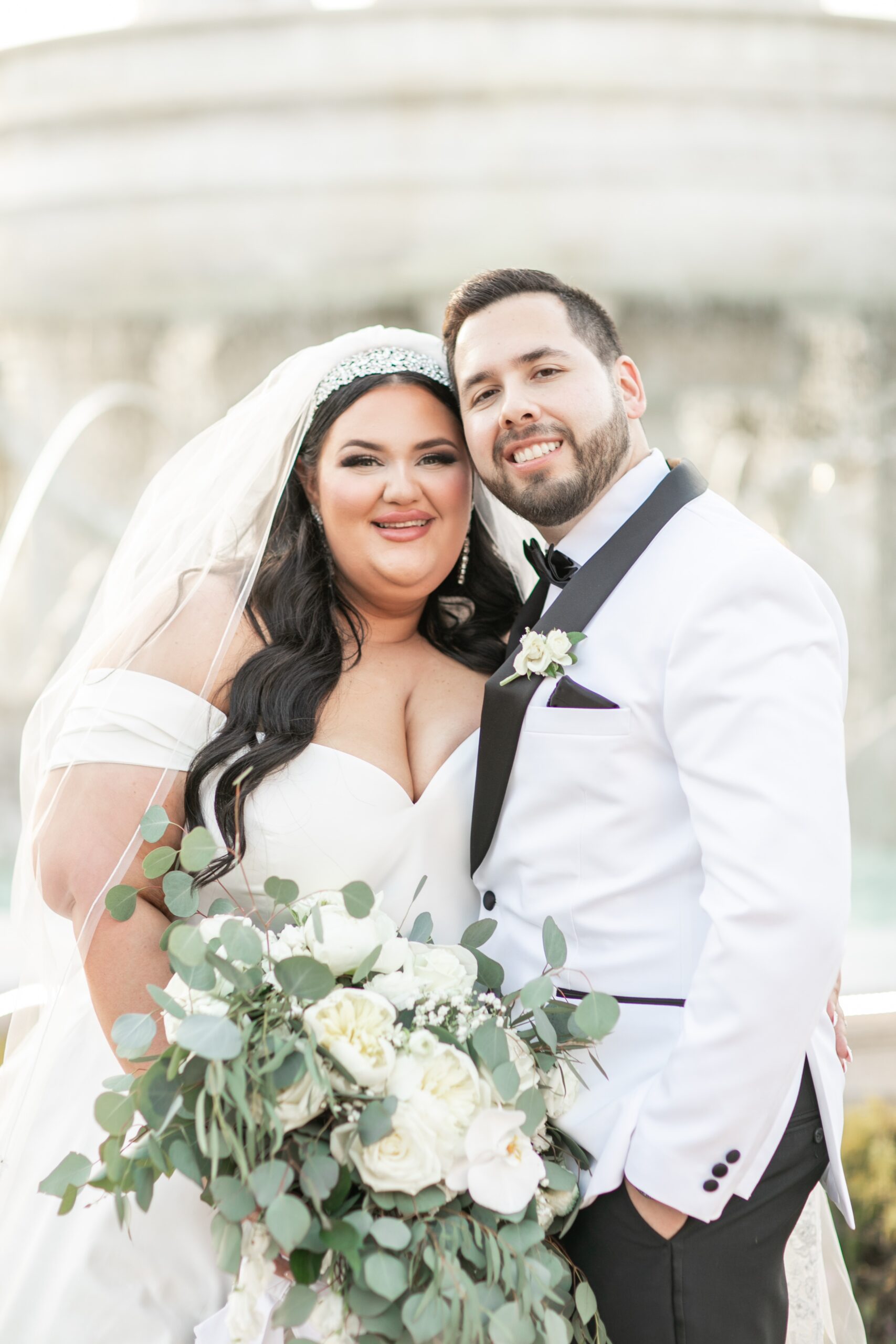 From the Photographer: Another very special part of the day was the most PERFECT spring weather (not one cloud in the sky and 65 degrees) that we hadn't seen in an entire year here in Connecticut. I have a feeling that was Gabriella's dad's gift on her wedding day. Photographing Gabriella and Dan together, you just know they found their home. They smile a little more, laugh a little louder, and listen to each other with all their hearts. When they are together, we can all see what a perfect couple they are. Celebrating their love was the best part. Their friends and family know how to party. The dance party was epic. The reception space also had so many fun details designed by Gabriella, but my favorite was the wall that Dan built behind their sweetheart table. You have to scroll down to see this!!! I think people are already asking to use it for their wedding, it was that GORGEOUS. There are so many stunning photos to share but the best part of this day for me was witnessing and being inspired by the love these two share and the gentle way they have with each other. I am so humbled that you chose me to capture your beautiful wedding day. These wedding stories stay written on my heart forever.
How did you meet?
We swiped right! Dan and I met the modern way: we matched on just about every dating app available!
What is your proposal story?
Dan proposed on March 6, 2021 on the water in Stamford, CT (I'm a Cancer so water speaks to my soul) It was beautiful, we walked on the pier and before I knew it Dan got on one knee and popped the question. He had a surprise photographer there to capture the big moment. It was perfect.
Tell us a little a bit about your wedding
My vision for our wedding was timeless, I wanted to make sure the styles we chose would still look classic twenty years down the road. I'm a neutral lover, so we chose black and white as our wedding colors. We got married at The Surf Club On The Sound in New Rochelle, NY. It was the perfect venue for us because it tied together waterfront views with the elegance of a ballroom.
Tell us about your attire choices.
My dress choice was surprisingly simple but in the most beautiful way. I chose a classic A-line silhouette in a satin fabric. I loved the sweetheart neckline and the off the shoulder straps. Dan's tuxedo followed the same classic vibe. He wore an ivory jacket with black lapels and a black bowtie.
What was the most important to the two of you while planning? Was there anything that you chose to splurge on or skip?
The most important thing to me was making sure my late father felt as close as possible and was represented/ memorialized throughout the wedding. The most important part for Dan was staying on budget lol.
What were your favorite parts of the day?
My favorite part of the day was our ceremony, it felt totally surreal and everyone but Dan seemed to disappear into the background. Dan and I also exchanged letters to each other the morning of our wedding(delivered by my maid of honor) it was a really special moment that got me even more excited for the day. Dan's favorite part of the day was also our ceremony, specifically me walking down the aisle towards him. We also loved our first dance as a married couple. Our ballroom dance lessons paid off!
Tell us about your wedding flowers.
Our wedding flowers were gorgeous, I wanted all white flowers and only tall centerpieces in the reception. My bridal bouquet was a large cascade of all white flowers and greens.
Tell us about your wedding cake.
Our wedding cake was a three tier vanilla cake with cannoli filling, SO GOOD!
What did you do for favors?
We skipped on actual favors, but we did have a photo-booth which seemed like a favor to me.
Please describe any DIY, handmade, or personal details.
Dan built us this huge 8ftx10ft boxwood hedge backdrop with power wiring for our sweethearts table. It had a neon sign with our last name in the middle. We also made our seating chart using an ornate mirror and my cricut machine. We made bathroom baskets for our guests, a welcome sign, and hotel room bags with transportation details for out of town guests.
Did you include any family heirlooms or special traditions?
We had a memory table for loved ones who passed away, on it there was a candle that remained lit for the duration of our reception in honor of my Dad. My bouquet had a charm with a picture of my Dad and I from our first Father/Daughter Dance when I was eight. Our cake table had two large photo's of both sets of our parents from their wedding days. And last but not least my "something old" was my late grandmother's hankerchief and my "something blue" was an embroidered patch with a saying from my Dad that my Mom gave to me as we were getting ready.
Do you have any advice for couples planning their weddings now?
Our advice would be to include details that are important and meaningful to you, DIY as many things as possible, and make sure to prioritize each other especially as your wedding planning. It's definitely one of the most amazing times of your life, but it can also be stressful so make sure to remember why you're getting married in the first place. LOVE.
Any advice for your fellow plus size brides?
My advice for fellow plus size brides would be to allow yourself to feel worthy of the wedding of your dreams. In my experience as a plus size woman a good chunk of my life has been spent worrying about if I was good enough. Whether that was for a job I wanted, friends, cute clothes, whatever the case. Do not rob yourself of this beautiful experience because of the fear of not being worthy enough to have it. Buy the dress that makes YOU feel amazing, and enjoy every moment.
The following two tabs change content below.
Pretty Pear Bride is The World's Only Site for Plus Size Brides. Bringing Bridal Inspiration to brides that look like "YOU", created by Shafonne Myers. Shafonne Myers is a certified wedding and event planner who longed for bridal inspiration that looked like her. She has created a website and magazine that brings bridal inspiration to plus size brides. She does speaking engagements educating the world about plus size brides and self confidence.
Latest posts by Pretty Pear Bride (see all)