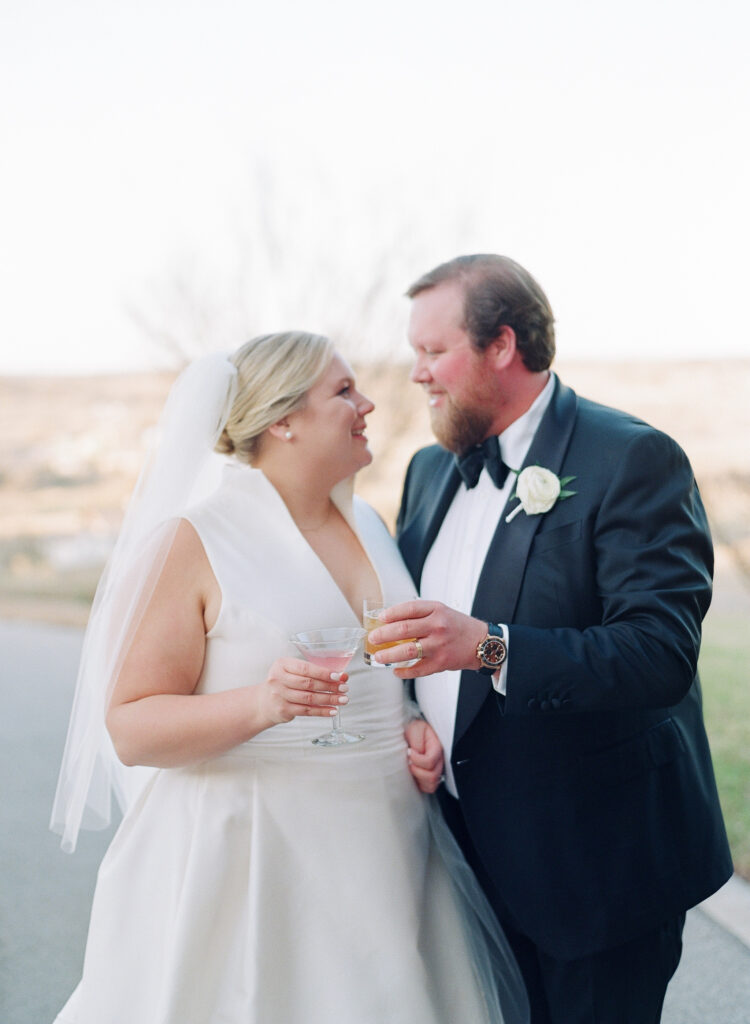 When your wedding day draws near, the last thing you want is to find yourself buried under a pile of last-minute to-dos. Fortunately, with a bit of forethought, you can spend your wedding week ticking off the final (minor!) boxes on your months-long to-do list.
And with a team of industry experts on your side, your final week of engagement will be filled with love, joy, and celebration — not just loose ends that need tying up!
So whether your big day is in a few weeks or still months away, take note of these seven week-of tasks that will ensure your wedding day is as smooth as possible.
Pack the essentials.
From an extra set of bobby pins to your day-of perfume, there are many things you don't want to get caught without on your big day. Rather than leave packing to the morning of your wedding, spend time during the week getting all of your items in order.
If you are going on honeymoon, then packing your case for your trip is also a good idea, make sure you bring everything you need for the trip as kings cross luggage storage, for example, is generous, and it's better to have too much than too little when you want to enjoy your first few days of wedded bliss.
First and foremost? "Your marriage license," states Cathy O'Connell of COJ Events.
To avoid leaving it behind, O'Connell recommends leaving a can't-miss reminder for yourself. "Once you obtain it (which could be three months in advance), make sure you put it someplace safe and hang a note on the hanger of your wedding outfit that says 'Marriage License.' I know you won't forget your outfit and this way you will have your license too!"
Peter Mitsaelides of Brooklake Country Club & Events also recommends preparing a day-of emergency kit to cover your bases throughout the festivities. "Include personal/beauty needs, a sewing kit, and some basic first aid items," he says. "Use a helpful online checklist. This kit keeps little hassles from becoming big problems. Put it with your wedding day attire."
And if you want to make sure your photographer snaps all of your beautiful details (and get on their good side!), start setting everything aside for them to shoot.
"Load all of your details into one box for your photographer," recommends Samantha Leenheer of Samantha Joy Events. "From bridal details of your shoes, jewelry, rings, signature perfume, and hair pieces to the groom's details of shoes, tie, watch, cufflinks, and so on. Don't forget your paper goods. Bring two invitations suite, your save-the-date, and 3-5 copies of your menu, program, escort or place cards, favors, and any other elements you have."
If you take the time to prepare and pack in advance, your big day will go by in a breeze! Pro tip: You can begin this process well before the week of the wedding. Think systematically as you plan and keep your day-of items organized from the start!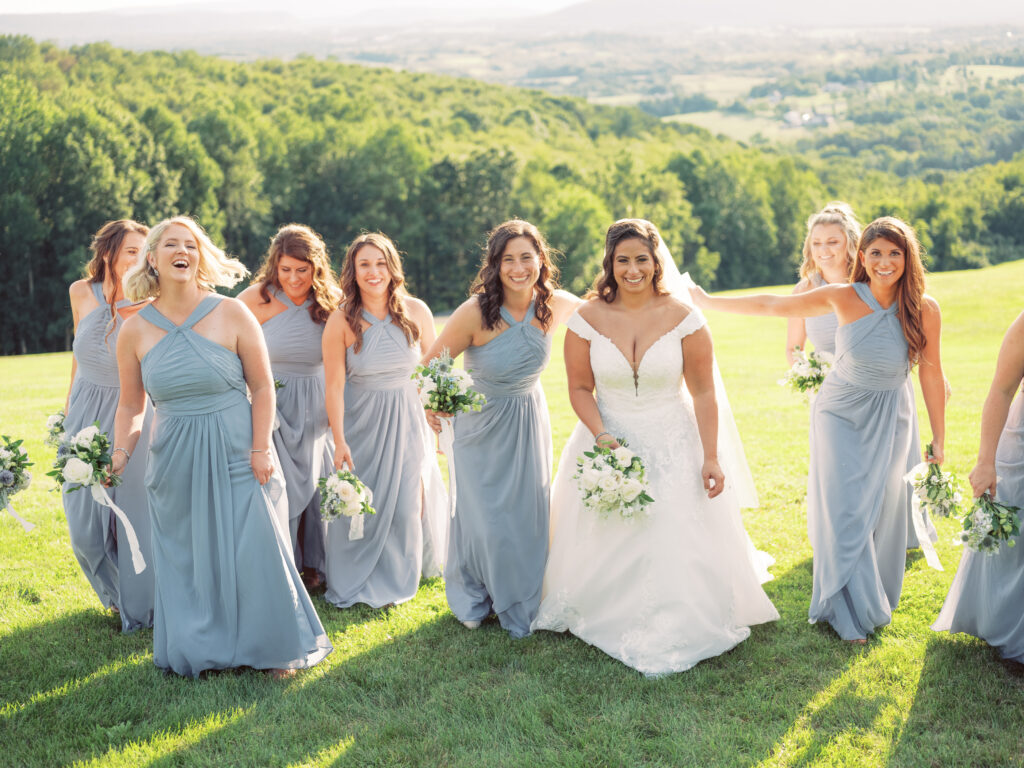 Confirm your ceremony details.
By the time your wedding week rolls around, there's a good chance you've been hitting the reception planning hard. From first dances to dinner toasts, everything should be all set! But before the wedding day, take a moment to revisit your ceremony proceedings.
"If you have a friend or family member conducting the ceremony, encourage them to tell your story and not simply rely on an internet template," says Brian Franklin of Vows & Speeches. "Instead, ask them to share the ceremony with your planner or coordinator to ensure all the requisite elements are in it."
Franklin adds, "If you're both doing your own vows, talk with each other to ensure they are roughly the same length so as not to create an uncomfortable or embarrassing imbalance. Ideally, they are 1-2 minutes each."
One last check-in never hurts, so set aside time to sit down with your partner to confirm the ceremony timeline and ensure all participants have what they need. Then, relay this information to your planner to keep everyone on the same page in the final days.
Set yourself up for comfort.
You've done so much, and you're in the final stretch. Most of the heavy lifting is done, so it's a great time to make sure you'll be comfy on your wedding day!
And topping the list of potential disruptors to your day-of comfort? Those brand new (and gorgeous) shoes waiting to hit the dance floor. That goes for those sky-high heels and luxurious Italian loafers — sore feet don't discriminate!
Frank Guertler of Bunn DJ Company shares a reminder to "break in your wedding shoes! Who needs aching feet on the dance floor? Put them wherever you kick off your shoes after work and put them on for an hour or two each evening."
Beyond shoes, do a double-check on your attire — and encourage your wedding party to do the same. "Nothing is more frustrating than being a bride or groom while your bridesmaids or groomsmen run around trying to find the right bra or socks to get dressed," Leenheer says. "Trying on your outfit with the proper undergarments and accessories ensures it fits, and while they are at it, make sure they steam or iron it all. Don't wait until the day of the wedding to do that."
Of course, even the best-fitted wardrobe won't soothe tight muscles and ease the stress you've been carrying for months of wedding planning. So Keith Willard of Keith Willard Events suggests treating yourself to a spa treatment to loosen up before the big day.
"Getting a massage will help prepare your body for the big day and bring your mental angst down to a manageable level," he notes. "Make the appointment now, even if the wedding isn't for a few months. Then put it in your phone calendar at least an hour before and an hour after to ensure you do not have to rush to or from it."
Day-of comfort starts long before you head down the aisle, so be sure to carve out time to unwind and plan ahead. Your wedding day self will thank you!
Freshen up your VIPet.
While you're getting yourself ready for the big day, don't forget to treat your four-legged friend if they will be joining you down the aisle!
"Many wedding couples include their dog of honor in the big celebration," shares Monika Kreinberg of Furever Us. "One thing they often ignore is to book a grooming appointment. Washing a dog is easy but giving it a good haircut is usually better for the professionals. Good grooming will look better in the photos."
Kreinberg urges couples not to wait until the last minute, adding that "trying to book one last minute can often result in not having availability. We suggest booking the grooming appointment in advance when they plan to include their furbaby in their wedding."
So once you know Fido or Daisy are joining the wedding party, get their glam session on the books so they can show up looking their best.
Hit the ATM in advance.
While your deposits are already paid, don't forget to get some cash for vendor tips. Otherwise, you may end up making a pitstop at the bank on the way to your venue.
As Loren Petrowski of Marry You in Hawaii suggests, "secure cash in a wide amount of different-sized bills for planned and unplanned gratuities. Many of these can be pre-secured in envelopes in advance, however, if you will have several events over a weekend, as an example, you will need to have cash on hand for valets, bellmen, and other staff and it's good to have a large amount of cash at varying amounts at the ready."
If you'd rather take care of this in advance, "ask your wedding planner to hold on to the envelopes for vendors you have planned for," Petrowski adds. Then, you don't have to worry about handing out gratuities on the wedding day since your planner can step in!
Finalize your end-of-night plans.
From the ceremony processional to cocktail hour to the dinner menu, most of the day's timeline is ironed out and ready to follow like clockwork. However, one detail that often gets overlooked is how the night's end will play out after everyone goes home.
For starters, how will you and your new spouse get home? Mitsaelides encourages couples to create a transportation plan. "You may arrive in separate vehicles but leave together," he says. "And if you each drive to the ceremony and take one of your cars to depart, you'll need a designated driver to get that other one back home."
You'll also need to consider how day-of items will make it back into your possession. You probably won't want to spend an hour loading your getaway car with floral arrangements, table charts, and gifts, so who will handle those responsibilities?
"Make arrangements for someone to pack up your decor, personal items, and any cards and gifts brought to the reception and bring them back to your home," suggests Betsy Scott of Hudson Valley Weddings at The Hill. "While you might transport things before the reception, you aren't going to be part of the breakdown after the big day."
In most cases, you can simply ask your planner, parent, or friend to oversee the breakdown and stash everything in their vehicle until they can drop it off with you the next day. It can help to provide a list of items to collect and keep at the end of the night!
Dedicate time to one another.
As wedding planning slows down, your future as newlyweds is right around the corner. But before the knot is tied, Nora Sheils of Rock Paper Coin and Bridal Bliss recommends spending one-on-one time with your partner while you're still rocking the fiancé(e) title.
"Set a date night early in the week before guests arrive to enjoy quiet time together," she suggests. "Throughout the festivities, steal a few quiet moments just to observe all of your loved ones in one place celebrating you. It's those moments that will be ingrained in your memory!"
Consider planning a sweet outing to a meaningful place, like dinner at your first date spot or a walk through the park where you got engaged. There's no better time to celebrate your love story than during your wedding week!
While the days leading up to your wedding may seem full of to-dos, rest assured that your vendor team has already laid the groundwork for a spectacular celebration. Once the last few pieces fall into place, all you have to do is show up, say "I do," and dance your feet off!
Photography Credits:
Kelly Hornberger Photography | Cody Kurtz Photography | Renee Lemaire Photography
Meghan Ely is the owner of wedding PR and wedding marketing firm OFD Consulting. Ely is a sought-after speaker, adjunct professor in the field of public relations, and a self-professed royal wedding enthusiast.