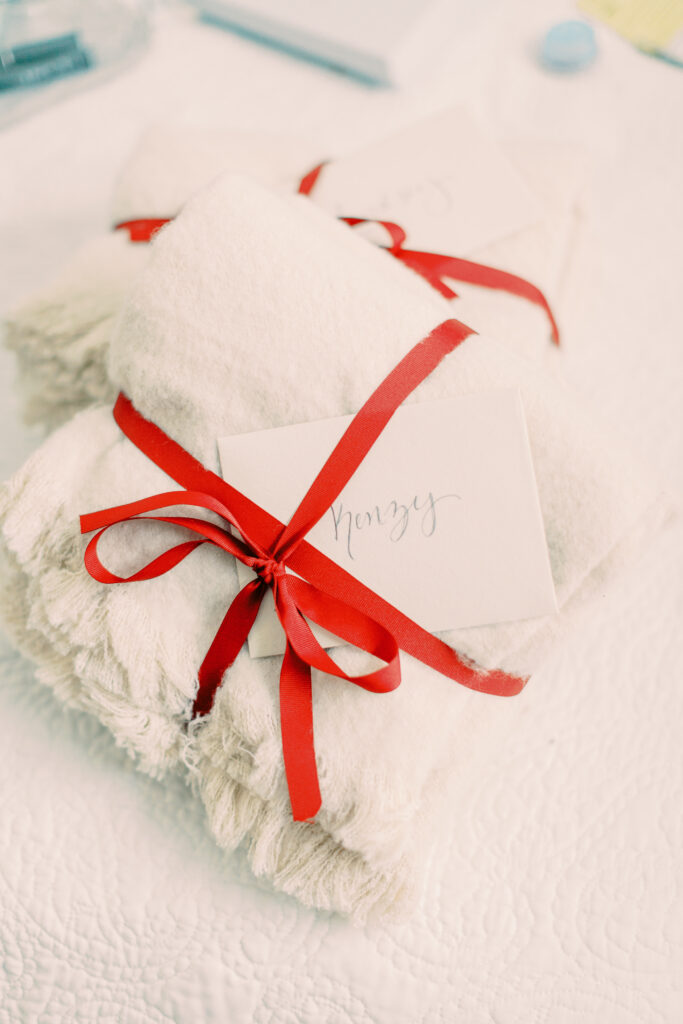 When you think about wedding gifts, you probably think about filling your registry with household items and other trinkets to give guests a headstart — whether you expect them or not. But those aren't the only gifts to consider! You also need to plan out the gifts you'll get to thank your wedding party. You and your partner may also want to get each other meaningful tokens to honor the day.
But if you're not sure about gift-giving etiquette for your wedding, you may be wondering how to properly thank your loved ones and show your gratitude.
We're breaking down just how to win the thank-you gift game, including ideas of what to get and when to give them out.
The Why
As their name suggests, thank-you gifts are intended to thank your friends and family for supporting you and being a big part of your wedding day.
"Showing gratitude to your closest guests will never go out of style," assures Moniak Kreinberg of Furever Us. "It is a way to thank them and show your appreciation for their presence and, let's say it –  for what they spent."
Nora Sheils of Rock Paper Coin and Bridal Bliss agrees, noting, "This is a great opportunity for a sentimental and meaningful gift that can be utilized for years to come and give the receiver happy memories from your wedding every time they see or use the gift."
While your wedding may only last a day, the moments you share will last a lifetime — and a thoughtful gesture can go a long way in creating a special memory.
The What
If you're wondering how you'll fit thank-you gifts into an already tight budget, don't worry. These gifts aren't about spending a certain amount of money, but rather the thought that goes into them.
Kreinberg confirms as much, stating, "It does not matter how small; a gift is a token that says thank you and the last piece they will take away from the wedding. Often, brides and grooms will gift something that the bridal party can wear during the day of. This may be a shirt, cufflinks, maybe a tiny whiskey bottle for men or a cute robe for the women, or something fun."
Other ideas include jewelry, a gift certificate to a local spa, or even some homemade treats to sweeten their week!
In terms of your partner, "personalization is key!" Sheils affirms. "Think about your relationship, the things you love to do together, something he/she/they hasn't been able to rationalize splurging on. Buy something that will stand the test of time and forever remind your partner of your thoughtfulness and the day the gift is signified."
The When
With a jam-packed schedule in the days leading up to the wedding, it can be tricky to find downtime to hand out gifts to your loved ones.
Sheils cautions against doing so publicly, explaining, "Do not pass out gifts as part of a pre-wedding event when other guests are in attendance. This can make for an awkward experience for your other guests and attendants! Attendant gifts are best given before the wedding, typically at a bridal luncheon, pampering day, or guys-day-out."
As for couples gifting one another, Kreinberg says that "couples give gifts to each other on their wedding day either during their first look or if they do not have a first look before the ceremony. They include the photographer and videographer to capture the moment."
Take these tips with you on your next shopping trip (or online spree!), and don't be afraid to get creative. You know your partner and your wedding party best, so you can't go wrong with giving from the heart.
Meghan Ely is the owner of wedding PR and wedding marketing firm OFD Consulting. Ely is a sought-after speaker, adjunct professor in the field of public relations, and a self-professed royal wedding enthusiast.