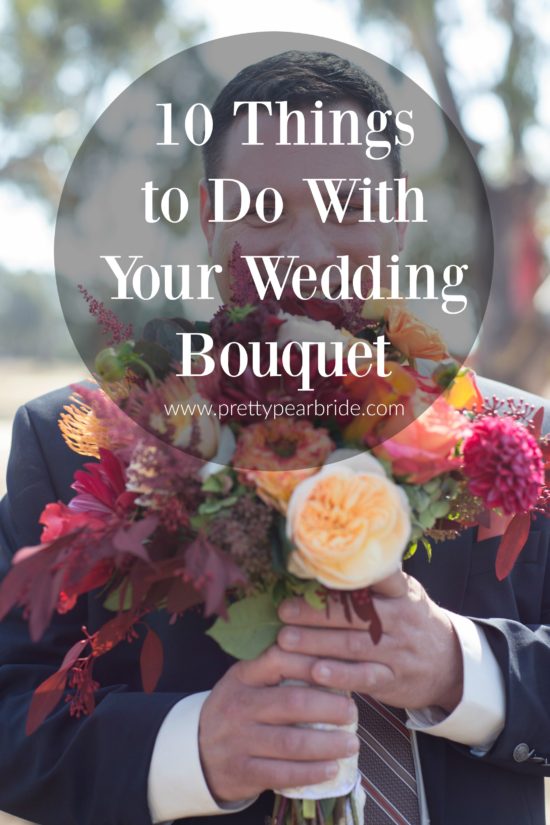 Your wedding is going to be the single most important day of your life. It is the day where all the people you care about come together and celebrate you! It is important to have things to remember this day by that you can look back on throughout the years. One of the things that many women tend to not care about afterwards is their bouquets. Typically, the bride will toss the bouquet to the other women who came to their wedding and they never see it again. There are quite a few things you can do with your bouquet from florists, like Reids Florists, that are really creative.  Below, we are exploring some of the things that you can do with your bouquet that will pay homage to one of the greatest days of your life.
Frame It
One of the coolest things you can do with your bouquet is to make a picture frame. This project works regardless if you used live or fake flowers for your wedding bouquet. There are a lot of interesting ways to do this. You can simply get a larger picture frame and spread out the contents of your bouquet inside of it. Then you just put the back on! This easy idea keeps your bouquet safe forever in a beautiful way. It is also a good idea to put a picture of your husband and yourself inside and have the flowers surround it.
Make Ornaments
This is another very cool idea that is simply and easy to pull off. This also works with flowers that were either alive or fake. You can buy hollow glass ornament bulbs that you can fill with different materials. You could either fill a few of them full of the flowers from your bouquet or combine them with other items. Pearls and glitter are great options to help fill your ornaments that help to fill the empty space inside of them. These ornaments can be hung on display all year round and help to tell a beautiful story.
Make a Display Case
It would be very easy to make an absolutely beautiful display case for your wedding bouquet. After purchasing a nice glass case you can fasten a string to the top of the display that holds your wedding flowers in place inside. You can also get creative and use a display case such as a bird cage to add an interesting twist.
Have Your Bouquet Preserved
There are many different companies that offer the service of having your flowers preserved. There are different techniques used to accomplish this, but the end result is that your flowers are hardened so that they can look as fresh as the day of your wedding. This is a great idea for women who had a live bouquet and can be used to make other items later.
Cross Stitch
This is a unique idea that will preserve your bouquet for years to come. This is a way to turn your bouquet into a trinket that can be passed on to future generations. You can have someone stitch the petals of your bouquet into a cloth that will keep your flowers safe and stable. The cool thing about this technique is that you have a lot of different designs that you can choose from. You can have your wedding date stitched in with a few petals, or an entire bouquet stitched on with petals added as well.
Make a Necklace
This is a great idea for anniversary gifts or heirlooms. Similar to what has mentioned above, you can get a hollow glass orb and place a few petals inside. There are many different shapes and sizes you can choose from so that you can get the look you want. This technique works with preserved or dried flower petals. Adding glitter or pearls will definitely add to the wedding theme here as well.
Dry Your Flowers
This is probably the oldest technique on the list but it still remains a classic. There are many different ways to dry flowers and many times it depends on the type of flower you have. After your bouquet is dried you can hang it from somewhere in your house as a constant reminder of your special day. They will be extremely fragile so it is best to have this hanging somewhere out of the way where it will not get damaged.
Make a Candle
Making a candle is pretty easy and a good way to preserve your flowers for a long time. Typically, these candles will just be on display and not actually used. You can easily do this yourself or have this done by someone else for a more professional look. Afterwards, you will see different parts of the petals throughout the candle itself.
Make a Wreath
This is a simple technique to re-purposing your flowers that will have them lasting a while longer. You can purchase a few fake flowers and vines to incorporate into your wreath that will make it more sturdy and durable. This is a great ornament that can be brought out for anniversaries and Valentine's day.
Press Your Flowers
This is also another old technique that has existed for a long time. This is very easy to do yourself and will have your flowers lasting for years to come. You can just use a big heavy book to put a few flowers into. You may have to use more than one book depending on the size of your bouquet. After leaving the flowers inside for about a week you will have perfectly pressed and dried flowers.
You only have one wedding day and it should be something you look back on for the rest of your life. Using your bouquet to make something beautiful out of will not only give you a memento to look back on throughout the years but has the potential to become an heirloom that can be passed down throughout the generations of your family.