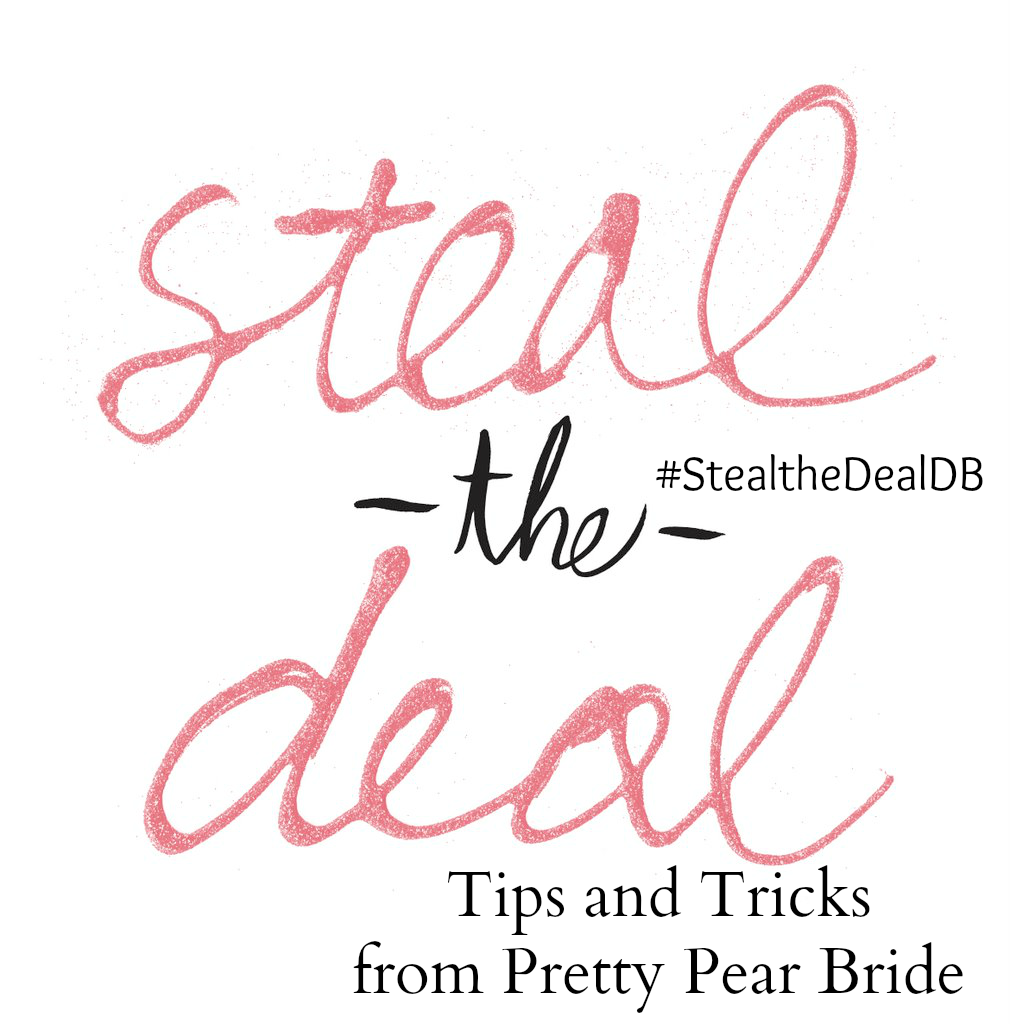 I got married 10 years ago, I can't even believe that it's been that long, man how times flies. And as a plus size bride, there weren't tons of options for me but I fell in love with a gorgeous wedding dress from David's Bridal and I even took it one step further and got all my bridesmaids dresses from David's too.  So when they came to be and wanted me to help them roll out an upcoming campaign, I knew that I had to do it because I wanted to ensure that other curvy brides felt the same feeling of excitement and joy that I felt when I found my David's Bridal dresses.
Now, I had no idea what the campaign was when they first approached me but I knew that I wanted Pretty Pear Bride to be the vessel of communication to get this amazing campaign out to plus size brides everywhere.  Once I learned more about this sweeps, I knew that I had made the right decision. Because y'all know the two things I love most in the bridal industry is a deal and making sure that plus size brides see themselves in bridal imagery.  And PPB being involves makes both happen.  So enough of me talking, let's move on to this amazing sweeps from David's Bridal.
As we all know,  Bridal Christmas is the busiest time in the wedding industry – the period right after the holidays when newly engaged brides embark on their wedding dress journey. To capitalize on this exciting time for shoppers, David's Bridal has created the Steal-the-Deal initiative, a fun, scavenger hunt-type in-store sweepstakes that allows brides-to-be to have fun finding her favorite bridal styles with an opportunity to win them ALL.  Yep, you heard it right, win all that you can steal!!! I know I had to take a double take too.  The goal of  "Steal the Deal" is to give lucky shoppers a chance to win big for their wedding days on behalf of David's Bridal.
Here's are the details:
Brides can enter once each week in January by clicking HERE for a chance to be chosen as one of the lucky 4 winners to participate in their very own "Steal the Deal"– an opportunity to win everything they can wear out of the store in 2 minutes, up to $10,000 in merchandise.
Each bridal winner can choose one helper to assist when she visits a David's Bridal store to claim her prize. The contestant must select at least four items from the shopping list, with a minimum requirement of wearing a wedding dress at the finish line. Shopping list includes the following:
wedding dress
headpiece/veil
jewelry item
handbag
sash
garter, loungewear or DIY item
Each Friday in January, between January 5-January 29, one winner will be chosen and announced on DavidsBridal.com.
Got a tip for getting the most during your Steal? Share it with other brides using #StealtheDealDB
Enter to win your "Steal the Deal" chance HERE
Well, I hope you are as excited to hear about this amazing sweepstakes as I am to share it and make 4 bride's dreams come true with a chance to win her wedding gown and everything she can wear from David's Bridal up to $10,000.
Since this is the first week, I'm going to share a short video that I made to help you get ready for your big "Steal the Deal" day and don't forget to enter HERE.
https://www.youtube.com/watch?v=pl3wGc0X6Jc&feature=youtu.be
Enter to win your "Steal the Deal" chance HERE
*This post is sponsored by David's Bridal.*