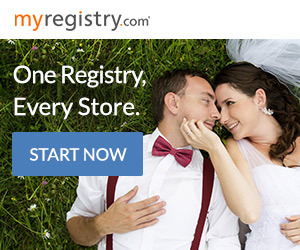 Looking to set up your wedding registry in just a few simple clicks? We have the answer for you! At Myregistry.com, you can create a wedding, baby or bridal gift registry. Of course with us, we are all about the weddings! Myregistry.com has a cash gift registry as well as a regular gift registry. The site is great because you can have users add gifts from any store (think Amazon, Best Buy, Target, Bloomingdale's and more!). Not only does myregistry.com save you time, it saves your guests precious time as well!
Like all wonderful things these days, myregistry.com also has an app, making it easy for those browsing your registry to scan any barcode and add items to your registry while browsing your favorite store. You can even add items from stores that don't have websites just by snapping a picture and adding some details about where you can buy the gift. You can literally add gifts from any store in the world!
If your fiancé and you already have everything you need, you can register for cash by creating cash gift fund perfect for honeymoons (Hawaii anyone?), a down payment on a new home, a wedding fund or anything else you see fit.
Myregistry.com is social media savvy as well, as you can share your registry on Facebook, Twitter or Google Plus. If you're confused as to how things work on the site, myregistry.comoffers a sample registry, perfect for inspiration and ideas on how to create your best registry.
For more information, simply visit https://www.myregistry.com/. Happy gifting!
THIS POST WAS WRITTEN IN COOPERATION WITH MYREGISTRY.COM BUT THE OPINIONS ARE MY OWN.