The Lightner Museum in St. Augustine, Fl has an incredible history and is such an incredible backdrop for a couple's union. Originally "Hotel Alcazar", it was designed specifically for wealthy railroad travelers. It was once the largest indoor swimming pool, and you can see that with the slope in the bottom floor where the ceremony is held. You might say that as the ceremony is underway, you are figuratively and literally "heading to the deep end." In more ways than one these two were taking a plunge. Sorry, couldn't help myself. LOL!

Brian and Erika knew they wanted their wedding in St. Augustine because it was their go-to city for a romantic weekend away!  I absolutely love how their inspiration came from their love of the golden age of Hollywood and just overall the soft-glam of 1920's. Hello, flowly soft vibes that truly showcased the amazing venue for what it is.
Brian's father passed away recently and Erika gifted him cuff links with a photo of his father so that he would be next to him throughout that day. Erika's dad stood at one side of the second floor curved stairwell then descended and waited to finally see his daughter in white. As she turned the corner of the 3rd floor of the museum he started to get emotional and did his best to hold it together. In Brian's reception speech, he looked to his wife and said, "You look so stunning in that dress coming down those stairs, that's a vision I'm going to remember for the rest of my life. At the end of the night, right before their sparkler exit and horse drawn carriage, the couple held a private dance. ⁠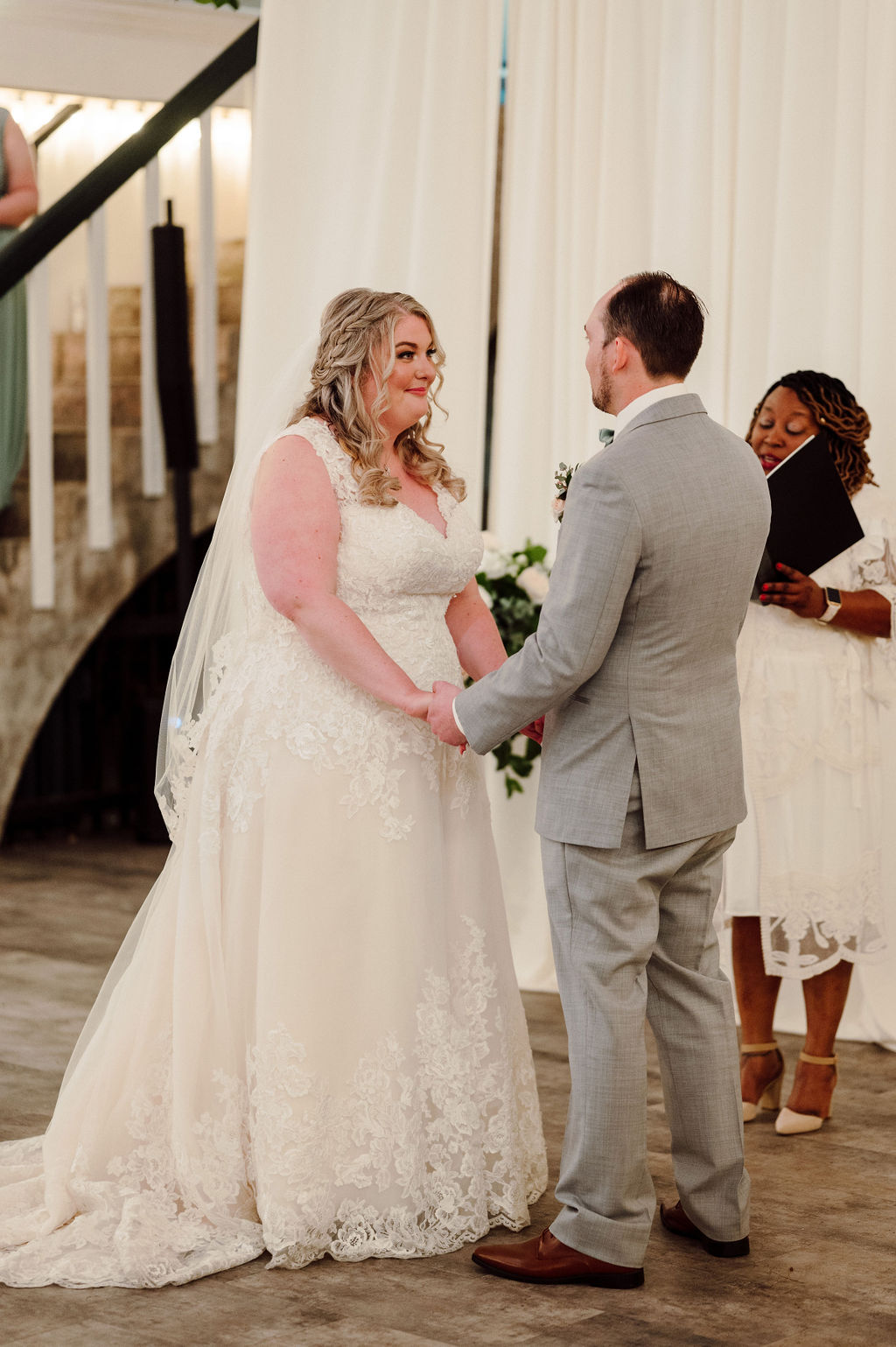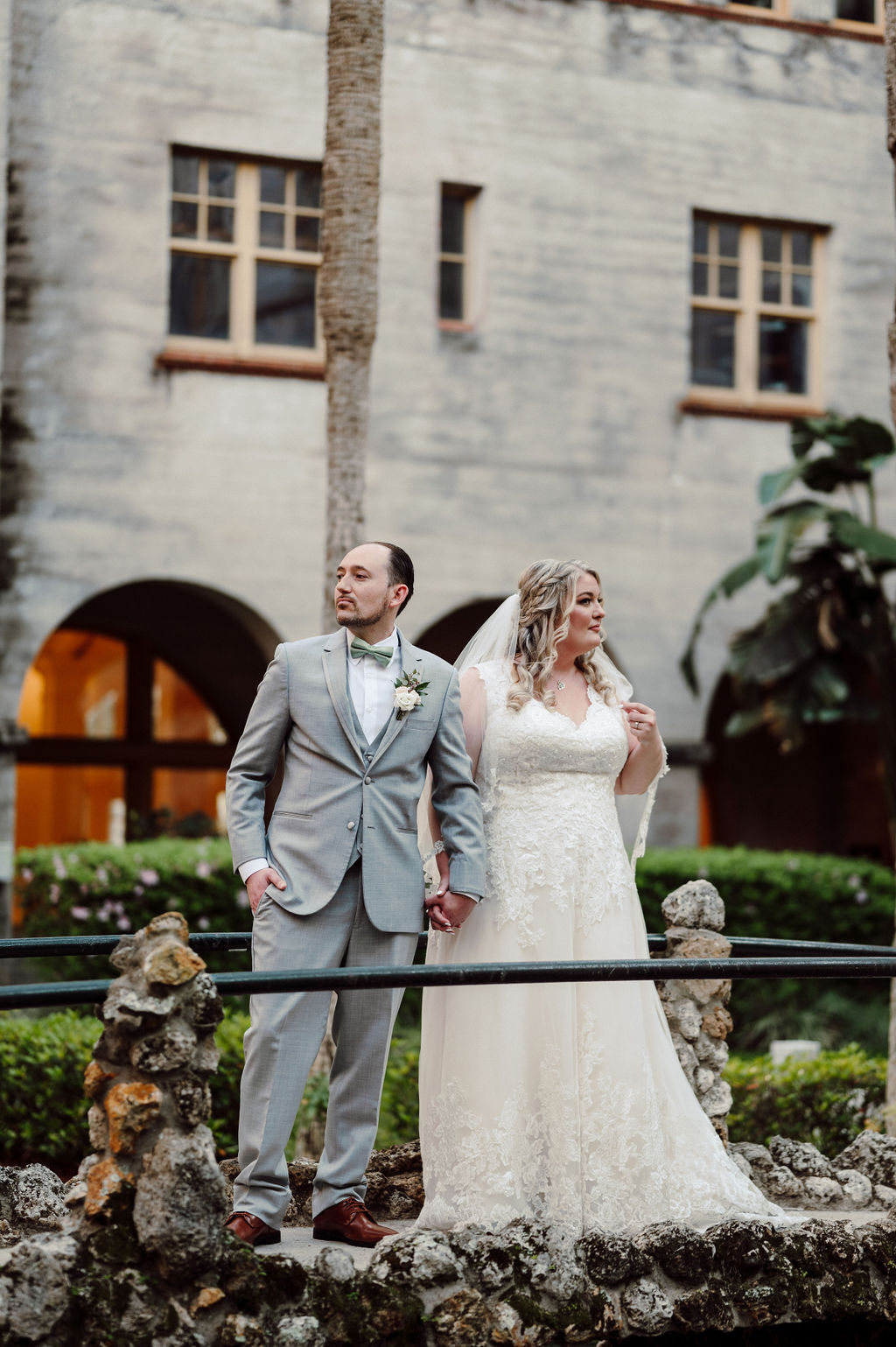 How did you meet?
We met on my first day of a new job! Funny enough, my dad and his mom worked together years prior to us ever meeting too! – Erika
What is your proposal story?
We were going out to dinner for our seventh year dating anniversary to a small Italian restaurant, Cesare At the Beach, in Clearwater Beach, FL. It was the place of our first date as well so holds a special place in our hearts. I had no idea that Brian was going to propose. He gave it away some, as the night progressed his anxiety levels were obviously rising as well, haha. But it was the perfect night! We had a delicious dinner and spent the evening celebrating with our parents. – Erika
Tell us a little a bit about your wedding
I knew from the beginning that we were going to be married in St. Augustine. It is our go-to city for a romantic weekend away!
If you google image search 'wedding decor' you will literally, strike gold. The vision around our wedding was the opposite of that. We wanted silver – to my delight a lot of our vendors informed us that wasn't the usual option these days and gold is all the rage.
Some inspiration came from my love of the golden age of hollywood and just overall the soft-glam of 1920's. I wanted flowy soft vibes throughout to really showcase the amazing venue for what it is. 
Our venue was truly our dream venue. The Lightner Museum is a beautiful historical building that Brian and I visit each time we are in St. Augustine. Our guests were also able to browse the first floor of the museum's showcase during cocktail hour! I was very excited for our friends and family to be able to experience that. Lucy, our planner, at Coastal Celebrations was truly a gem to work with during the entire experience.
Tell us about your attire choices.
For the reception I changed into my fully bedazzled Betsy Johnson sneakers out of the lace flats that I wore for the ceremony – it was a must for a night of dancing!
What was the most important to the two of you while planning? Was there anything that you chose to splurge on or skip?
My Top 3 – Venue, Photographer, Makeup
I wish I kept track of how many hours I spent scrolling google, thumbtack, and instagram for photographers and a makeup artist. Both, in my opinion, are very subjective preferences. You need to find vendors that already compliment your tastes and visions so you can easily express your vision but also have confidence in theirs.
Another important part was that we gave each other a gift on our wedding day, delivered by the Maid of Honor and Best Man. Brian gave me a beautiful engraved jewelry box and necklace to wear that day. I gave Brian customized cuff links to wear with a photo of him and his father when he was young and a message on the other.
What were your favorite parts of the day?
The feeling of total bliss is high on the list, for sure.
A bittersweet story that I'd like to share: A few days before the wedding we arrived in St. Augustine to find out that my grandparents were in a bad car accident (they are okay!) but they were not going to be able to attend our wedding. We called up Eric, our photographer, and asked if we could please add to our contract for videography and explained the circumstances. Eric's first response was to ask how my grandparents were doing and if everyone is okay, which truly just speaks to how amazing of a person he is. Just add this to the list of many reasons I'm so happy I found this company! A lot of my favorite memories involved our photographers as they captured our special day perfectly and left us with amazing pictures and videos to cherish.
Tell us about your wedding flowers.
Flowy, vintage, soft, pretty, vibes! Lots of pinks and greenery
Tell us about your wedding cake.
Arlene and her team at Sweet Weddings are truly masters of their craft! The dessert table was so beautiful and the desserts were truly amazing. During the reception it was hard to keep the little ones away from the cake pops! The presentation of the shooters, cake pops. Amazing. 
Any advice for your fellow plus size brides?
You are fully capable of this! It can seem overwhelming at times but I promise, you will see the light at the end of the tunnel and, it will be a beautiful happy day.
Photography:
Tupelo Honey Wedding Co.
| Ceremony and Reception Venue:
The Lightner Museum
| Event Planning:
Coastal Celebrations
| Floral:
Tula Rose Floral & Event Design
| DJ: dj pro show | Videography:
Tupelo Honey Wedding Co.
| Wedding Cake: Sweet Wedding Cake Designs | Rentals:
St Johns Illuminations
| Catering: Chefs Garden Event | Hair: Once Upon A Stylist | Makeup:
Kiara Shannelle
| Wedding Dress:
David's Bridal
| Groom's Attire: Mens warehouse | Bridesmaid Dresses:
David's Bridal
| Veil:
David's Bridal
| Headpiece:
David's Bridal
| Submitted via:
Matchology
The following two tabs change content below.
Pretty Pear Bride is The World's Only Site for Plus Size Brides. Bringing Bridal Inspiration to brides that look like "YOU", created by Shafonne Myers. Shafonne Myers is a certified wedding and event planner who longed for bridal inspiration that looked like her. She has created a website and magazine that brings bridal inspiration to plus size brides. She does speaking engagements educating the world about plus size brides and self confidence.
Latest posts by Pretty Pear Bride (see all)