It's a fairy tale come to life; a modern day Cinderella story set in Oklahoma. But this is no ordinary love story—this one is bigger, bolder and full of elegant surprises. It all started with the beautiful bride-to-be who wanted her wedding to be not only special but something that really articulated the depth of her connection to her now husband and their bond of faith, hope and true love. As they set out on planning their big day it all came together – an elegant yet timeless experience that would encompass everything they ever wished for.

From the planner: The bride and groom always wanted a wedding that felt elegant, timeless and royal. The venue they chose is an stunning chapel that sits atop a hill overlooking a sweeping plain of trees. The chapel is modern but has the feel of sophistication and class. The groom loves the color purple which was the perfect choice for a bold regal color. They utilized a blend of purples throughout the wedding with the florals, bridesmaids dresses, linens and ties. They wanted the guest experience to also feel royal and timeless so they incorporated items such as the large white 5 tier wedding cake with sugar flowers, a small iron carriage as the ring box and the stunning silver tiara that sat atop the brides beautiful hair. The guests had the best time and the bride and groom didn't stop beaming all evening. They made their royal grand exit in a 1963 Rolls-Royce Silver Cloud III. It doesn't get more timeless than that.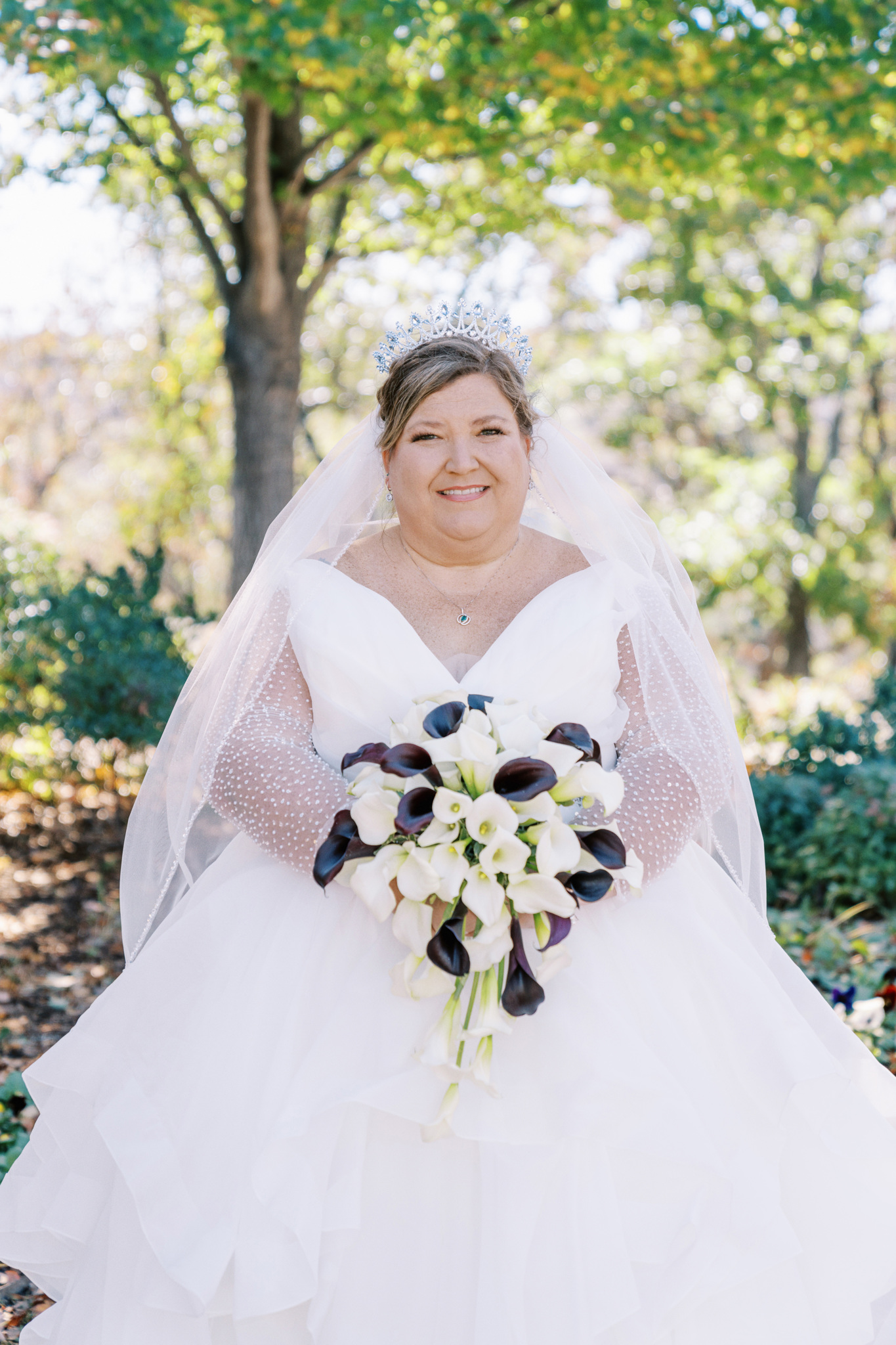 How did you meet?
Like many couples these days, we met online. We clicked immediately and have been basically inseparable since!

What is your proposal story?
There is nothing grandiose or fairytale here. We were at home just getting our day started. When I stepped into our bedroom, there he was, down on his knee and holding a box! He said some lovely words and finished with THE question. I immediately said yes! We hadn't been together long by most standards, but it was right for us.
Tell us a little a bit about your wedding
We were shooting for a modern fairytale. We both love the color green and I thought a deep red would be beautiful. Then I realized how close we were to Christmas and didn't want it to look like a Christmas wedding so we changed the red to plum, added a soft lavender and touches of cream and silver. We live in the country, but I did not want the popular country chic or run of the mill affair. I also didn't want it to be a floral explosion. We looked at our venue and knew it was perfect for us immediately. We knew the time of year we were planning on would give us incredible outdoor pictures without freezing or melting, Simple but elegant is what I would say, but my mom likes to say there was nothing "simple" about it.
Tell us about your attire choices
I picked my dress 4 days after I said "yes." The shop offered lots of options, beautiful gowns of nearly every style but I was beginning to think I wasn't going to find what I envisioned in my head. I wanted sleeves and poof but not all the heavy beading and lace. The sales lady asked me to try one more. It was sleeveless, which was on my no list, but I liked the dress other than that. When I put it on, I fell in love! It was absolutely stunning and made me feel so confident and happy! I ended up having a lightly beaded set of sleeves added and a sparkly belt added to hide s seem. To this day, I still haven't seen a dress like mine and that makes me tremendously happy!
My girls chose their dresses. They all just happen to choose the same style so it worked out. They're all so beautiful and picked dresses that complimented each of them. I had very little input as I wanted them to be happy to wear the dresses. They wore long plum colored one shoulder dresses. My Jr bridemaid and flower granny wore age appropriate dresses in the light lavender (Iris) and were super adorable!
For the guys, I wanted black tuxes with Iris vests and ties. My dad and ushers wore the same tuxes with plum vests and ties. My handsome groom wore the same tux in charcoal with his favorite color, green.
What was the most important to the two of you while planning? Was there anything that you chose to splurge on or skip?
We both wanted the day to be as stress-free as possible! We splurged on photography and our wedding planner and do not regret a penny! In all honesty, I cannot think of anything I regretted spending money on because they day was so beautiful!
What were your favorite parts of the day?
To be honest, most of the day was a blur. I remember starting out very grumpy. In the getting ready photos, I can really see my transition from stressed out & anxious to incredibly happy! I have the most amazing friends and family constantly supporting me.
Tell us about your wedding flowers
I had two requests for my flowers. Everything had to include calla lillies and hydrangeas. We had planned on some of the callas being lighter shades of purple/lavender but the farm had a more pink one. I thought our option was to change the lighter ones to white but our florist said "what about these?" and showed me the most beautiful white with deep purple middles. Such a happy accident!
Tell us about your wedding cake
Like very thing else, I wanted simple but elegant! Our baker nailed it! We had 4 tiers of the yummiest cake! Our layers were almond with butterscotch filling and vanilla with strawberry filling. The flowers were all edible and it was just perfect!
What did you do for favors?
We had bells on the tables, glow sticks and bubbles for the send off and that was it! We didn't want spend money on something someone would throw in a drawer or even the trash when that money could go toward something else.
Please describe any DIY, handmade, or personal details
Well we made all our signs. Some turned out great, others were very imperfect but that is so us! We chose to do a handfasting as our unity ceremony. Our custom made handfasting braid didn't make it into any of the boxes, but one of my ladies ordered some ribbon from a local store and had it delivered to our room and one of my other ladies whipped up a braid better than our custom one! I will cherish it forever!
Did you include any family heirlooms or special traditions?
No we didn't. What we did do was fun though. My brother and his bride to be traveled made the trip to be a part of our day on his birthday weekend. I wanted to make sure he knew how much I appreciated him hanging with us so we had a cupcake brought out for him and had everyone sing happy birthday. He loved it and so did we!
Do you have any advice for couples planning their weddings now?
Oh gosh. I guess I'd say do what YOU want! The day is for you and your partner, everything else is just extra. Enjoy the process and if you can swing it, hire a planner or at the very least appoint someone to be point of contact on the big day. Also, don't be afraid to lean on your people. They are there to support you so take their help and be thankful for them.
Any advice for your fellow plus size brides?
Don't be afraid to do what makes you comfortable. You want that form fitting dress? Wear the heck out of it! Don't want to cover your tattoos? Don't! You want multi-color hair? Do it! You want memories of the day to be you. You don't want to be looking at yourself in pictures in six months asking yourself "who are those people?" It's your day, do your style and kill the haters with all your confidence. 
Post contains affiliate links
Photography:
Blue Elephant Photography
| Ceremony Venue:
Bella Donna Wedding Chapel
| Reception Venue:
Bella Donna Wedding Chapel
| Event Planning:
The Moment By Casey
| Floral:
The Floral Touch
| Stationery:
Basic Invite
| Videography:
Blank Productions
| Wedding Cake:
Sugar Art Cakery
| Rentals:
Bella Donna Wedding Chapel
| Linens:
Bella Donna Wedding
| Hair:
Celia Guinn
| Makeup:
Tricia Phillips
| DJ:
Banks Entertainment
| Catering:
Bella Donna Wedding Chapel
| Transportation:
Tulsa Wedding Car
| Draping:
Daniel Weir Designs
| Ceremony Musicians:
Donna Richey
| Officiant:
Marquee Services
| Wedding Dress:
Alyssa's Bridal & Tuxedo
| Veil:
Alyssa's Bridal & Tuxedo
| Headpiece:
Sam Moon
| Groomsmen Attire:
Men's Wearhouse
| Groom's Attire:
Men's Wearhouse
| Bridesmaid Dresses:
David's Bridal
| Submitted via:
Matchology
The following two tabs change content below.
Pretty Pear Bride is The World's Only Site for Plus Size Brides. Bringing Bridal Inspiration to brides that look like "YOU", created by Shafonne Myers. Shafonne Myers is a certified wedding and event planner who longed for bridal inspiration that looked like her. She has created a website and magazine that brings bridal inspiration to plus size brides. She does speaking engagements educating the world about plus size brides and self confidence.
Latest posts by Pretty Pear Bride (see all)