Kate and Brad's wedding was a shining example of what a Pittsburgh wedding should be: romantic, sentimental, and full of cookies. The bride and groom were thrilled to celebrate their love in the city where Kate grew up, and they paid tribute to Pittsburgh in many ways. The ceremony and reception took place in the stunning Sheraton Station Square. And of course in true Pittsburg fashion there was the cookie table that had cookies that were all baked by aunts, grandmas, sisters, cousins and friends. So fun! They wanted to incorporate family in as many ways possible, from readers at the ceremony, to bridesmaids, to my nephew being our ring bearer!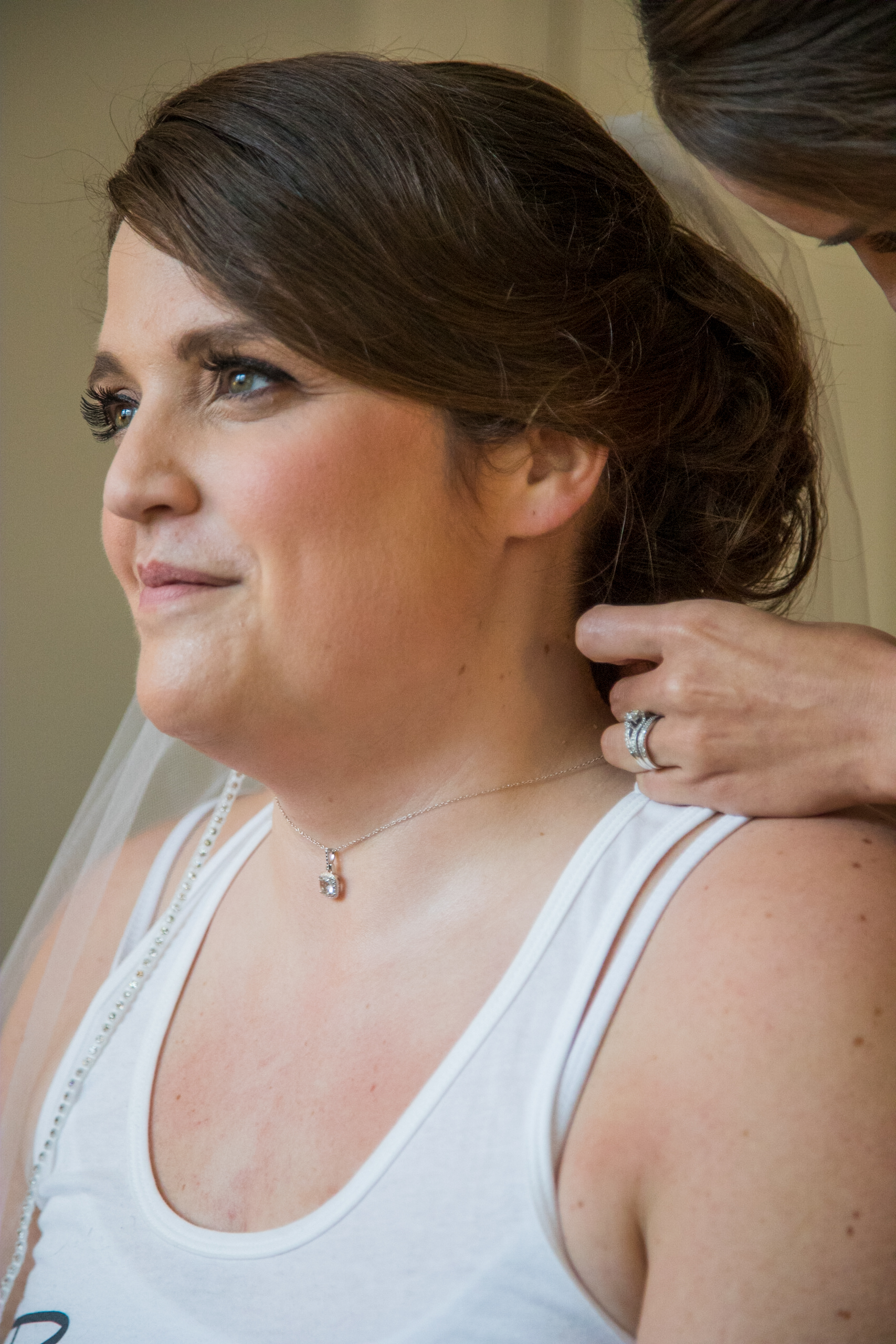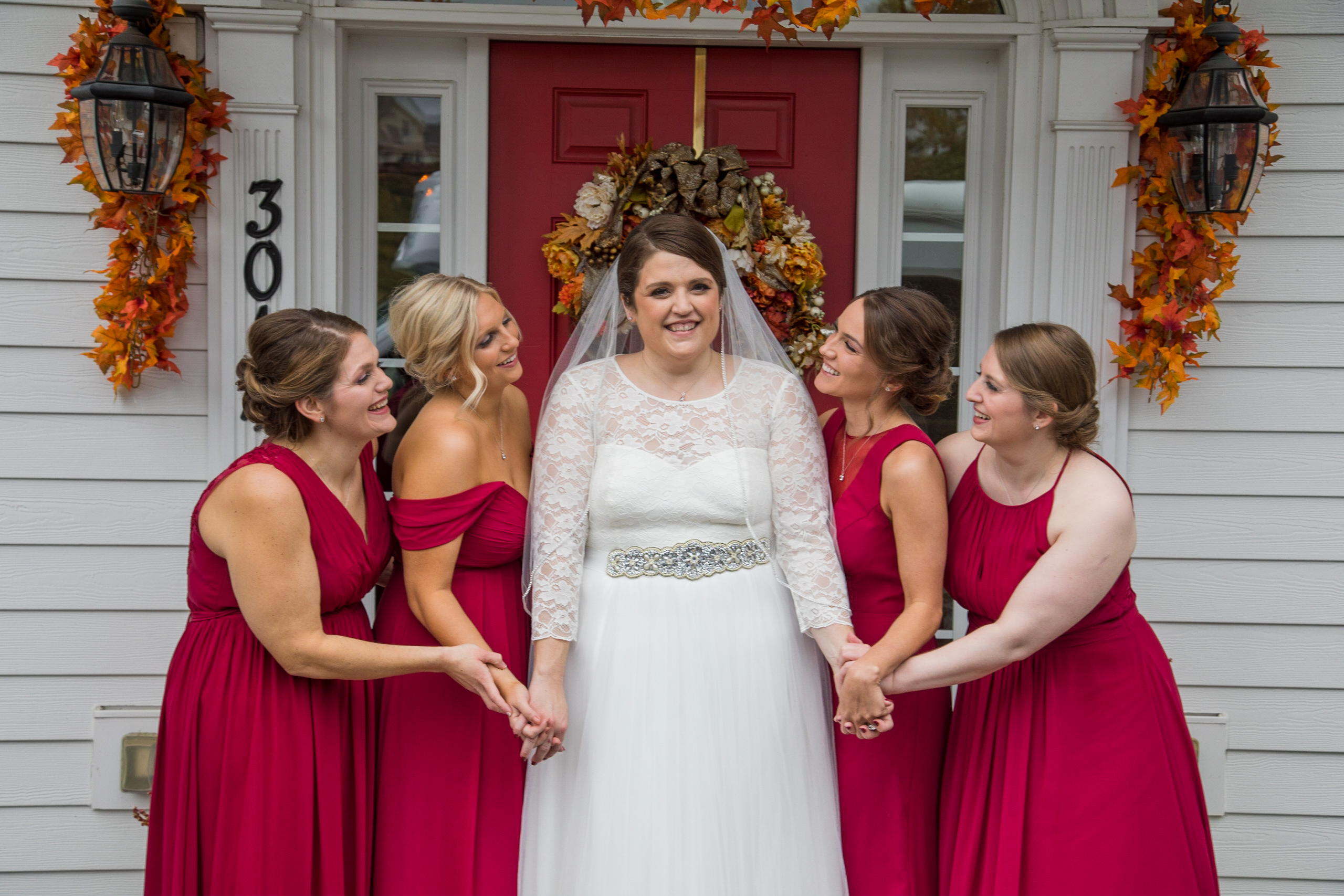 Tell us about your wedding
We wanted to get married in Pittsburgh because it was where I grew up & it was closer for Brad's family (who also hails from PA, but closer to the border of NY. We chose the Sheraton at Station Square because it was in downtown Pittsburgh. We knew we had a lot of guests from out of town so we thought it would be nice to have them close to the city.
As far as personal details, we had a cookie table, which is a Pittsburgh originated tradition! We also had a cake topper with an outline of us, our dog Tito and our old dog Moe who passed away in 2019. We also made sure to incorporate family in as many ways possible, from readers at the ceremony, to bridesmaids, to my nephew being our ring bearer!

Wedding Colors
Very fall-like, maroon/burgundy, gold, hunter green
How did the two of you meet?
We met when a co-worker of Brad's who was friends with the woman who worked the front desk at my old apartment conspired with each other to set us up on a blind date. We met at a Starbucks down the block from my apartment!
Describe your engagement
It was exactly how I wanted it to be—unexpected and low-key! We were sitting together one night watching The Wall on NBC and we were laughing about how they do all the cheesy "even if you lose a million dollars, I'll still love you" at the end. I said "Ha this cheesy stuff is so funny" or something along those lines. Brad tossed the ring box to me and said "oh like this cheesy stuff?" And I opened it up to reveal a beautiful diamond solitaire ring! Classic and perfect!
Personal or handmade details
The cookies were all baked by aunts, grandmas, sisters, cousins and friends. We also had welcome bags put together by my mom, Brad and me. We also made bags for all the kids at the wedding with coloring books, crayons, stickers and more.
Describe your flowers
They were all my favorite flowers with fall accents, like yellow sunflowers, red roses and baby's breath.

Memories and Stories about the Day
Oh gosh there were definitely some COVID-related ones—our second photographer canceled the day of due to an illness and had to get tested for COVID. Our photo booth also never showed up!
We didn't let stuff like that bring us down though…we had such a wonderful time with family and friends. We felt like it was a laid-back, fun day that was so amazing. We enjoyed the food, the best man/maid of honor speeches from Brad's longtime friend since 5th grade and my sister Annie, our cake cutting and first dance and seeing family we hadn't seen in almost two years due to the pandemic.
Your first dance song
"Lover" by Taylor Swift–we saw Taylor in concert together years ago during her 1989 tour and I love the opening lyrics "We can leave the Christmas lights up 'til January…"
The thing that we would have done differently is?
Honestly, nothing! We really were happy with how everything turned out.
Your advice for other plus size brides
Enjoy the day and don't worry about how you look. I often feel so self-conscious and it was so nice to not be anxious about my appearance. It's important to find vendors who make you feel beautiful. I was so grateful for Jenny who did my hair and makeup and Torrid, as I feel like I know their clothes well and what fits me best.
I also had two dresses I couldn't decide on so I wore them both! Just because you're plus-sized doesn't make you unable to do things other brides do.
Body positivity is sooo important, especially on your wedding day!

Three adjectives that describe the day
Fun, romantic, sentimental
What has surprised you most during the first few months of marriage?
That it isn't too different from when we were dating! We were together 9 years before we got married, so it was nice to finally tie everything together.
Photographer: Bellagala | Venue: Sheraton Station Square | Wedding Stylist/Hair and Makeup: Cosmetic Artistry by Jennifer LaBella | Bridal Attire: Torrid | Bridal Shoes: DSW | Bridesmaid Attire: Azazie | Groom and Groomsmen Attire: Men's Wearhouse | Flowers: Parkway Florist | Wedding Stationery: Oh Joyful Day | Wedding Favors: Sarris Candies |Transportation: Antique Coach Excursions & Tortorice Limo | Bakery: Bethel Bakery |
Post contain affiliate links
The following two tabs change content below.
Pretty Pear Bride is The World's Only Site for Plus Size Brides. Bringing Bridal Inspiration to brides that look like "YOU", created by Shafonne Myers. Shafonne Myers is a certified wedding and event planner who longed for bridal inspiration that looked like her. She has created a website and magazine that brings bridal inspiration to plus size brides. She does speaking engagements educating the world about plus size brides and self confidence.
Latest posts by Pretty Pear Bride (see all)