Frankie and Nicholas' wedding is definitely one-of-a-kind! They're an interracial couple – Nicholas being Caucasian and Frankie a beautiful Filipina plus size bride. They had a wedding entirely done on Zoom and it's one of the most unique weddings we've seen to date!

Frankie and Nicholas
Tell Us About Your Wedding
We had a DIY wedding entirely on Zoom! Nicholas and I went to my sister's cabin in Tahoe. The style was rustic and cultural. My sister and her husband then officiated over Zoom while people watched on the webinar! We managed to create a feeling of intimacy though our guests were separated by hundreds of miles!

Our wedding colors were pink and orange.
How Did the Two of You Meet?
We met at a show in Los Angeles. Nicholas was very shy and I was brazen and flirtatious. I jokingly winked and waved at him across the room. He was so nervous that he left. We thankfully ended up at the same afterparty and began chatting. He got over his shyness and asked to keep in touch. We have been inseparable since!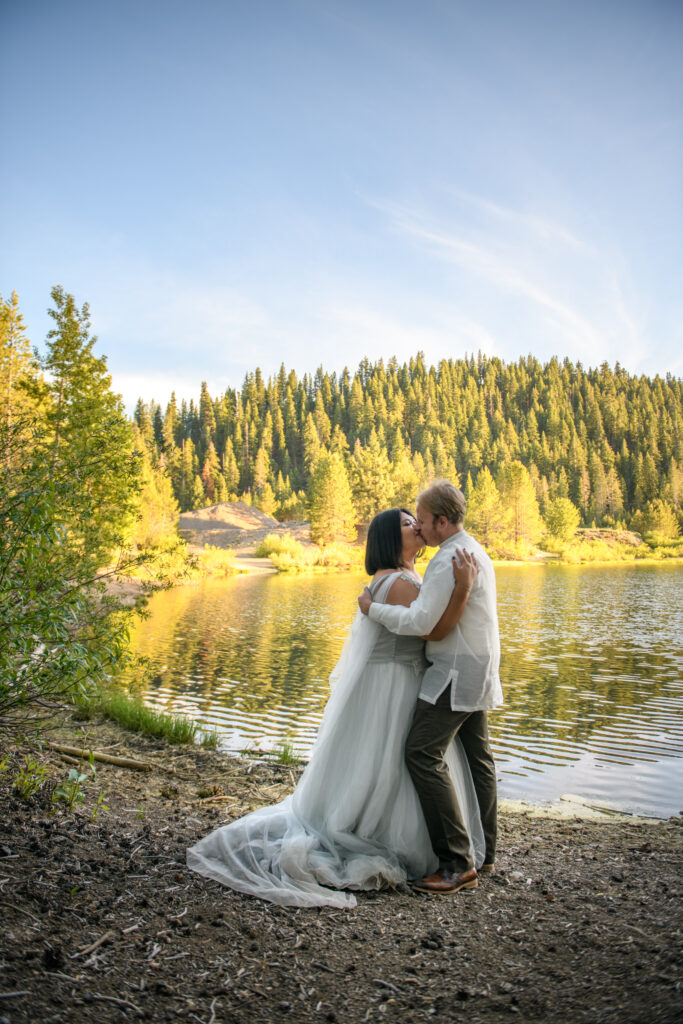 Describe Your Engagement
My mother had given me a ring that my sister was holding onto for me. Nicholas got the ring from my sister and had the stones reset to look more unique. Christmas Day 2018, we weren't able to travel that year. On our way out the door to meet friends, he calls my name and I see him kneeling by the Christmas tree. We had discussed getting married and he wanted to surprise me. The moment was just like him – quiet, meaningful, and sweet. Having my engagement ring as a ring from my mother is so important to me as she passed away not long after Nicholas and I got engaged.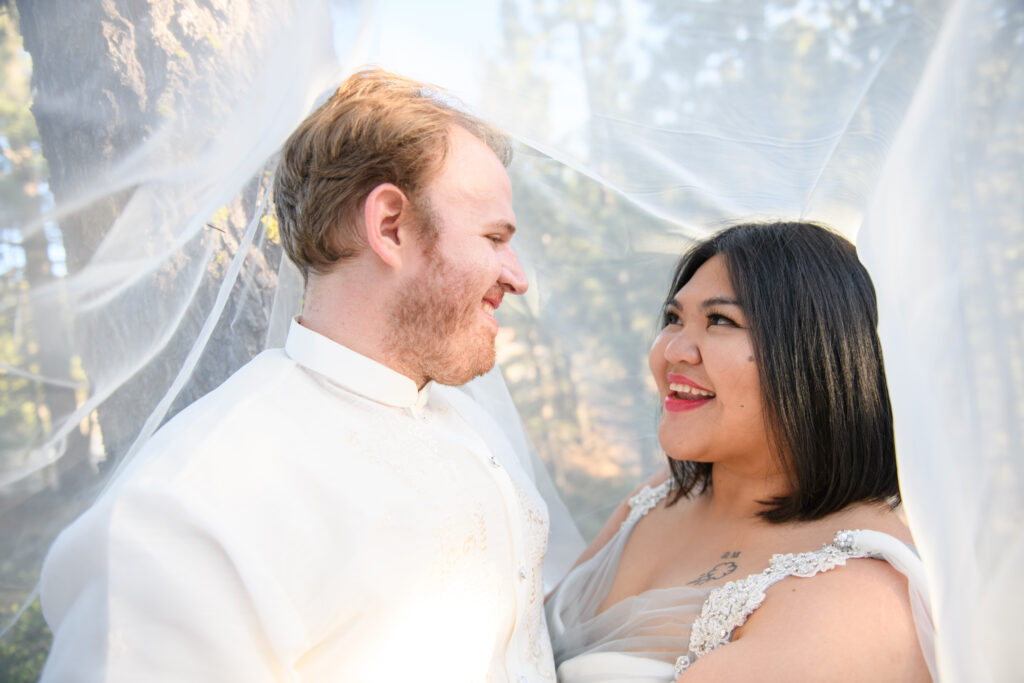 Personal or Handmade Details
As Nicholas and I were alone; we took care of setting up all the decorations, camera angles, and we dressed ourselves entirely.
Describe Your Flowers
I ordered a large bouquet that I didn't need to do much other than wrap the stems. We also ordered peonies and created small pieces to line the walkway.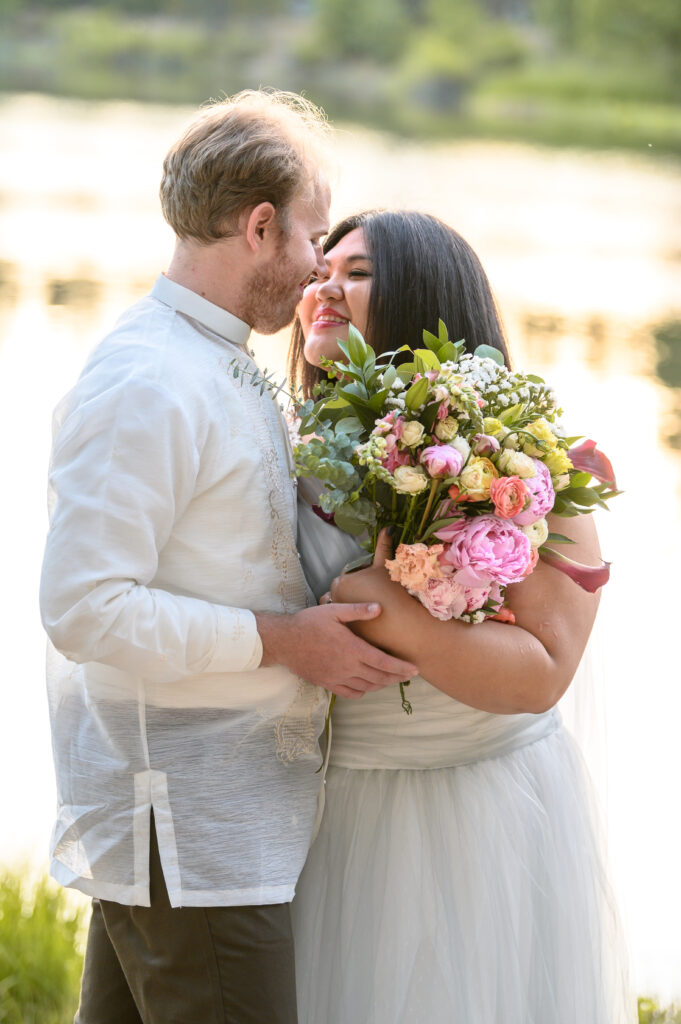 Memories and Stories About the Day
On the day of the wedding, the only people present were me, Nicholas, two photographers, and our pup, Zero.
Nicholas, Zero, and I hiked together in the morning. We got ready separately around noon. I had a web call with friends and we all got ready together. It took 6 hours to get ready! The photographers were friends of the family, so it was nice to have that friendly bond already.
After the ceremony ended, we had guests turn on their cameras so we could see them. I couldn't believe how intimate it felt even though it was pretty much just me and Nicholas there. While taking photos after the ceremony, I was being hounded by mosquitoes but we were so happy that I hardly noticed.
We had another zoom meeting with close friends and family later that night and got to talk and laugh together.
Your First Dance Song
"Something About Him" by BROCKHAMPTON
The Thing We Would Have Done Different Is?
I would have liked to stay longer on the Zoom webinar after the meeting. We had folks turn on their cameras but there were so many people that our mic stopped working so no one heard our thank you's!
Your Advice for Other Plus Size Brides
Don't try to hide your body! I was so nervous about having my arms exposed, but I decided to just own my space and celebrate myself and my body. I contemplated added fabric to hide my arms, but I'm glad I didn't. I looked so beautiful!
3 Adjectives that Describe the Day
Intimate. Magical. Powerful.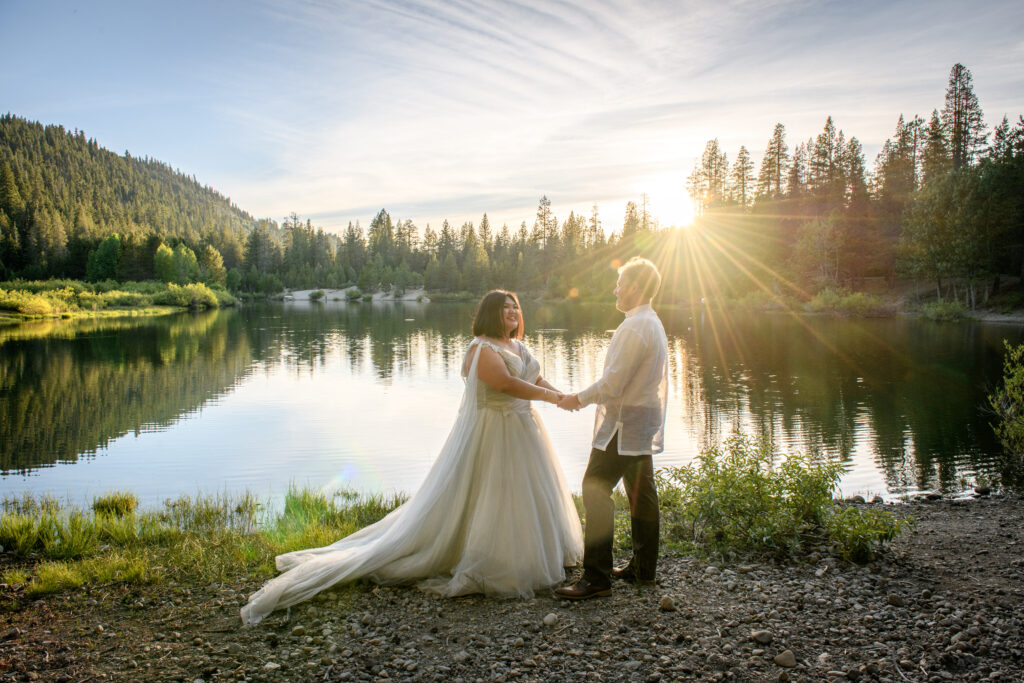 What has Surprised you Most During the First Few Months of Marriage?
My husband was so gungho about his role as a husband. I didn't expect that at all, but he was adamant about being a good partner and staying true to his vows – which were to put our family first. We have both been more serious in a way about establishing our household and family. I suppose I didn't really think much of it before, but it feels more serious now. We are both committed to being good partners and working through issues seems to be more important than before.
Vendors
Photographer: Eli Z Photography |
Venue: Private Home in Northstar Resort |
Bridal Attire: Della Curva |
Flowers: Farmgirl Flowers |
Hair Stylist: Andrew Smith |
Caterer: The Crest Cafe and Catering |
Bakery: Sierra Bakehouse
The following two tabs change content below.
Shafonne Myers is a certified wedding and event planner who longed for bridal inspiration that looked like her. She has created a website and magazine that brings bridal inspiration to plus size brides. She does speaking engagements educating the world about plus size brides and self confidence.
Latest posts by Shafonne Myers {Editor-in-Chief} (see all)