From the very start, Kate wanted her hometown to shine. With memories at every street corner, their shindig focused on family, faith, friendship, and fandom. From sheriff's badges in lieu of boutonnieres and custom Funko Pop! cake toppers to movie trivia during the reception and a lightsaber exit—there was no question the wedding was a perfect reflection of who Kate and Clay are as a couple. The bride's larger-than-life late mother, Shasta, was honored throughout the day and the florals showcased Kate's exuberant personality; while Clay soaked it all in.

How did you meet?
We met online! Sometimes it actually works, we just had to dig through the people who didn't work in order to find the one that would work forever!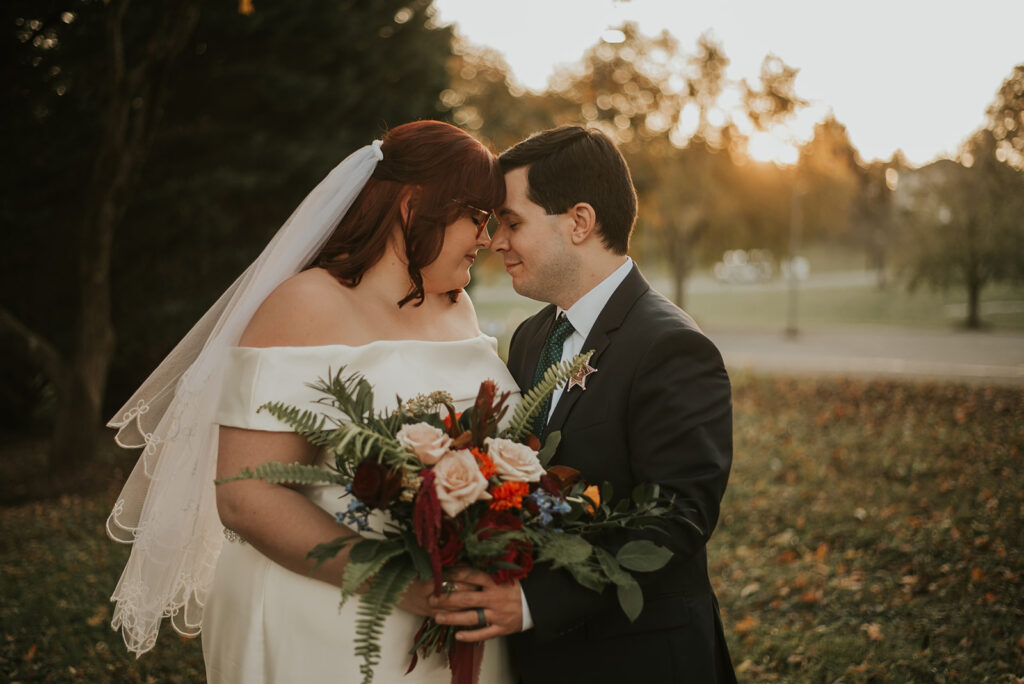 What is your proposal story?
He booked us a weekend in Asheville, NC to see an art exhibit at the Biltmore House that we had both wanted to see for a while. It was a night exhibit which made it even more romantic. He had also gotten dinner reservations at the Biltmore House and proposed before we ordered dinner. Clay is really quiet and likes stuff to be just the two of us so he didn't even get down on one knee – he just took my hand across the table and asked – which I totally loved because it was such an intimate moment for us, even in a crowded restaurant. Then we got to spend the rest of the evening hand in hand, walking around the most famous and beautiful home in America. It was perfect, albeit sweaty (September in North Carolina is still mid summer and it was a hot night!) I would love to say I was totally surprised but I had the feeling it would happen that night – however, nosy as I am, he still found little ways to surprise me all weekend.
Tell us a little a bit about your wedding
We wanted a timeless, elegant, simple wedding. Our hope was that you could look at the pictures and not be able to tell if the wedding took place in the 1940s, 1970s, or the modern era. Simple, retro, elegant – that's how I would describe it! We were also faced with paying for 90% ourselves so our simple tastes played well with our simple budget!
We're both very religious and spiritual people and he has been welcomed into my home church since we started going together. It's a big, old, Presbyterian church with beautiful stained glass and a 70s shag red carpet that I have loved since I was a little girl. The ceremony space was a no-brainer – the church was perfect and we even added an arch behind the pulpit to put our own little spin on it.
The museum for the reception was a little harder to find. Having a small-town wedding didn't give us many options and especially not for stylish brick loft-style reception spaces. Fortunately, my dad is the state recognized volunteer of the year for the Mount Airy Museum of Regional History and when I was at the museum with him one afternoon, I remembered that they had a large 3rd-floor brick and hardwood floor loft space. It was perfect! They even left a few of the exhibits up there as well. Clay and I love history and antiques and museums like that's a huge part of who both of us are so it was an ideal space. We had cocktail hour in the museum's courtyard and on the first floor so guests were able to walk around and see other exhibits while they waited for us. PLUS we got to show off a local business and, even though most of our guests were from in town, they may not go to the museum very often so it was great to be able to bring a little light to such a great place.
Tell us about your attire choices
Clay chose everything he and the groomsmen wore, from shirt to suit to tie to socks to shoes, he was totally on top of it. He and the groomsmen all wore navy blue suits from Banana Republic with white dress shirts and emerald green ties (also from BR), and brown belts and shoes. He wanted all the groomsmen to be able to wear their suits again and I think that was such a great decision because they're beautiful suits! Who says you have to go to a store that specifically does wedding suits? You can find a great one wherever! My and Clay's favorite thing about the groom and groomsmen attire was what they chose to replace the boutonnières with. Clay is a huge fan of the Andy Griffith Show and Mount Airy (my home town and where we got married) is the home of Andy Griffith. So instead of flowers, the groom's party all wore classic sheriff badges like on the show! Everyone loved it and it was a nice little nod to something that Clay loved.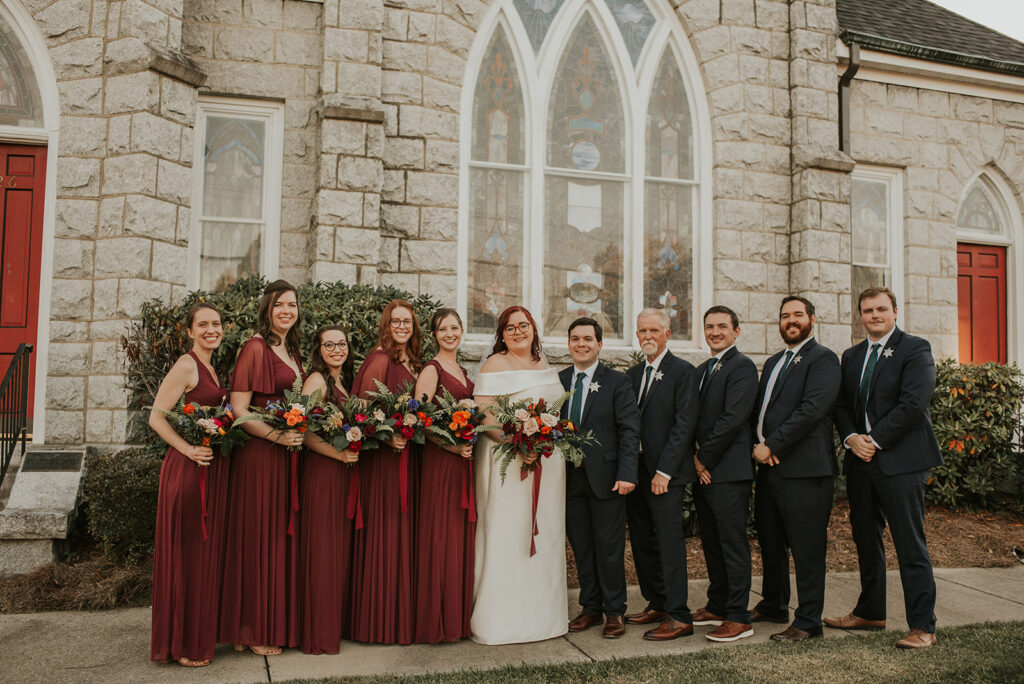 My dad's outfit was perhaps the most controversial choice (for a few people, at least). My dad only wears Hawaiian shirts – like, as far back as I can remember, that's all he's ever worn. It's just who he is and I love that about him. So he wore pants and shoes that matched the rest of the groomsmen and Clay and I picked him out a Hawaiian shirt from Tommy Bahama that matched our wedding colors. I loved it – he looked like my dad, not some stranger in a suit, and that was really important to me. Most everyone loved it and the one or two people who made comments about it can get over it, it's my day, my dad can wear something he loves and is comfortable in!
In terms of the bridal party, my two best girlfriends and I went and looked at dresses at David's Bridal on my bachelorette weekend in Denver, CO. Our main colors were burgundy and navy blue and since the groomsmen wore navy blue suits, the bridesmaids all wore burgundy dresses. Each one had a flowy chiffon skirt but they all picked different tops – my MOH, Shelley, was the only one with lace cap sleeves, while two, Elly and Jill, chose flowy chiffon sleeves, and two others, Laura and Merry, chose a strappy, bare-shouldered look with a cris-cross back. I wanted them to all be happy and comfortable so I'm so glad they got the dresses they really liked!
My wedding gown was my second dress I purchased, actually. My first one I bought a week after I got engaged. What I loved about it was that it was a classic, ivory satin gown with no embellishments or frills – simple and lets me shine. I bought it off the rack and 3 sizes too small to save money and I told myself I needed to lose some weight anyway. Turns out, that's the total wrong way to go about it and is a really toxic thing to think. The months before my wedding stressed me out but even more so because I was afraid I wouldn't be able to fit in the dress. So a month and a half away from our wedding, I went, alone, to David's Bridal and shopped for a new dress. I decided to only try on things that fit and only get something if I truly loved it. The second dress I tried on was a fitted dress – it hugged every curve – but for once, I didn't hate that! I looked STUNNING! In a fitted dress?! I've struggled with weight and body image my entire life and I, at the heaviest I've ever been, walked down the aisle in the most beautiful, off the shoulder, ivory satin, FITTED gown. It was the most empowering moment of my entire life and I have never felt so beautiful. To all my big girls out there, don't be afraid of the fitted dresses – it might just be the one!
What was most important to the two of you while planning? Was there anything that you chose to splurge on or skip?
We wanted everyone to have a good time so we splurged on the food and open bar. We also had a photo booth at the reception during cocktail hour and that served as our wedding favor (the pics you can print and take) and our guestbook (they printed an extra and made a lovely album that people signed). Between dinner and dancing we also played bar trivia with questions about our favorite movies and food and different stuff like that! It was a hoot to watch tables compete against each other!
The most important thing to me was the pictures so I hired one of my SUPER talented sorority sisters and I don't think we spent enough on the pictures she gave us – they are SO BEAUTIFUL and we are so thankful to her for taking them!
What were your favorite parts of the day?
Kate – my favorite part was our exit from the reception. On our first date, Clay took me to a midnight showing of the new Star Wars that had just come out because we are both Star Wars nerds. So, instead of having a sparkler exit, we bought all these tiny plastic lightsabers that people held for us to walk under. Our guests even took it upon themselves to start singing a one of the Star Wars theme songs. Then, I pulled the ultimate Andy Griffith Show Mayberry Surprise for my sweet little husband – I got one of the Mayberry squad cars that give Mayberry tours around town (a real Ford Galaxie painted to look like the squad cars from the show) as our get away car. It roared off from the museum and we waved at everyone and popped champagne out the window – like my 1950s dream getaway! And Clay's not easy to surprise so that was even better. I loved every part of my wedding day but our send off was the thing I think about most often.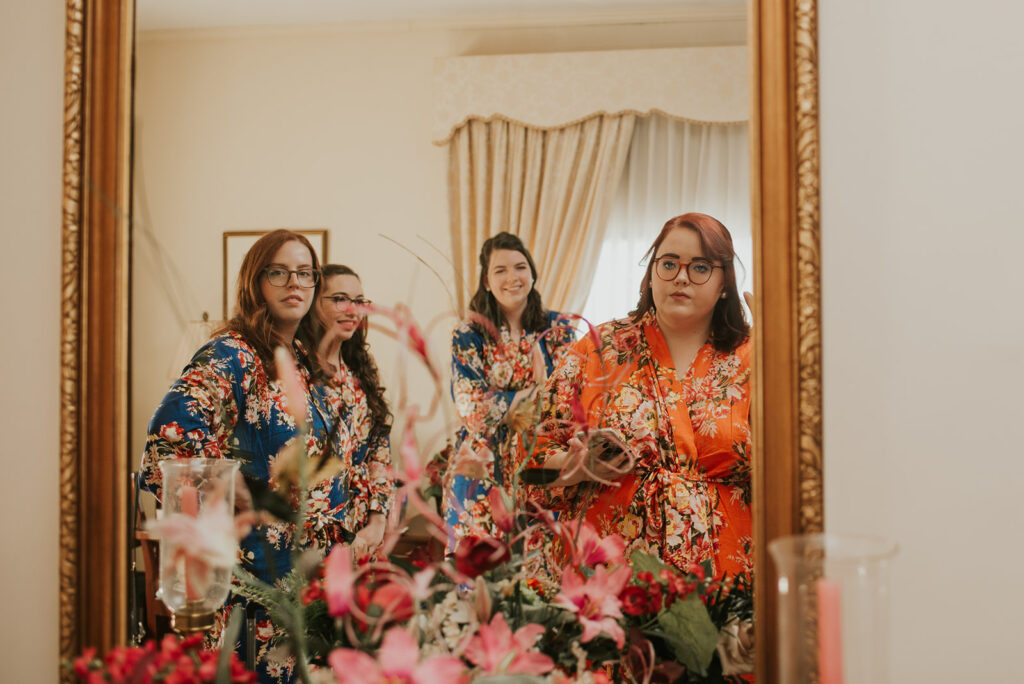 Clay – We had the unique experience of getting married on Dia De Los Muertos, with the museum where our reception was planned to have a celebration just prior to our ceremony. While I was getting prepped with my groomsmen, a mariachi band began to play just outside the room we were in. We were able to enjoy the sounds of Mexico and some authentic tamales which really helped ease the day's stress.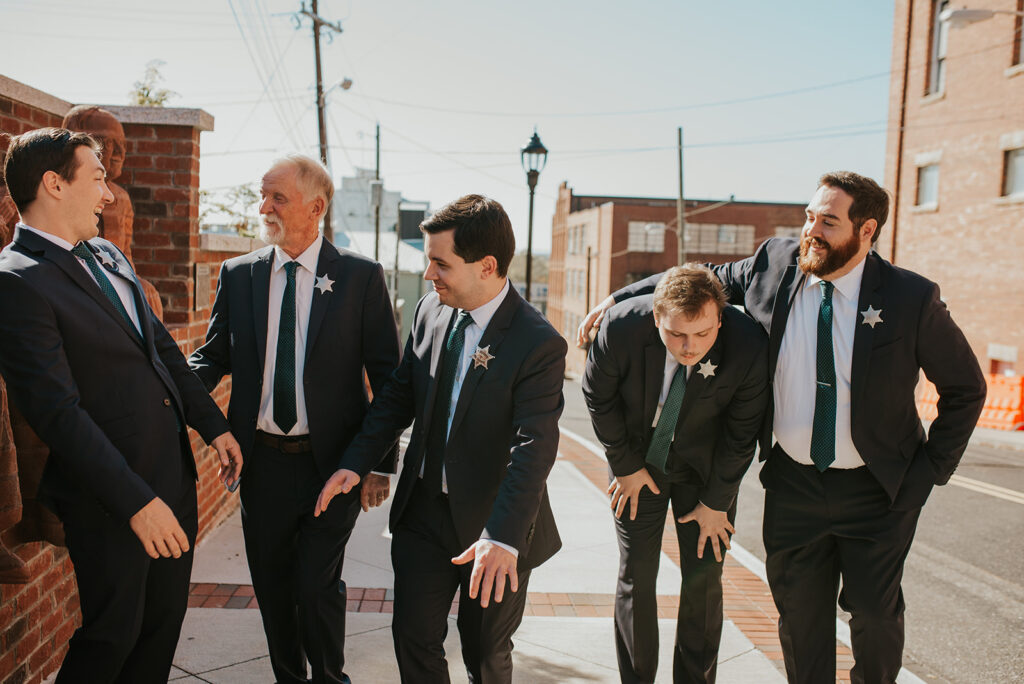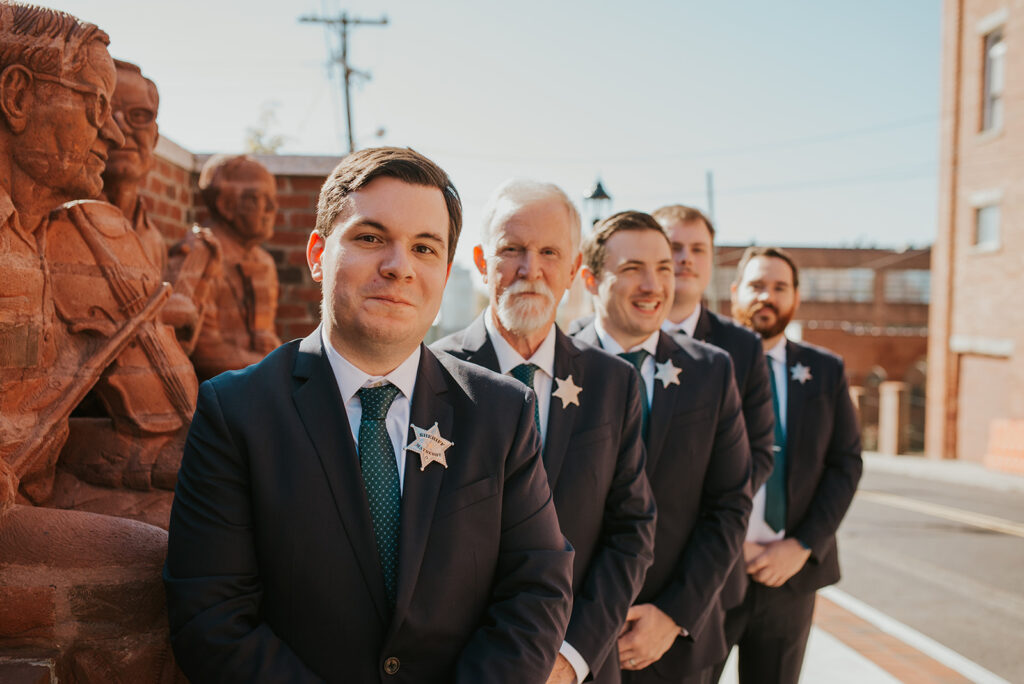 Tell us about your wedding flowers
We used classic red roses and orange ranunculus as our main two. They were accented by orange and blush garden roses, blue columbines, and ferns and magnolia leaves as the greenery.
Tell us about your wedding cake
I actually baked our wedding cake and cupcakes all by myself! I have a home bakery (Dessert First Home Bakery) and it was cheaper to do it myself. Plus, not to toot my own horn but I'm good! Our cake was a 4 layer, 1 tier, pumpkin spice cake with cream cheese frosting (all from scratch). I piped large white rosettes all around the outside with the cream cheese frosting and made little green cream cheese leaves for the rosettes. We offered cupcakes for our guests in three flavors – the pumpkin spice cake I mentioned earlier, chocolate cake with a dark chocolate ganache buttercream, and classic white wedding cake with a vanilla buttercream – something for everyone!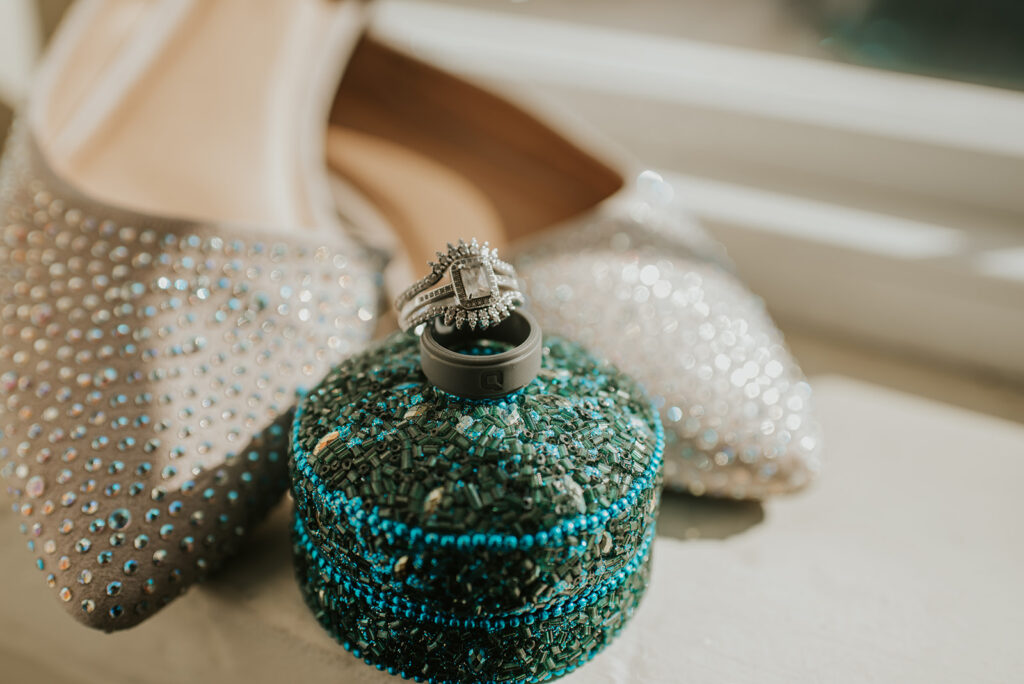 What did you do for favors?
Photo booth pictures, like I mentioned earlier, and Everyone got to keep the little lightsabers we used for our exit – not an official favor but people took them home!
Please describe any DIY, handmade, or personal details
Other than the sheriffs badge boutonnières and the lightsaber send off we did a couple of other little personalized things:
Our table numbers weren't numbers at all but little movie posters from our favorite movies. I actually found all the movie posters we used in vinyl sticker form on redbubble.com and when they came, I stuck them on cardstock and outlined them with gold washi tape to give them a little extra flair. It was just a different way of doing table numbers that was a little more personal.
I also made our cake toppers. Clay collects Funko Pops so I made the two of us out of Funko Pops and they are really cute and really good likenesses and I am really proud of them and they were another little surprise for Clay!
As I said before, we also did a bar trivia competition between dinner and dancing and we had cheap tiny little trophies for that but we personalized they by making stickers that said "It's Kate and Clay's Wedding Trivia!" On them and had little cutouts of our faces. They were cute and easy to do – I looked for real trophies but couldn't find what we wanted so this turned out to be a better option.
Did you include any family heirlooms or special traditions?
I wore my late mother's veil. She passed away a couple of months before we got engaged and not having her there with me all day was really hard but it was also kind of neat – I wore the veil (a shorter, two layer veil with scalloped edges) all night and when I would turn or sit or move, I would feel it there and it felt like she was with me.
We also had a table at the reception with pictures of all of our loved ones who had died and couldn't be there, Clay's best friend was his grandpa so there was a picture of him and clays other three grandparents who had passed away. There was also a picture of my mom and my grandma. That was really sweet and special to us to have those pictures there.
I did a first look with my dad AND brother. I know it's traditional to do it with whomever is walking you down the aisle but I wanted Sam to be there as well as Dad because they're both so important to me.
Do you have any advice for couples planning their weddings now?
don't spend a ton on the wedding – people just want to drink and dance, they won't remember everything about your decorations (save money for the honeymoon! We had an entire week in NYC because we scrimped and saved on the wedding.)
sit back at your reception and just watch all the love in the room – everyone is so happy to be there with you, you'll never feel anything like it.
take as many pictures as you can BEFORE THE CEREMONY- gets you to the party quicker, you will not regret it.
after ceremony and after pictures but before reception grand entrance time – take a few minutes and sit totally alone with your significant other. It's easy to lose sight of why you're there in the midst of all the hub-ub. Find 15 minutes to be totally alone, your guests won't care to wait!
Any advice for your fellow plus size brides?
DON'T BE AFRAID TO LOOK AND FEEL THE WAY YOU'VE ALWAYS DREAMED OF! Sometimes as plus size women, we want to make ourselves smaller to make other people more comfortable and your wedding day is not the day to do that! If you struggle with self esteem and body image like I do, just remember that that person is marrying you because they find you beautiful- the least you can do for yourself is believe you're as beautiful as they see you. Oh, and TRY ON THE FITTED DRESS, YOU NEVER KNOW, GIRL!
Vendors
Photography:
K. Hice Photography
| Ceremony Venue:
First Presbyterian Church of Mount Airy
| Reception Venue:
Mount Airy Museum of Regional Histor
| Event Planning:
Hosea House Collective
| Floral:
Hosea House Collective
| Handlettering:
Hosea House Collective
| Wedding Cake: The Bride | Rentals:
Cooke Rentals Mount Airy
| Catering:
Thyme2Cater
| MC:
DJ BDazzle
| Hair: Erica Walters | Wedding Dress:
David's Bridal
| Groom's Attire:
Men's Wearhouse
| Veil: Bride's Late Mothers Veil | Submitted via:
Matchology
The following two tabs change content below.
Shafonne Myers is a certified wedding and event planner who longed for bridal inspiration that looked like her. She has created a website and magazine that brings bridal inspiration to plus size brides. She does speaking engagements educating the world about plus size brides and self confidence.
Latest posts by Shafonne Myers {Editor-in-Chief} (see all)